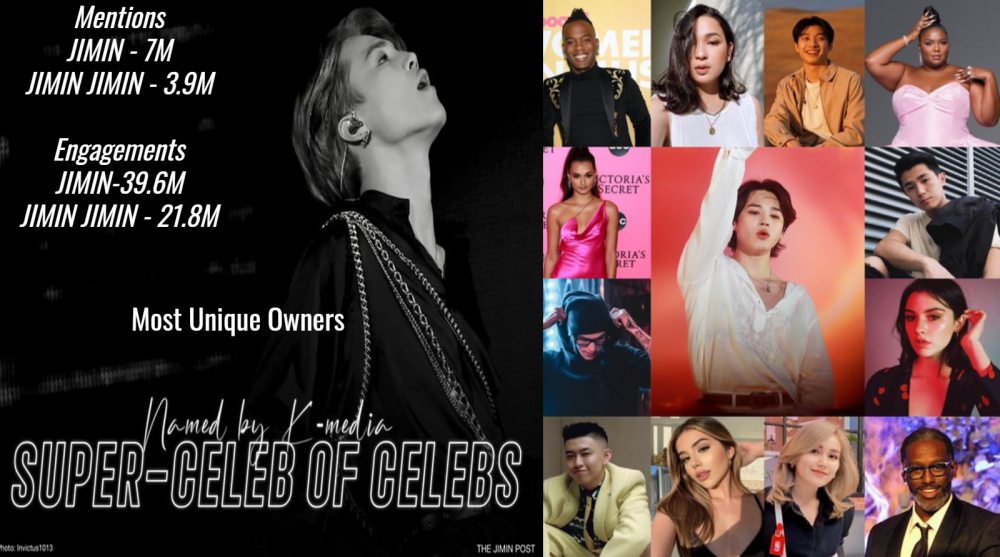 Jimin has bagged yet another title of 'SUPER-CELEB OF CELEBS' as accorded by Korean media. The title came about due to the great attention that Jimin receives from celebrities all around the world. On the 25th of November, K-media published an article on how Jimin was receiving special attention from top stars for his unmatched stage presence, moving songs, and god-like beauty, specifically mentioning big names like Lizzo, Shawn Stockman, and Tetris Kelly.
BTS left for Los Angeles, the USA on November 17 with various activities on their end year schedule, including attending the AMAs both as performers and nominees, making a guest appearance on CBS' The Late Late Show with James Corden, performing at the iHeartRadio Jingle Ball, and of course, holding the four-night concert that just ended on December 3.

All through the trip right from the airport and through all the activities that BTS has had, Jimin has received an overwhelming number of mentions from celebrities, all admiring him either for his performance skills in singing and dancing or his visuals. The attention went up on a notch during the concert days, with many of the celebrities posting on their social media platforms about Jimin. Some posted content related to how they were preparing to attend BTS' concert to see Jimin, others posted footage of their attendance of the shows depicting how they were cheering for Jimin, and others posted afterward, having been mesmerized by him and therefore declared they now had a bias in BTS. Even most fans who attended the shows attested to how much Jimin captivated them and completely bias-wrecked them, some even leaving the shows having changed their bias to him.
The celebrities who have shown affection for Jimin are of different genders, from various fields, and of diverse ethnicity, showing the extend of Jimin's impact. There are singers, rappers, actors, actresses, models, influencers, TV hosts, producers, choreographers, fashionistas, journalists, visual artists, and many more. Here are some of those posts.
These many celebrity mentions are also reflected in the data collected from Twitter during this period.
The data shows that during this same period of BTS' concerts from November 27 to December 3, Jimin emerged as the most mentioned BTS member on Twitter.

His name and stage name JIMIN, which has been muted on Twitter for about two years now, had the highest number of mentions with 7 million, whereas JIMIN JIMIN had 3.9 million, giving a total of 10.9 million mentions for just two versions of his name.
In terms of engagements, JIMIN had 39.6 million, and JIMIN JIMIN had 21.8 million, to give a total of 61.4 million mentions.
Jimin also had the most unique owners, which is a number that measures the likelihood that people will see posts where he is mentioned. Such probability is derived from the number of mentions by celebrities and the media, which is exactly what happened, given the long list of celebrities listed.
Jimin's impact during this concert period has been witnessed among celebrities from the many posts by them, and it backs up Twitter data that has also reflected the same impact.

Some celebrities have also mentioned Jimin or posted something to do with him, such as 'Chimmy,' his BT21 character, or his solo songs, but not connected to the concerts. Nevertheless, it is evident that they are Jimin's fans as well, and they range from influencers, TV hosts, actresses, musicians, and many more. Here are some of them.
Some mentions that were during BTS' appearance on The Late Late Show, from his departure at the airport in Seoul, and from AMAs are as follows.
The list of celebrities biasing Jimin keeps growing every day, both nationally and internationally. He is outstanding in everything he does and in who he is, and it is not surprising that he tends to attract such big and accomplished names in various fields. Successful people recognizing him for his many talents and individuality attests to Jimin being a big name in itself, the Super-Celeb of Celebs.