K-Pop's freshest eight-member boy group, EPEX, short for Eight Apex, is C9 Entertainment's latest endeavor. With the success of the group's first EP, Bipolar Pt.1 : Prelude of Anxiety, these charismatic rookies have brought their talents to the forefront of their debut to prove to the world that their unique personalities and skills are not to be overlooked. Now, EPEX has just completed the release of their second EP, Bipolar Pt.2 : Prelude of Love, and is set to hit the ground running on many more projects to come. Showcasing a new era for K-Pop music, as well as a new generation of idols, the group whole-heartedly embodies the word 'youth' in just about every way! allkpop sat down to interview the 8 members of EPEX: WISH, KEUM, MU, A-MIN, BAEKSEUNG, AYDEN, YEWANG, and JEFF to ask them about their recent successes, achievements, hopes for the future, and much more. Keep reading for more!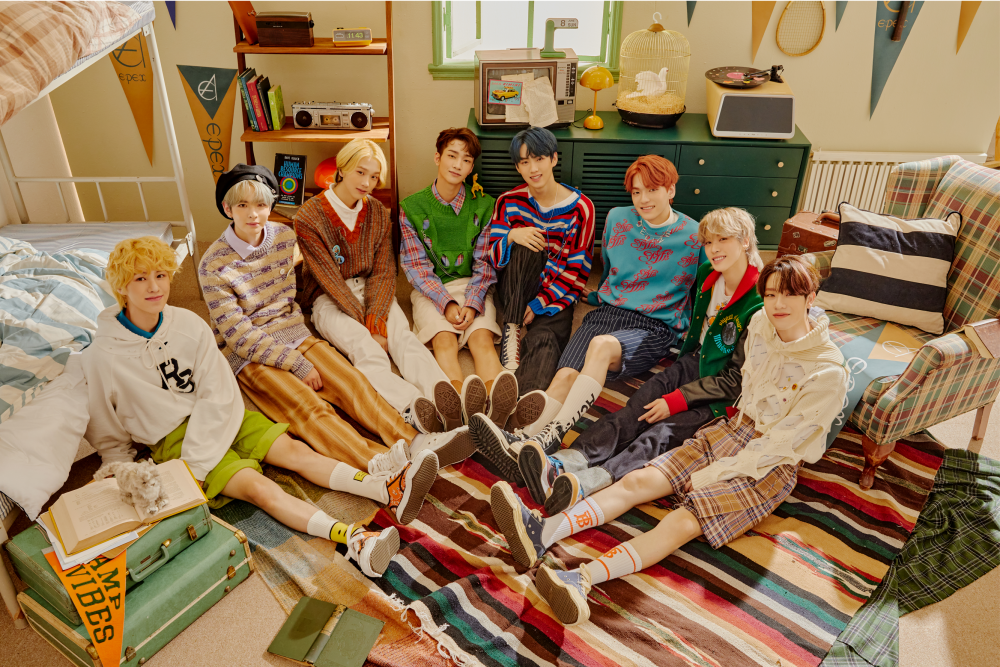 allkpop: Hello EPEX! Happy to speak with you all today on behalf of allkpop. Would you like to do a quick introduction of your names and your role in EPEX?
안녕하세요 EPEX 여러분, allkpop을 대표하여 오늘 여러분과 얘기를 나눌 수 있어 매우 기분이 좋습니다. 여러분의 이름과맡고 있는 담당을 소개해주시겠어요?

WISH: 안녕하세요, EPEX WISH입니다. EPEX의 리더이자 서브보컬, 리드댄서를 맡고 있습니다.
Hello, this is EPEX WISH. EPEX's leader, sub-vocal, and lead dancer.

KEUM: 안녕하세요! EPEX KEUM입니다. EPEX의 센터, 메인댄서, 서브래퍼를 담당하고 있습니다.
Hello! This is EPEX KEUM. In charge of EPEX's center, main dancer, and sub-rapper.

MU: 안녕하세요, 저는 EPEX의 리드보컬 MU입니다.
Hello, I'm EPEX's lead vocal MU.

A-MIN: 안녕하세요, EPEX A-MIN입니다. 저는 서브보컬과 리드댄서를 맡고 있습니다.
Hello, this is EPEX A-MIN. I am in charge of the sub vocal and lead dancer.

BAEKSEUNG: 안녕하세요, EPEX의 서브래퍼이자 최장신을 맡고 있는 BAEKSEUNG입니다!
Hello, I'm BAEKSEUNG, the EPEX's sub-rapper and the tallest member!

AYDEN: 안녕하세요, EPEX 리드래퍼 AYDEN입니다.
Hello, this is EPEX's lead rapper AYDEN.

YEWANG: 안녕하세요, EPEX의 메인보컬 YEWANG입니다.
Hello, I'm YEWANG, the main vocalist of EPEX.

JEFF: 안녕하세요, EPEX 메인래퍼이자 막내인 JEFF입니다.
Hello, this is JEFF, the main rapper and youngest member of EPEX.

allkpop: You just released your 2nd mini album, 'Bipolar Pt.2: Prelude of Love", an album that deals with the complex emotions of first loves. We'd love to hear more about the album concept and how EPEX prepared to deliver this emotional and sentimental release.
최근 첫사랑의 복잡한 감정을 다룬 두 번째 미니앨범 'Bipolar Pt.2: 사랑의 서'를 발매하셨는데요, 앨범 컨셉은 무엇인지 더불어 EPEX가 이 감정적이며 감성적인 컴백을 위해 어떤 준비를 했는지 알고 싶습니다.

WISH: 이번 앨범은 양극성을 주제로 한 데뷔 앨범의 두 번째 파트인데요. 청소년기의 불안의 시작에 대한 복잡한 감정에 이어, 처음 사랑하는 것들로 인한 복잡한 감정을 표현하고 있습니다. 사랑은 늘 불안을 수반하고 그렇기에 마치 재난과 같다는 메시지를 담은 앨범입니다.
This album is the second part of the debut album with the theme of bipolarity. Following the complex feelings of the onset of anxiety in adolescence, it expresses the complex feelings of first love. This album contains the message that love is always accompanied by anxiety and that is why love is like a disaster.

AYDEN: 데뷔 앨범 [Bipolar Pt.1 Prelude of Anxiety]와 이번 앨범 [Bipolar Pt.2 Prelude of Love]는양극성이라는 대주제 안에서 이어지고 있어요. 거울처럼 마주한 있는 두 앨범의 이야기를 어떻게 하면 잘 표현할 수 있을지 많은 고민을 했습니다. 멤버들과 함께 앨범 수록곡의 느낌을 해석하고, 그 해석을 통해 퍼포먼스의 합을 맞춘 과정이 기억에 남아요.
Debut album [Bipolar Pt.1 Prelude of Anxiety] and this album [Bipolar Pt.2 Prelude of Love] continue within the main theme of bipolarity. We thought a lot about how to best express the story of the two albums facing each other like a mirror. I remember the process of interpreting the feelings of the songs in the album with the members and matching the performance through that interpretation.

allkpop: What were the hardest and easiest aspects of preparing for this comeback?
이번 컴백을 위해 준비하던 것들 중 가장 어려운 것과 가장 쉬운 것은 무엇이었나요?

MU: 타이틀곡 는 전체적으로 굉장히 밝고 펑키한 노래인데요. 제가 평소 텐션이 높지 않아서, 처음엔 자연스럽게 즐기는 게 잘 안 되더라고요. 그래서 연습할 때부터 최대한 몸을 풀고 놀듯이 춤을 췄어요. 나름 도움이 된 것 같아요.
The title song is a very bright and funky song overall. I don't usually have high tension, so it wasn't easy to enjoy naturally at first. So, from the time I practiced, I relaxed as much as possible and danced as if playing. I think it helped quite a bit.

BAEKSEUNG: 저도 MU 형과 비슷한데, 안무에 있어서 '느낌'을 살리는 노력을 가장 많이 했어요. 각을 맞추는 안무보다 훨씬 어렵더라고요. 지금도 100% 만족하고 있진 않지만, 제니스 분들이 좋 아해주셔서 다행이라고 생각합니다!
I'm similar to MU, but in choreography, I put the most effort to bring out the 'feel'. It was much more difficult than the choreography to match the angle. Even now, I'm not 100% satisfied, but I'm glad that ZENITH liked it!

JEFF: 사실 쉽다고 말할 수 있는 건 없었어요. 음악으로 무언가를 표현하고 보여드리는 일 자체가 쉽지 않은 일이라고 생각해요. 앞으로 수많은 컴백을 할 텐데, 몇 번째 컴백이든 그때 하게 될 음 악과 퍼포먼스는 저희에게 새로운 어려움으로 다가오지 않을까요
Actually, there was nothing that could be said to be easy. I think expressing and showing something through music itself is not an easy task. There will be many comebacks in the future, but no matter how many comebacks, the music, and performances we will do at that time will come as new difficulties for us?


allkpop: Your title song, "Do 4 Me" is a song that expresses the complex emotions and bold confession of a boy who fell in love for the first time. This funk pop song broadens your musical spectrum well. As you develop your personal color, are there any genres or concepts you'd like to explore as a group?
타이틀곡 'Do 4 Me'는 처음 사랑에 빠진 소년의 복잡한 감정과 과감한 고백을 표현한 곡인데요, 이 펑크 팝송은 EPEX의 음악적 스펙트럼을 잘 넓혀주었다고 생각합니다. 그룹의 퍼스널 컬러(정 체성/아이덴티티)를 키우며 도전해보고 싶은 장르나 컨셉이 있나요?

KEUM: 데뷔한지 얼마 되지 않은 만큼 다양한 컨셉에 욕심이 있는데요. 하나를 골라보자면, 조금 성숙한 느낌이 나는 퍼포먼스를 해보고 싶습니다. 특히 지난 앨범에서는 지금 저희에게 가장 잘 어울린다고 말할 수 있는 교복을 입었잖아요. 어른스러운 수트를 입고 치명적인 퍼포먼스를 선보 이게 된다면, 데뷔 때의 저희와 비교했을 때 그 감회가 더 남다를 것 같아요.
Since we just debuted, we are greedy for various concepts. If I had to pick one, I would like to do a performance that makes you feel a little more mature. Especially in the last album, we wore school uniforms that we can say best fit us right now. If we put on an adult-like suit and put on a fatal performance, I think that feeling will be more special compared to us when we debuted.

A-MIN: 다양한 컨셉에 욕심이 있는 만큼 지금은 무엇이든 다 해보고 싶어요. 성숙한 컨셉, 감성 적인 컨셉, 섹시한 컨셉 모두요. 앞으로 EPEX의 앨범이 차곡차곡 쌓여가다 보면 그만큼 다양한 컨셉을 해볼 수 있겠죠? 벌써부터 저희의 미래가 기대돼요!
As I am greedy for various concepts, I want to try everything now. A mature concept, an emotional concept, and a sexy concept. In the future, as EPEX's albums pile up one by one, we will be able to try out different concepts, right? We are already looking forward to our future!

allkpop: Congratulations on "Do 4 Me" entering the US Billboard Hot Trending Songs Powered by Twitter! Not only did your song do well in the US, but also in Malaysia, Thailand, Indonesia and the Philippines. EPEX is expected to continue this amazing trend of taking the music scene by storm. Share a bit about these achievements and how the group has worked together to make such an impact globally.
'Do 4 Me'가 미국 빌보드 핫 트렌딩 곡 Powered by Twitter에 입성한 것을 축하합니다! 미국뿐만 아니라 말레이시아, 태국, 인도네시아, 필리핀에서도 곡 반응이 좋았는데요, 가요계를 강타하는 이 놀라운 트렌드를 계속 잘 이어갈 것이라 생각합니다. 이러한 성과에 대해서 한 말씀 부탁드리며, 그룹이 전 세계적으로 이러한 영향을 미치기 위해 어떠한 노력했는지 말씀 부탁드립니다.

AYDEN: 일단 핫 트렌딩 곡 Powered by Twitter에 입성할 수 있게 해준 저희 팬들, 제니스에게 정 말 감사드립니다. 많은 분들이 데뷔 때부터 이번 활동까지 지켜봐주고 계신데요. 저희를 향한 응 원과 기대에 부응하고 싶은 욕심이 나날이 커지고 있어요. 좋은 모습 보여드리기 위해 계속해서 노력할 테니까 앞으로도 저희 EPEX에게 많은 관심과 사랑 부탁드립니다!
First of all, thank you to our fans, ZENITH, who made it possible to enter the Billboard hot trending song Powered by Twitter. Many people have been watching us since our debut until this activity. The desire to support us and live up to our expectations is growing day by day. We will continue to work hard to show you good sides, so please give EPEX a lot of interest and love!

YEWANG: 무언가를 특별히 노력했다기 보다는, 팬 분들이 계셨기에 이만큼 해냈다고 말씀드리고 싶어요. 데뷔를 하고서부터 지금까지 단순히 저희 힘으로만 이뤄낸 건 없어요. 어떤 결과나 성적 을 얻을 수 있었던 건 모두 제니스 덕분입니다! 그래서 끊임없이 다양한 방식으로 전 세계 팬 분 들과 소통하려고 해요. 팬 분들과 많은 이야기를 나눠야 유대감도 더 깊어지고, 그만큼 함께 하는 성장이 더 의미 깊게 다가올 테니까요.
I would like to say that I did this much because of the fans, rather than worked hard in a specific field. From the time we debuted until now, nothing has been achieved simply by our own strength. It was all thanks to ZENITH that we were able to achieve any results! So, we will constantly try to communicate with fans around the world in various ways. When you talk a lot with your fans, the bond between us and the fans will deepen, and growing together is more meaningful.

allkpop: Switching gears, EPEX was chosen as The 5th Korea's 2021 Youth Day Ambassador. What
does this mean to EPEX and how does EPEX plan to represent youth?
EPEX가 제5회 대한민국 청년의 날 공식 홍보대사로 위촉되셨는데요, EPEX에게는 어떤 의미가 있
으며, 청년을 어떻게 대표하실 계획이신지 궁금합니다.

WISH: 일단 청년의 날 홍보대사로 임명해주셔서 감사드립니다. 정말 영광스러운 일이라고 생각해 요. 저희 EPEX 또한 멤버 모두가 대한민국의 미래가 될 청년들이기 때문에, 이번 임명이 좀 더 뜻깊게 와닿았습니다. 앞으로도 좋은 모습, 좋은 음악을 통해 청년의 날을 알리는 데에 힘을 보태 고, 같은 대한민국 청년으로서 전세계에 선한 영향력을 선사하고 싶습니다!
First of all, thank you for appointing us as the ambassador for Youth Day. I think it's really an honor. Since all our EPEX members are young people who will become the future of Korea, so this appointment was very meaningful to us. In the future, we want to contribute to promoting Youth Day through good behavior and good music, and as a young Korean, I want to give a good influence on the world!

allkpop: As a newer group, it can be intimidating to enter an industry with so many widely-popular and influential artists. Who are some artists, whether domestic or international that have inspired you as of late?
신인 그룹으로서 널리 유명하고 영향력 있는 아티스트가 많은 업계에 진입하는 것은 긴장되는 일 인데요, 최근에 영감을 준 국내외 아티스트는 누구인지 궁금합니다.

JEFF: 올해 5월 투모로우바이투게더(TXT) 선배님들이 발매하셨던 <0X1=LOVESONG (I Know I Love You) feat. Seori>이라는 곡을 처음 들었을 때 정말 놀랐어요. 평소에 팝송을 굉장히 자주 듣고 좋 아하는데, 이 노래가 정말 제 취향이더라고요. 노래도 너무 좋고 선배님들도 멋지게 소화하셔서 큰 감명을 받았어요. 요즘도 매일 선배님들 곡을 듣고 있습니다!
I was really surprised when I first heard the song <0X1=LOVESONG (I Know I Love You) feat. Seori> released by TXT seniors in May of this year. I usually listen to pop songs very often and like them, but I especially like this song. The song is very good, and the seniors digested it nicely, so I was very impressed. Even these days, I listen to seniors' songs every day!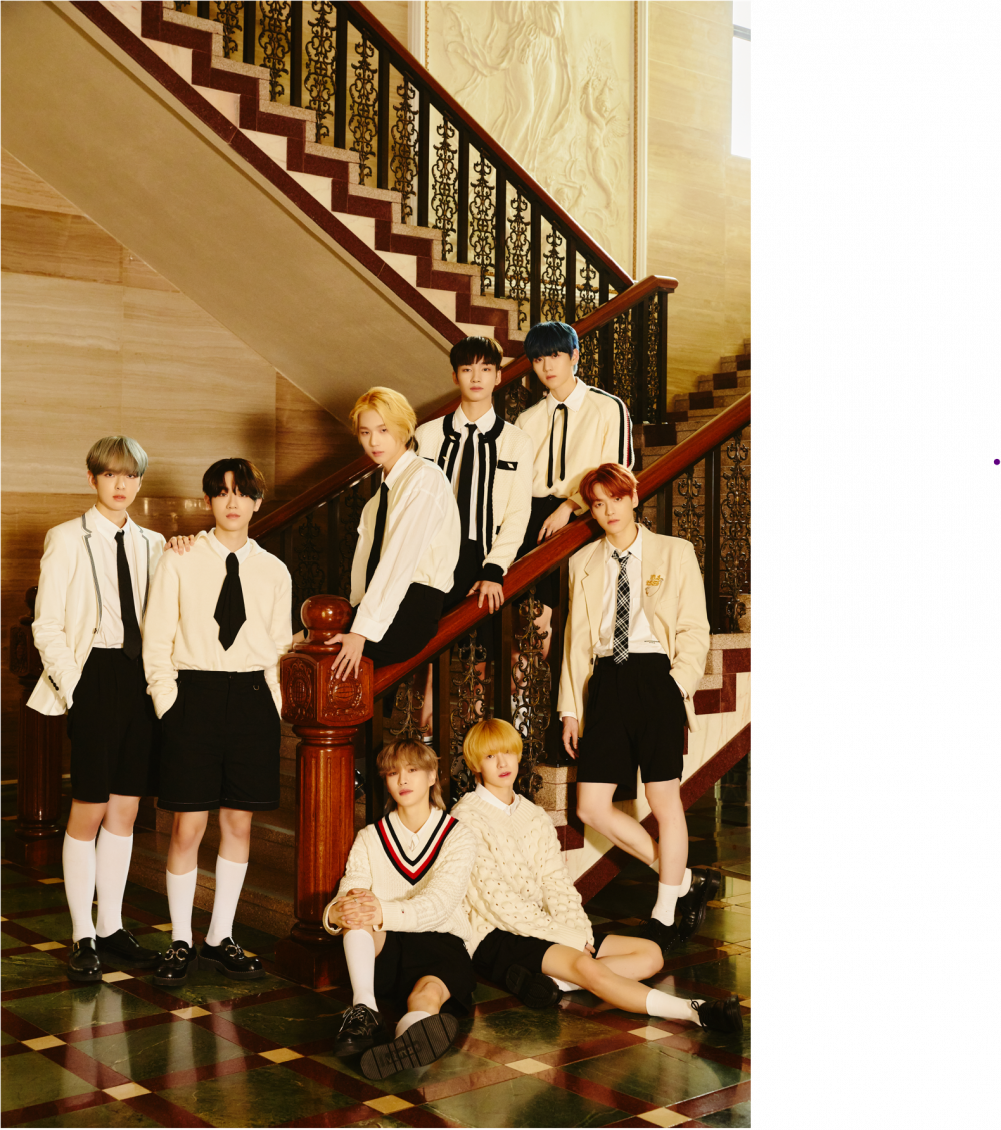 allkpop: We'd love to hear a recommendation of a song that's inspired you recently. Please share
one!
최근 영감을 받은 노래 추천 부탁드립니다!

YEWANG: 크러쉬(CRUSH) 선배님의 <가끔>이라는 곡을 추천드리고 싶어요. 선배님께서 이 노래 를 굉장히 편하게 부르시는데, 그 편한 보컬에서도 멋스러움이 느껴지거든요. 노래를 들으면서 '나도 선배님처럼 노래를 하면 좋겠다'는 생각을 많이 했습니다.
I want to recommend a song called by CRUSH senior. The senior sings this song very comfortably, and I can feel the coolness in the comfortable vocals. While listening to the song, I thought a lot about 'I wish I could sing like him too'.

allkpop: As EPEX continues to develop as a group, where do you imagine the group to be in 3 years time? Do you have goals you're hoping to achieve both as an individual member and as a group? Any areas you'd like to improve on?
계속해서 성장해가는 그룹으로서, 3년 후에는 어떠한 그룹이 되어있을 거라 생각하시나요? 멤버 개인으로나 그룹으로서 성취하고 싶은 목표가 있나요? 개선하고 싶은 특정 분야/부분이 있나요?

BAEKSEUNG: 3년 후에는 지금보다 더 똘똘 뭉친 EPEX가 되어 있을 것 같아요. 지금도 많은 시간 을 보내고 있지만, 3년 후면 지금보다 3년이라는 시간을 더 함께하는 거잖아요. 얼마나 더 친해져 있을지 벌써부터 궁금해져요.
In 3 years, I think we will become a closer EPEX than we are now. Even now, we spend a lot of time together, but in 3 years, we will be together for 3 more years than now. I am already curious how much closer we will become.

MU: COVID-19 이후에 데뷔했기 때문에 데뷔 쇼케이스를 하지 못했던 게 정말 아쉬운데요. 시국 이 시국인 만큼, 지금 당장 성취하고 싶은 가장 큰 목표는 팬들과 함께 하는 콘서트입니다! 객석 을 가득 채워주신 제니스 분들의 함성을 들으면서 공연을 해보고 싶어요. 1년 후든 3년 후든 이룰 수 있다면 시간이동이라도 하고 싶은 마음이에요.
It's really regrettable that we weren't able to do a debut showcase because we debuted after COVID19. Due to the circumstances, the biggest goal I want to achieve right now is a concert with our fans! I want to perform while listening to the shouts of the ZENITH who filled the audience. If I can only do that after 1 or 3 years, I want to even travel time.

A-MIN: 개선하고 싶은 점에 대해 생각하다 보면 그 목록이 끝도 없어요. 노래도, 춤도, 컨셉 소화 능력도, 단합력도 모두 빼놓지 않고 욕심 나거든요. 질문처럼 저희 EPEX는 앞으로 계속해서 성장 해나갈 테니, 과연 EPEX가 어디까지 성장할지 끝까지 지켜봐 주시기 바랍니다!
The list is endless when you think about what you want to improve. I am greedy for singing, dancing, concept digesting, and unity. As in the question, EPEX will continue to grow in the future, so please keep an eye on us to see how far EPEX will grow!

allkpop: EPEX is a group that was formed amidst the COVID-19 pandemic, meaning the group has not been able to meet personally with fans. Are there any messages you would like to convey to EPEX fans that you have not gotten to greet yet? Any words of encouragement?
EPEX는 코로나 팬데믹 시기에 형성된 그룹인데요, 이 말은 즉 팬분들을 직접 만날 기회가 많이 없었다는 뜻이기도 합니다. 아직 만나 뵙지 못한 팬분들을 위해 전달하고 싶은 메시지가 있나요? 격려의 한 마디 부탁드립니다.

AYDEN: 제니스 분들이 저희를 보고 싶어하는 만큼 저희도 매일 매일 제니스가 보고 싶습니다. SNS나 라이브 방송을 통해 인사를 드려도 채워지지 않는 아쉬움이 있어요. 최근 대면 팬사인회를 했는데, 제니스 얼굴을 보고 이야기를 나누니까 그렇게 행복할 수가 없더라고요. 하루빨리 COVID-19 사태가 나아져서 다양한 나라에 계신 수많은 제니스 분들을 만나러 가고 싶습니다. 그 날이 올 때까지 조금만 기다려주세요!
As much as ZENITH want to see us, we also miss ZENITH every day. Even if we greet you through SNS or live broadcasting, we have some feelings that we can't fill it up like we can when we meet in person. Recently, we had a face-to-face fan signing events, and seeing ZENITHs' face and talking, we couldn't be happier. As the COVID-19 situation gets better as soon as possible, I want to go to meet many ZENITH from various countries. Please wait a little bit until that day comes!

allkpop: We hope to see EPEX more and more as time goes on. Good luck to the group, and we're excited to see what you have in store for us! As a last question, please give fans a little hint as to what to expect with EPEX's next comeback!
앞으로도 EPEX를 자주 만나 뵈었으면 좋겠습니다. 행운을 빌겠습니다! 마지막으로 EPEX의 다음 컴백에 대한 힌트를 팬들에게 살짝 부탁드립니다!

KEUM: 양극성을 주제로 이어져 있는 데뷔 앨범과 이번 앨범의 곳곳에 EPEX의 세계관이 녹아 있 는데요. 다음 앨범 또한 그 바통을 이어받아 가사, 뮤직비디오, 이미지 등을 통해 EPEX의 이야기 를 풀어나갈 예정입니다. 이번 컴백을 통해 많은 분들이 주신 응원과 사랑 잊지 않고, 다음 컴백 에서도 멋진 모습 보여드리겠습니다. 언젠가 다가올 EPEX의 새로운 음악도 기대 많이 해주세요!
The world concept of EPEX is melted in the debut album and this album, which is connected with the theme of bipolarity. The next album will also take over the baton and tell the story of EPEX through lyrics, music videos, and images. We will not forget the support and love that many people have given us through this comeback, and we will show you a wonderful side in our next comeback. Please look forward to EPEX's new music!