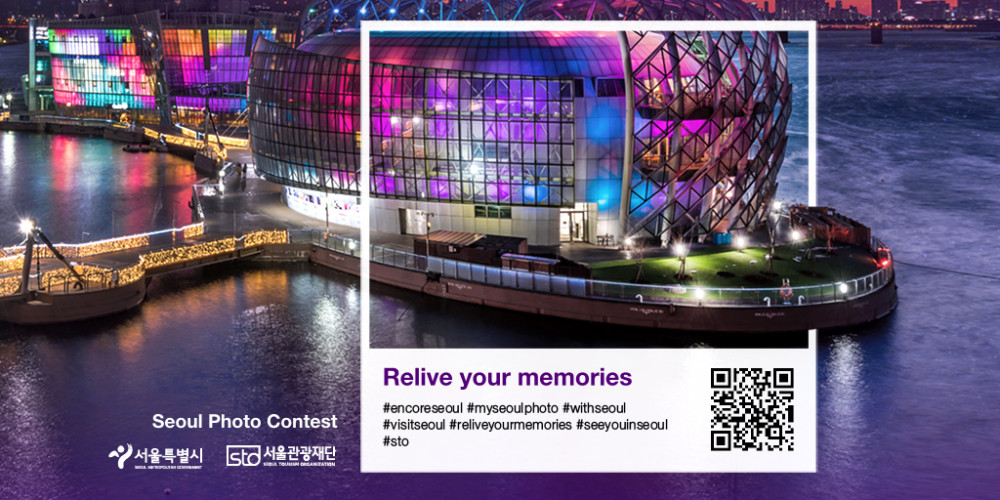 From Namsan Tower to the traditional hanok villages, Seoul has tons to offer when it comes to sightseeing. Whether it's the hustle and bustle of busy city life or the serene historical palaces, there's no shortage of amazing sites to see. Full of rich culture and years of intriguing history, the country has plenty to offer travelers who are experiencing it for the first time. Unfortunately, it's been hard to travel given the pandemic, but that doesn't mean we can't look back fondly at our prior experiences and exciting memories! With just a simple picture, foreigners around the world who have experienced Seoul can enter to win some awesome prizes just by sharing their memories!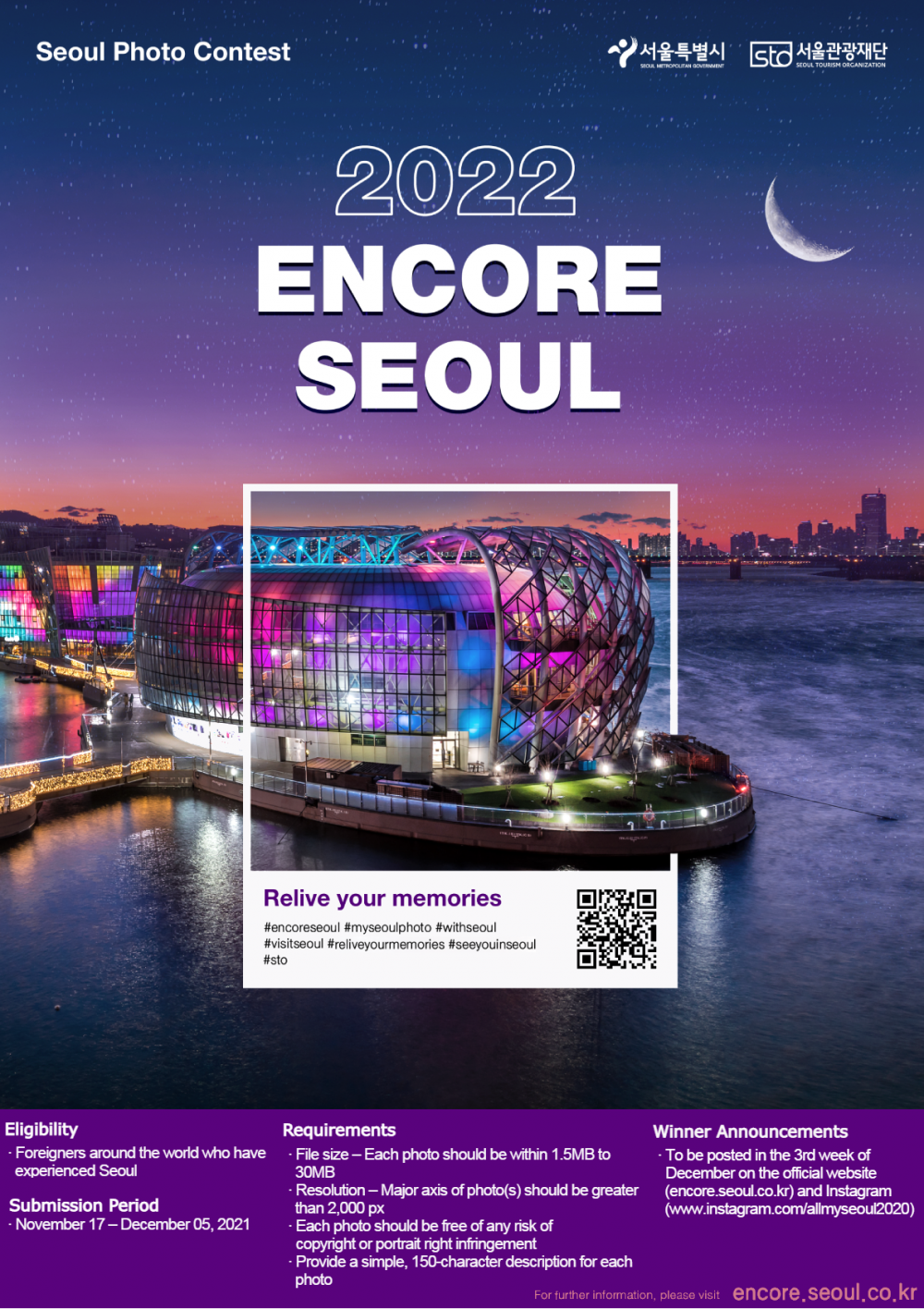 The 2022 Encore Seoul International Seoul Photography Contest aims to showcase the special moments and places that make Seoul special. Share your most precious memory of Seoul through a photograph and get rewarded from the comfort of your couch.

So, what do I have to do?

To be eligible, all you need to do is be a foreigner who traveled to Seoul, South Korea! Literally! That's it! The theme of 2022's Seoul Photography Contest is "Encore Seoul," so all photos taken during a visit to Seoul are eligible to be entered between November 17 to December 5, 2021. A good photo is one that's special to you and captures the beauty of this unique city!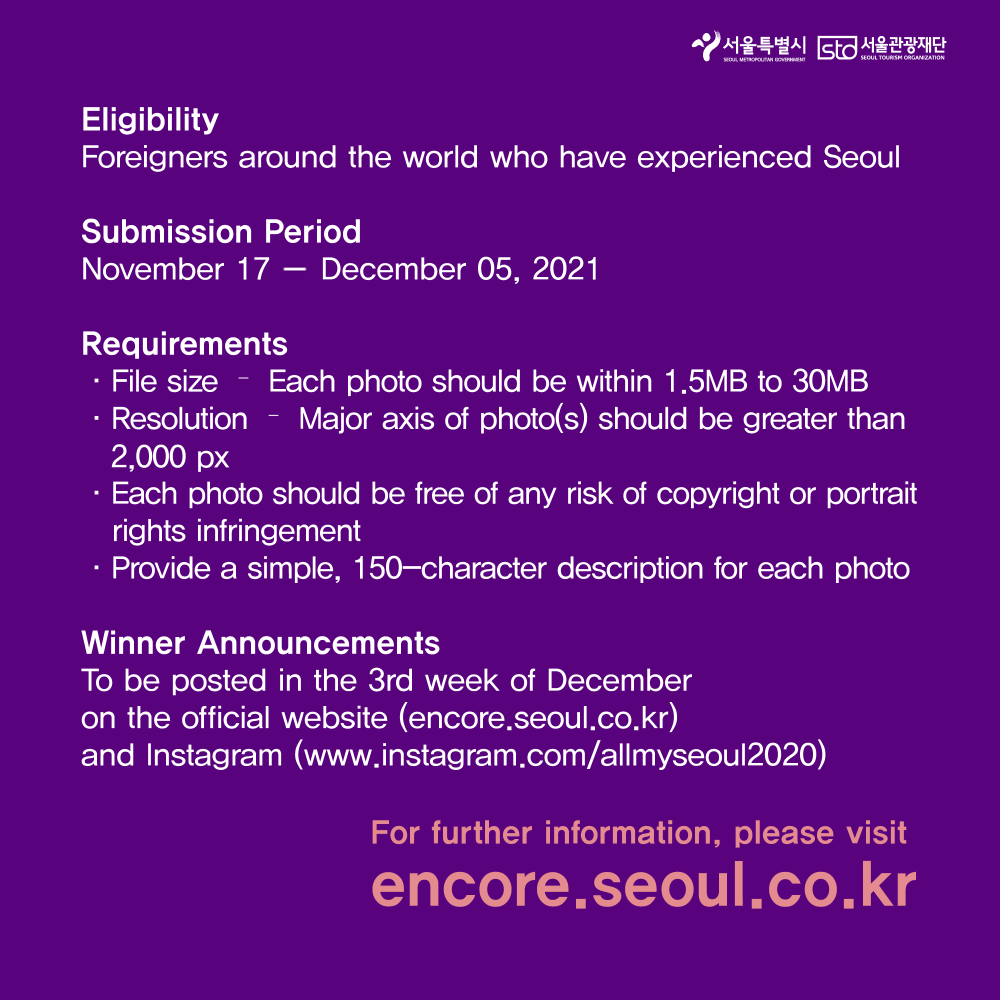 What are the requirements?
- The subjects and backgrounds of photos are limited to the photos of the city of Seoul, South Korea. The image should be either a portrait taken in Seoul, a landscape of Seoul, or any other photo of the city that is special to you!
- The file should be larger than 1.5MB and smaller than 30MB in size, and at least 2,000 pixels for the width. High quality is good!
- Provide a simple, 150-character description for each photo. Share what makes this photo special!
- Apply at the allmyseoul.seoul.co.kr (Google Form) website!


What can I win?
Selected winners can receive the following prizes!

🥉 $200 Amazon E-Gift Card
🥈 2022 Seoul Calendar

- Prize winners will be published on the 3rd week of December to the competition's site, encore.seoul.co.kr and Instagram @allmyseoul2020.
- Be sure to upload your photo entries to social media utilizing the hashtags below!
#encoreseoul #myseoulphoto #withseoul #visitseoul #reliveyourmemories #seeyouinseoul #sto
- The more likes you get, the better your chances of winning a prize!

This contest is open from now until December 5, 2021, so do not miss out on this awesome and easy opportunity to win big! Interested participants can apply via encore.seoul.co.kr. All questions or concerns may be mailed to encore.seoul.2020@gmail.com.

Participants are responsible for any incorrect information caused by wrong information on the application form. Please fill out the form accurately when entering the contest.

Show us your "Seoul" with the 2022 Encore Seoul Photo Contest!

[Disclosure: This post is sponsored by the Seoul Tourism Organization.]