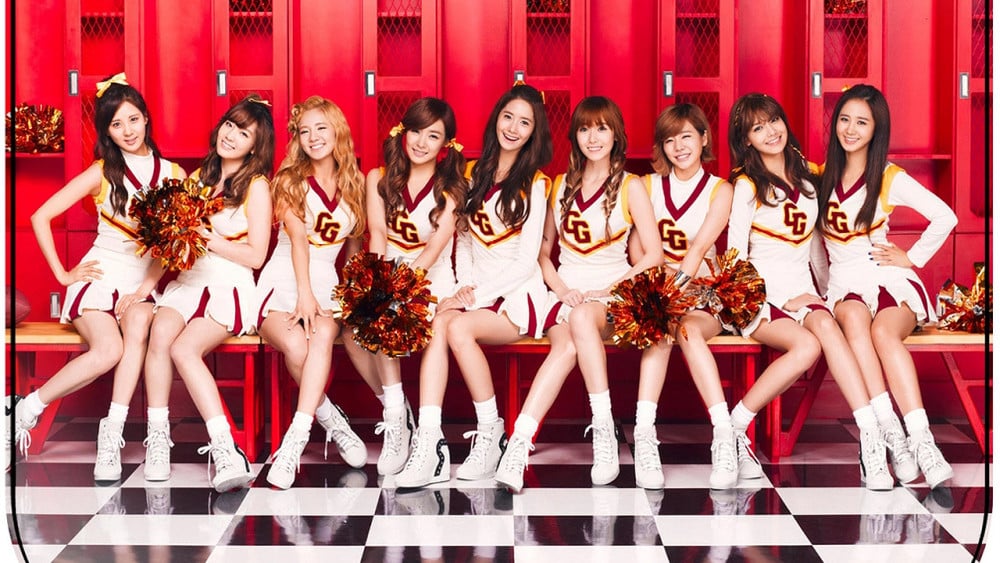 Welcome back to the final week of the time machine back to 2010! We discussed the rookie groups, boy groups, and solo hits of 2010, and boy -- it was a fantastic year. But we still have the most important girl group hits that dominated the beginning of the decade. Let's take a look and see what girl group songs were most popular in 2010!
Girls' Generation - Oh!, Run Devil Run, Hoot!
Girls' Generation had an absolute trifecta in 2010 by striking #1's with every single they released. "Oh" was released in January 2010 as part of their second full-length album, while "Run Devil Run" was part of the repackage. The nine ladies were also able to showcase their dark and sexy side for the first time as well.

They later returned in October of 2010 with their third mini-album "Hoot!" You thought 2009 was the year for GG? 2010 was better, and 2011 was even grander.
Wonder Girls - 2DT
Wonder Girls made their first domestic comeback in nearly two years after a relatively lukewarm US debut. Though the song didn't live up to its hype (and it was only promoted for two weeks), the song ended up ranking #7 in the year chart!
T-ara - I Go Crazy Because of You
After shocking the nation with Bo Peep Bo Peep, T-ara returned with a sexy concept, and it was pretty mesmerizing to see. Both visually and musically, T-ara absolutely killed it, and it still remains one of their most popular songs. Everyone remembers Hyomin's crazy sexy rap part, right?

Kara - Lupin
If T-ara had a rival, it would be Kara. Both coming back at a similar time, Kara also had a powerful woman concept instead of their cute next-door neighbor concept. Fortunately, it worked out, and everyone was yelling, "Hello, Hello, Hello Hello Hello."
2NE1 - Go Away, Can't Nobody, Clap Your Hands
The only other group that was able to achieve a trifecta with their song -- did we mention all these songs are from the same album? The quality of their album was so good that there was a title track for each music show. They would perform "Go Away" on Music Bank, "Clap Your Hands" on Show! Music Core and finish it off with "Can't Nobody" on Inkigayo. This was only possible because it was 2NE1.
4Minute - Huh
4Minute was also part of the 2010 craze, as they returned with a fun and sexy song called "Huh." To be completely honest, this is one of 4Minute's most underrated songs, but without a doubt -- it is a great song to listen to.
Secret - Magic, Madonna
2010 was definitely Secret's year as they were able to reach top-tier status instantly with their hit single "Magic." They didn't stop and came back with "Madonna" in the latter half of the year. Though "Madonna" did receive some criticism for sounding similar to the former track, it was a great fun track to jam out to.
Rainbow - A
If people say Rainbow, they usually always remember the belly button dance from "A." Considered Rainbow's most popular hit song, this song had to undergo a choreography change midway through promotions for a supposedly provocative dance; but that call itself brought forth even more attention! I mean, it was a BOP for sure.
f(x) - Nu ABO
f(x) was also demonstrating their specialty with their own style of music. In this case, new and unique was the correct description. The song was definitely something we'd never heard before, but it was weird because somehow, people were beginning to hum along to the song. Na na na na na na~
After School - Bang
If we thought we saw enough performance from After School, we were wrong because these ladies performed a MARCHING BAND performance. With the addition of new member Lizzy, they learned how to tap dance and prepared a drumline performance for their comeback. This song is still widely loved that it appeared on MMTG.
Orange Caramel - Magic Girl
After School's first (and only) unit group debuted in 2010, with a concept that was quite unique. The Korean audience was definitely shocked, but they didn't dislike what they were seeing. In fact, the concept was popular and ended up being what made Orange Caramel so popular and unique. At one point, they were more popular than After School itself.

As the year's progress, we can definitely examine the presence of girl groups becoming more dominant. In 2010, it was the beginning of the girl group revolution, where girl groups were the main product of the k-pop scene. Which girl group hit was your favorite in 2010? Was there a song that did not make the list? Let us know in the comments below!