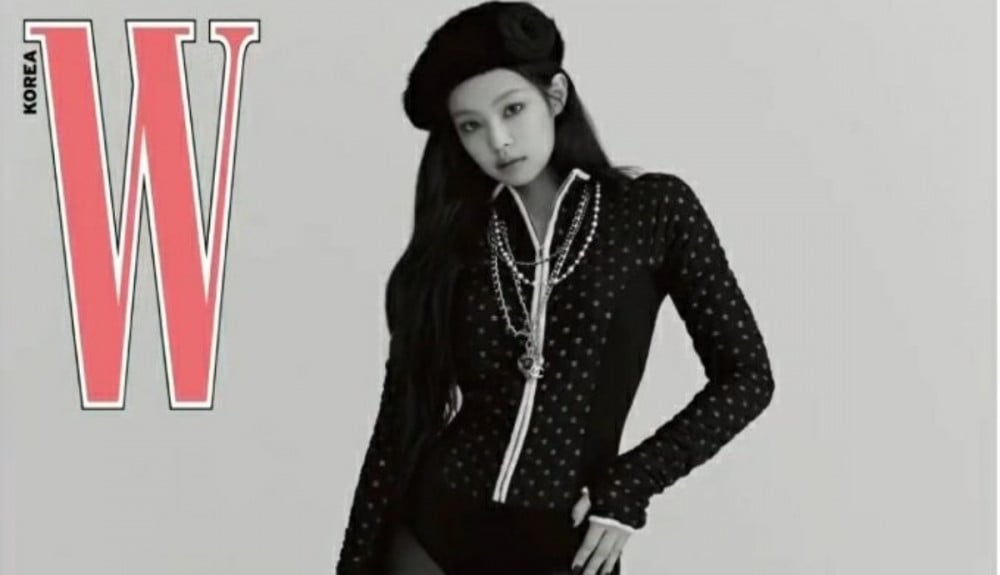 On October 14, fashion magazine 'W Korea' unveiled the cover page pictorial of BLACKPINK's Jennie for their November 'Pop-Eyed' issue. In the pictorial, Jennie's Chanel stylings use various patterns and colors in order to express her musical and fashion identity. Further, the 'W' magazine pictorial pulls inspirations from David Bowie, who is seen as one of the most iconic musicians of the pop music history in the 1980s and 1990s.
In the first photo, Jennie is standing against a polk-a-dot background while wearing white overalls, a red-striped white long-sleeve shirt, a headband, and black-and-white shoes. In the second photo, a black-and-white photo of Jennie shows her in a baret and a black bodysuit, oriented with statement jewelry. The third photo is a more close-up shot of Jennie looking mischievous, wearing a detached hood with a large flower. The last photo shows Jennie in a black tube top and navy overalls with Chanel's brand marks stitched onto it. Each of the cover page photos shed light on Jennie's various charms and self-expression.
Meanwhile, the November issue of 'W Korea' magazine's cover page was adorned by Jennie, a musician who is continuing to build rapport in the global fashion industry.