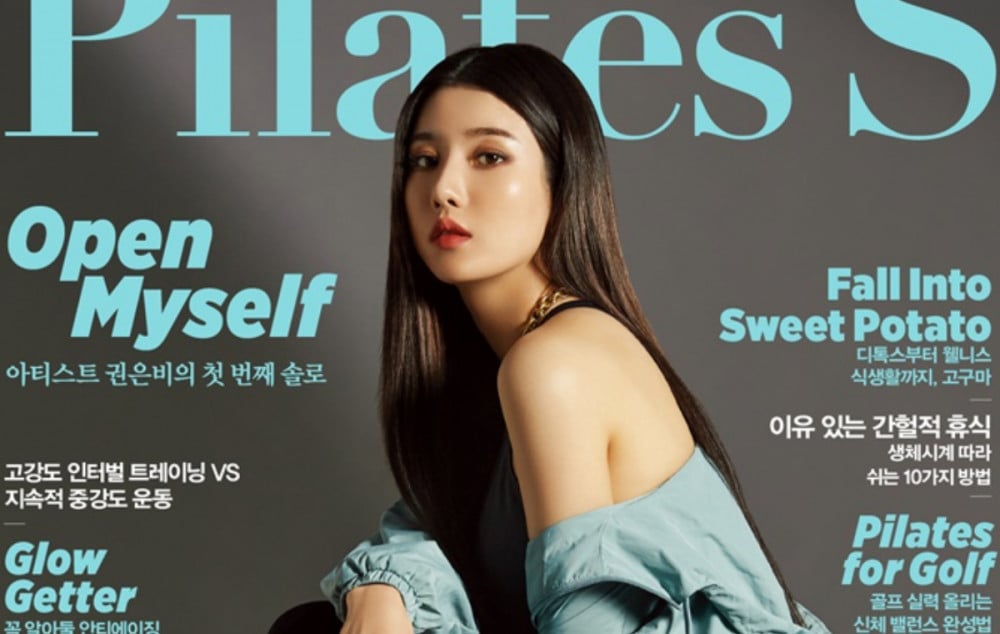 Kwon Eun Bi is the cover model of a Korean fitness magazine!
Korean wellness magazine 'Pilates S' has revealed the former IZ*ONE leader is the cover star of their September issue.
In the cover story, titled 'Open Myself to be Solo,' the Woollim Entertainment idol talks about her new start as a solo artist, having just released her debut solo album 'OPEN' on August 24. The accompanying pictorial shows Kwon Eun Bi combining her chic image with a sporty charm as she models a number of athleticwear looks.
"It's been about two weeks since I began solo promotions, so now it seems my nerves are getting better," she explained in the interview. "In the first week of promotions, I felt a lot of pressure to fill up the stage by myself." She also added that her goal for the album is to give the general public an even more well-rounded understanding of who 'Kwon Eun Bi the singer' is, continuing that she hopes that people can sing along to her songs.

During another portion of the interview, she discussed the other IZ*ONE members' opinion on her solo debut, stating, "The members, who have been monitoring my music show performances, have all been contacting me and giving me strength as they say things like 'You looked so pretty' and 'You did a great job.'"
On her new album, Kwon Eun Bi participated in songwriting and arranging title track "Door" and B-side track "Rain." During the interview, she was asked whether she preferred writing lyrics or writing the music, to which she replied that she felt writing music suited her better.
"Sometimes the melody comes out easily, and when that happens, I feel really thrilled. When there is something blocked, the composers who work with me provide direction, saying, 'It seems this is better than that,' so I'm constantly learning," she elaborated. "Perhaps that's why making music is just as fun as – no, even more fun than – dancing these days."

During the interview, she also selected BoA and IU as her K-Pop role models, saying, "I've liked both of them since I was young. I think the different charisma, energy, and experience they show on the stage is really great."

Check out the images from the pictorial below!