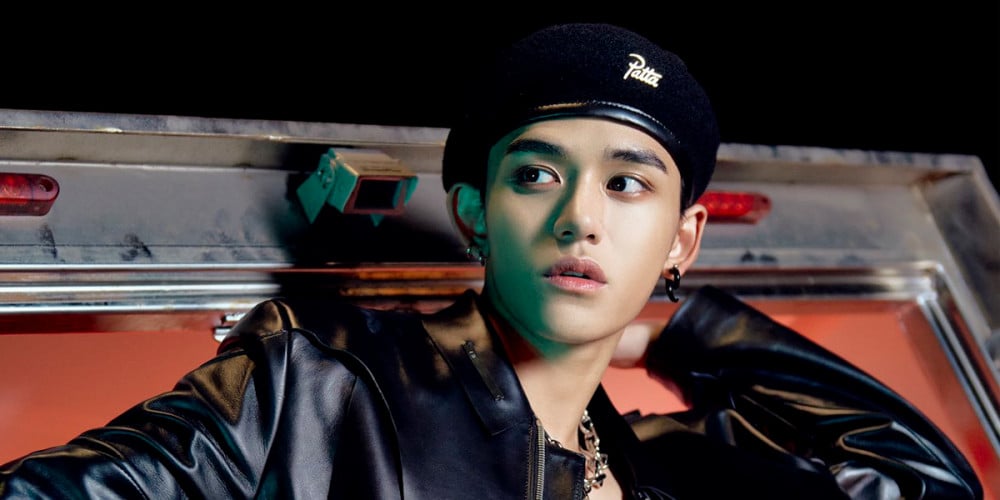 The first, initial accuser who raised allegations of gaslighting, money leeching, etc - a former Korean fan/ex-girlfriend - has now spoken up with additional details about their relationship with NCT's Lucas.
Previously, when the first accuser 'A' claimed Lucas approached them, manipulated them, and leeched money off of them, 'A' faced heavy criticism and hate attacks as many believed they were lying.
However, soon afterward, several other netizens including two former Chinese fans, 'B' and 'C', came forward with similar stories, adding on accusations of cheating. As the issue became bigger, both SM Entertainment and Lucas issued formal apologies, also announcing the suspension of all of Lucas's promotions for the time being.
Now, 'A' has decided to speak up with more lengthy details about their alleged relationship with the NCT/WayV member. 'A' wrote:
"Does he memorize the same lines when flirting with a girl? It's like he's a serial criminal. I heard exactly the same lines that the Chinese fan heard from him, without a letter difference. 'I only read your letters', 'I don't read letters from other fans', 'I am good at reading people, and you seem like a genuinely nice girl', 'This is the first time I've approached a fan, so please keep it a secret'.

We first began dating in July of 2019. He told me that I was no longer his fan, but his girlfriend, and told me about the 'Burberry' event in the UK taking place in September in advance. He also insisted that I stay in his room and rest a little on the bed before going home, and even though I said I couldn't do it with him because it was that time of the month, he kept demanding intercourse.
After a few months of dating, in October of 2019, he told me he wanted to break up. He felt bad about breaking up over chat messaging, so we met up early in the morning before he left for LA for SuperM activities (19.10.02), and he said he just wanted to be friends. He went on about what a hard time he was having, and asked me to understand him. He was busy at the time with preparations for SuperM and WayV, and said that he was so frustrated during the 'Moonwalk' MV shoot because one member kept messing up the dance, delaying the filming. He was so frustrated and tired that he even smoked in front of the MV director while the director was addressing him. He then told me to wait 5 years, and in 5 years he would buy a house in Korea so we could live together. After parting ways without hard feelings that day, he contacted me the next day, saying he wanted to see me.
I don't know the full details, but he said that a manager made a big mistake during WayV's fan meeting in Thailand, and all of the members had to face the consequences. He claimed that because of the incident, he was the 'boss' over all of the WayV members and even their managers.
The manager who lived with Lucas knew that Lucas was going out to meet his girlfriend, although they did not know that I was the girlfriend. Lucas said that his manager saw him sneaking out late at night to come meet me, but the manager let Lucas go without holding him back."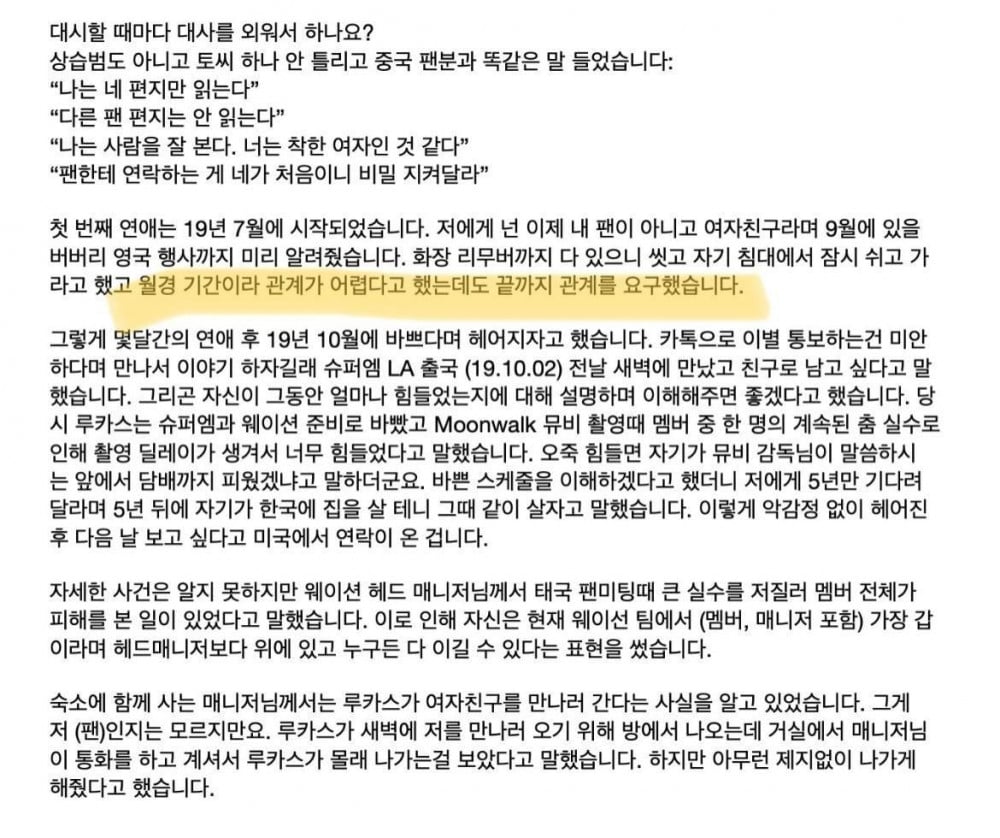 "Our second relationship went on from November of 2019 until March of 2020. When he began having more free time in his schedules, he wanted to start dating again, and we spoke over Wechat video calls when he was in China, and met at a hotel when he was in Korea.
There were moments when I was happy to be dating Lucas, a celebrity I was a fan of, but there were other times when he made me uncomfortable with his stories. He asked me if I saw [EXO] Chen's marriage news, and said, 'If you end up with a baby, of course you need to get married. Should we do that too?'. He also often talked about other girlfriends he had in the past, describing their height and their bodies, which made me uncomfortable. I felt that he could just as easily talk about my body elsewhere.
He said that he had a bad friend during his school days, and had his first sexual intercourse at a massage parlor in China. He also said that when he was young, he liked tall women but after finding out that tall women had bodies like men, he began liking shorter women.
He said that before joining SM, a friend in Hong Kong was being bullied, so he got into a big fight. He claimed that he fought with gang members, and also said that because he was good at fighting, a gang boss tried to recruit him.
As I said before, I paid for every penny of the funds used during our dates, including luxury brand gifts, hotels, etc. Once, I lost my credit card on a day when I met Lucas at a hotel. When I asked if he could pay just once, he firmly refused, saying that his manager could check his credit card purchases. In 2020, when we met at a hotel suite on Lucas's birthday, it was in a remote area of Seoul with no convenience store nearby. As soon as he arrived, he demanded cigarettes, said he was sure I would have bought them, and made me take a taxi to a convenience store just to buy him some cigarettes. He said there was no way he could go buy them, I had to."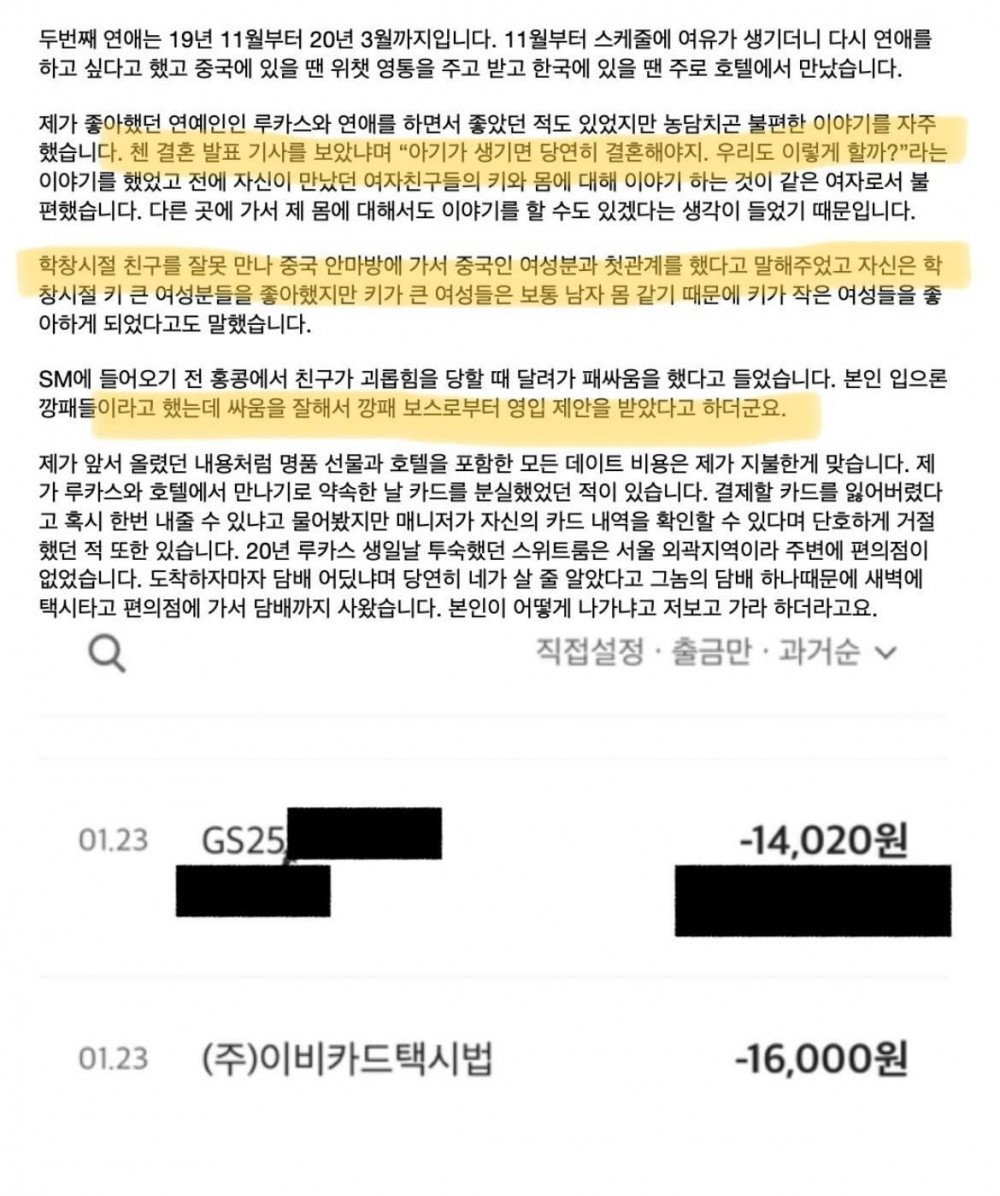 "On October 1, 2020, he came to visit me at my apartment. He said that it was Chuseok and they had no schedules, so he had plans to go to the beach with Hendery and Winwin that night. After spending some time with me at my place, he received a call from Hendery and immediately left for the beach. The last time I saw him was on February 4, 2021, at a hotel."
(Below are chat messages allegedly exchanged between 'A' and Lucas on October 1, 2020.)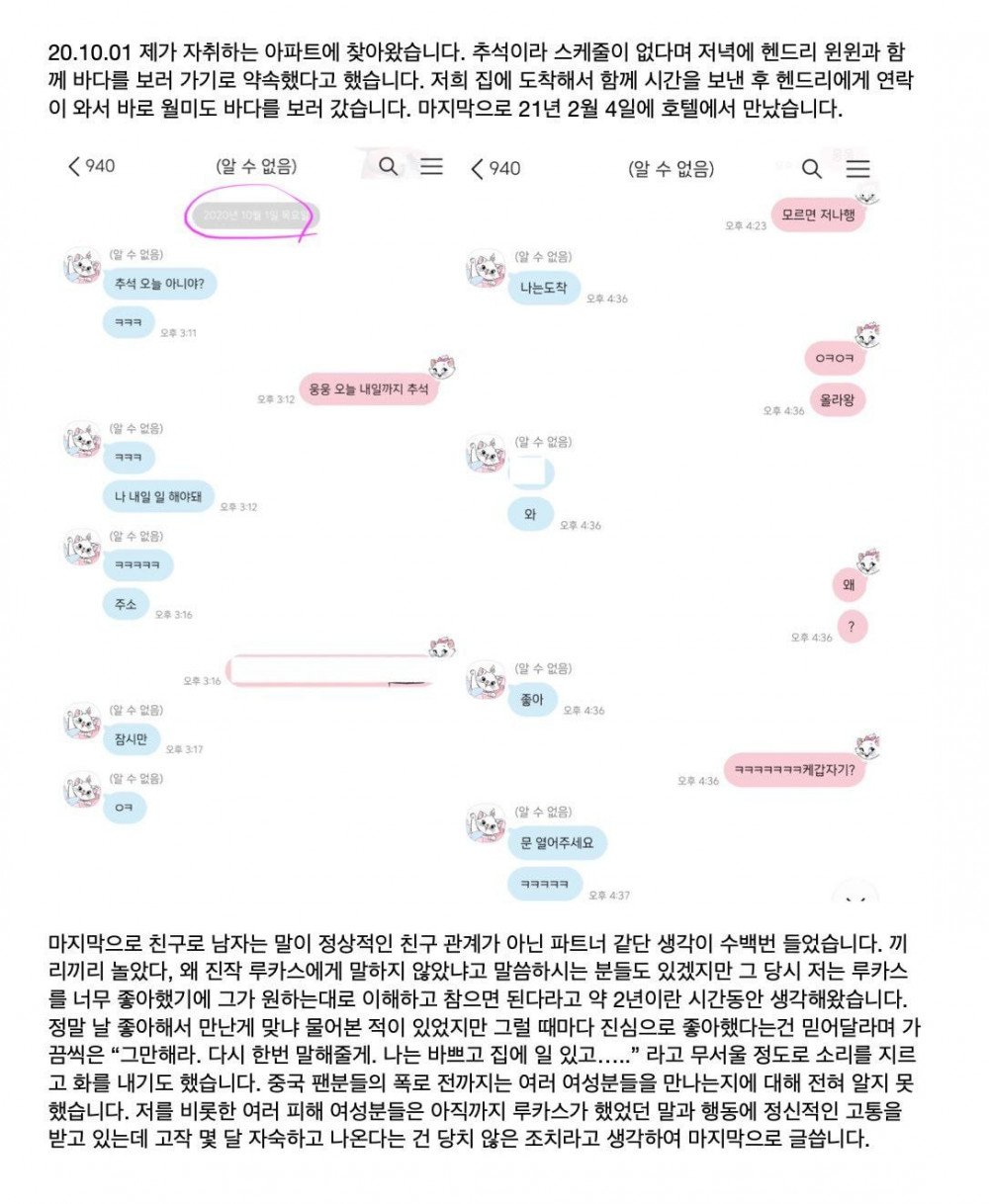 "Lastly, I couldn't help but feel that when he said he wanted to 'just be friends', he meant that he wanted me as a [sex] partner, not a friend in the normal sense of the term. There are some people who are saying that I got tangled up with him because I'm of the same breed, why didn't I confront him earlier, and such but at the time, I liked him so much that I just thought I could endure everything if I 'understood him' like he insisted; I thought that way for 2 years. I've asked him if we dated because he truly liked me, and each time, he said that he truly did, but he also raised his voice and shouted at me, 'If you don't stop. I am going to say it one more time. I am very busy, there are circumstances back home...'. Before other Chinese fans came forward, I had no idea that he was meeting up with multiple women this way. Many of the victims, including myself, are currently still suffering from the mental damages inflicted by his speech and his actions, but it seems that he will 'reflect on himself' for a few measly months before crawling back out to promotions. I felt that this was not a proper way to respond to the situation, so I am writing this last post."