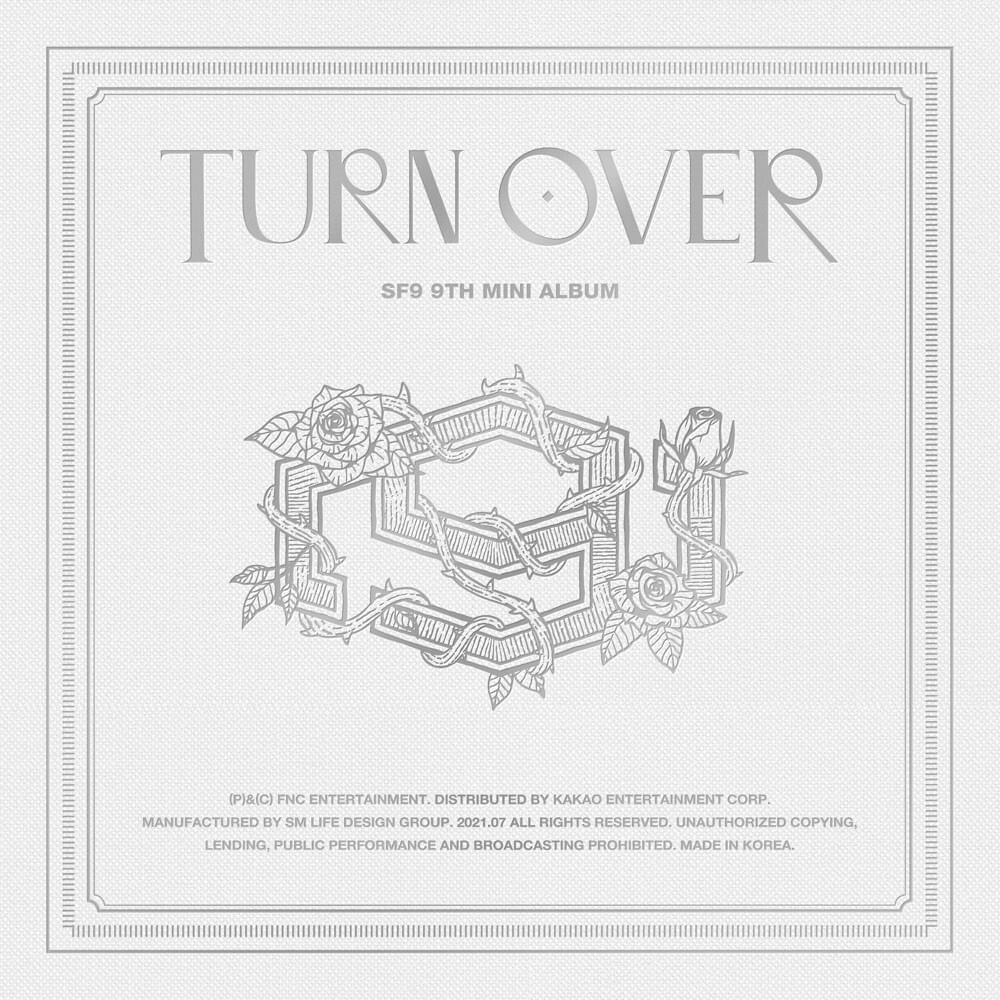 [This review reflects the opinions of the author and not necessarily those of allkpop.]
Track List:
1. Tear Drop
2. |Believer|
3. Love Again
4. Off My Mind
5. Fanatic
6. Hey Hi Bye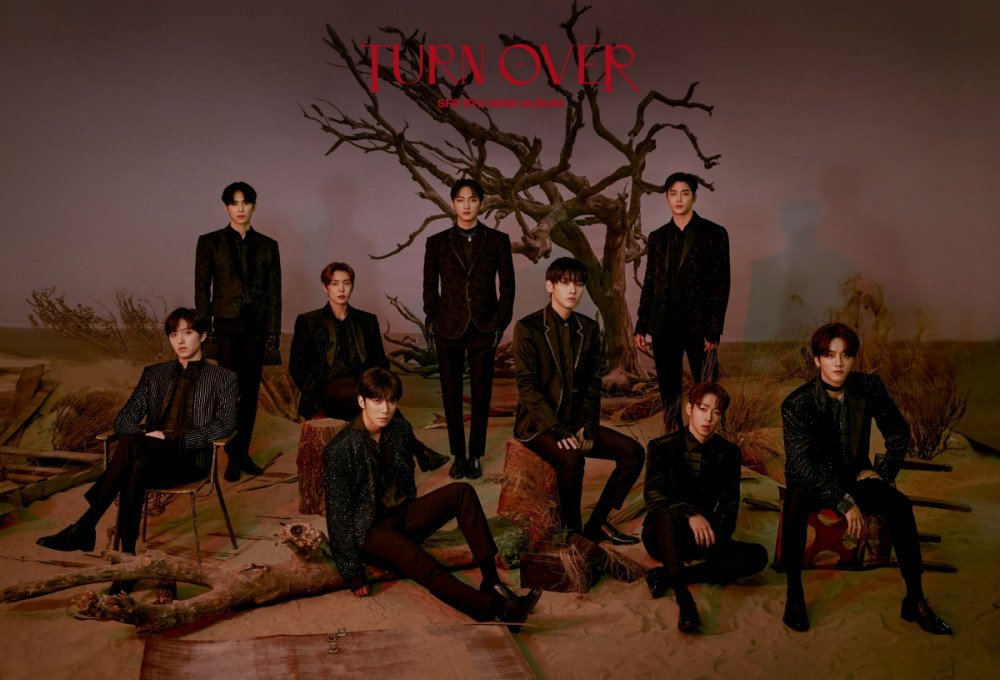 With a xylophone-like music box melody, SF9 has returned with the title track, "Tear Drop," on their newest release, TURN OVER. Opting for a mature and sexy concept, "Tear Drop" is a house song with an ultra-alluring club beat. Sleek yet melodic, "Tear Drop" is perfect background music for social summer nights. SF9's decision to go for a more full-grown concept on their ninth mini album is a refreshing change of pace for the group.
"|Believer|" utilizes a sort of nostalgic synth, which misleads the listener into feeling like the song might be upbeat and poppy. Lucky for us, SF9 opts to move towards a spitfire rap verse and eventually a chorus that mesmerizes. "|Believer|" is exciting without being overly upbeat, a delicate balance to find on a track of this nature.
"Love Again," however, is the sweet pop song we thought "|Believer|" was going to be. Simple in melody, this number is much more boyish and romantic than the two tracks prior. Inoffensive in nature, "Love Again" is just not quite as memorable as the album's other offerings.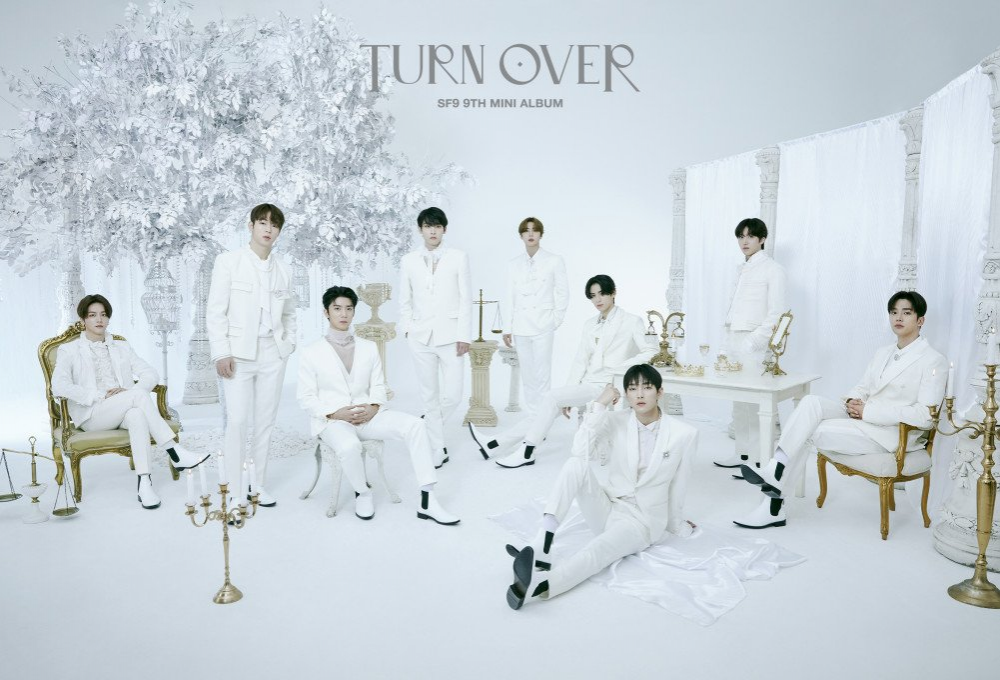 Upbeat pop lovers rejoice, SF9 has made sure we've been supplied with our fix. "Off My Mind" is an electropop song with an addicting chorus and harmony. The group's vocals are without a doubt the focal point for this song, as their expert layering is expertly complementary.


"Fanatic" and "Hey Hi Bye" round out the tracklist for TURN OVER. Of the two songs, "Fanatic" is the more intriguing and experimental. With a super quick lyric progression, an unexpected overall concept and melody is the song's strong point. "Fanatic" has some distinct flavor that it delivers through its use of acoustic guitars. In contrast, "Hey Hi Bye" is much more classic in nature. While "Fanatic" is experimental and off-the-beaten-path, "Hey Hi Bye" is a bit more formulaic. That being said, the vocal delivery on the bridge of "Hey Hi Bye" is not to be overlooked by any means. TURN OVER is one of the group's strongest releases to date.


MV REVIEW
SF9 "Tear Drop" begins with an elevator-like effect that stops through the various settings that the MV takes place. All members are clad in monochromatic ensembles- either white or black, and shine with devilishly handsome looks! This chic and sexy song has an MV that's just as cool and refined, featuring high-fashion-inspired styling, sleek sets, and touches of greenery. Particularly striking are the shots of each member in their confined glass case. As the MV wraps up with a stunning portrait of a tree, we realize "Tear Drop" is already stuck in our heads. If K-Pop releases were baseball games, SF9 has come out with a home run this inning.
MV SCORE:
MV Relevance…..9
MV Production…..10
MV Concept……..9
MV Score: 9.33
ALBUM SCORE:
Album Production…...9
Album Concept……...8
Tracklisting…………...8.5
Album Score: 8.5
Overall: 8.92