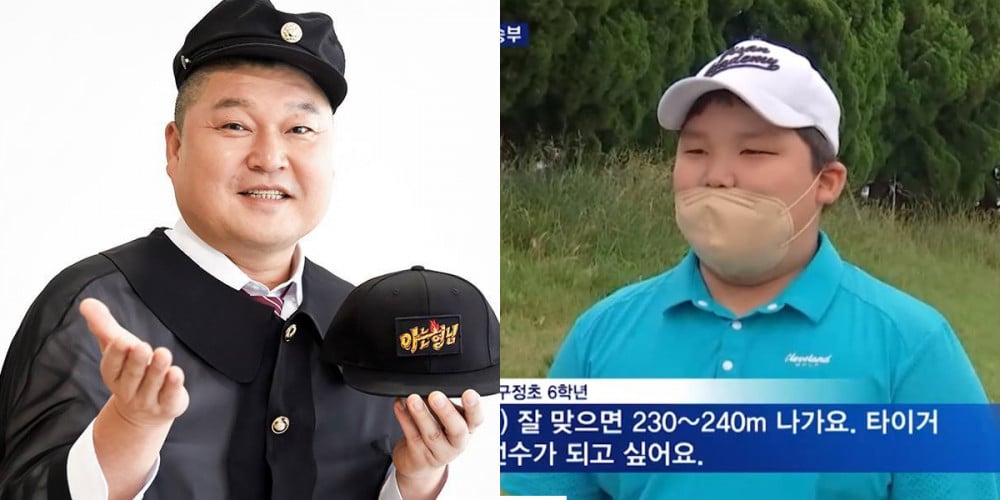 On the evening of June 10, TV personality Kang Ho Dong's son made a surprise appearance on MBN's 'Sports News'!
Affectionately mentioned by name very frequently on Kang Ho Dong's shows like JTBC's 'Knowing Brothers', Kang Ho Dong's son Kang Si Hoo has not made many in-person TV appearances. Then, on the June 10 broadcast of 'Sports News', the reporters shared coverage from a youth golf competition sponsored by MBN. Kang Si Hoo was one of the contestants of this competition as a 6th year elementary schooler, and garnered attention for his notable height, build, and strength compared to his fellow peers.
He said during an interview, "If I hit it well, I can get it as far as about 230~240 meters. I want to become a player like Tiger Woods."
Previously, Kang Ho Dong revealed on 'New Journey To The West' that he wished to see his son following in his footsteps by becoming a great pro-athlete. As many of you know, Kang Ho Dong was a national representative in Korean wrestling before transitioning into a career in TV.