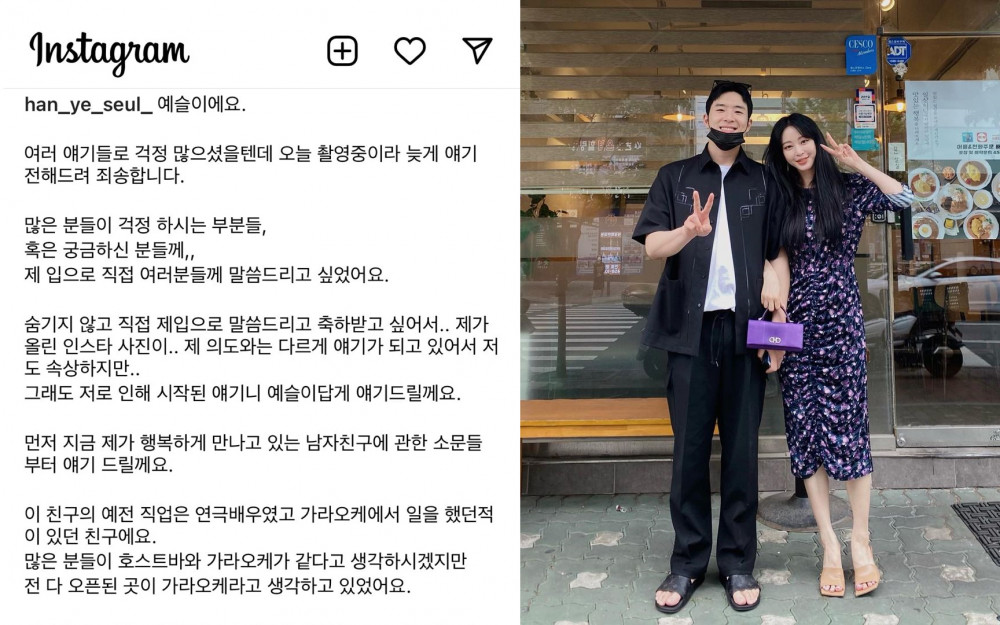 Earlier last month, Han Ye Seul decided to share some good news with her fans and introduce her boyfriend to them.
Ever since Han Ye Seul revealed her boyfriend, both individuals have been involved in various allegations. Dispatch reported that Han Ye Seul's boyfriend, Ryu Sung Jae was a male escort at a host bar and Garo Sero Institute continued to accuse Han Ye Seul of being the actress involved with the Burning Sun scandal.
Han Ye Seul has continuously fought against these rumors and denied allegations as she posted various explanations on her social media. Despite her efforts, reports and allegations against her boyfriend continued to surface leading Han Ye Seul to post a lengthy letter on her Instagram on June 2.
The actress wrote:
"This is Ye Seul. You were all probably worried due to the various talks. I apologize for talking to you so late because I had a filming today.
I wanted to personally share what many people are worried about or are curious about...I wanted to tell everyone with my own mouth.
Because I don't want to hide anything and want to say everything with my own lips because I want to receive your blessings...I'm a bit sad that...the photo I uploaded on Instagram is being used differently from my intention...But since this is what I started I want to tell you in a Ye Seul-like manner.
First, I tell you about all the rumors involving my boyfriend who I am happily meeting right now.
He was a theatre actor and he did work at a Karaoke once. Many people may think that Karaoke and host bar is the same thing but I believe that Karaoke bar is somewhere that is a more open area.
I have a lot of exciting and fun energy so I received much love but I wasn't given many chances to do things I liked...so I went to places that I liked and did the things I liked and I didn't want to hide them...A few years ago, I met my current boyfriend after going to a place with an acquaintance...Then I felt the feeling of love for him last September.


Last September, my boyfriend was no longer working for that job... There is no high or low when it comes to occupation..in my honest opinion. And I wanted to be cherished as a woman and spent more time focusing on my feelings rather than my boyfriend's background.
Up until here is about my boyfriend's background and how we met.
Thereafter, I talked with my boyfriend about the alleged victims that were reported through articles. After a long talk, I confirmed that those allegations are not true. I want to believe in my boyfriend's words rather than the rumors of things that I didn't see. I want to believe in my boyfriend who honestly shared with me even his difficulties.
Also, about the rumors that I gave a Lamborghini to my boyfriend, I really contemplated if I should give my new car to him;;;
That car is what I gifted to myself. You will be able to see me drive that car anywhere ♡

My boyfriend doesn't have a car to travel in so I'm sharing the key to my other car since I'm more financially well-off.


And the people who keep saying that I am involved in that large incident, I want the police and prosecutors to reveal the truth more so.


I can't share everything about my personal private life... I'm sharing with you and tell you that all the content above is true so don't worry ♡

I can't be certain about how long I will be happy with my current boyfriend but I am living every day being thankful for the present.


Also, lastly, I was bitter and angry so I was going to take legal action but I decided to donate the money I will use for legal suit rather than filing a legal complaint thanks to the guidance of the people around me. That cost will be donated for a better opportunity. Even if you slander me saying I'm trying to clean my image, I can't miss out on good chances to repay the love I received just because I'm scared of the fingers that point at me.


I'd like to express my gratitude to my acquaintances for their kind words, and for their concern and guidance.


I'll work harder on what I can do well and fill in my shortcomings.


From tomorrow, I'll greet you again as a bright Ye Seul.


P.s. I will start blocking and will sue anyone who spread false information or leave malicious comments!
Trust me and keep an eye on me ♡ "