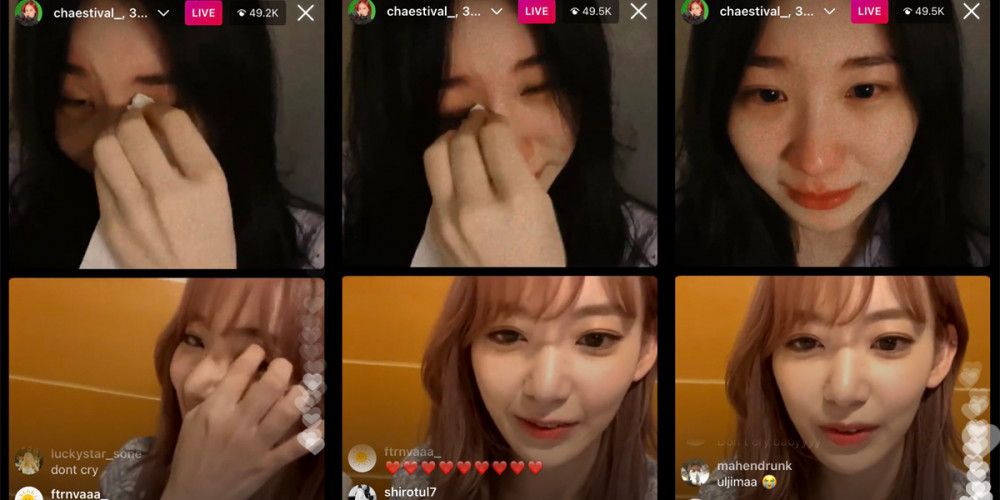 Back on June 28, former IZ*ONE member Lee Chae Yeon spent time chatting with fans during an Instagram Live broadcast.
Then, in the middle of the broadcast, Chaeyeon decided to send her former groupmate Miyawaki Sakura a joint live request, and Sakura accepted the request right away! Pretty soon, fans were able to watch Chaeyeon and Sakura having a face-to-face phone call, while also being live.
When Chaeyeon saw Sakura's face emerge, she jumped in surprise and said, "I didn't know you were going to accept!" She then began tearing up, surprising Sakura! When Sakura asked, "Chaeyeon, you're not crying, right?," she responded, "But I am? What do I do..."
Chaeyeon then also added on, "We were only talking through KakaoTalk, but now that I'm seeing your face..." She eventually had to reach for a tissue to wipe away her tears. The two groupmates then said to each other, "I miss you," also making fans tear up as well.
Later on, fellow IZ*ONE member Kang Hye Won also hopped on for a three-way call! The girls spent time chatting about who was keeping up with the solo promotions of the other members, etc. Check out some clips from Chaeyeon's recent Instagram Live, below!