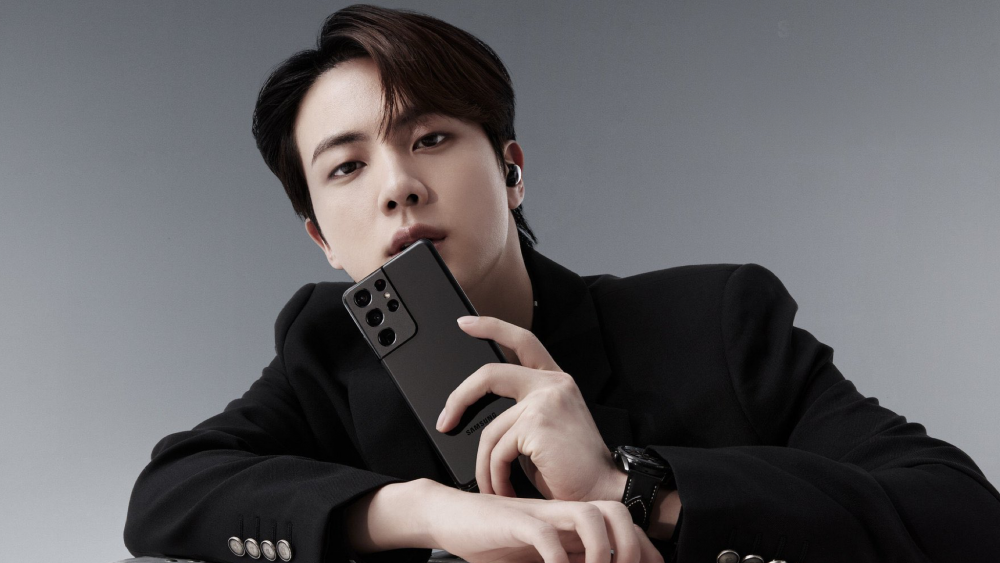 Ever since debuting, Jin became known for his creative and fun ideas. Over the years, he became the ultimate trendsetter of the group. Even the rest of the BTS members confirm Jin is always the one who influences them and comes up with something entertaining and creative.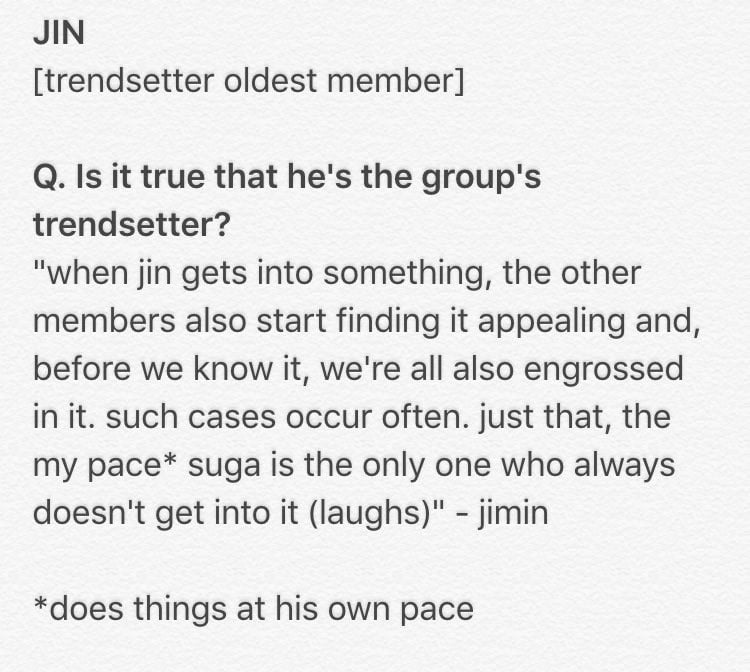 He is always called the member who thinks "out of the box," and that is also why so many people fall in love with his mind!
"I personally really like people like Jin who think outside the box. Some might think it's weird but it's just being different."
Let's go through some examples of Jin setting new trends and being super creative:
Heart event still amazes everyone with its never-ending creativity and cuteness. Jin was confessing love to the audience at every concert while pulling paper hearts out of the most unexpected places like the inside of his mic. Some idols got inspired to do the heart event at the concerts as well.
Jin set the trend on wearing dangling earrings and funny glasses: other members went from telling him to take the earrings off to starting to wear the item themselves. Other idols followed it too.
Jin also has a collection of funny glasses that he likes wearing at concerts, and it was even used as a concept for Festa.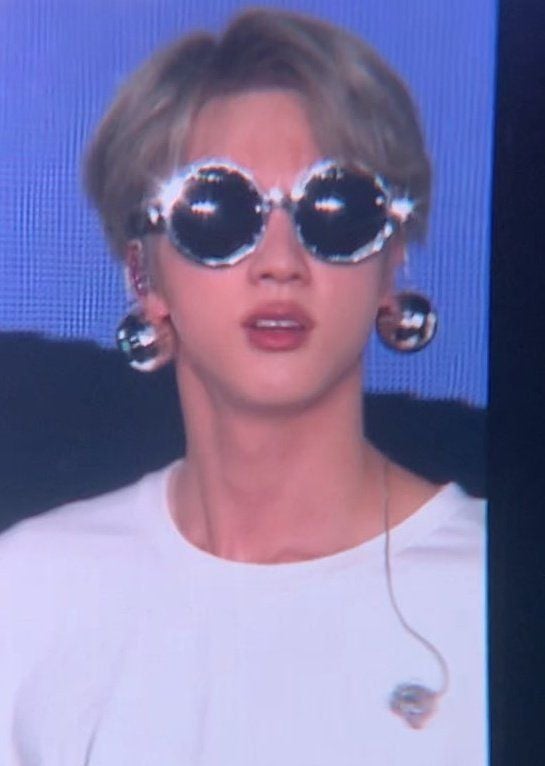 Kore, RJ, Bangtani are the cute characters created by Jin. The company made Kore one of the symbols of BTS and released a plushie with it that immediately got lots of attention. RJ the alpaca is an iconic best-selling plushie of BT21. The success of Jin's characters is so huge that people are now demanding a Bangtani plushie.
"It's a hip-hop culture",- Jin says when asked why he keeps the clothing tags on. Other members and fans followed the trend.
Did you know that Jin came up with posting funny pictures on members' birthdays? Now we can't even imagine the world without it! He is also the one who started posting audio messages and hand-written congratulations.
Talking about birthdays, Jin came up with a JINSTA week for his own birthdays. Every day brings new content.
Also, the trend that this Birthday hat started!
Creating EatJin when mukbangs were not popular was such a great idea of Jin that it's still an ongoing show to this day! Jin set the trend on making mukbangs back in 2015!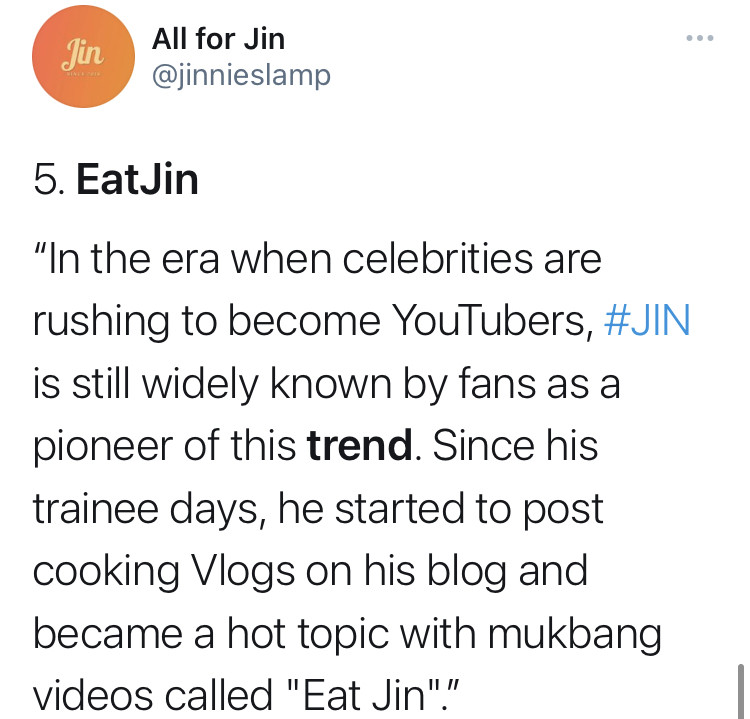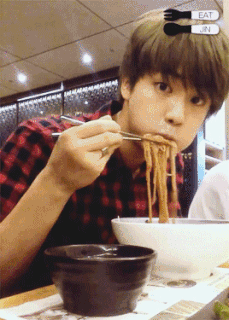 Jin has a versatile taste in fashion. He likes comfy and calm clothing but also extravagant and bright looks. He is not afraid to go outside in self-made clothes as well.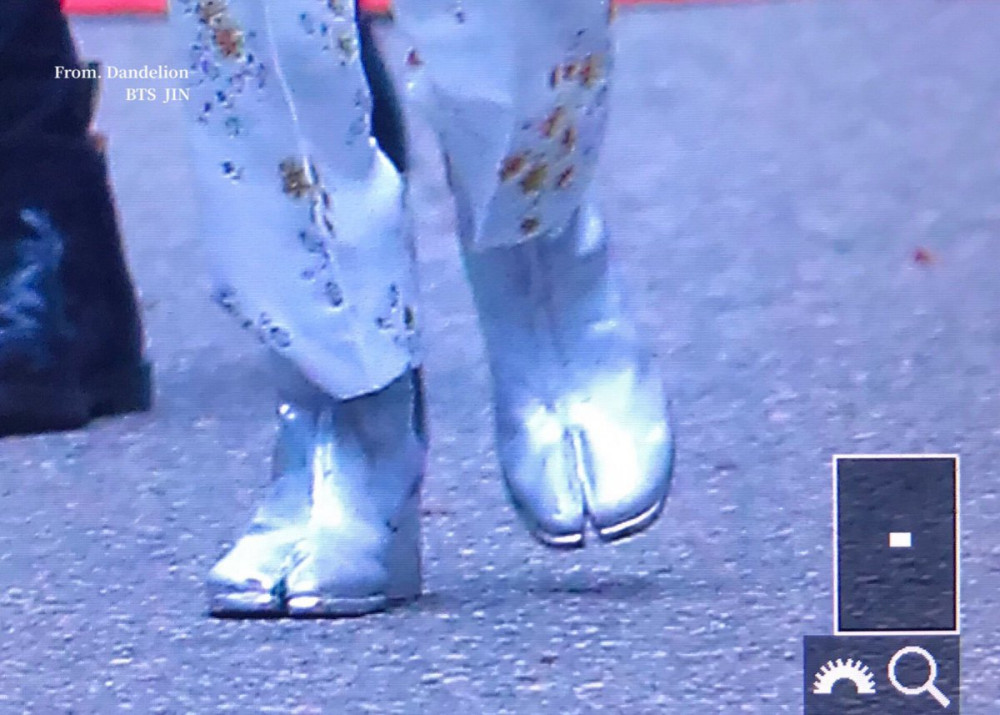 Members admit that Jin is indeed the mastermind of ideas and "content in flesh." Not a secret that he is always the most entertaining person in RUN BTS episodes or TV shows. Always coming up with something new and keeping everyone entertained is about Jin!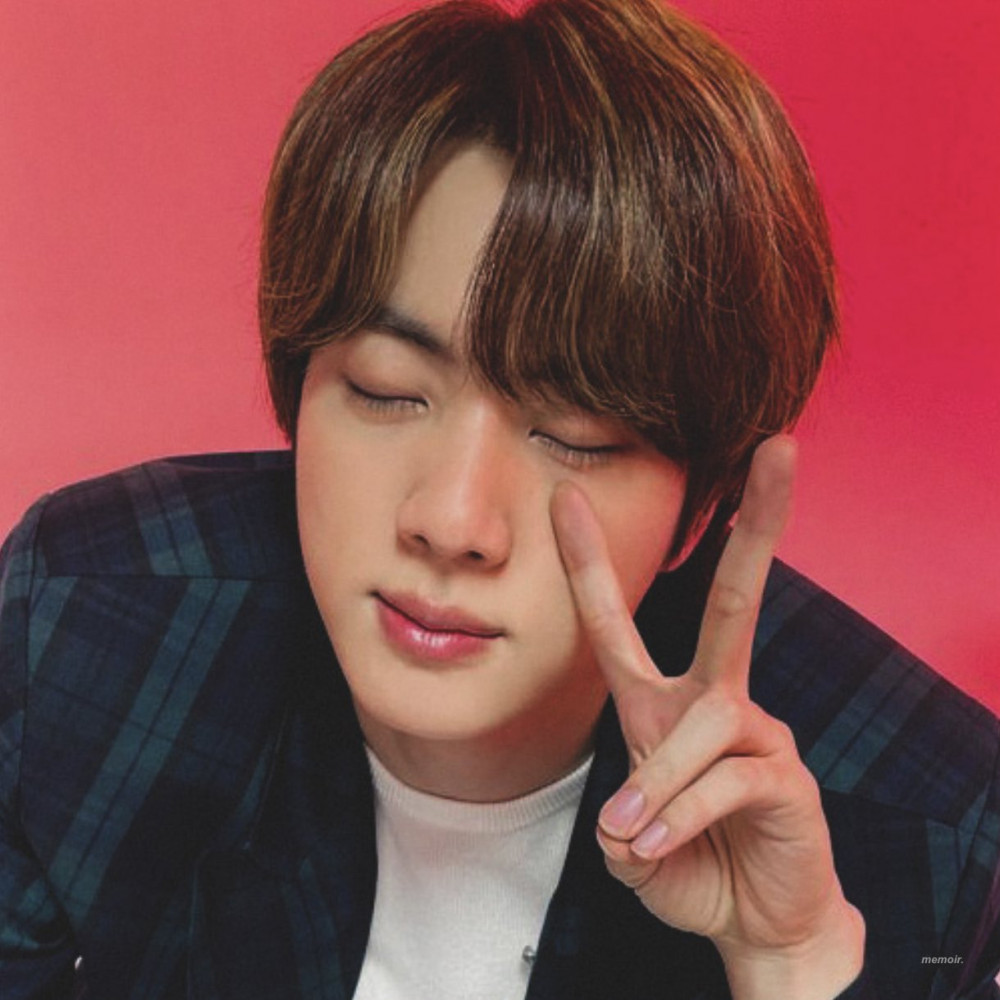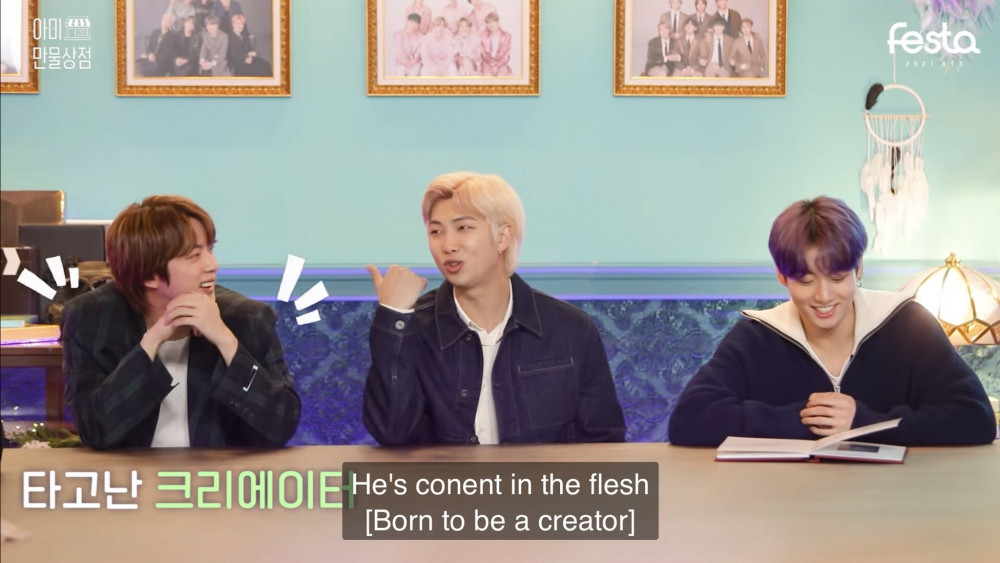 However, Jin is also known for his creative metaphors, unique ideas, and vision. That's how he became the creator of the LY Series idea and message. Looking at Jin's song ideas, BE album room, and more, the brilliant uniqueness is very much noticeable. Jin always surprises everyone.
He also was brave enough to make a speech calling out manipulating the music charts, which made many people start speaking up about it as well.
You might also be surprised to find out that Jin self-dyed his hair purple at the hotel room in the USA because he wanted to look like a pokemon character.
Jin is exceptionally good at creating his own brand: hand kisses, Worldwide Handsome, pink mic and etc. Millions of people love it so much!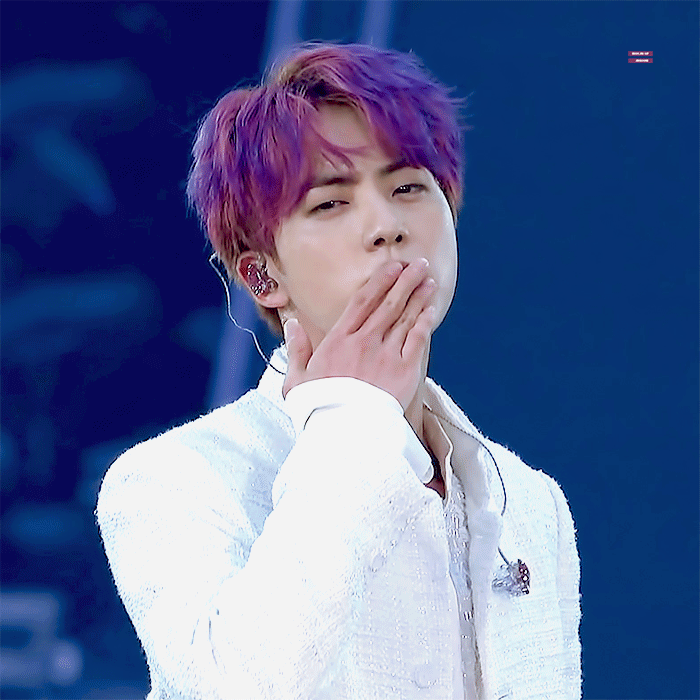 Back in 2019, Jin created a Weverse attendance award after asking the app managers to make one especially for him.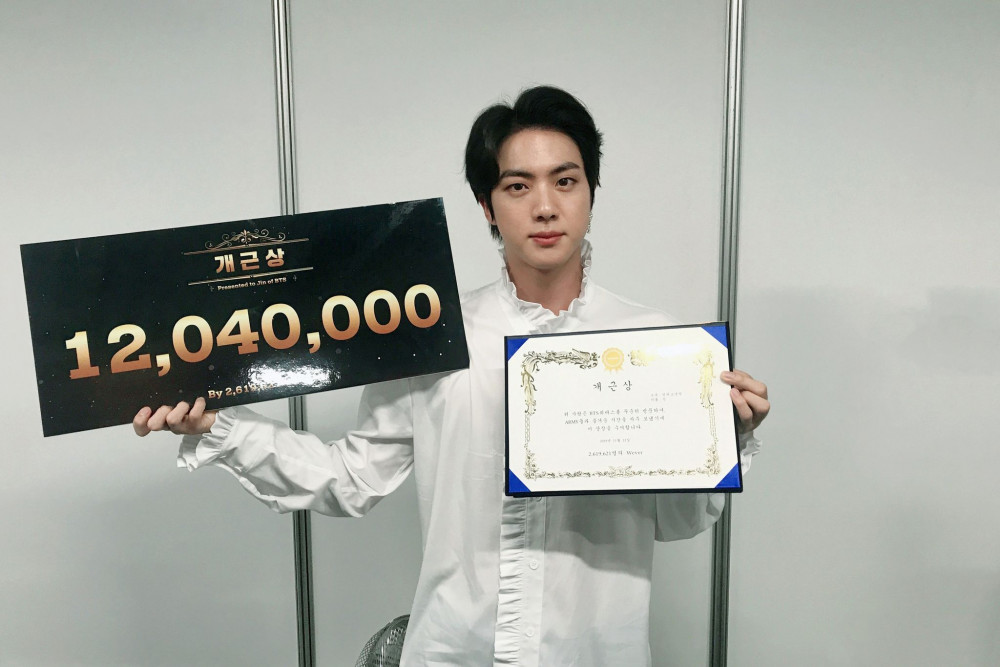 Other members bedazzled their mics following Jin's legendary pink mic!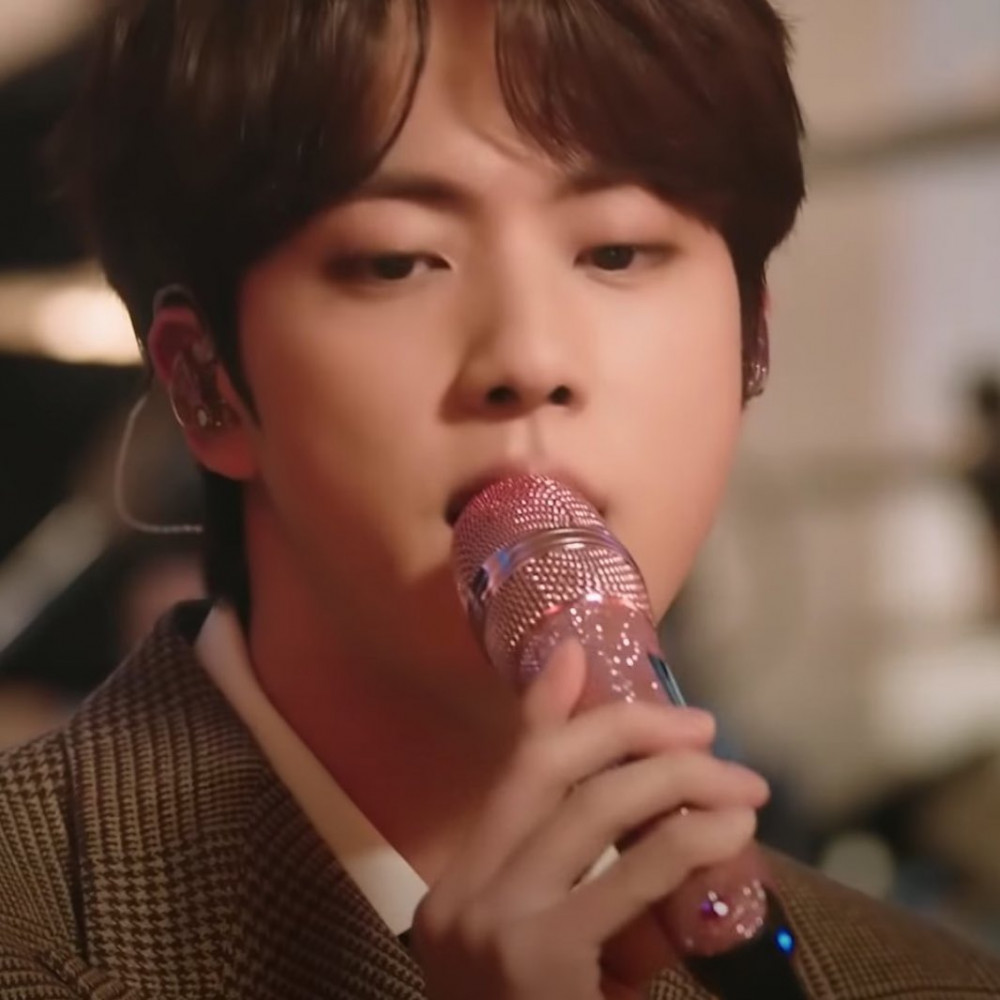 All in all, Jin is the ultimate "idea bank" person; anytime he comes to Weverse, gives an interview, goes live, he always comes up with something new. Anything he does becomes iconic! The creativity of Jin's mind will never let you get bored!