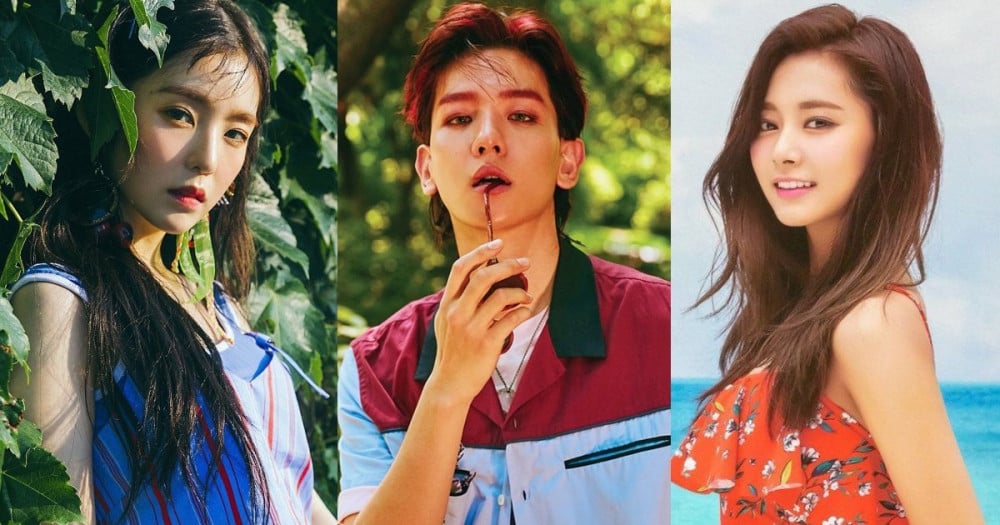 Do you feel the heat? That's summer fast approaching! As we bid goodbye to the cool spring, here are some K-pop songs that will have you relishing the summer warmth.
1. Red Velvet - "Red Flavor."
"Red Flavor" is all about fruit-flavored summer love and is a must-add to every K-pop summer playlist! The song is both catchy and quirky and lyrically talks about a bright summer romance. The song is fun and complex and is bound to get you on your feet and dancing!
2. WINNER - "Island."
"Island" is a tropical house song that will have you embracing the sweltering heat of summer. Lyrically, the WINNER song talks about romantic feelings under the theme of an "island." The music video for the song was filmed in Hawaii — the perfect summer destination!
3. TWICE - "Dance the Night Away."
"Dance the Night Away" is a summery EDM song that will have you bumping to the beat. The song was produced to provide fans with a fresh tune that perfectly suits the summer and perfectly shows TWICE's youthfulness. This song is a perfect intro to summer!
4. EXO - "Ko Ko Bop."
"Ko Ko Bop" is a fun reggae-inspired song that will have you dancing this summer! The song is carefree and talks about going with the flow. "Ko Ko Bop" is perfect for those wanting to release their stress and enjoy their vacation to the fullest.
5. Girls' Generation - "PARTY."
"PARTY" was arguably K-pop's biggest summer song in 2015, and it still stands as one of the classics today! The song is a summer anthem that will have you hooked with its wildly catchy synths. The track's upbeat, bubble-pop gum tune will definitely brighten your day!
6. ASTRO - "Breathless."
Missing ASTRO's cute concepts? Feel free to revisit them this summer with "Breathless!" The song is refreshing and breezy, which is something that suits the summer weather. The music video shows the boys as human incarnations of soda enjoying fun summer activities with their leading lady, Choi Yoojung. How cute!
7. ITZY - "ICY."
The summer is hot, but "ICY" will have you feeling cool! Describes as a fiery and energetic song, "ICY" talks about the girl group's passions for music. Festive and upbeat, this ITZY track will uplift you during these times.
9. Super Junor - "Lo Siento (feat. Leslie Grace)."
"Lo Siento" is a topical, Latin-pop-influenced song. One thing that stands out about the song is it is trilingual — Leslie Grace sings in Spanish, Super Junior sings in Korean, and both parties sing lines in English. Talk about international!
10. SISTAR - "Touch My Body."
The members are known as the "Queens of Summer" in K-pop, and this list would definitely be incomplete without them. A crowd favorite SISTAR song is "Touch My Body," which is widely recognized as one of their summer hits. The song's catchy chorus and unique point choreography are bright and uniquely SISTAR.
What is your favorite K-pop summer anthem? Tell us in the comments below!