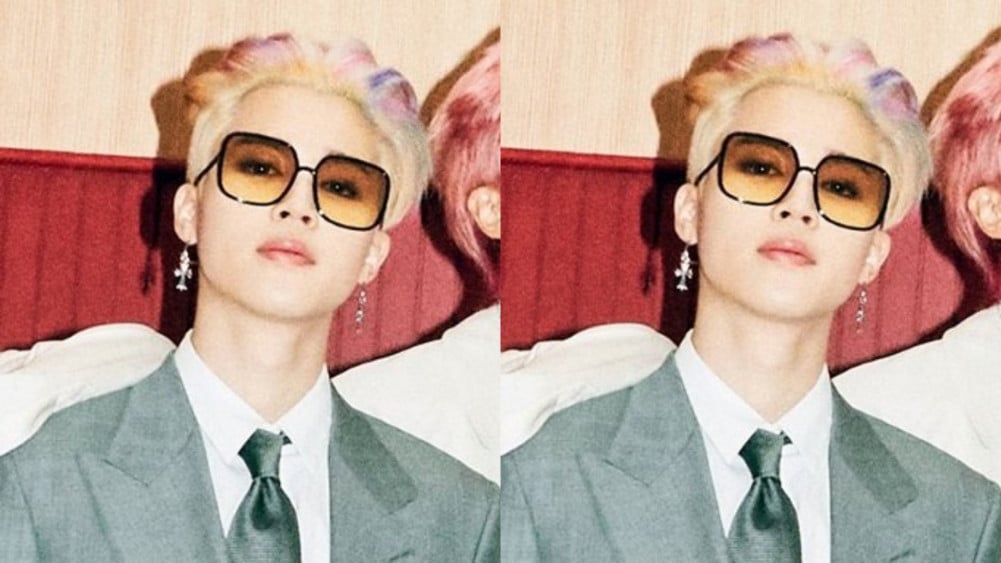 BTS's Jimin, main dancer, and lead vocalist, broke the internet with his rainbow hair in the "Butter" group teaser photo. BTS Jimin captivated global fans' hearts with his overall aura, irresistible charm, and sexy vibe when BTS dropped their first group teaser photo for the much-anticipated summer song.
On May 10 at 12AM KST, BTS released the first teaser photo of "Butter." In the photo, BTS Jimin is clad in a gray suit with yellow sunglasses, his hair brushed up, showing his strong and masculine forehead, and his gaze deep and intense that gives off a sexy charisma. What immediately caught the attention of many fans is his new hair color, or should we say colors which consist of platinum blonde, pink, purple, and blue that pretty much resembles a rainbow. Fans are instantly captivated and responded with excitement, which raised the expectations for the new song "Butter."
BTS Jimin immediately trended worldwide and in the United States with keyword "JIMINS" at number 5 and number 3 respectively. Soon after, he trended with keywords such as "JIMINS," "PARK JIMIN," "JIMIN RAINBOW HAIR," "RAINBOW JIMIN."
With more than 77 trends and 20 keywords in total, trends reached more than 40 countries such as United States, Canada, Australia, United Kingdom, and Germany to name a few.
Moreover, Jimin trended number 1 on Japan's Twipple real-time Celebrity ranking and number 4 in Tsuiran Japan Celebrity chart, reaffirming his steady popularity in Japan.
Two hours after, Park Jimin kept his ranking as number 1 Celebrity on the Twipple Japan Real-Time chart.
BTS' "Butter" is out on May 21.