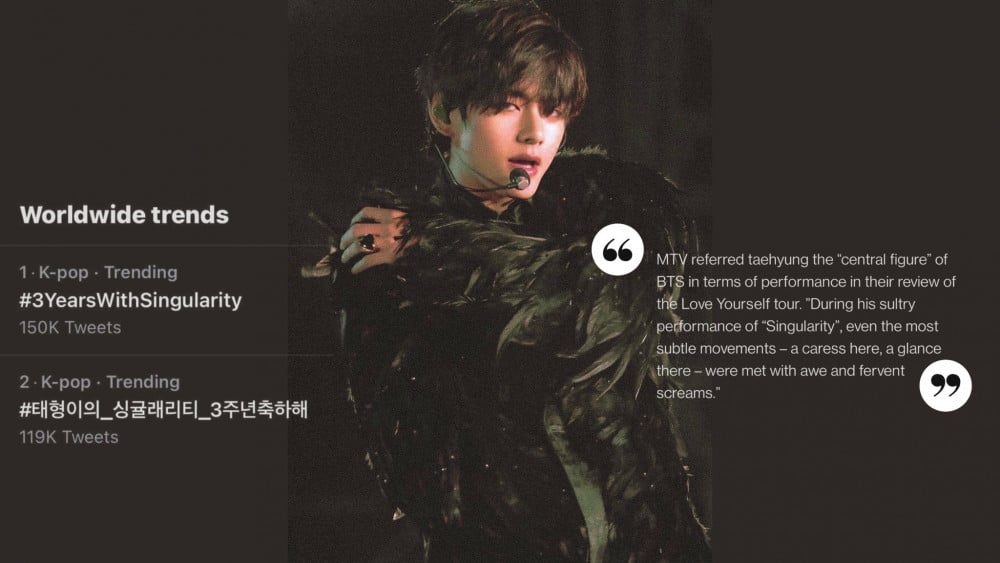 May 7, 2021, marks 3 years since one of the most critically acclaimed Korean songs, "Singularity," was released by V through a beautiful MV.
The song served as the intro to BTS' masterpiece, LY: TEAR album, and was not only the most-streamed vocal line intro on YouTube, but was found making its way to various year-end rankings compiled by critics.
In this amalgamation of Neo-soul, R&B, and Jazz, V possibly gave the best vocal performance and made the song memorable for fans as well as critics.
Fans celebrated the 3rd anniversary of this musical beauty, which is laced with haunting yet sultry tones, quite differently. While V fans are known to be boisterous in their way of celebration, this time, they gathered resources to help a world that's wounded by many perils and a devastating pandemic.
V regional fanbases donated to good causes of helping people fight the pandemic and provide with essential healthcare facilities in various countries like Bangladesh, Nepal, and India.
V's UK Fanbase donated to UNICEF for the mission of delivering 2 Billion vaccines around the world.
V's Philippines Fanbase donated and helped to build a classroom and provide a safer and conducive learning environment to the students.
It's heartwarming to see that more than 20 charity projects were carried out by BTS V fans in various different regions. The thought to help others is derived from the kind, caring, and selfless nature of the idol himself.