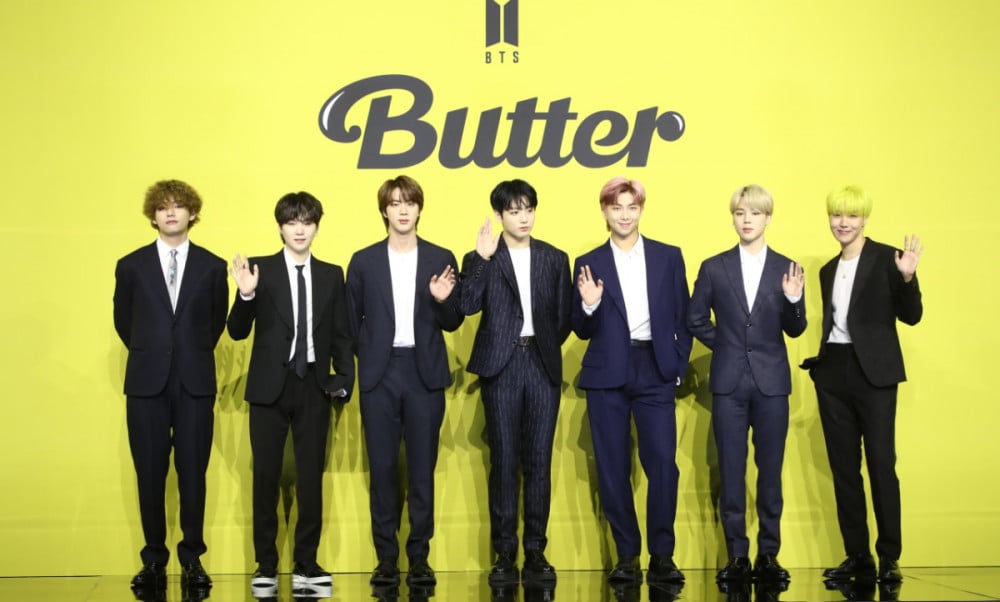 BTS discussed their new track, V's hairstyle change, SUGA's shoulder, and more at their press conference for "Butter".

The Big Hit Music group just made a comeback with their brand new all-English single "Butter", and they looked back on the past year in an interview with media outlets on May 21. On the last year, SUGA expressed, "Of course, there were painful and difficult moments. I gained strength by listening to the songs we've released so far. It made me realize how our fans and the public probably received these feelings when they listened to our songs. I started creating music with a different mindset as well. My dreams grew as I listened to other artists' music growing up, and I felt great responsibility that I might influence others in the same way. I think the past year was a chance to grow rather than a miserable time."

As for their new track, which was written in part by RM, Jungkook said, "It's simple. I hope that a lot of people can enjoy the summer with BTS' 'Butter'. That would be enough." SUGA responded to questions about whether the lyrics to "Butter" are in English because they hoped to win at the 'Grammy Awards', saying, "I think we can't say that's completely untrue. We still maintain our hopes about winning a Grammy. We'll challenge it once again with 'Butter'. Hopefully, we'll get good results." RM added, "Just like a lot of people have been curious about, we're definitely thinking about a Grammy. We'll challenge it to our best abilities."

One of the most noticeable changes to the members was V's new curly head of hair. V said, "We should've understood our hairstyle concept more before showing it to you, so it's a bit disappointing. It's a hairstyle I wanted to do at least once in my life."

SUGA also responded to fan worries about his ongoing shoulder issues, saying, "I've worked hard at rehabilitation, and I'm currently rehabilitating and exercising. It's getting better because so many people are worrying about me."

What do you think about BTS' new track "Butter"?