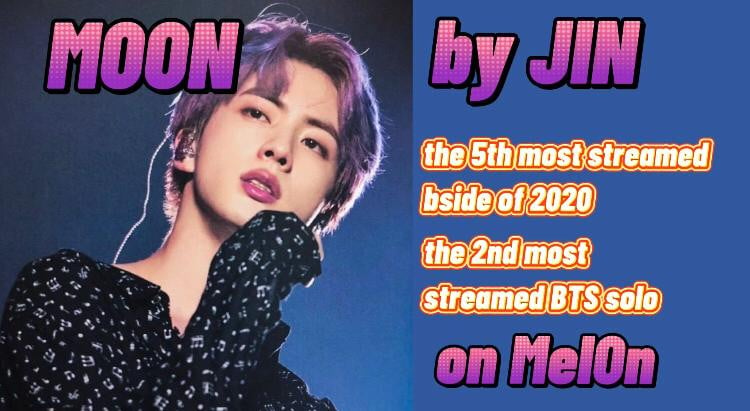 "Moon" by Jin, released on February 21, 2020, has gained numerous achievements before its 1st anniversary. The new achievement of the track composed and written by Jin is reaching 109 million streams on MelOn - the biggest music platform in South Korea. All in all, it is now the 2nd BTS solo song ever to achieve this number of streams! It is also the 5th most-streamed kpop b-side of 2020 overall.

"Moon" became a hot hit in South Korea as well as Worldwide. It is the longest-charting BTS solo song ever in history. To this day, it is the highest-charting solo on MelOn.
Besides that, "Moon" by Jin on MelOn is:
• The most liked BoyGroup song of 2020
• 1k away from becoming the 3rd most liked BTS solo song overall, and Jin is the only member to have 2 songs in the Top5.
Jin has only one song on his official MelOn account - OST It's Definitely You, but already has 130k followers.