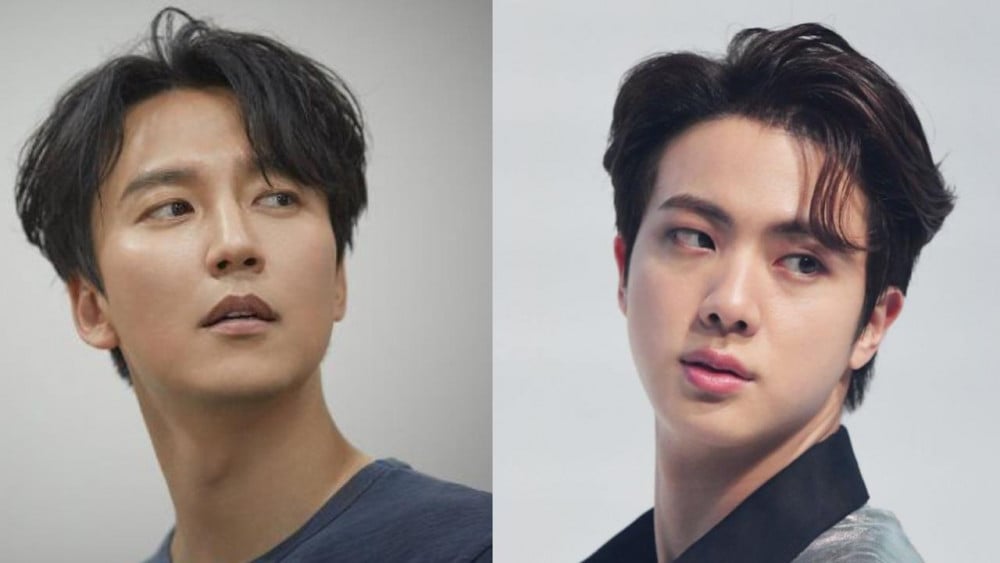 Kim Nam-Gil, who is a well-known South Korean actor ("Pandora", "Memoir of a Murder", "The Pirates", "Portrait of a Beauty", "The Fiery Priest", "Queen Seondeok") is also known as a person that inspired Kim Seokjin to start dreaming about becoming an actor.
Seokjin was so impressed by his role in the historical drama "Queen Seondeok" (2009) that he entered an acting school while being in a High School and then become a Konkuk student.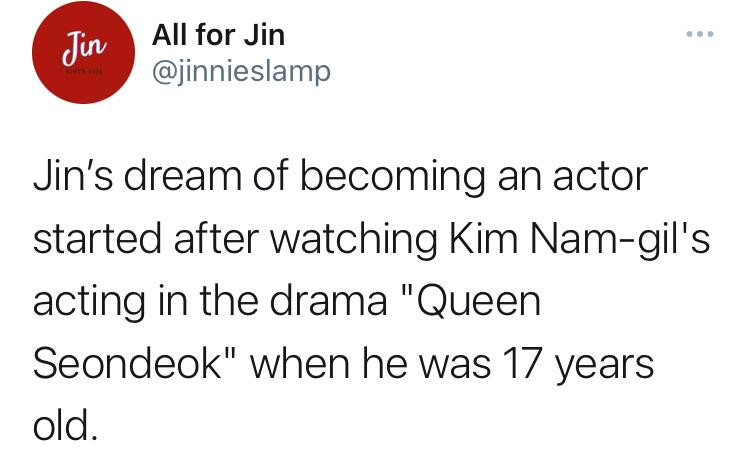 Konkuk is one of the most prestigious acting universities in the World and enrolling in it is highly competitive to the point when people can try to pass the exams again and again for a few years. Seokjin entered Konkuk with the first try on an early admission having a competitive rate 200:1. He has passed two acting exams - free acting and assigned acting, becoming the first out of only 10 people accepted (overall there were over 2000 abiturients).Kim Seokjin has successfully finished the university with a double major in film and animation in 2017 and enrolled for a master's degree.
In a recent interview, where Kim Nam-gil was talking about his life, the reporter mentioned his friendship with Seokjin. Nam-gil shared a story about them meeting at the stage this year, mentioned that he knows he is Seokjin's role model, then praised him as a musician and said that he would like to see him acting.
This is not the first time Kim Nam-gil is talking about Kim Seokjin. Previously, in 2020 on January 13 he mentioned the famous idol for the first time and called him "Our Jinnie", wishing to get to know him in real life.
On December 25 of 2020, a video of Kim Nam-gil doing an unpackage of Jin-themed version of the "Dicon" magazine. It got lots of attention from fans and Kim Nam-gil also made a remark: "He has the face of an actor" - a comment that the star gets very frequently.
Finally, in January 2021 Kim Nam-gil and Kim Seokjin were able to meet each other at the 35th GDA concert. Seokjin approached him first saying "I really wanted to meet you, hyung". The media has captured a moment of the actor pointing at the idol. Sadly, Nam-gil confessed that he wasn't able to ask for Seokjin's number, but hopes Seokjin will call him.
Let's congratulate Seokjin for making the person who inspired him his active supporter and a friend!