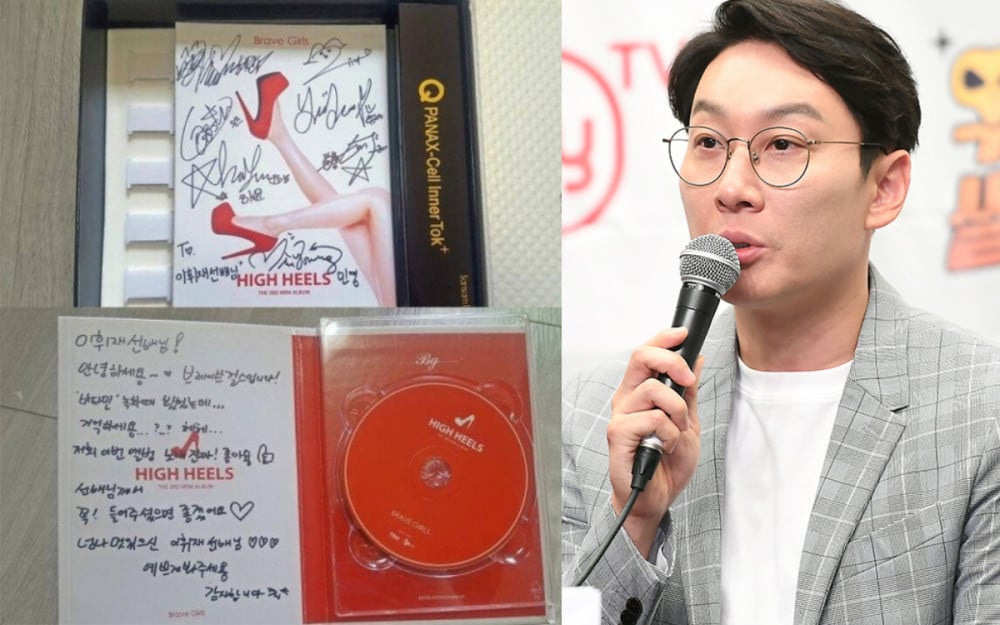 Lee Hwi Jae is currently in the center of controversy after a Brave Girls album personally gifted to him by the group was sold through an online resale service.

On March 19 KST, a Korean netizen took to an online community to share photos of a copy of Brave Girls' 2016 mini album 'High Heels.' The album not only features the members' autographs on the front of the package, but also contains a long letter written by the members to Lee Hwi Jae.

"Lee Hwi Jae sunbaenim! Hello, this is Brave Girls! You saw us while recording [KBS variety show] 'Vitamin,' do you remember? Our songs this album are really good. We hope that sunbaenim will listen to them soon! Lee Hwi Jae sunbaenim who is so cool, please take good care of us! Thank you," the message reads.

In response to discovering the album, the netizen wrote, "While Brave Girls becomes the talk of the town, ['High Heels'] is an album that is becoming popular too. Surprisingly, no one else bought it, so I just did."

Netizens criticized Lee Hwi Jae for not only allegedly selling a gift given to him, but selling a not-for-sale item, as albums passed around within the industry to be used as promotional gifts are not intended to be sold.
In response to the claims, the TV personality's agency Cube Entertainment put out a press statement on March 21. In the statement, the agency explains that signed albums received are stored by management in a vehicle, and while the Brave Girls' album was also stored there, they are having difficulty figuring out exactly how the album disappeared from the rest. They also refuted rumors that Lee Hwi Jae sold the album.
The statement concluded with an apology stating, "Regardless of the reasons, we acknowledge the negligence of management as well as the upset the conversy caused to Brave Girls and their fans. We will manage more thoroughly in the future so that the same problem does not reoccur. We extend our apologies."