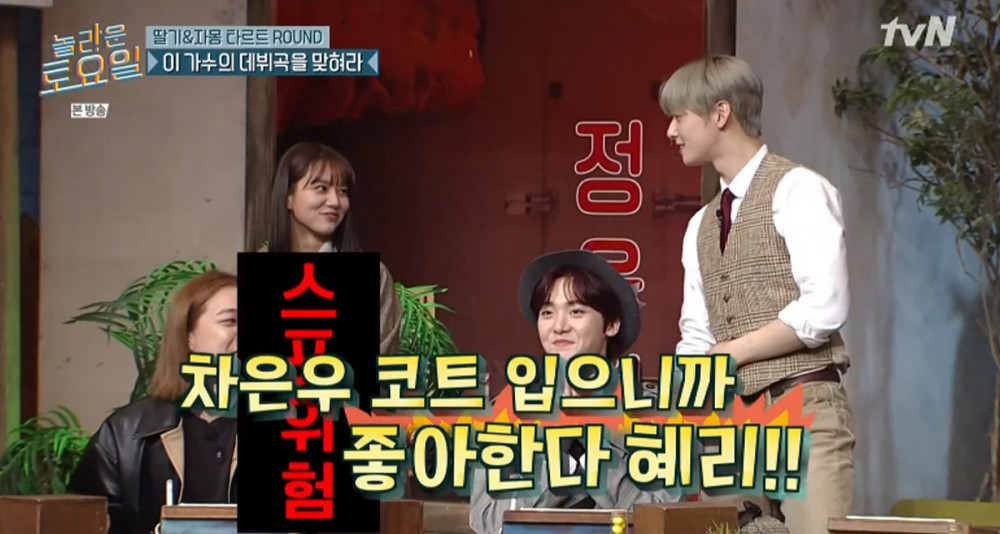 On the March 27 broadcast of tvN's 'Amazing Saturday - Doremi Market', Girl's Day's Hyeri stopped by for a surprise visit with her former co-stars!
It turns out, Hyeri was in the vicinity filming her upcoming tvN drama 'Heart-Stopping Roommate', and decided to come by the recording studio to greet everyone. Watching the cast members during the 'Snack Round', Hyeri commented bluntly, "Without me this game is all over the place."
Good friend SHINee's Key then insisted that Hyeri come on set for just the 'Snack Round'. However, Hyeri was hesitant to take off her large padded jacket, saying, "I don't want to spoil my outfit from the drama..."
ASTRO's Cha Eun Woo, one of this week's guests on the show, then offered, "How about my coat..?" Hyeri happily accepted his offer, while the other cast members remarked, "She only likes it because it's Cha Eun Woo's coat."
Thanks to Cha Eun Woo's coat "covering up" her drama character's outfit, Hyeri had a chance to take the floor once again on 'Amazing Saturday', showing off her tireless energy!
Meanwhile, ASTRO members Cha Eun Woo and Sanha appeared as guests on this week's 'Amazing Saturday', asking viewers to look forward to their upcoming 2nd full album 'All Yours'.