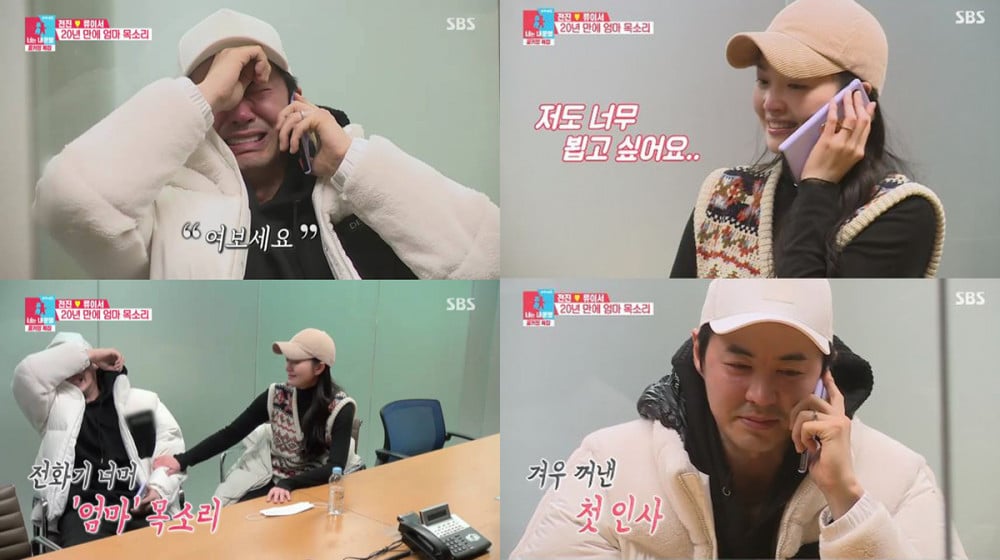 On the January 25 broadcast of SBS's 'Same Bed, Different Dreams', Shinhwa's Junjin was able to find a way to contact his birth mother, whom he last saw 21 years ago.
Previously, Junjin revealed that when he met his birth mother about 21 years ago after growing up with his 2nd stepfamily most of his life, he told her that it was not time for them to get to know each other yet. He explained that he reached the decision after seeing that his birth mother had another son, and he would show up again when the son was old enough to understand their circumstances.
On this day, Junjin was finally able to find out his birth mother's phone number, with the help of the 'Same Bed, Different Dreams' crew. The staff then handed the phone number to Junjin and left the room, giving Junjin and his wife time to make the phone call privately.
As soon as Junjin had the phone number in his hands, he began shaking from nerves, before tearing up. Finally, after a while, he dialed the number. But when he heard the other person on the phone say, "Hello?" Junjin lost control of his emotions and burst into tears, ending the call.
He attempted to call her again but still could not speak, and so his wife Ryu Yi Seo took over, greeting Junjin's birth mother. Eventually, Junjin was able to speak with her, and they set a time to meet in person.
Later in the evening, Junjin and Ryu Yi Seo went to meet Junjin's birth mother in person. While the meeting between the three was kept private, afterward Junjin and Ryu Yi Seo also reflected on their time. It was revealed that Junjin spent hours talking with his birth mother, and now, they've decided to keep in touch daily. Junjin shared, "We talked about so many things. I felt many feelings for the first time in my life. I used to be mad at her when I was younger. But now that I've seen her, I imagine it must have been a hundred time harder on her. I also felt sorry, but she kept saying to me that she was sorry. But she doesn't have anything to be sorry about anymore."