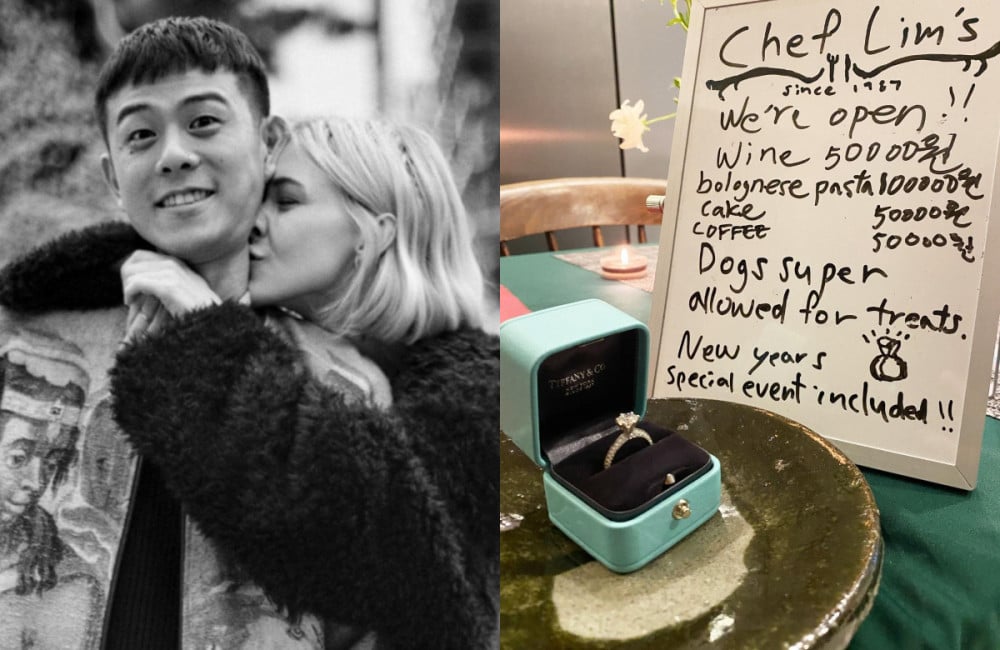 Long-time couple Beenzino and Stefanie Michova are officially engaged!
On January 1 KST, the rapper and his model/actress girlfriend took to their respective personal Instagram accounts to go public with the news.
"I was able to do the last thing I wanted to in 2020, and I completely don't regret it. I rang in the new year at home, which was really different from usual, but I have never been this happy. In 2021 as well, I don't know what happiness, sadness, etc. will be in store, but I'm starting the year with courage," Beenzino captioned his post, adding, "PS: When you propose, your hair turns white and your eyes start to tear up. 💍😎 PS2: Happy new year to all of us!"


Beenzino's Instagram post begins with a touching video of the couple immediately after the proposal, where the rapper playfully embraces his new fiancée as she tries to calm herself down and wipes away her happy tears. Other images and video show their romantic dinner-at-home date, where Beenzino even prepared a home-cooked meal and a charming restaurant-like setting in their kitchen.


In Stefanie Michova's Instagram post, she wrote, "I'm so excited and happy to start 2021 with so much happiness and love. ❤️💍 Happy new year. ❤️ I'm looking forward to 2021. [Beenzino], I love you." She paired the caption with an adorable set of photos capturing the proposal from both sides.

Meanwhile, the couple first went public as a couple in 2015.
Check out the Instagram posts below, and congratulations to the newly engaged couple!