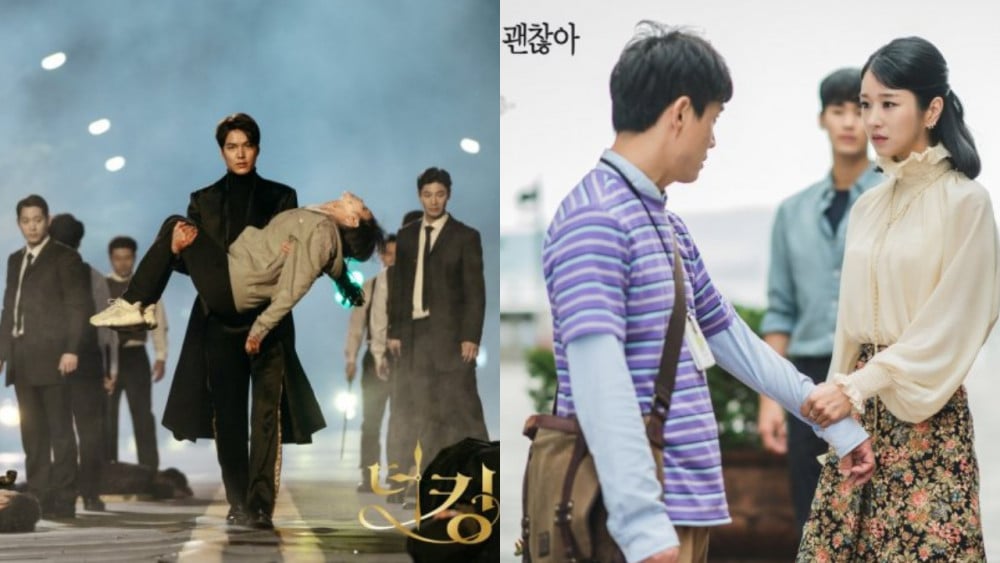 2020 was truly the year of the Korean drama. Cooped up in their homes, millions of people turned to K-Dramas for comfort this year and the fact that almost all the dramas that came out in 2020 were mega-hits, only helped the matter. 2020 was arguably one of the golden years for the Korean entertainment industry. Despite the world reeling from a pandemic, the catharsis that Korean dramas brought to the pent-up emotions of a global audience was truly a saving grace. Here are 6 of the most emotional scenes from 2020 K-Dramas.
(With such a rich collection to choose from, it is important to note that K-Dramas that started airing in 2019 but had a majority of their episodes airing in 2020 have not been included in this list.)
'Flower of Evil' Ep 11 – Why would you stay?
The heart-wrenching moment that unfolds when Hyun Soo is visibly panicking at the mere thought of his relationship with Ji Won being over and pulls over to try and call her is one that pulls on the heartstrings with an immovable strength. Ji Won shows up at the same place and heart-breakingly asks Hyun Soo to run away because she cannot do anything for him anymore. It is made clear that she might have known the truth for quite some time now and unlike the audience, Hyun Soo doesn't understand why she chose to stay with him despite knowing the truth. Hyun Soo doubles over, breaking down completely in front of her, wailing and begging for forgiveness. She holds him and lets him cry and he tells her that he just wants to go home.
'The World of the Married' Episode 14 – Ji Sun Woo walks right into the ocean
'The World of the Married' was an emotional ride through and through, but episode 14 was especially heart-wrenching. Unable to take the rejection and harsh disapproval from her own son, Ji Sun Woo realizes that she has nothing to live for. While fantasizing about the ocean and its vastness, she walks right in, ready to give in to the waves. Fortunately, Dr. Yoon Ki finds her in time, but Tae Oh is a little too late. As soon as she comes to her senses, she cannot help but cry – partly from the pain of the life she has lived and partly from the near-death experience, she took herself through.
'Itaewon Class' Episode 12 – Ma Hyun Yi is a diamond
'Itaewon Class' was another drama whose entire focus was on one singular man and his journey with his people by his side. Every single moment was heartbreaking, from the first episode to the last. Yet, one particular scene strongly stands out. In episode 12, Geun Soo uses a dirty trick to get DanBam to lose, revealing to the press that DanBam's chef, Ma Hyun Yi is a transgender person. Hyun Yi is shocked and devastated, not because her identity is revealed but because someone took away her own agency to reveal her identity for the cheap press. She wants to stand strong, but her knees are weak. She wants to be confident, but her voice feels feeble. That is until Yi Seo calls her and reads a little poem to her. Hyun Yi finally realizes what has been the truth all along: she is unbreakable because she is a diamond. She walks right into that studio and announces with a voice as brave as her that she is a transgender person and that she's going to win.
'Kingdom S2' Episode 6 – Protecting the kingdom at all costs
In episode 6 of Kingdom Season 2, Lee Chang leads his men to a final fight in hopes of stopping the plague. However, there's no way to do that without marching to their own death. The scene is highly emotionally charged because of the amount of desperation, courage, and bravery that every single warrior shows in order to bring an end to the disaster. Standing strong in the face of oncoming slaughter to protect the innocent is the ultimate act of love and sacrifice, and for a zombie-horror drama, this scene was way too heartbreaking.
'The King: Eternal Monarch' Episode 11: Protect her; she is the future Queen of the Kingdom of Corea
In this incredibly emotional scene, Lee Gon charges ahead on his white horse, the perfect knight in shining armor to save Jung Tae Eul. However, Tae Eul herself has put up the bravest fight when faced with a threat to her life in a land wholly alien to her. It is particularly significant because of how Tae Eul finally surrenders herself to Lee Gon because she doesn't need to fight anymore. He will protect her at all costs.
'It's Okay To Not Be Okay' Episode 14 – Asking for forgiveness
Much like the other shows on this list, 'It's Okay To Not Be Okay' was a tearjerker from beginning to end. Yet one scene that clearly stands out among the rest is that of Ko Moon Young asking Sang Tae for forgiveness. Ko Moon Young finally knows the truth about her mother but doesn't know how to cope with it. On the other hand, all Sang Tae knows is that his little sister is hurting and needs to eat.
'Start-Up' Episode 16 - Ji Pyeong breaks down in Grandma's arms
Life comes full circle for Mr. Good Boy and Grandma. She tells him that he can and should call her even when he's doing all too well. He doesn't need to find a reason to be with her and visit her. He can laugh and cry with her all he wants. Finally, she tells him that he shouldn't get too lonely by himself because she'll always be right by his side. For some reason, this relationship, out of all the ones in the drama, shines the brightest.
'Record of Youth' Episode 16 – The final breakup
Jeong Ha tells Hye Jun that their timing is completely off despite the fact that they're deeply in love with each other. Just when Sa Hye Jun finds the time and mental space to make her his priority above anything else, Jeong Ha thinks it is too little too late. She feels like she's ten steps behind, and Hye Jun has walked too far. As such, it would not be possible for them to match steps. It is understandable, but all too-rational and Hye Jun's poor heart can't comprehend being away from the only person holding him together.
'When The Weather Is Fine' Episode 15 – She leaves once again
In the penultimate episode of 'When the Weather is Fine,' Hae Won has to relay the message she has been dreading all along. She's leaving, again. For Eun Seob, his whole relationship with her has been one of beginnings, endings, and beginnings again. He was too afraid to express himself in fear of her leaving but at this point, he's in too deep, but he knows that she will leave again. There is a calm acceptance on Eun Seob's face, but deep inside, he just wants to run away as far as he can. Neither can he stop her from leaving nor tell when or if at all, she'll be back. How can he ever deal with this separation all over again?
'Tale of the Nine-Tailed' Episode 16 – Lee Rang sacrifices himself for Lee Yeon
One of the most touching, heart-rending and agonizing scenes from 'Tale of the Nine-Tailed' was definitely Lee Rang's final sacrifice. He realizes that he can give himself up to bring back Yeon and he shows no hesitation to do that as soon as he can. His family desperately runs up to him and with one last look at those he loved most dearly, Rang leaves.
'18 Again' Episode 8 – Hong Dae Young's father realizes it's him
Hong Dae Young has been living an agonizing lie as Go Woo Young, with his own family distancing themselves away from him and his own father, struggling with their relationship drifting away. However, in this particular scene, Da Young's father watches him play and instantly knows that this is his son. As the game concludes, Dae Young goes up to his father and uses sign language to tell him that he wanted to see him happy again because he's the happiest when he's watching him play. Finally, he apologizes.
'Mystic Pop-Up Bar' Episode 12 – Dreaming of a family
Kang Bae quite literally dreams of how life would be living as a happy family with his parents. It took years, but he has finally found family, which is both his given and his chosen family. However, just when he did, it was all taken away in a flash without any explanation whatsoever. The scene is painfully happy and speaks volumes about that longing that is deep inside Kang Bae's heart.