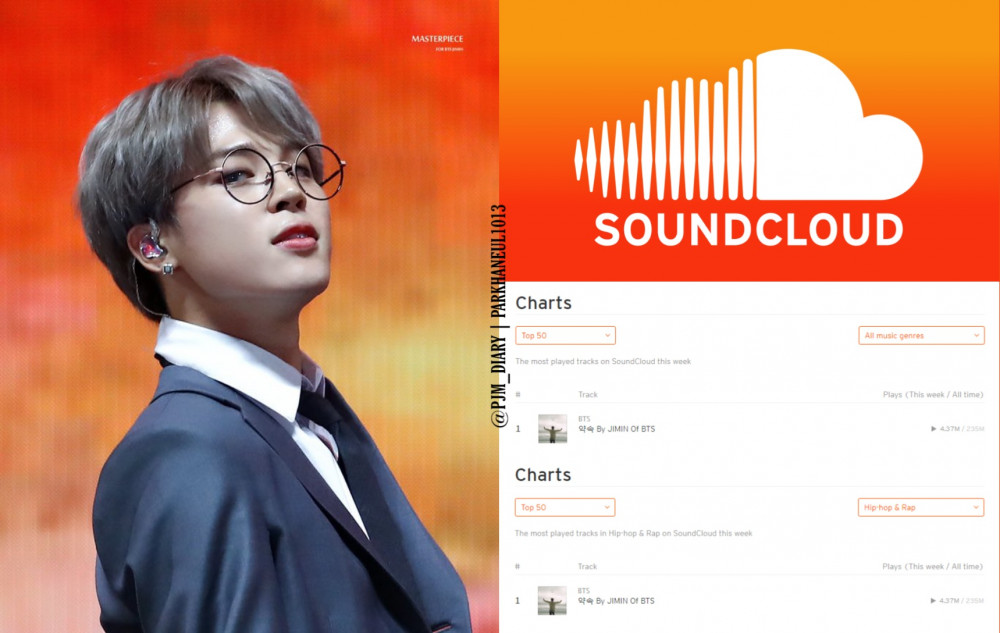 Park Jimin, the lead vocalist and the main dancer in BTS who is also a major record holder in South Korea on SoundCloudcontinue to prove the power of his music when he achieved an all-kill with his record-breaking song, "Promise" in two major chart worldwide. "Promise" by Jimin currently ranked #1 in both Worldwide All Genre chart and Worldwide Hip-Hop & Rap chart. "Promise" also ranked #1 in 5 different countries All Genre chart simultaneously.
Back on 2018, Jimin takes the world by storm when he released "Promise" unannounced. He immediately became one of the hottest topic in the world when he dropped his song and broke one of the major record on SoundCloud which is the biggest 24-hours debut. He snatched the record when "Promise" gained 8.5M streams. Jimin received huge hype from famous acts and countless of media coverage from his achievements all around the world. Up until now, Jimin still hold the biggest debut record on SoundCloud. Back on 2019 SoundCloud officially crowned "Promise" as the "Buzziest Drop" in their "2019 Playback". Jimin is also the first and only Korean act to debut in the top 5 and top 3 most stream song of all time rank on SoundCloud. Currently Jimin ranked #2 among the top 3 rank. He is also the first Korean act to break into 100M and 200M streams milestones on the streaming platform.
Hip-Hop & Rap category is known as a tough category to compete and chart on SoundCloud. However, despite being wrongly put under Hip-Hop & Rap category, "Promise" still managed to compete with some of the huge name and set records on its own.
To be able to compete, set major records and even chart worldwide in the two major categories, Jimin really show to the world the power of his music. Congratulation Jimin!