To provide an accurate view of the Burning Sun Scandal, it becomes essential to look at how actual Koreans view the situation especially when Naver is censoring and removing articles critical of Seungri, Burning Sun, YG and the Seoul Police. These protesters and the voice of Korean citizens themselves are the real boots on the ground. The following stories feature a sampling of what many Koreans really think about the situation and the state of their nation.
-DTRT
-----------------------------
Sunday, May 19, 2019
http://netizenbuzz.blogspot.com/2019/05/women-hold-protest-outside-blue-house.html
Article
:
Women gather in front of the Blue House over the Burning Sun scandal
Source
: News 1 via Nate
1. [+1,243, -60] Drug and s*x criminals are horrifying. Imagine being so drugged up that you don't even realize that you're in a hotel and taking pictures that will become evidence later. Date r*pe drugs erase both the crime and the memory of it.. it's truly a terrifying crime.
2. [+1,186, -100] I'm sorry I can't be there with you but I support you, women...
3. [+1,054, -119] Isn't this an issue that men should be gathering over too? It has nothing to do with gender. The crimes are about the use of hidden cameras, date r*pe drugs, assault, and police bribery. If this scandal gets buried and left treated like it's nothing, then men will be able to get away with all sorts of heinous acts in their Katalk rooms. Everyone should be out there protesting.
4. [+79, -20] Amazing how these women made it out even when it's raining and hot, even if they're busy. Meanwhile a certain other group of people are claiming to be too busy or the weather too hot to attend.
5. [+68, -2] This is not an issue where we should be fighting over genders, this is an issue we should all be trying to solve together..
6. [+52, -4] Please jail Seungri
7. [+44, -6] Any idiot who downvotes articles like this is basically a criminal himself who supports hidden camera videos being filmed and shared
8. [+31, -0] I support you
9. [+25, -0] There's gotta be some dirt on the judge who let Seungri go too. He admitted to purchasing pr*stitution and yet he's not going to jail?
10. [+22, -4] I'm a man but I support them... this has nothing to do with gender war, this has to do with how much we're letting this country be tainted...
Posted on May 19, 2019
https://pann-choa.blogspot.com/2019/05/daum-from-filming-illegal-videos-to.html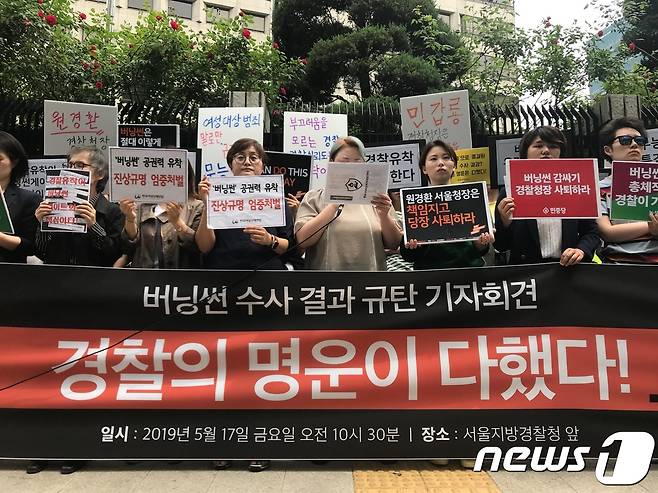 Poster message: Press conference denouncing the results of the Burning Sun's investigation
The police's luck ran out!
Police investigations have came to an end but women are revolting against the results o the investigation and came to a collective action.
Women have came together on the afternoon of the 19th to protest against rape and violence against women in front of the Blue House.
On the 25th of May, another protest will be held in Gangnam Kyobo Tower in Seoul from 3PM.
post response: +1,628
original post:
here
1. [+5,543, -32]
Seungri's arrest got dismissed tsk tsk tsk
Just how high do his connections go? Nobody is able to arrest him.
We need to reveal all the relationships among politicians and all of those Burning Sun's VVIPs too
2. [+2,455, -35]
They've been investigating for months and he can't be arrested. That Chinese woman also can't be jailed. The police are investigating the police who are colluding... And you guys call this an investigation????? This is hilarious
3. [+1,632, -5]
This is seriously rotten to the deepest roots... The fact that this f*cker isn't jailed just shows how rotten this society is...
4. [+619, -4]
Just how high does his connections go?
Just how long since this scandal was initially broken?
Except for the fodder Jung Joonyoung, nobody is receiving proper punishment~
At his point, everything will just get hushed down and ended in an anti-climatic way
Are we going 30 years back?
The phrase "one law for the rich and one law for the poor" still remains
It looks like it will stay a truth forever~
5. [+381, -11]
Korea's rape cartel
Law makers
Prosecutors
Police
They are the bodyguards of the rape cartel