So I've listened to K-Pop since 2011 and many of my friends started to listen to it around 2016 or even later. Actually, there are a lot of people who started listening to it around that time. I'm not saying that everyone is like that but here are just some things that get me a little worked up.
1. Bands/Artist
A lot of the new K-Pop fans are Army's. Now there is nothing wrong with that. I am actually really glad that BTS let the world know that amazing non-American artist exist. If you like them or not, you can't deny the impact they had / have in the K-Pop community.

BUT just listening to BTS doesn't make you a K-Pop fan. Just like only listening to Drake doesn't magically transform you into a Rap fan. And there is nothing wrong eth that. But it gets me really mad when I find out, that someone is a "K-Pop" fan and only listens to BTS. I mean no shade but if you don't only listen to "mainstream K-Pop artist"(BLACKPINK, BTS, Exo) and don't know legit legends like DBKS, BIG BANG, Super Junior, T-Ara, then I'm judging!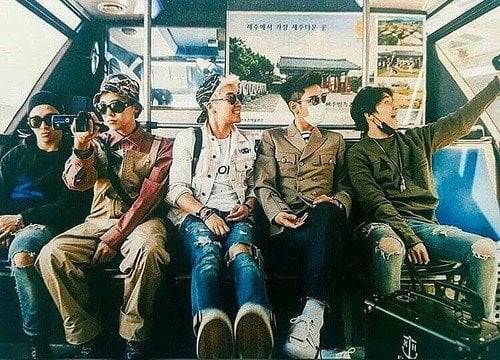 2. Disbandments
Now this is something a little bit more tricky. Disbandments are always hard and I wish that your favorite Band will stay together for a long time. But what they need to understand is, that no K-Pop group, famous or not, will and can stay together forever.
I went through a lot of disbandments or like groups who are on hiatus for like 5 years or a member left and honestly, that's hard but that is something you have to deal with. And I might be wrong with that but I have that feeling that newer K-Pop fans don't really understand that. Maybe because they never went through disbandment yet or maybe the discovered groups like 4Mintue, Co-Ed School and MBLAQ after they already disbanded/went on hiatus.
3. The Cringe
A lot (and I mean a LOT) of K-Pop fans are pure cringe. Now that is not a problem I have as someone who listens to K-Pop a little longer but in general. I just have that stupid feeling that with each and every year the K-Pop community gets younger and more cringe. I can't even exactly pinpoint what I dislike but you can legit see when someone is a K-Pop fan. I mean I have merch and wear it sometimes, but then there are those guys who wear it 24/7, get mad when you don't know or listen to their favorite band and talk about them non-stop. I mean I do want to talk about K-Pop ( you know, gossip about the new tea) but that doesn't mean that I want a friendship where you just want to talk about "how sexy your bias looked"
4. The Sadness
Now here is the real tea. When I discovered K-Pop, I tried to show it to some of my friends and they kind of laughed at me. Back in 2011, only a few people overseas listened to that music. So it was even before the Gangnam Style time.

I now have that: I liked it before it was cool complex. And the: you laughed at me when I wanted to show you that, and now you want to introduce me to k-pop like you discovered it and act like I never tried to talk to you about that topic.
(do you know what I mean)
Also in 2019, the new K-Pop stans don't have to go through that "embarrass" time. Like when I started with the whole K-pop thing, the idols went through a really interesting fashion style and when someone asked you, what type of music you like, I was embarrassed to say that I like K-Pop. Mainly because it was not known, and trying to explain that was hard and then showing them an MV that wasn't "funny looking" was also hard. Now when you get asked what type of music you like, you can just say K-Pop without completely making a fool of yourself when trying to explain it (except for your parents maybe).
5. Not acknowledging other artists
This might be my BIGGEST pet peeve. I don't care how successful BTS, Exo, BLACK PINK, Seventeen etc. are. Fact is: They are all so successful because groups like BIG BANG, DBSK/TVXQ, H.O.T, SNSD etc. exist. If they weren't so successful your faves couldn't stand on stage now. You don't have to like them but at least acknowledge that they DID / DO have a great impact in / on the K-Pop community. And without BTS, Got7, I.Kon etc. the new K-Pop groups to come wouldn't be successful.
All the generations build each other. And let's be honest. If some of them failed MAYBE K-Pop wouldn't be as big as it is now. MAYBE your bias wouldn't have been inspired by it and never auditioned. Just think about how many idols said: "When I was younger and saw [.....] on stage, that when I knew I wanted to become a singer.