Among the list of currently promoting idols who can effectively dodge the Korean public's prejudice against idols in the acting industry, you just can't leave out EXO's D.O. So when D.O. landed his first ever male leading role in an entire drama series, you bet people are interested to see what it's all about!
As a result, we have a tvN Monday-Tuesday drama which kicks off with the highest ever viewership rating for any tvN dramas in this time slot. tvN's newest fictional, historical romance '100 Days My Prince' is off to a very solid start viewer rating-wise. Then, how about story-wise?
In episode 1, we meet the two main characters of '100 Days My Prince' beginning from their childhood. We meet a playful, rascal of a little boy named Lee Yool, a relative of the royal family who loves playing in the woods, dislikes reading and studying, and grew up loved by his mother. Opposite him is a lovely girl named Yoon Yi Seo, who can fend for herself and is kind to others, the beloved daughter of an upper-class family. Following their lighthearted, but memorable childhood encounters, it's difficult not to become immediately invested in Yool and Yi Seo's characters. Yool's stubborn but endearing tendencies and Yi Seo's witty, outspoken nature compliment each other well, and you find yourself rooting for these two before you know it. Sadly, the heartwarming childhood crush story doesn't last long, as the story takes some dramatic, cruel twists.
SO SQUISHY!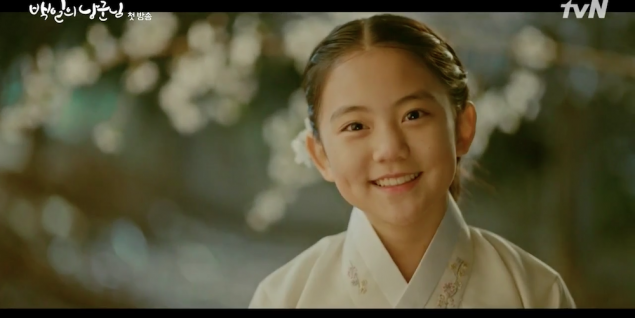 SO SWEET JUST GROW UP AND GET MARRIED ALREADY!
A darker plot unfolds as a power-hungry man named Kim Cha Un (played by Jo Sung Ha) launches an attack to overthrow the current king, killing all the king's supporters. Overnight, Kim Cha Un succeeds in placing Yool's father as the new, puppet king of Joseon, and Yool as the crown prince, while laying down the grounds for himself to become the powerful advisor of the king from the shadows. In return, Kim Cha Un arranges for his daughter Kim So Hye to marry Yool, establishing a line for her to eventually become queen. Discovering that his father and Yool worked together to achieve this coup d'etat, the once carefree child Yool becomes traumatized, harboring mistrust and blame toward his father. Furthermore, a fatal mountain accident leaves Yool bitter with the loss of his mother, and no more loved ones left.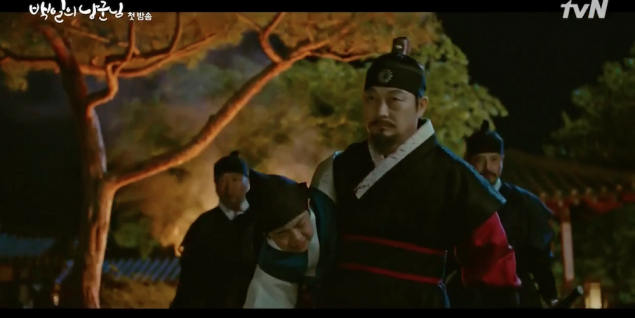 You know a man is evil when he tucks a little child into his side like a hateful history textbook.
Yi Seo's family is one of the families slain during Kim Cha Un's night attack. Only she and her older brother manage to escape the soldiers, but what happened to the two children after their escape is unknown.
16 years later, Lee Yool (played by D.O.) has grown up into the most frowny, angry, difficult-to-please crown prince Joseon has ever seen, living a life governed by others. Joseon is facing a drought crisis, and all of the royal advisors somehow believe that if the crown prince would send up some "bright energy" by mating with his wife, the pleased spirits will put an end to the drought. To bite back his advisors for their nonsensical reasoning, Yool then decrees that all unmarried men and women of age in Joseon must be married by next month.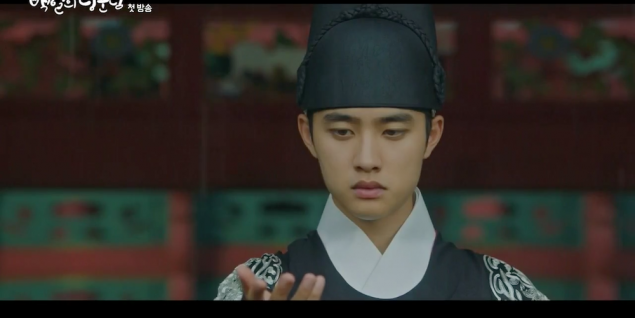 The next EXO comeback teaser, historical Joseon-style!
Right around this point is when the grown-up Yoon Yi Seo (played by Nam Ji Hyun) is introduced to the story. Yi Seo has adopted a new name as Yeon Hong Shim, living with a foster father. Yi Seo and a group of unmarried men and women are called on by the government officials, blamed as the cause of the ongoing drought, and ordered to "partner up with one another" and marry immediately. While Yi Seo's friend hurriedly weds another unmarried man from the town, Yi Seo refuses to accept the order, lying that she has a fiance named Won Deuk.
Episode 1 of '100 Days My Prince' does a fantastic job in introducing the two main characters of this story in a way where viewers can't help but sympathize with and cheer for them. The transition from the adorable child Lee Yool to the grown-up, snobby crown prince Lee Yool was very good, zoning in on the key moments leading up to where a child's life is turned upside down and taken away from him by those seeking power. Similarly, the lovely child Yoon Yi Seo matures smoothly into a woman whose life has also been taken away from her forcefully, but who still hasn't given up hope in the search for her lost brother, despite living in hiding.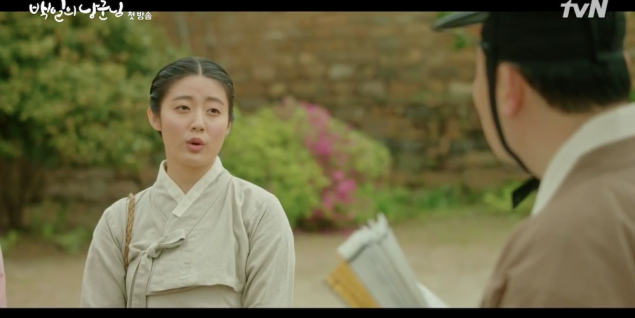 You think I'd still look this good at 28 if I'd been married with kids by now?

We got to see a flurry of glimpses of the various other small and big characters. Since the drama focused on establishing a firm foundation with the two main characters in episode 1, it's understandable that the other characters only got minimal screen time. But I'd like to point out that many of the best dramas become good stories because of the roles of their side characters, not just the main characters. This is something of an expectation to have diving into more episodes to come; How well this drama manages to tell a complex story revolving around many characters, not just two main ones.
The one character who makes a huge impact even with only a few minutes of screen time in episode 1 is the black assassin. I'm going to pitch a little crazy theory about this guy here: I think he's Yi Seo's long lost brother. I know there's not a lot of evidence to prove my theory right now (it's episode 1, after all), but just the dramatic way he bumped Yool's shoulder as he made his casual escape, really caught my eye.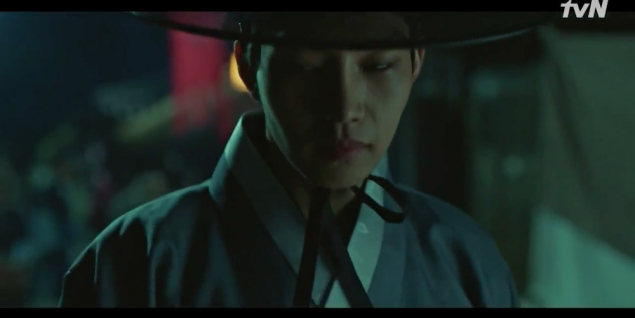 What a PRO at the mysterious and naughty side glance hinting that he's got a big fat secret and he's gonna make us beg for it until episode 10+.
With that long summary, my final thoughts regarding '100 Days My Prince' is just some good expectations for what's to come next. Episode 1 impressed with some solid storytelling and great choice of key scenes and transitions. While looking forward to more of the plot and character developments, I will also keep an eye out for the overuse of historical drama cliches. It's easy for historical dramas to become too standard and just like every other one we've ever seen, with there being a certain limit to the settings, outfits, decorations, and props which can be used to tell the story. I think what viewers will be looking for in '100 Days My Prince' isn't something dramatically different or innovative, but just factors here and there to set this drama apart as an individualistic, unique piece from the scores of other historical romance dramas in the past. Stay tuned for episode 2.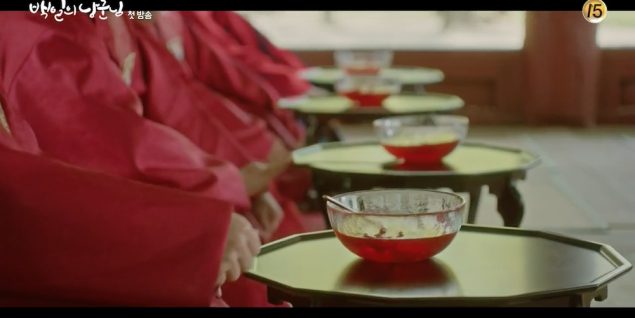 You know men, there are thousands of fans out there who would die to drink D.O's bath water, so quit complainin'.
Score
Plot......................................8/10
Performance.......................7/10
Pacing..................................6/10
OVERALL.........................7/10