On September 11,
BTS
was interviewed by the 
GRAMMY
Museum Artistic Director, 
Scott Goldman
, at the GRAMMY Museum in Los Angeles.
The members of BTS discussed their musical direction, album production process, the relationship among members, the importance of their fans, and more with around 200 people in the audience.
Scott Goldman first introduced BTS, stating, "They're the most successful K-Pop artist in American chart history," and mentioned the group's records on Billboard charts.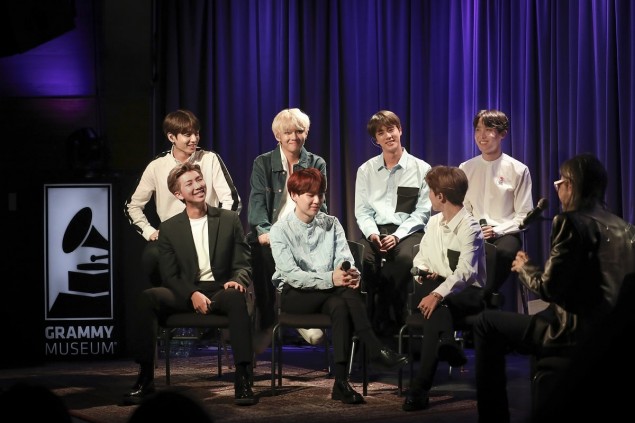 j-hope talked about the difference between BTS' previous world tour and their recent shows in LA. He said, "We were able to meet fans through 4 shows with the new album," and added, "It was especially more meaningful because many fans passionately gave support."
Regarding the group's success and music, 
SUGA 
said, 
"The way we expressed our thoughts and feelings into music was the driving force behind our current position." 
He added, 
"I think we were able to make great music of diverse genres because our company and members worked tightly together."
RM also shared, "We gain motives from BTS members' personal stories and we choose our album concept and deliver a message (based on that)."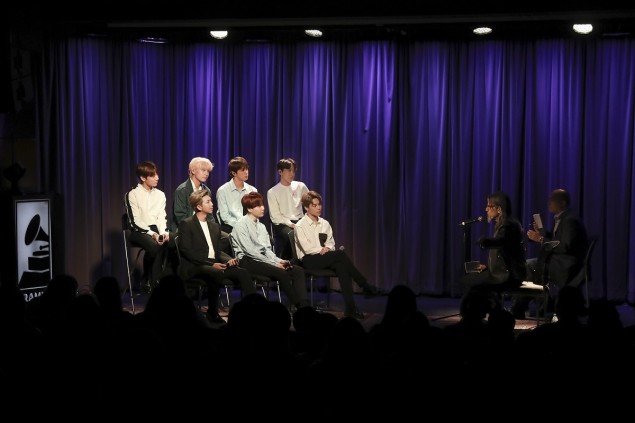 As for the members' communications, Jimin said, "The members always create great melody and lyrics but if there are times where we have to moderate opinions during recording, then we get together and have a discussion and try to resolve the problem toward a good direction."
V then emphasized the importance of their fans, stating, "Fans put the wings on BTS. They helped us get to where we are now, so we have a very tight relationship with our fans."
Jin also said, "The records we have made was possible due to our fans," and added, "The 'Love Yourself' tour is not only a place for BTS to perform but a place for us to be with our fans."


Lastly, to the question regarding BTS topping 'Billboard 200' two times, Jungkook said, "We feel responsible and pressure for the things we have accomplished, but we will try to get ourselves together in all aspects including music and our actions."
We're happy to host @BTS_twt for a conversation at the Museum! @bts_bighit pic.twitter.com/C9ZLYhahIz

— GRAMMY Museum (@GRAMMYMuseum) September 12, 2018