HALO
's
Dino
 announced his enlistment.
He wrote a handwritten letter to his fans reading, "Hello. This is HALO's Dino. I know this is sudden, but I wanted to be the first one to tell you, so I'm writing this letter by hand. I will be fulfilling my duty to the nation, and will be temporarily leaving. It's been 4 years since we debuted. A lot of things happened, but it was a happy time where we laughed and cried together with fans, so I have many memories alive in my heart. It hasn't hit me yet, but I'll come back as a more energetic man through your support. It'll be hard to see a cute Dino from now on, lol. I know I say this all the time, but I believe that HALO and Dino exist only because of you. I'll be healthy, so don't worry too much and I hope you all run after your dreams. I promise to see you on stage again. I love you."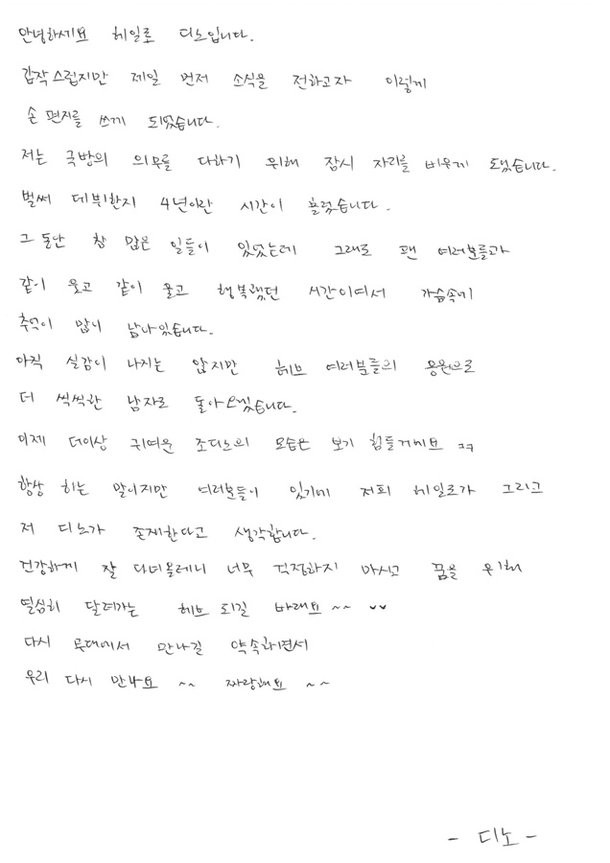 Because he's enlisting soon (he hasn't revealed the date), he won't be at HALO's Seoul concert on July 28th. Will you miss him while he's gone?