Korean rapper
Don Malik
is the latest to face border control immigration issues while trying to perform at Texas-based music festival
SXSW
.
Malik was scheduled to perform a showcase on March 17, with himself and his guests using visa waivers as directed by SXSW officials. In this waiver program, artists from foreign countries were supposed to be granted entry to the United States without needing a standard work visa, in exchange for an "exposure only" (unpaid) performance. Unfortunately, Malik became the latest in a line of artists that found their waiver was invalid upon entry to the U.S., and he was detained by customs when he arrived at the San Francisco International airport for a layover.
According to a statement released by Jerry.K, the CEO of Don's label, Daze Alive, the rapper and his crew were allegedly treated to a barrage of racist gestures and slurs during their detainment of 24 hours. There are claims that the immigration employees called them chinks and even made monkey expressions at them. Echoing the sentiments of statements released by other SXSW artists that have been detained, the performers were reportedly barred from accessing their cell phones, thus were unable to contact SXSW organizers for any type of help.
Here is the translated text by HiphopKR: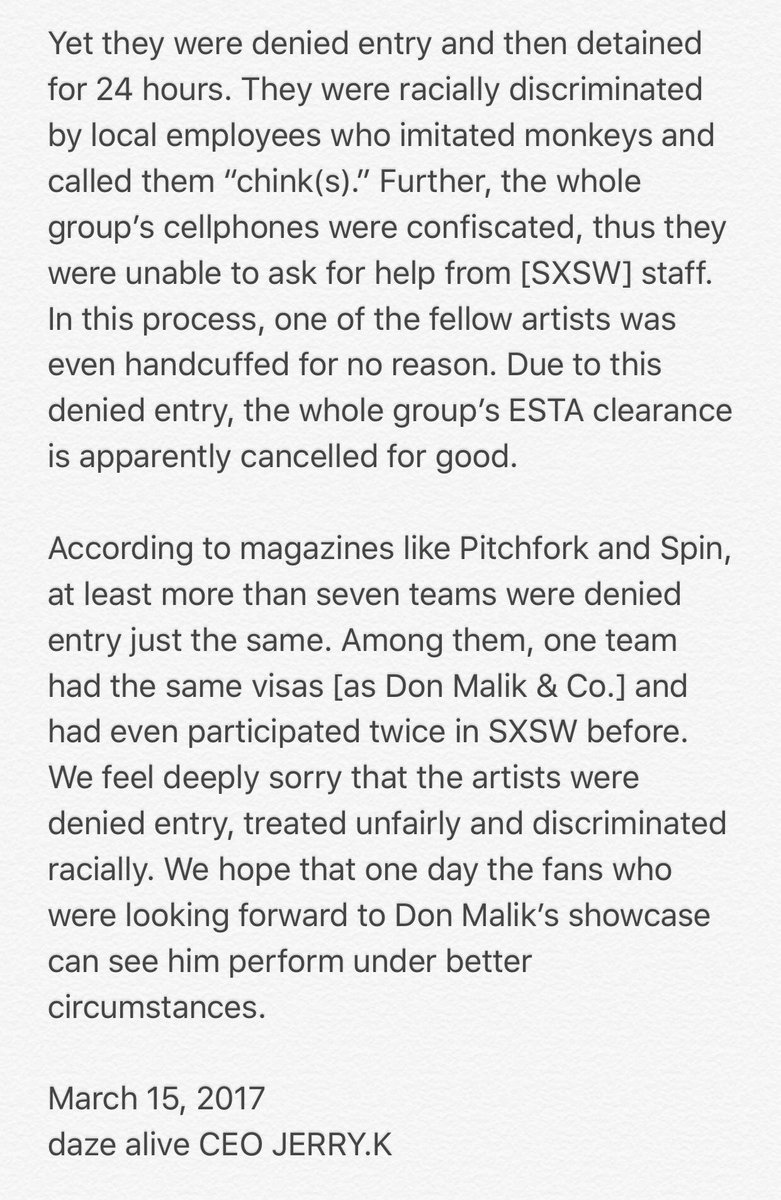 As of this writing, no officials from SXSW have made any statement on the situation. This silence comes following a controversy over a clause in SXSW's official artist contracts, which explicitly stated that artists who performed any unofficial events while traveling on a visa waiver were to be deported. In light of the fact that Don Malik and the other detained artists were allegedly only performing officially assigned showcases, many have become unsure whether or not SXSW can confidently offer the security and protection that foreign artists need.
As this larger situation with South By Southwest and U.S. customs emerges, we will provide updates on any Korean artists affected.