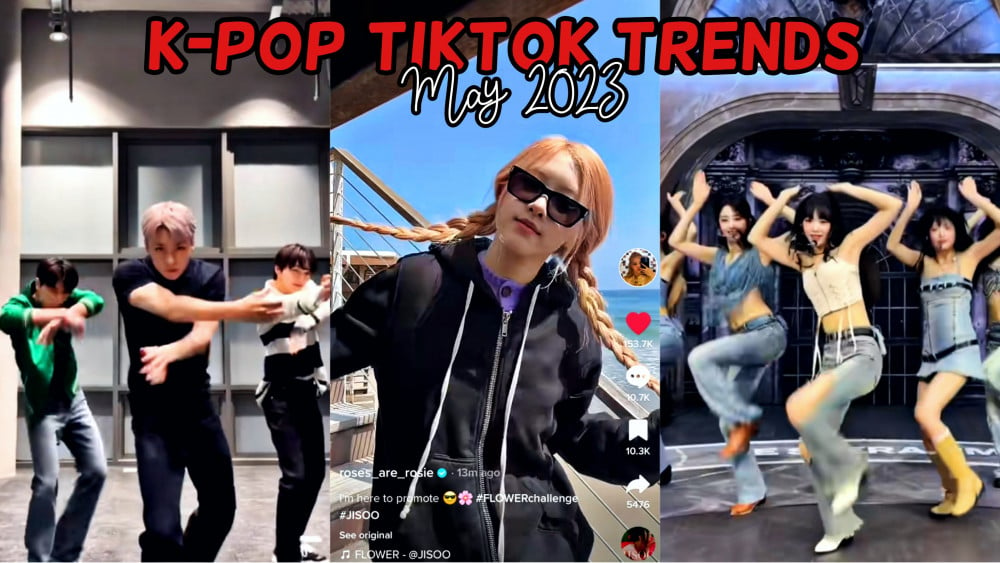 From the infectious rhythm of Kai's 'Rover' to the irresistible allure of BLACKPINK's 'Pink Venom,' numerous K-Pop tracks have achieved soaring popularity on the social media platform TikTok. These songs have captivated global audiences not only with their captivating beats but also their groundbreaking choreography. Now, let's delve into the K-Pop sensations that took TikTok by storm for the month of May 2023.
1. Le Sserafim - Unforgiven
It would be unthinkable to compile this list without including 'Unforgiven'. Much like Le Sserafim's previous hits 'Fearless' and 'Antifragile', the mesmerizing choreography of this song is simply irresistible!
2. Agust D - Haegeum
A rap track should always be on the monthly list! The "Haegeum" challenge became trending right after the song was released and you can watch below to see exactly why.
3. TAEYANG - 슝! (Shoong!) ft. Lisa of BLACKPINK
The amazing collab we had all been waiting for! What is interesting about "Shoong!" is that it is trending not only as a dance challenge, but also as an audio for edits (usually in its sped-up version)!
4. Seventeen - 손오공 (Super)

An iconic song indeed, with an even more iconic choreography! We even got to see BTS's Jimin performing it!
5. JISOO - 꽃 (Flower)

K-Pop stans barely restrain themselves from forming a flower with their hands whenever they listen to this song! This same move is commonly used as a transition, too!
6. (G)I-DLE - Queencard
Catchy but with a deep meaning, "Queencard" is yet another song that lives in our minds rent free!
7. あいみょん - 愛を伝えたいだとか
This is actually a japanese song, but since many K-Pop idols such as ENHYPEN's Jay and Sunghoon along with TREASURE's So Junghwan, Haruto, and Doyoung have jumped on this trend, we decided to include it on the list!
8. ENHYPEN - Bite Me
Of course, the ultimate vampire concept should be here! It isn't easy to miss the innovative choreo of "Bite me." While if you want to try dancing to the chorus you might need a partner, you can perform the pre-chorus on your own, like most of the artists!
9. KARD - ICKY
KARD didn't "get ICKY" for nothing! They started a new trend and invited idols from various famous groups, such as Le Sserafim and Monsta X, to try it with them!
10. Dreamcatcher - Bonvoyage
Last but not least, "Bonvoyage" from Dreamcatcher's latest album, "Apocalypse: From Us." Following the same pattern as the rest of Dreamcatcher's songs, it has a touch of rock music. Dreamcatcher initiated a cute trend, in which the person doing the trend receives an item, such as a teddy bear, and has to perform a series of moves to the lyrics "but I love you, 나 그럼에도 널 사랑하니까." Of course, many artists still chose to dance to the original choreo of the song!
What is your favorite trend for the month of May 2023?