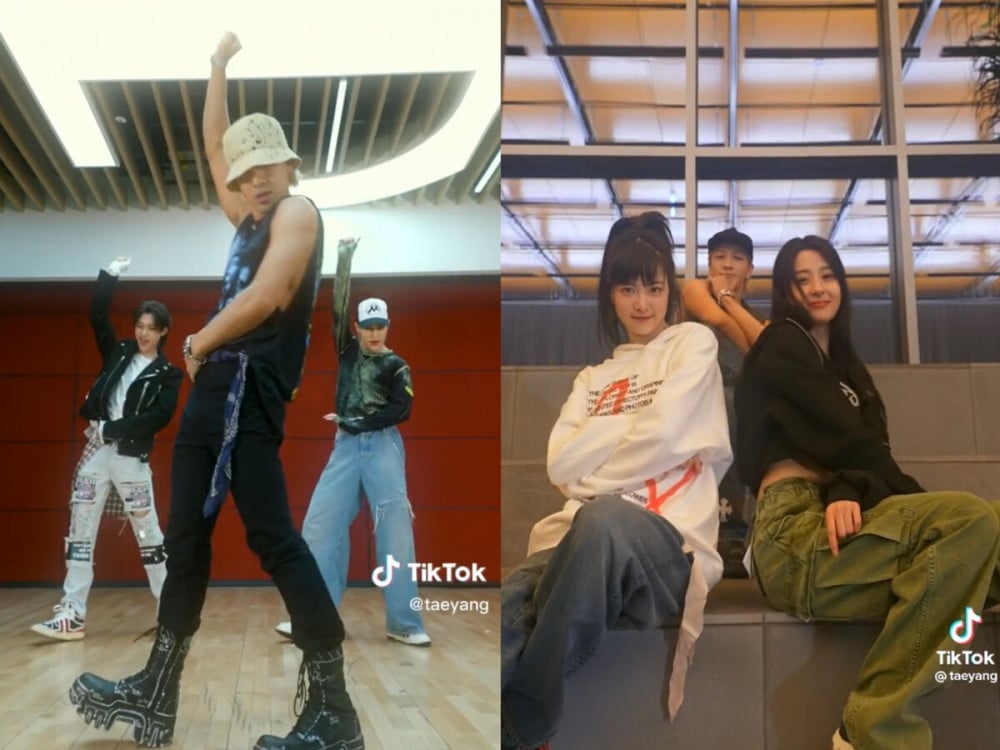 On January 13 Big Bang's Taeyang released a new single, "Vibe" feat. Jimin of BTS and with it launched the "Vibe" challenge. Taeyang has already made several posts with different artists who have participated in the challenge with him. The latest of these are LE SSERAFIM and Stray Kids.
Taeyang's challenge with Stray Kids' Felix and Hyunjin was posted on January 16 and has already amassed 1.2 million views on Instagram alone. The short clip began with a closeup of Taeyang's hands locked in a gesture familiar to fans of Stray Kids. When the camera zooms out, Taeyang is revealed to be in a practice room JYPE fans would all be familiar with before Felix and Hyunjin dance their way into the screen.
Taeyang's post with LE SSERAFIM's Huh Yunjin and Hong Eunchae came up on January 17 and has already garnered over 600k views on Instagram. Similar to his previous post, the clip starts off with a close up on Taeyang before Yunjin and Eunchae step into frame.
Taeyang recently moved over to The Black Label after 16 years at YG Entertainment and immediately announced that he would be making a comeback. Given that the last Big Bang comeback was in 2016 and his last solo comeback was in 2017, Taeyang's comeback was highly anticipated.