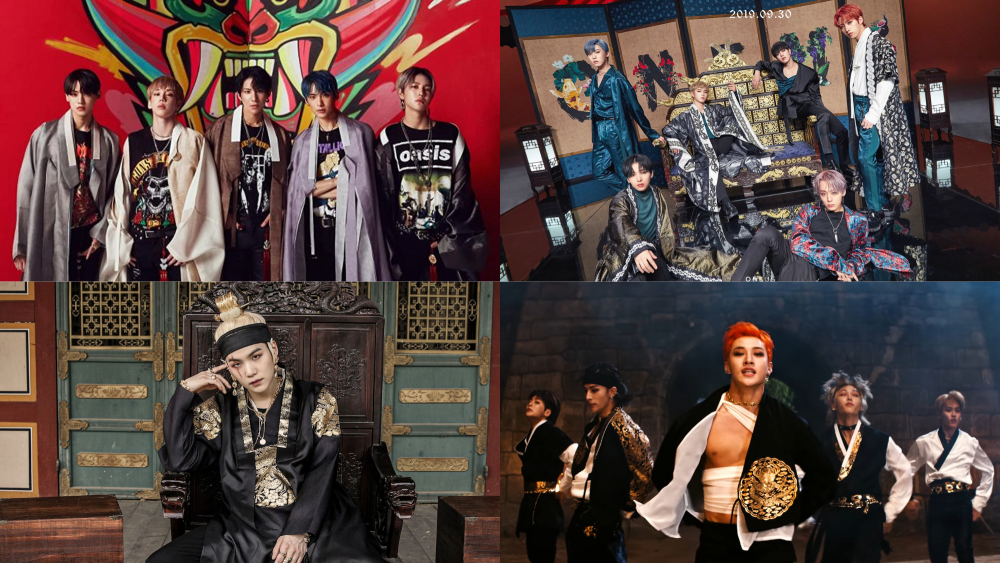 K-Pop is becoming increasingly global, and it's always so exciting to see them bringing more of their culture to the forefront. Many artists have been incorporating more elements of Korean culture into their songs, MVs, and stages, such as sampling traditional songs, using traditional instruments, and even with their outfits. This is a great way to celebrate and honor their heritage while also introducing it to a wider audience. Below are some music videos that showcase hanbok-inspired outfits.
Stray Kids - Thunderous
This chart-topping track brilliantly combined Korean art and architecture with their modern vibes, and also rocked the hanbok, making them look absolutely GOLDEN.
Stray Kids - Back Door
I love it when people mix and match traditional and modern styles together. There's no escaping these kids, especially when they layered their beautiful jeogori over simple t-shirts and jeans.
TWICE - Cheer Up
From modern to vintage, these girls had them all! Dahyun certainly cheered up everyone with her beautiful red-and-white floral hanbok.
ONEUS - Luna
For some reason, these boys just fit the concept so well, every time they do it, and I would love nothing more than for them to keep doing it.
ONEUS - Lit
If I had to pick one favorite ONEUS song, it would be this one. The entire track is a walkthrough of Korean culture, with their variety of hanbok-inspired outfits, and as they traverse different palace settings. My favorite prince yet.
Agust D - Daechwita
Two years later, this still remains one of K-Pop's best releases yet. He is such a badass and showed the world that he would have still been the king and boss even if he was born in the Joseon dynasty.
BTS - Idol
Despite being the most globally successful idol, they never forget their roots. Not only does the song have traditional Korean instruments and phrases, but the choreography is also inspired by Korean folk dance, and the members are seen wearing hanbok-inspired clothes.

It is no surprise that our fashion king, Kai, would showcase the best fashion in his solo music video. He combined traditional Korean hanbok with modern streetwear and pirate vibes.
SuperM - Tiger Inside
K-Pop's super group, that was the face of Korean Air, taking us everywhere, beautifully donned a modernized version of hanbok. They looked fiercer than any tiger in those beautiful hanboks.
VIXX - Shangri-La
This legendary masterpiece truly showed the world that they are Korea's precious princes. It's one of the most beautiful concepts yet.
A.C.E - Goblin (Favorite Boys)
These boys really are our favorite boys (counting the days until you guys are actually back!), and they have always been proud to show off their Korean heritage with the many photoshoots and comebacks with traditional Korean concepts. In this music video, they combined their beautiful Korean hanbok with modern accessories.

(G)I-DLE - HWAA
From Miyeon's beaded hairpiece (which is usually worn with a hanbok), Yuqi's blue glittery parasol, to their tasseled norigae, they brilliantly paid homage to traditional Korean styles.
MONSTA X - Follow
We already know how hot these boys are, and you'd certainly follow them anywhere, no-questions-asked. But who knew they would be THIS INSANELY HOT with hanboks?
BLACKPINK - How You Like That
There's nothing these girls can't do, and of course, they would rock their version of the modernized hanbok. They modernized their hanbok by cropping it with the most intricate detailed beading, embroidery, and tassels.
This entire track has Korean music from across the ages, and in the music video, he donned various traditional outfits, including some royal wedding pieces from Korea's Joseon Dynasty.