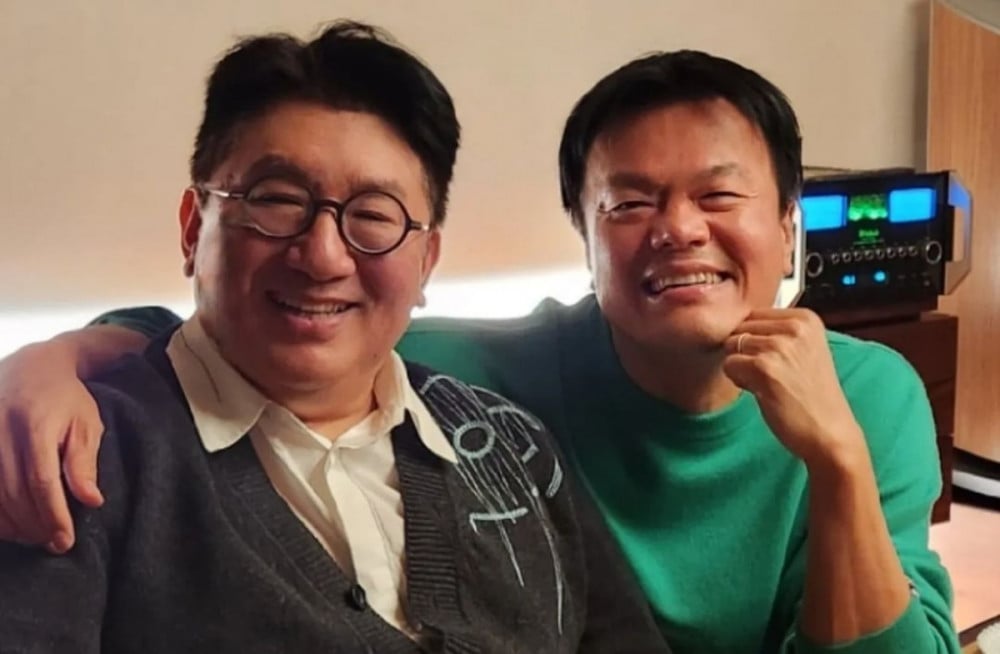 Bang Si Hyuk posted a friendly photo of him and J.Y. Park smiling brightly and netizens reacted.
On January 6 KST, Bang Si Hyuk ("Hitman Bang") took to his personal Instagram to post a photo of himself smiling brightly next to J.Y. Park. In the photo, Bang Si Hyuk was seen wearing a white shirt under a black cardigan, smiling pleasantly. Notably, J.Y. Park was seen wearing a bright green sweater, sitting right by Bang Si Hyuk and smiling like a happy child while having one arm around Bang Si Hyuk's shoulders. Bang Si Hyuk wrote, "With my teacher, brother & best friend @ asiansoul_jyp".
It is well-known that Bang Si Hyuk used to work as a music composer under JYP Entertainment many years ago, before setting up his own agency, Big Hit Entertainment. After Bang Si Hyuk found immense success as the "father of BTS" and expanded his agency into a multinational entertainment company now known as HYBE Labels, his friendship with J.Y. Park has frequently been put under the spotlight where he was compared with his previous boss and friend J.Y. Park. Thus, Bang Si Hyuk's friendly photo with J.Y. Park drew a lot of attention.
Take a look at Bang Si Hyuk's post below!
Netizens commented:
"They look so affectionate [toward each other]."
"Wow, this looks even more like a photo edit than an actual photo edit."
"(Referring to a story told by J.Y. Park on MBC's 'Radio Star') Both of them used to live together, but Bang Si Hyuk left to live on his own after he got mad because of socks. LOLLLL."
"They broke up. So frickin' funny LOLLLL."
"I can't think of anything but the socks story. LOL."
"I thought they weren't on good terms because of socks LOL."
"They must have made up!"
"It's nice to see the two old men being so friendly."