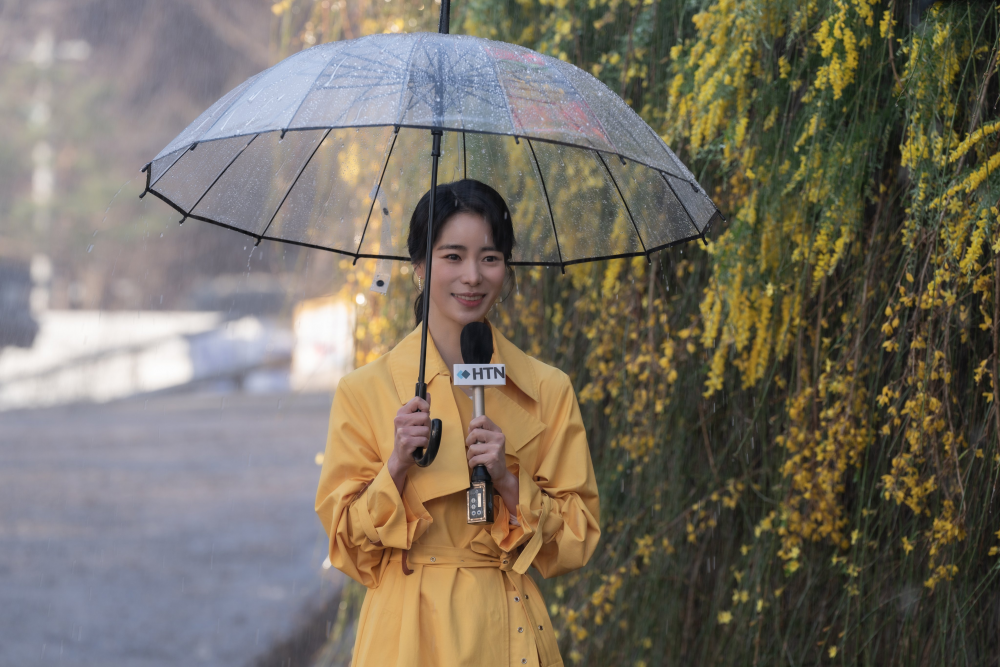 There have been voices being raised pointing out that some of the recent Korean dramas have been reinforcing preconceived negative stereotypical notions of weathercasters and flight attendants through characters who "choose to be a weather forecaster as a job that 'looks decent' and a flight attendant wearing tight uniforms to seduce wealthy men."
'The Glory' part 1 has been well-received in South Korea and overseas as it tells a story of the intricate revenge planned by a school violence victim. Many praised the unfolding of the drama's plot and the exceptional acting of the cast members. In the midst of receiving much love, there have been some former and current weather forecasters who have expressed their disappointment in the depiction of their work.
On January 8th, MBC's weathercaster Kim Ga Young updated her Instagram with a caption refuting the depiction of her job in the Netflix hit series 'The Glory.' She explained the hard work required to be a weathercaster and shared, "From CG commissions to researching and writing scripts, it solely falls under the caster's responsibility. Sometimes even pictures, music, clothes, and props too."
In the drama, Park Yeon Jin (played by Lim Ji Yeon) is the main perpetrator who assaulted the protagonist Moon Dong Eun (played by Song Hye Kyo), when they were in school. During the drama, Park Yeon Jin becomes a weather forecaster and is seen abusing her powers over her stylists. She is even seen hiring a ghostwriter to write her scripts on her behalf. Park Yeon Jin also says that being a weathercaster is a "decent job" that she keeps for face value and maintains her position through gimmicks rather than hard work.

Even in the 2016 drama 'Don't Dare to Dream,' the protagonist Pyo Na Ri is a weathercaster who aspires to become a news anchor but only runs errands for the newscasters. The drama depicted the position of a weathercaster as being a job given to those who failed at becoming newscasters.
The stigma of being a flight attendant is also exaggerated in 'The Glory' through the character of Choi Hye Jeong. In the drama, Choi Hye Jeong works as a flight attendant with the desire to rise the social ladder by finding a wealthy man to get married to.
Many pointed out that Choi Hye Jeong's character shows the anachronistic stereotype of flight attendants who uses their appearance and job to seduce men. In the scene when Moon Dong Eun threatens her with a burning stick, Choi Hye Jeong yells out, "I'm a flight attendant," noting that her appearance is essential for her job.

Some also criticized that the drama oversexualized the role of a flight attendant through the scene when Jeon Jae Joon (played by Park Sung Hoon) calls over Choi Hye Jeong during a flight and asks, "Sing me a lullaby, will you?" Choi Hye Jeong offers him a warm towel, but he asks, "Do you offer anything else that's warm?" insinuating she should trade him a different service in private.
Of course, these dramas are not works that focus on the job of weather forecasters or flight attendants, but many are concerned that the prejudice toward these occupations will continue.
It is true that there have been positive changes taking place in the drama industry, such as having more female protagonists, but there is still a trend of reinforcing this prejudice in portraying some characters. Therefore, experts advise that these dramas should think more carefully in depicting certain characters to further promote positive changes.