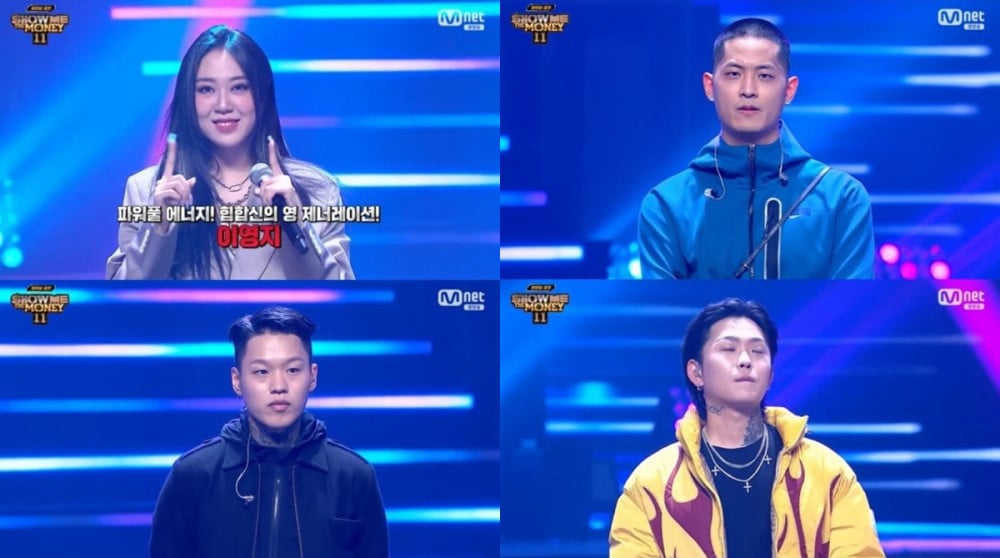 The final episode of Mnet's hip-hop survival program 'Show Me The Money 11' aired on December 30, determining the winner of 100 million KRW (~ $80,000 USD)!
[SPOILERS AHEAD]
On this day, the final four contestants including Lee Young Ji, Huh Sung Hyun, Don Malik, and B.L.A.S.E competed in a total of two rounds, receiving real time votes from a live audience as well as viewers from home.
For the first round, Lee Young Ji performed "HUG" feat. Zion.T and Wonstein. In the second round, she performed "Deja Vu" feat. her own team's producers, Jay Park and Slom.
Huh Sung Hyun performed "See You!" feat. SOLE and R.Tee for round one, then performed "Way Up" feat. JUSTHIS and CAMO. Don Malik performed "Original" feat. Xion and "Bathtub" feat. JUSTHIS and MAMAMOO's Wheein for rounds one and two, respectively.
Lastly, B.L.A.S.E performed "Chosen 1" for round one and "Diamonds" feat. LIL BOI for round two. All four rappers delivered jaw-dropping stages one after another, lighting up the evening with their voices.
After tallying up the real time votes, B.L.A.S.E was announced as the season's 4th place rapper, while Don Malik was announced as the 3rd place rapper.
Lee Young Ji and Huh Sung Hyun then stepped forward to compete for 1st and 2nd place. In the end, the winner was announced as Lee Young Ji, becoming the first ever female rapper to win the hip-hop survival program since it's inception!

On this day, Lee Young Ji revealed, "Throughout this season of 'Show Me The Money', I encountered so many talented rappers, and also tested my limits endlessly. I still don't believe that I've reached my full potential. My journey is only beginning now."
She added on, "I also believe that not only the top 4 rappers, but all 30,000 contestants who auditioned for this season deserve respect for their participation. I will do my best from here on. I promise you, I'll release an album."

Meanwhile, the contestants and producers of 'Show Me The Money 11' will embark on a domestic tour beginning in Seoul on January 15.
Congratulations, Young Ji!