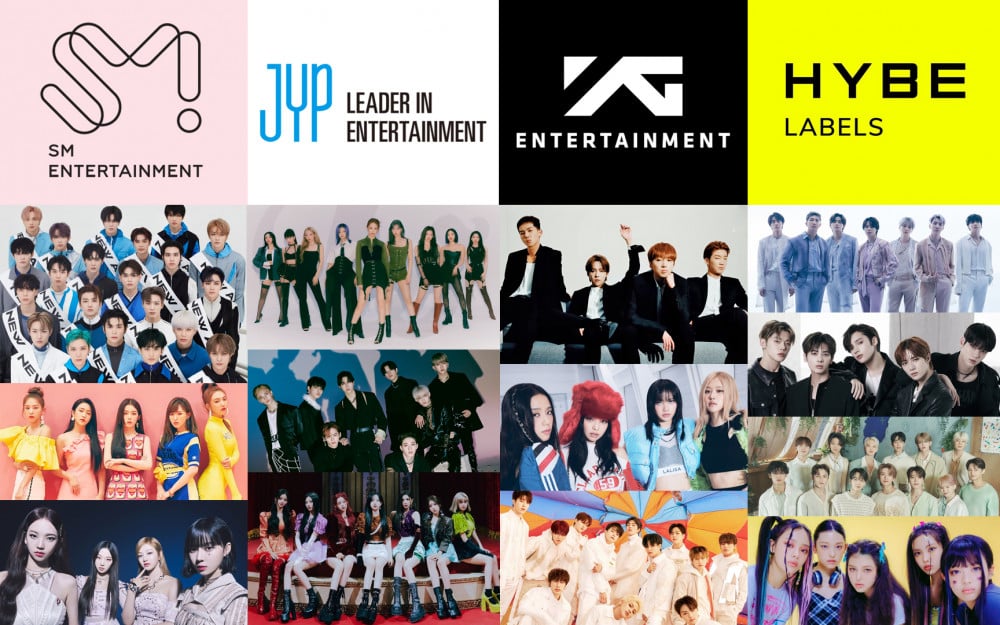 The ever-present discourse in online communities typically revolves around K-pop artists and the music labels that support them.
For K-pop fans, it's clear that each label has its own distinct characteristics and color that is projected through its artists. Currently, there are 4 major music labels in South Korea that have been producing the biggest names in the K-pop industry. Each agency has its own clear style and preference when picking trainees to make their debut.
Since debuting with a large company gives you a much higher chance of success, many aspiring artists always aim to join one of the 4 major companies in South Korea - SM Entertainment, JYP Entertainment, YG Entertainment, and HYBE Labels. Although there are more mid-sized agencies that have released popular K-pop artists in recent years, these four are the dominating labels in Korea.
And for the longest time, the question "Which agency would you choose to join?" was always asked and is definitely a fun topic to discuss.
This topic of discussion surfaced again, with one netizen asking, "If you passed the auditions of all 4 major agencies, which would you join?" while listing out the pros and cons of each company and asking other online users for their opinions.
1. SM Entertainment
Pros
1. Once you debut, activities are guaranteed (even solo activities).
2. From the 1st generation to the 4th generation, they have made music of various genres. They just do everything well.
3. Lately, they've been releasing a lot of good conceptual songs that you can tell they're SM songs.

Cons
1. Female idols debuted in 2020, so we don't know when they will release another girl group again.
2. There is a male group that will debut soon, so you don't know when the company will debut another male group.


2. JYP Entertainment


Pros
1. A powerhouse for female idol groups.
2. The agency constantly releases hit girl group songs.
3. They are good with ballad idol groups and idol bands. They have so many hit songs.

Cons
1. There is a male idol group debuting next year, so you don't know when another male idol group will debut again.
2. Female idols also debuted in 2022, so you don't know when they will debut another girl group again.

3. YG Entertainment
Pros
1. Brilliant sound, booming beats.
2. The agency that poured out lots of famous songs.
3. YG's unique colorful stage costumes and music video.

Cons
1. Since a male idol group debuted in 2020, you don't know when is the next time another male idol group will debut under YG.
2. It's been a long time since a female idol group debuted...but you still don't know when the next female idol group will debut.
3. Even if you debut, you don't know when an album will be released... It's hard to even expect one release a year.

4. HYBE
Pros
1. Capital (Lots of money to spend).
2. There are many labels under them, so if you enter as a trainee, your debut can be relatively quick.
3. Recently, good songs have been released
Cons
1. Even if you enter as a trainee for a specific label, there is no guarantee that you will definitely debut there.
2. You auditioned for a Korean label and expected to debut in Korea, but you can debut in Japan.
Netizens shared their choices and wrote, "I chose SM," "HYBE might be the best choice," "I will take the path of KWANGYA," "I vote SM," "I always dreamed of being in SM," "HYBE," "YG," "I love the HYBE vibe so I want to go there," "Either HYBE or SM," "I choose YG," "If I'm a girl, then YG, if I'm a boy then SM," "If I'm 18, then I'd definitely chose HYBE but then I would have better chances at YG," "I think you would have more chances at HYBE as a trainee," and "I think in the perspective as an artist, SM would be the best."
What would be your choice? Let us know in the comments below!