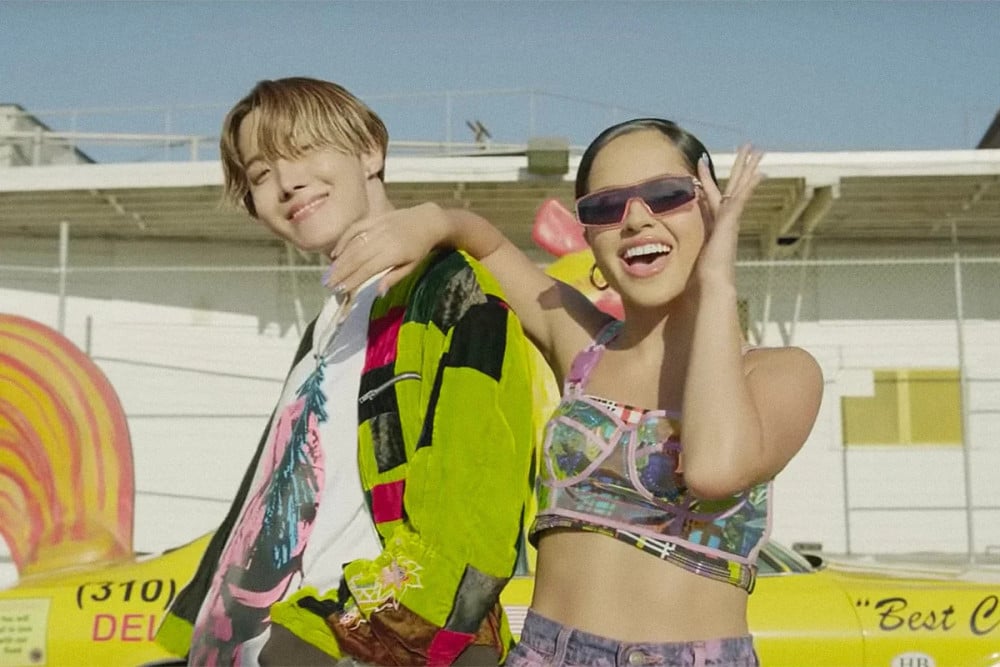 When Mexican-American singer-rapper Becky G joined j-hope on stage at Lollapalooza to perform their 2019 hit single 'Chicken Noodle Soup' (CNS), it was the realization of a long-held dream for both artists. The stars finally aligned three years after the song's release, to the delight of the tens of thousands of fans packed into Chicago's Grant Park — plus the millions watching online.

A trilingual song becomes a rare, smash hit.
The fans' anticipation was hardly surprising; j-hope's remake of Chicken Noodle Soup was a genuine hit, landing at No. 20 on Billboard's Ranking of The Bestselling World Singles of 2019.

Despite being released as a non-commercial track, with little prior notice and no formal promotion, CNS racked up a total of 71 #1s on iTunes on its debut. Meanwhile, its music video amassed 21.7M views in its first 24 hours, becoming the most-viewed video on the day of the song's release.
A pioneering artist
Forbes also reported, "With just one hit single, BTS member j-hope broke records and became the first artist to manage many different feats on charts across the world, including several genre-specific lists (such as the pop and rap song sales rankings) here in the States. Perhaps most impressively, he debuted the track at No. 81 on the all-genre Hot 100, which is widely regarded as the most important songs chart in America."



Recognizing the song as a successful cross-cultural collaboration, South Korean Foreign Minister Kang Kyung-Wha described CNS as "a wonderful example of how culture can be used to add value when combined with diverse industries."

Transcending boundaries
Working on CNS, his first solo collaboration with a foreign artist, j-hope faced the challenge of communicating his ideas with a limited English vocabulary. Becky G grew up in a Mexican-American household in California and didn't speak Korean.
As Becky G has repeatedly emphasized, the language they shared was music. This allowed them to develop a lasting friendship and a synergy that is clear to see.
Both artists loved music and dancing from an early age - and both have fond memories of the original version of CNS, a viral hit from 2006 Harlem by 15-year-old female rapper Young B (now known as Bianca Bonnie) and DJ Webstar, featuring AG aka The Voice of Harlem.
Each and every culture are all equal.
In their stage and video performances of the song, j-hope and Becky G are backed by a small but wonderfully diverse group of dancers, emphasizing the song's increasingly relevant message: all cultures are equal.
While growing up in Gwangju, South Korea, j-hope's love of one particular distant culture began with music. Studying street dance as a teenager, he was immersed in African-American sounds, including funk, R&B, and hip-hop.
Now a mature artist, he never fails to honor and respect his musical influences. In fact, he paid USD 2.7 million to Bianca Bonnie for the rights to remake CNS, despite making his own version available as a free download.
In her interview with Billboard magazine, Bianca Bonnie herself gave the j-hope/Becky G collaboration her blessing, describing it as 'dope' and saying, "I feel like [the remake] is good for the culture. It was created in Harlem, and now it's a worldwide thing."
Three years on, in the midst of the euphoria of the Lollapalooza performance, j-hope did not forget to give a shout-out to Young B and DJ Webstar for the original track.
Music for social change.
There's nothing new about music making a social or political statement. The message doesn't always have to be written overtly into the lyrics of a song; sometimes, the very fact that the work exists is enough. Such is the case with CNS.
Lyrically, CNS is not a complex song. J-hope raps about his early years as a dancer and the hard work that has moved his career forward. Becky expresses pride in her own achievements and sings of the importance of remembering 'this place called home.'
With its catchy rhythm and signature wing-flapping dance, the chorus is an open invitation to get up and join in. Millions of people worldwide did just that, from Korea to Ukraine and everywhere in between.
An enduring message.
Three years after its release, CNS has lost none of its fun, freshness, or popular appeal: #ChickenNoodleSoup was in 17th place on Top Twitter Trends when j-hope headlined Lollapalooza.
In his songwriting, j-hope consistently advocates respect, inclusivity, and a positive outlook; themes conveyed in 'P.O.P. (Piece of Peace) Pt. 1' from 'Hope World' and 'STOP,' '= (Equal Sign)' and 'Future' from his 2022 album, 'Jack in the Box.' There may not be any deep philosophical lyrics in CNS, but the entire project stands as a testament to collaboration and mutual understanding across cultural and national divides. That, surely, is something worth celebrating anytime and anywhere.