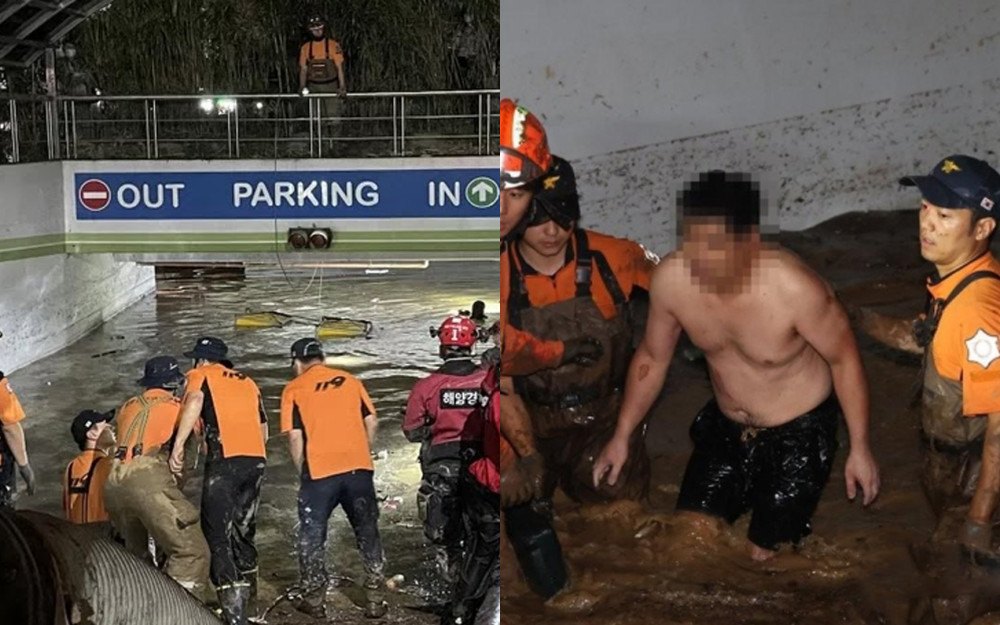 A man in his 30s was missing after last being spotted in the underground parking lot of an apartment building in Pohang, Gyeongbuk, due to Typhoon Hinnamnor but was rescued after 13 hours.
According to the Gyeongbuk Fire Department on September 6, the fire department rescued the man around 8:15 pm that day. It has been about 13 hours since the disappearance was reported. The man told a news media outlet, "I wanted to give up at times but I couldn't because of my children."

At around 7:41 AM on the same day, typhoon Hinnamnor landed on the Korean Peninsula, and a report was received that a person was missing in the underground parking lot of an apartment complex in Nam-gu, Pohang.

It was reported that the residents heard an announcement from the apartment management office asking them to move their vehicles away from the underground parking. Some of these residents went to the basement parking lot when the sudden water poured in, and they were trapped.

The rescued resident is a 39-year-old male and is said to be in relatively healthy condition.

An official from the rescue team said, "The resident swam out of the flooded parking lot by hanging on to the pipes on the ceiling. We were able to spot him and rescue him. We are speculating that there were pocket air bubbles in the underground parking lot even though it was submerged."

Along with this man, another resident at the apartment was rescued, while three others were found unconscious and rushed to the hospital.
Meanwhile, 69 people (56 firefighters, seven policemen, and six city hall workers) were dispatched to rescue.

The flooded underground parking lot is 150 meters long, 35 meters wide, and 3.5 meters high, and it is known that there were about 100 vehicles at the time of the flooding. Typhoon Hinnamnor has been devastating. At least two people have been killed, and ten were missing.