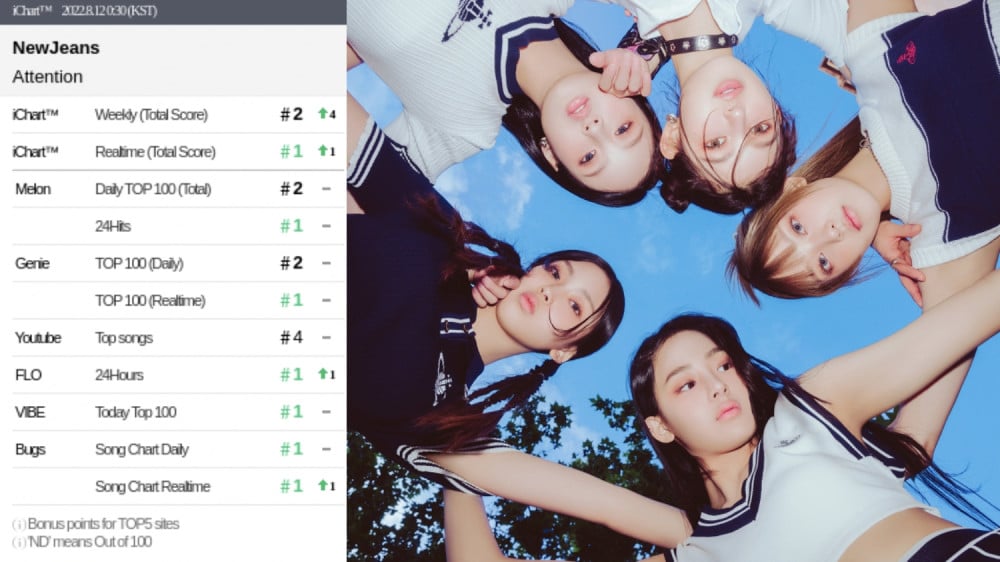 Newly debuted girl group NewJeans continues to rank high on the charts.
On August 12 at midnight KST, NewJeans' "Attention" landed at #1 on real-time major domestic music charts including Melon, Genie, Bugs, and Flo, and is maintaining its top spot of the four real-time music sites as of 9 AM on August 12 KST.
Among the debut songs of K-Pop idols released in the last 5 years, NewJeans' "Attention" is the only song to ever simultaneously hit #1 on all four real-time charts. BLACKPINK was the last group to rank #1 on these real-time charts with their debut song in 2016.

The popularity of the other two title tracks from NewJeans' debut mini-album 'New Jeans' is also formidable. As of August 12 at 9 AM KST, "Hype Boy" and "Cookie" ranked 5th and 27th on the real-time Melon chart, 'Top 100.'
Congratulations to NewJeans!