[This is a User Post]
The former Le SSerafim member Kim Garam, was alongside various other Korean Idols, actors, sport stars and celebrities accused of bullying and School Violence between the 2021-2022 period.
These included former (G)-Idle's Soojin, Itzy's Lia, Stray Kids Hyunjin, The Boyz's Sunwoo, Loona's Chuu and several others. With severe consequences and irrevocable damage done to their reputation, some had to leave their career path."
School Violence" is an umbrella term, and is a very serious issue plaguing South Korean schools, online communities and the national consciousness.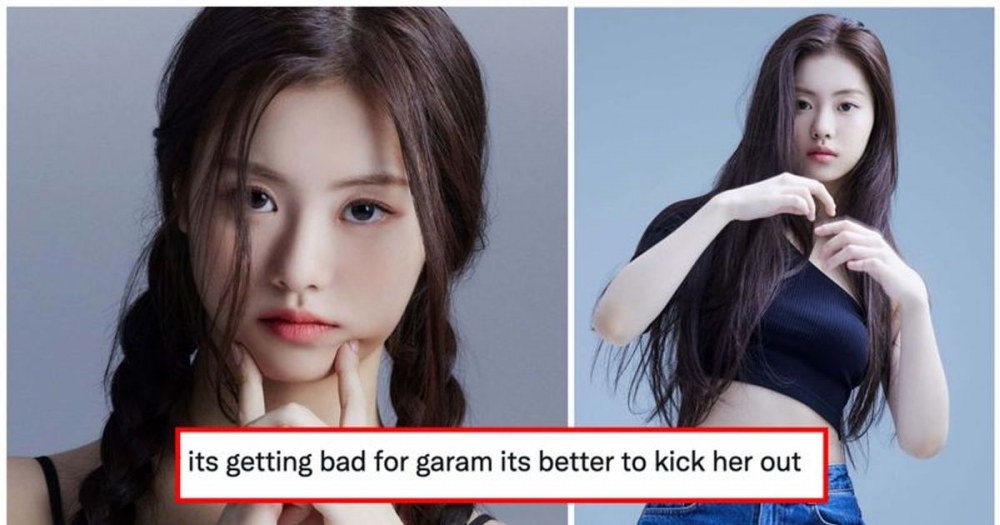 Kim Garam (aged 16) was a Source Music trainee and the second member of Source Music and HYBE's new girl group to be revealed on April 5 2022. Less than 12 hours later, it would all come crumbling down irreparably for Kim Garam, HYBE and Source Music. On April 5th and 6th school violence allegations made their way anonymously across various online communities such as Twitter, The Qoo and Nate Pann, pertaining to Kim Garam's time at Gyeongin Middle School (2018-2020).
Between April 5 and May 21,these anonymous allegations/testimony accused Kim Garam of :
Throwing a flower pot and a brick at another student and sending them to the hospital.
Pushing a classmates head into a brick causing their head to split open.
Smoking.
Being apart of a middle School iljin "thug" gang.
Of being so violent that a School Violence Committee was opened up against her.
Badmouthing IVE's Wonyoung and Le Sserafim's Sakura.
Underage drinking.
Wanting to have adult sexual relations with BTS's Kim Taehyung.
Arriving to school in a police car.
Harassing several classmates.
Sending threatening texts
Accused of being a 'sexual deviant' because:

Garam in some pictures in front of chalkboard with drawings of genitalia, and the word 's*x'.
Allegedly wanting to have intimate relations with another girl.
Allegedly posting 2 selcas with "how was s*x today."


Allegedly making lewd hand gestures.

A Starship Entertainment trainee and kicked off of IVE's final debut line, due to her bad personality and went to HYBE.
Accused of cutting her skirts of her uniforms shorter than the regulations.

Publicly screamed and swore at a librarian.
Bully juniors if they wouldn't greet her well.
Disrespectful to her seniors.
Extortion.
Got into interschool gang fights and would call her Sunbaes to beat kids up.
Bad attitude and enjoyed day-to-day bullying.
Being ableist:

After two selcas of Kim Garam in middle school were captioned with "disabled/handicapped" and "r*tarded" in Hangul. These selcas were uploaded anonymously online onto Nate Pann.
allegedly making an ablesist comment to a victim about their mother.

Being an IVE anti, after a message congratulating Kim Garam, making her debut as Le Seraphim, "IVE down, Le Sserafim up" written on a chalkboard was posted anonymously online.
Rode a motorcycle to school.
She had a bad reputation of bullying throughout all the schools in the area.
Forced to transfer due to violence and bullying.
BTS anti and NCT fan.
Skipped school with her friends.
Gaslighted and harassed her juniors.
Bullied and threatened her victims not to expose her during middle school and apologised to all those she directly victimised before debut. In order to stop those victimised from exposing her 'past'.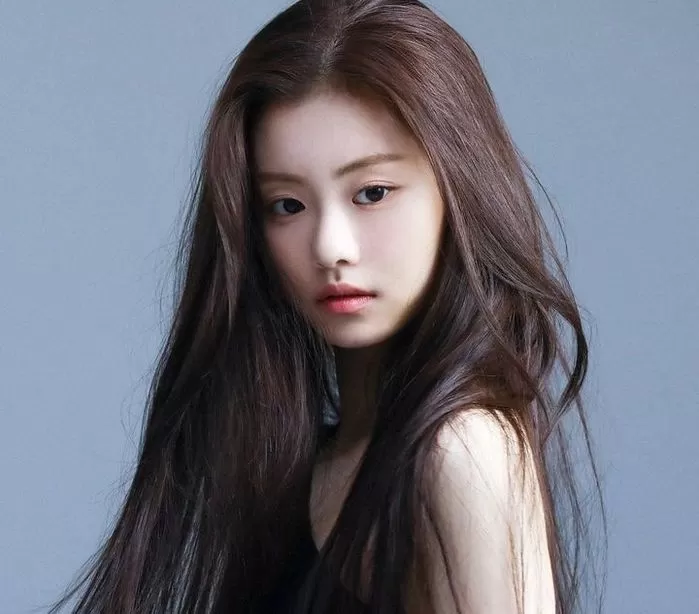 Where did all the allegations and rumours against Kim Garam come from?

Many of Kim Garam's allegations of bullying and school violence would surface by newly opened or previously inactive accounts that quickly drew immeasurable engagements. Some would hold a screen shot of a Nate Pann post that would accuse Kim Garam. Other accusations would be accompanied by a school photo or a yearbook photo of Kim Garam. More accusations would come from chat messages outlining the accusations by alleged former classmates. These chat messages would then be posted online by anonymous third parties. In order to protect the identities of those allegedly victimised by Kim Garam and the netizen "exposing" Kim Garam. Consequently, all these posts drew a large audience and the screenshots of these allegations were uploaded to social media and Korean community forums. The allegations spread like wildfire across Twitter, The Qoo, Nate Pann and Naver.


On Twitter numerous allegations from anonymous 'burner' accounts would emerge: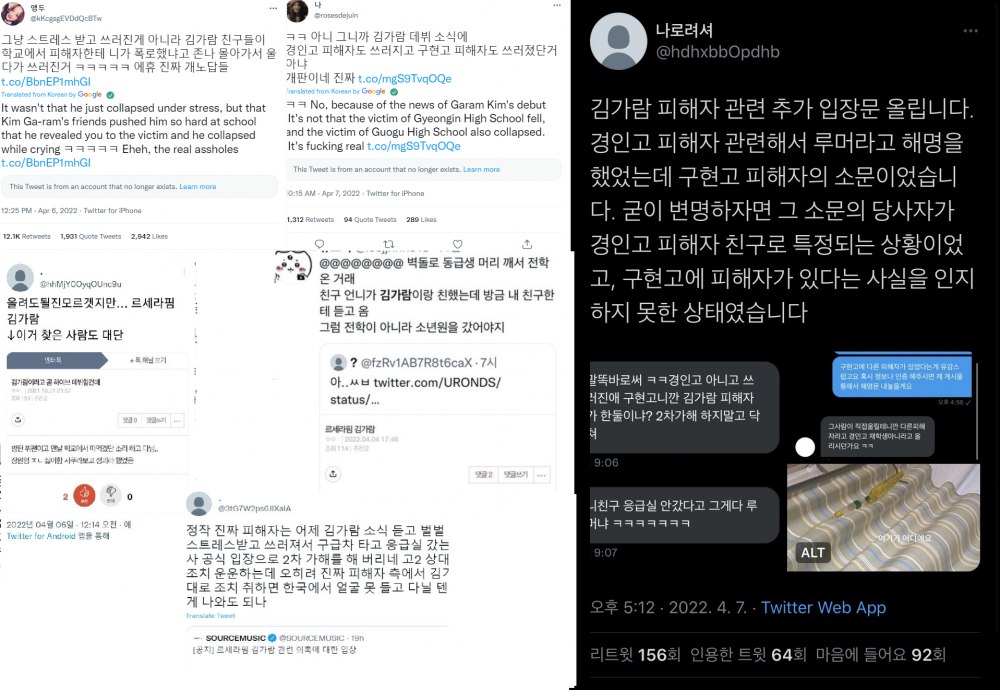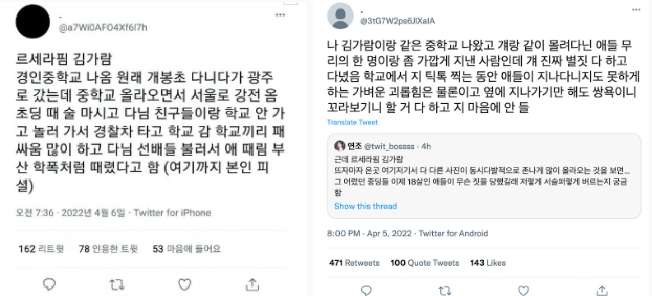 Various headlines would emerge with regards to Kim Garam's past: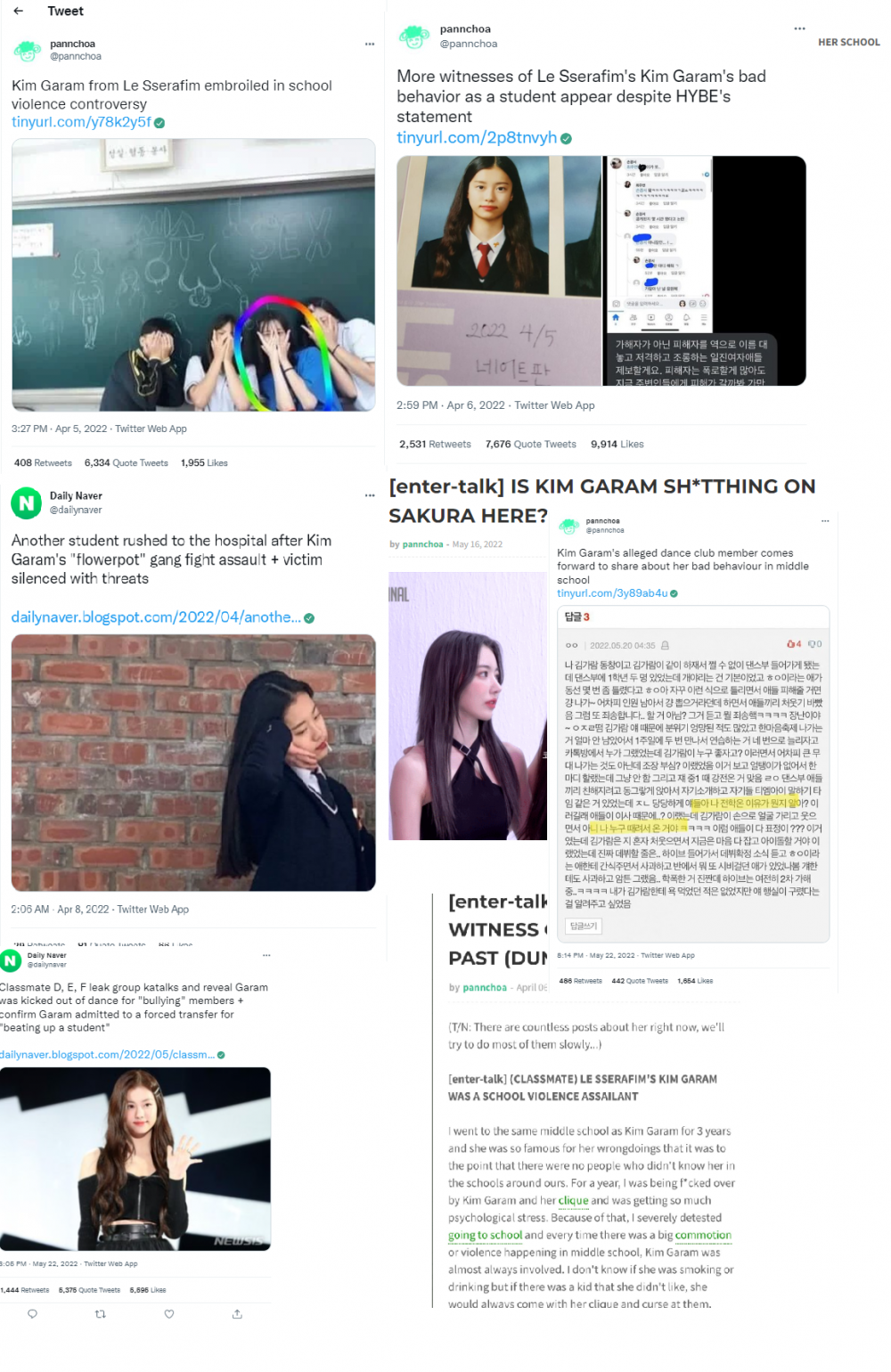 Numerous posts surrounding Kim Garam would become a hot trending topic on Nate Pann: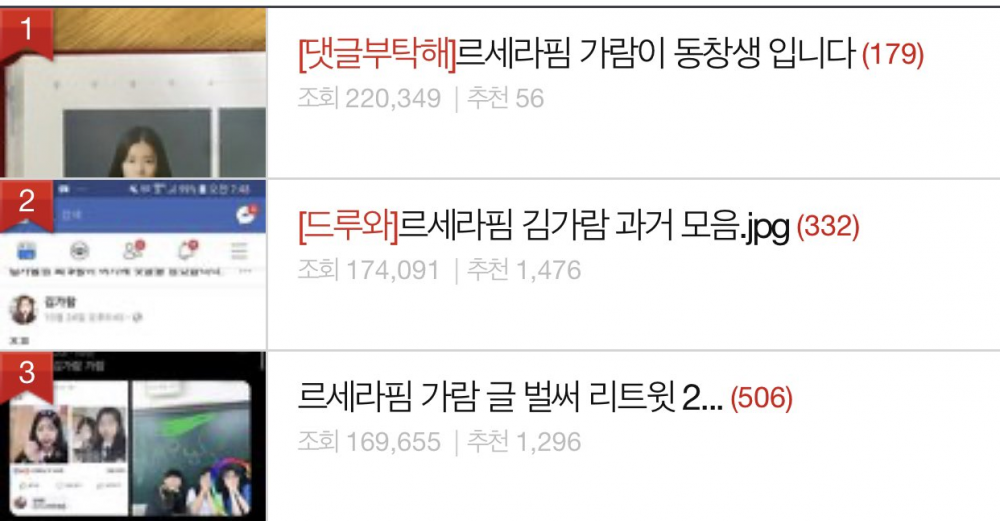 However, Korean netizens were outraged at the past of Kim Garam. Claims of School Violence, bullying, rebellious behaviour surfaced for the whole internet to witness. Moreover, Korean netizen's were especially scandalised by Kim Garam's pre-debut photos.: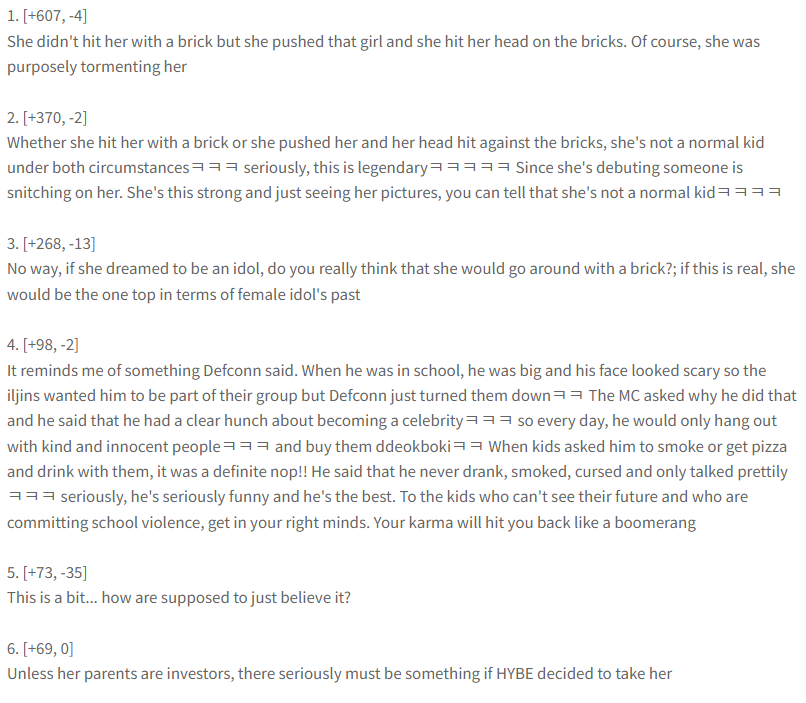 Korean netizens would comment: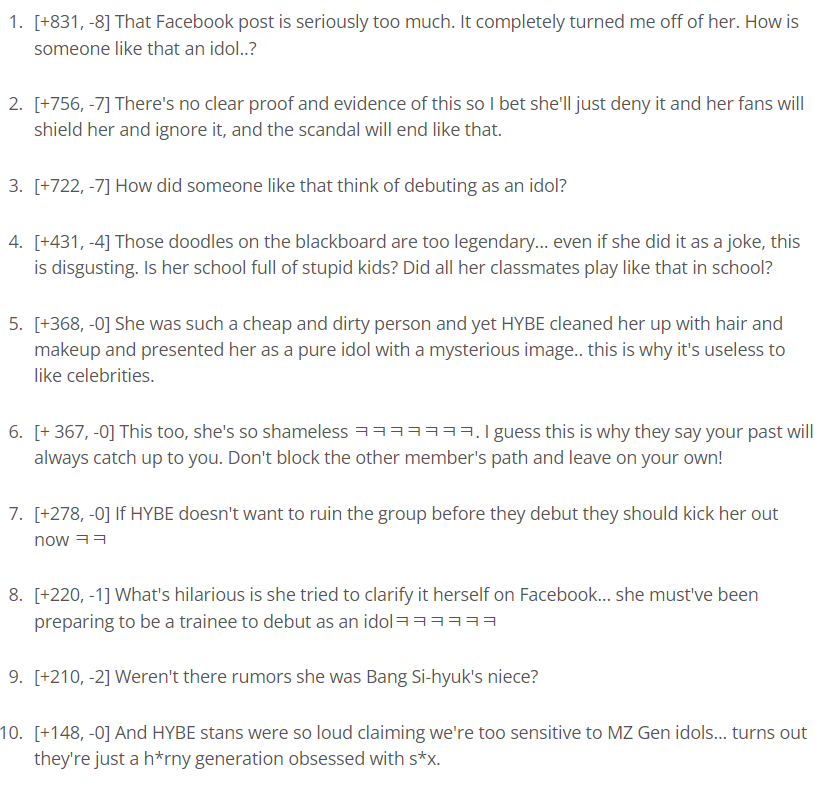 Other Netizens wrote: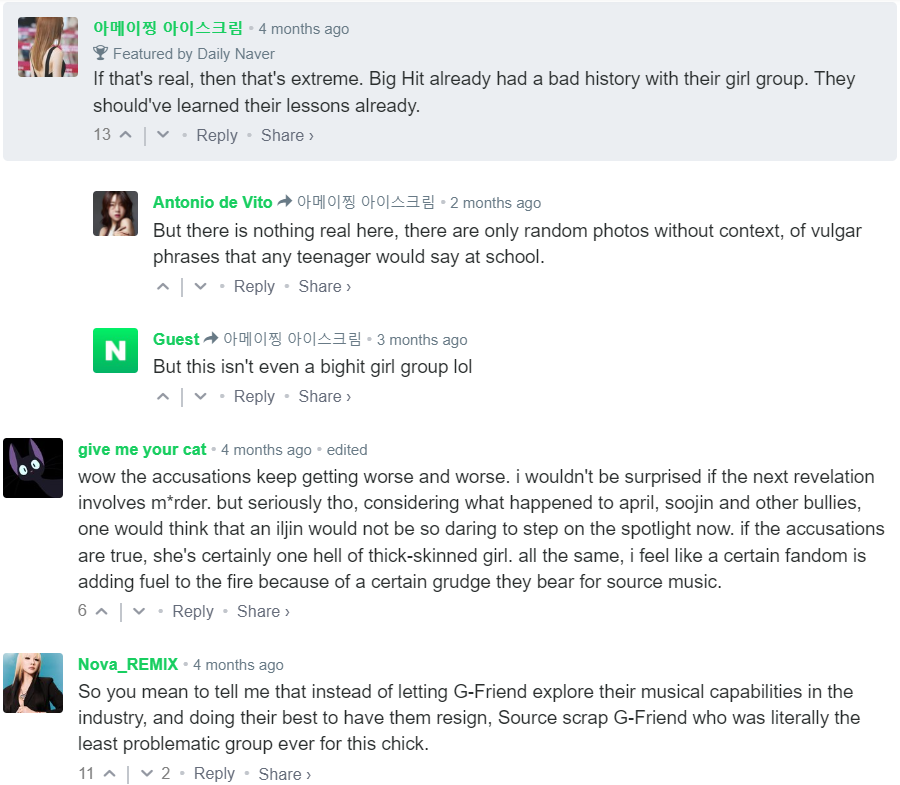 Others reacted differently: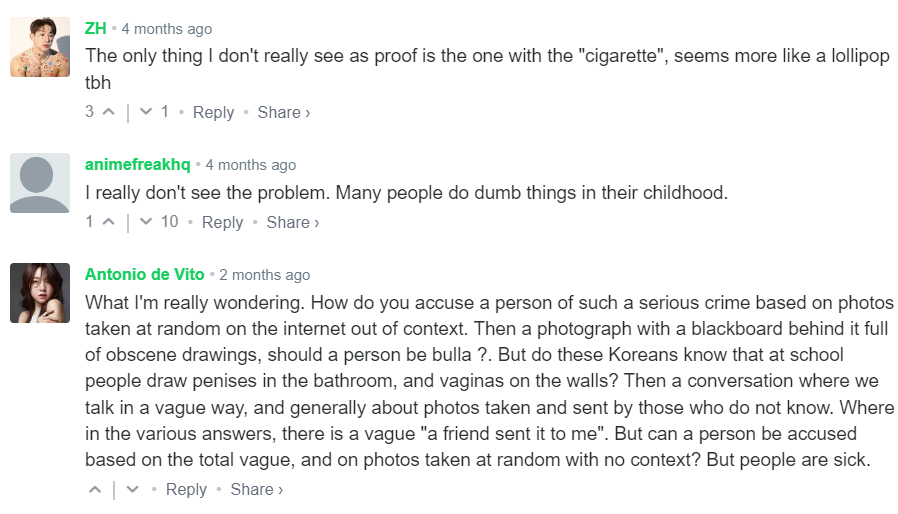 Source Music came to Kim Garam's defence on April 6, denying the accusations. Source Music would claim the allegations "were cunningly edited to maliciously slander Kim Garam over the events that occurred during the time when she was making friends in the early stages of middle school". Kim Garam was actually the victim of school violence: through malicious rumours and cyberbullying during her time at Gyeongin Middle School. They based this on third party verification.
But more trouble would brew for Kim Garam after successfully debuting in Le Sserafim. On May 15, a leaked image of a cropped School Violence Committee report with Kim Garam's name highlighted, was illegally and anonymously leaked online.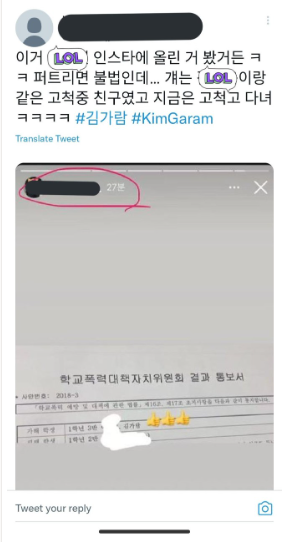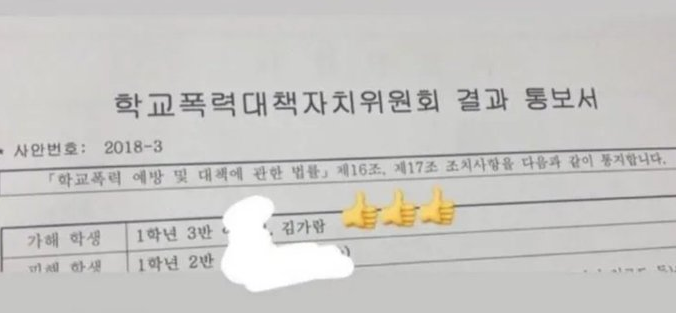 The School Violence report image quickly gained traction on online communities and even made it onto the national news. As netizens speculations rose to why she was punished with a measure within Article 16 and Article 17 of the Act.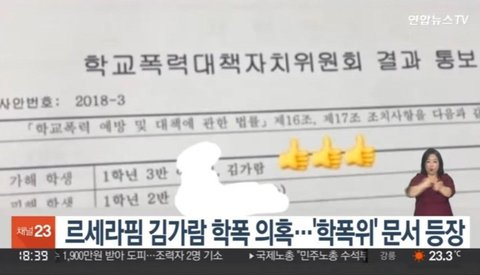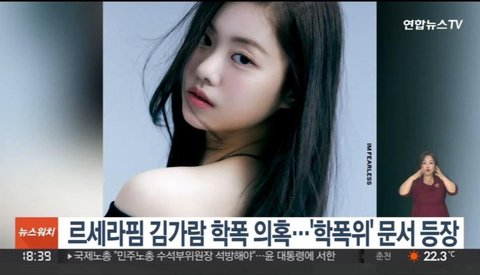 On May 19, an alleged "victim" of Kim Garam Yoo Eunseo (pseudonym) came forward through Daeryun law firm. Eunseo claimed she was the "victim'" involved in the School Violence Committee case that made the news on May 15.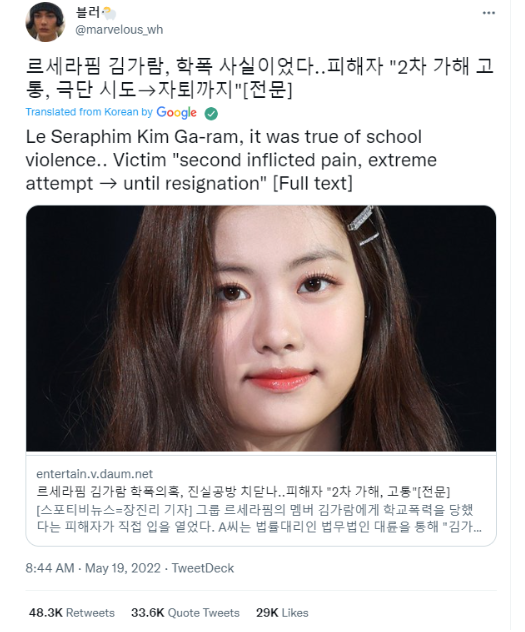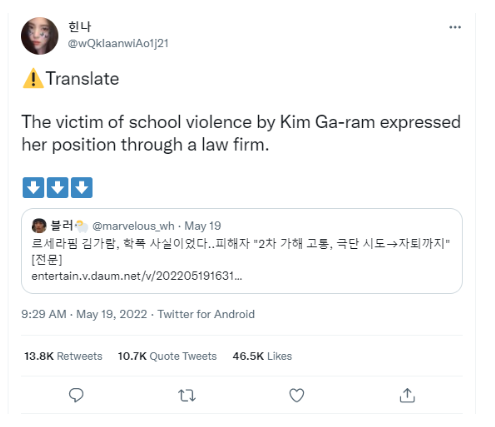 Yoo Eunseo claims Kim Garam was not a victim as HYBE and Source Music claimed but a School Violence perpetrator. She based this on alleged texts and the full school violence committee report. Yoo Eunseo claimed she was a 'victim' of Kim Garam and others, causing Eunseo to report them to their School Violence Committee. Yoo Eunseo claims to only want an apology and for HYBE to retract their defence of Kim Garam. Daeryun asserted that they filed a criminal complaint against those who caused Eunseo to suffering anxiety and an alleged suicide attempt due to defamatory comments and online harassment. As many thought it was Eunseo authoring the slander against Kim Garam. Daeryun law firm was moving forward to sue third parties.


Yoo Eunseo's statement would end on interesting note. Firstly, an emotional plea to the public and secondly, a confirmation of the upcoming molka reveal from HYBE and Source Music statement.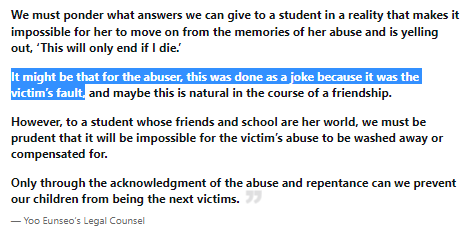 As of August 13, a Nate Pann post caused discourse leading various netizens to question Yoo Eunseo's original statement, after evidences surfaced of Instagram stories allegedly showing Eunseo with her friend enjoying a Winner concert. Around the time .The caption states that they would rather of seen BTS, but could not get tickets.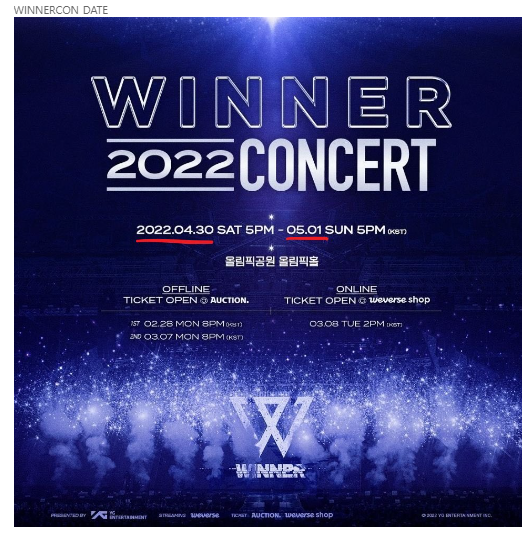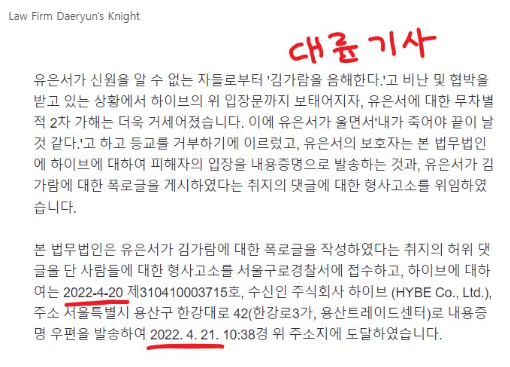 The backlash from Yoo Eunseo's statement to the media was extremely severe. It was not looking good for Kim Garam, HYBE and Source Music. As a global discourse declared Kim Garam as "evil", a "criminal" and "the devil". Globally, #Garam_Out and #김가람_탈퇴해 was trending worldwide and in South Korea.

Kim Garam became a controversial, hated public figure across all online communities and in the South Korean public space.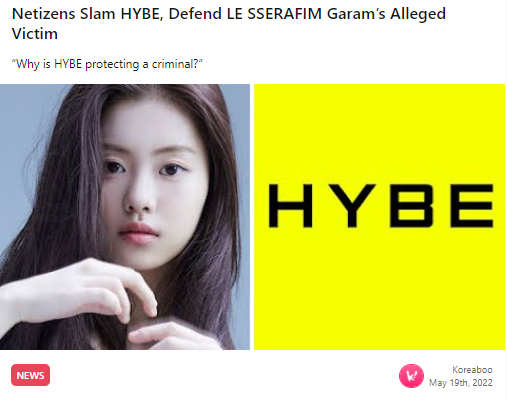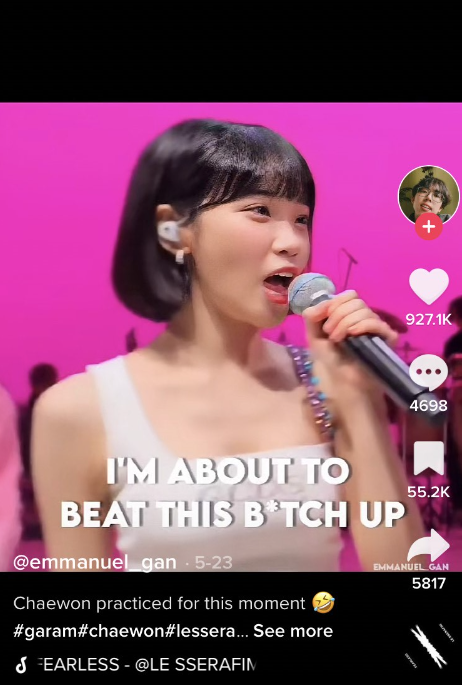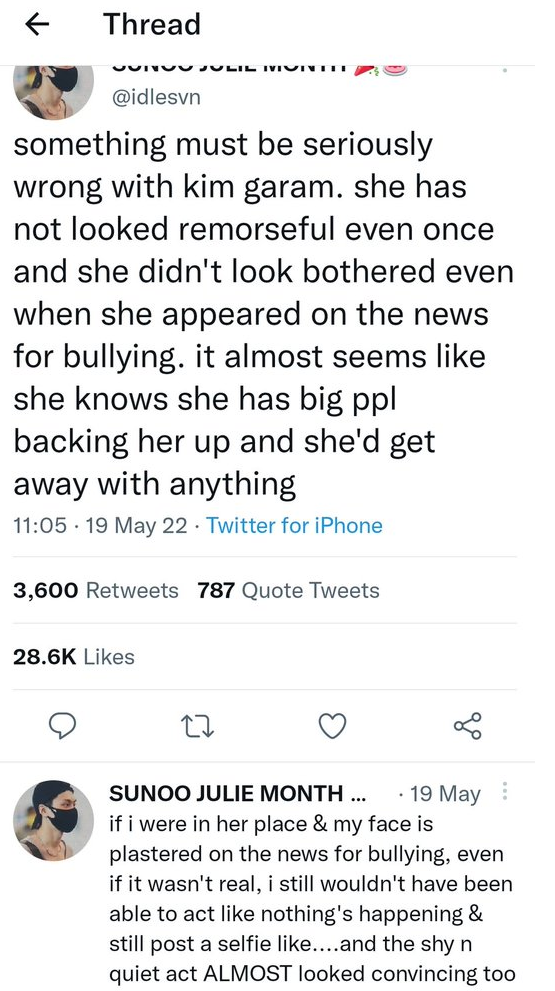 HYBE and Source Music responded on May 20, their statement caused the narrative on the situation to transform entirely.
The history of Yoo Eunseo and Kim Garam and the School Violence Committee, according to HYBE and Source Music's statement (May 20, 2020):

The statement claimed that Kim Garam was a "victim" of School Violence, malicious rumours and 'unfair circumstances regarding the School Violence Committee. The statement would go into detail debunking much of the serious allegations against Kim Garam online.
Kim Garam's narrative of being a victim of School Violence, cyberbullying and malicious rumours was overlooked. The public that were once neutral, shifted "sides", as the controversy was swept into the global spotlight. On July 20 2022 Kim Garam's exclusive contract with HYBE and Source Music was terminated with no further explanation.
As of August 11, Kim Garam has finally been able to personally speak out and provide the official School Violence Committee document in full.
Both Yoo Eunseo and Kim Garam's explanations were backed up by the official School Violence Committee document from June 2018. This states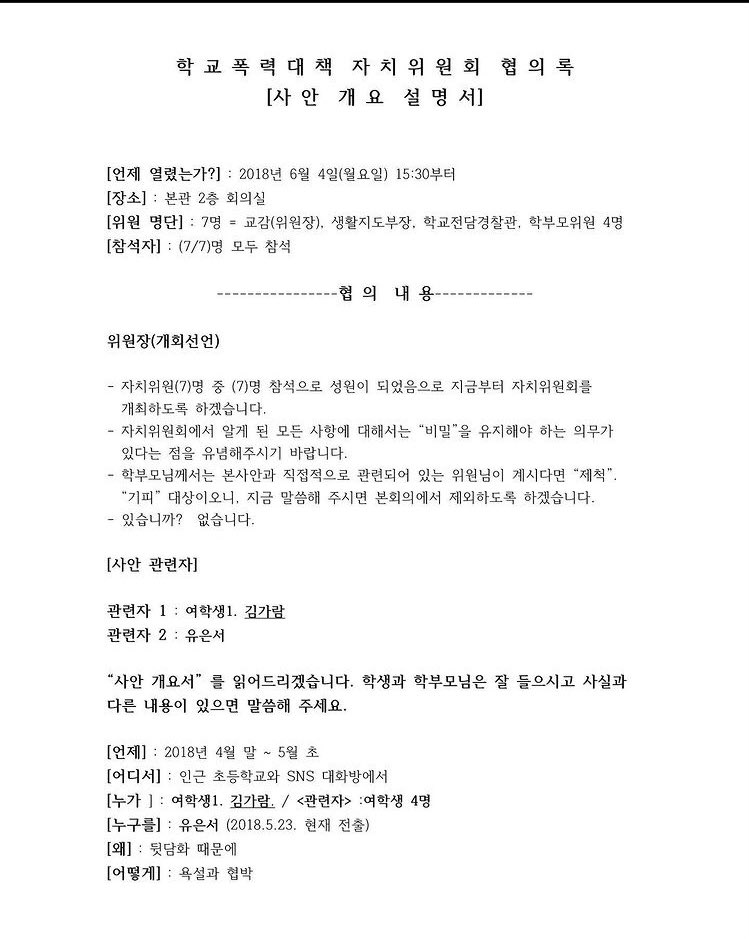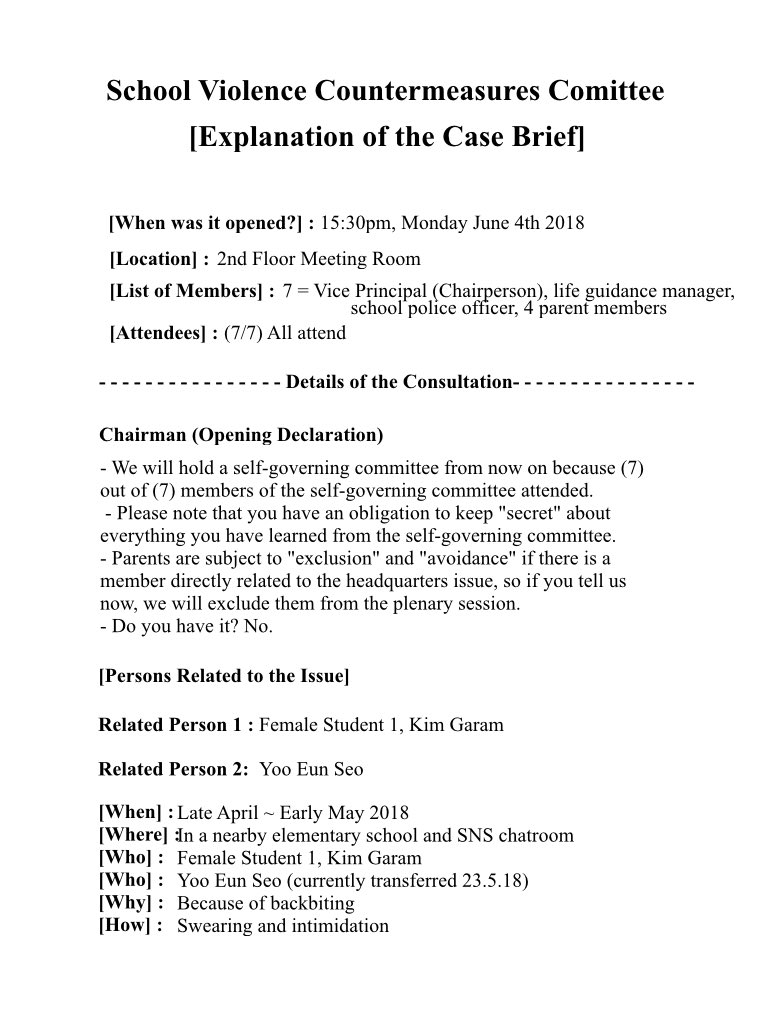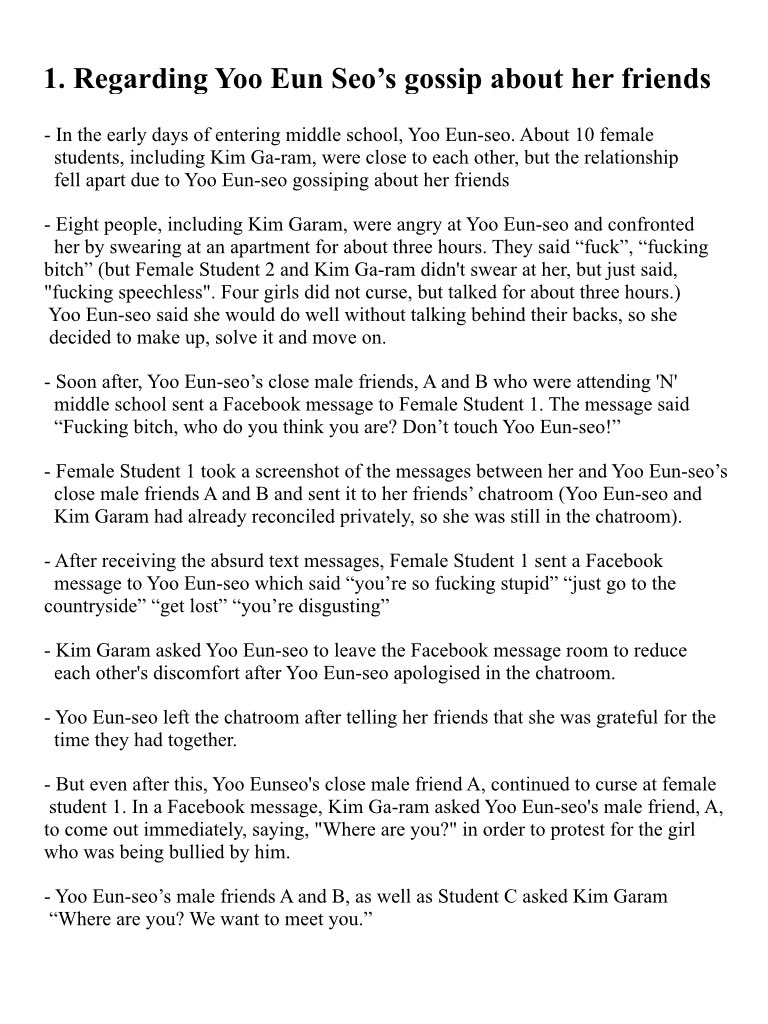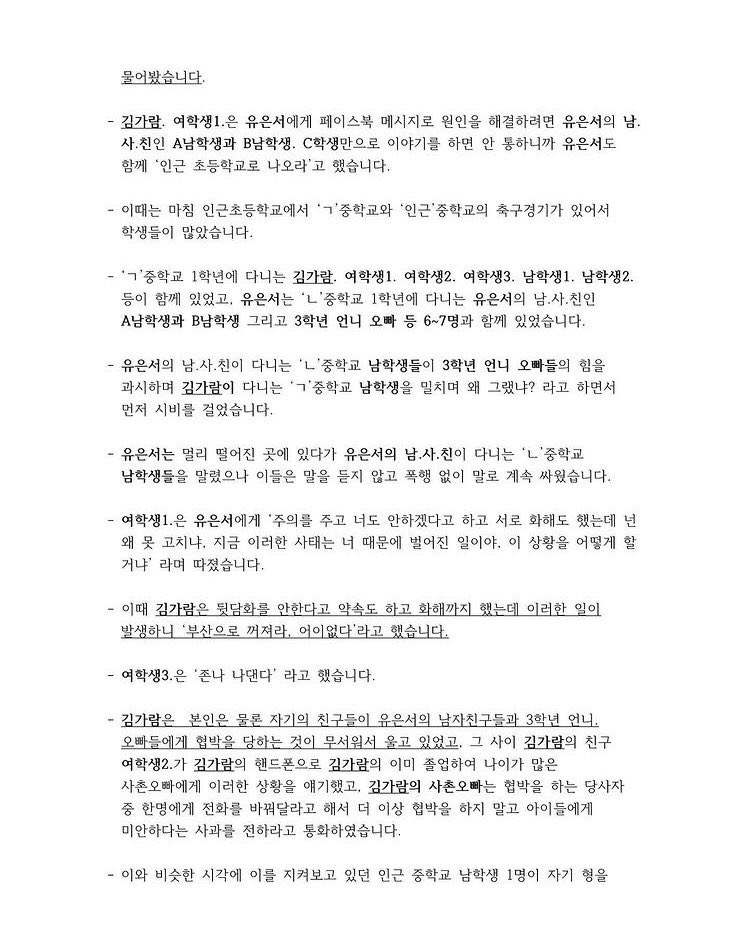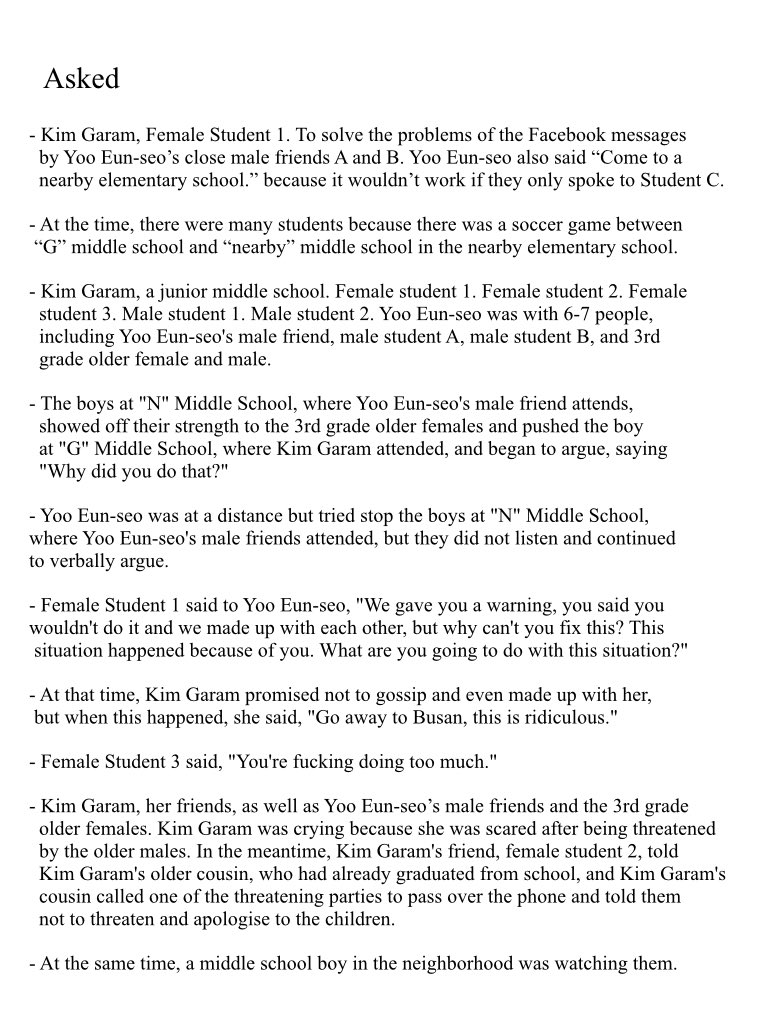 The truth about Kim Garam's role in school violence, was always available online and accessible to the public from the beginning.
(Semester 1, 2018)

Official Korea Public School Disclosure Database: Gyeongin Middle School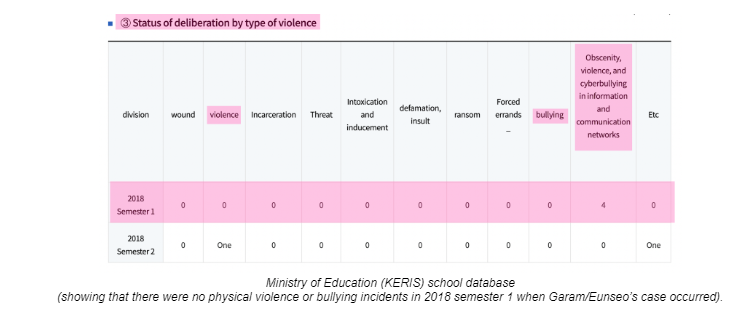 The data is accessible and verifiable here on the Ministry of education website


A School Violence Committee was held at the request of Eunseo. Garam and her Friend B were named as perpetrators. According to HYBE and Source Music statement: Kim Garam and friend B were punished for swearing out loud and threatening text messages with a No. 5 measure (Article 17-1-5) and their case was filed under the category of "Obscenity, Violence, Cyberbullying in Information and Communication networks." Garam and her parents were to complete five and six hours of special education, respectively.
According to the Official School Violence Committee
, Kim Garam School Violence Measure 5 was the result of an incident, whereby Eunseo stole Friend A's Facebook account and uploaded a photo of Friend D in only her underwear.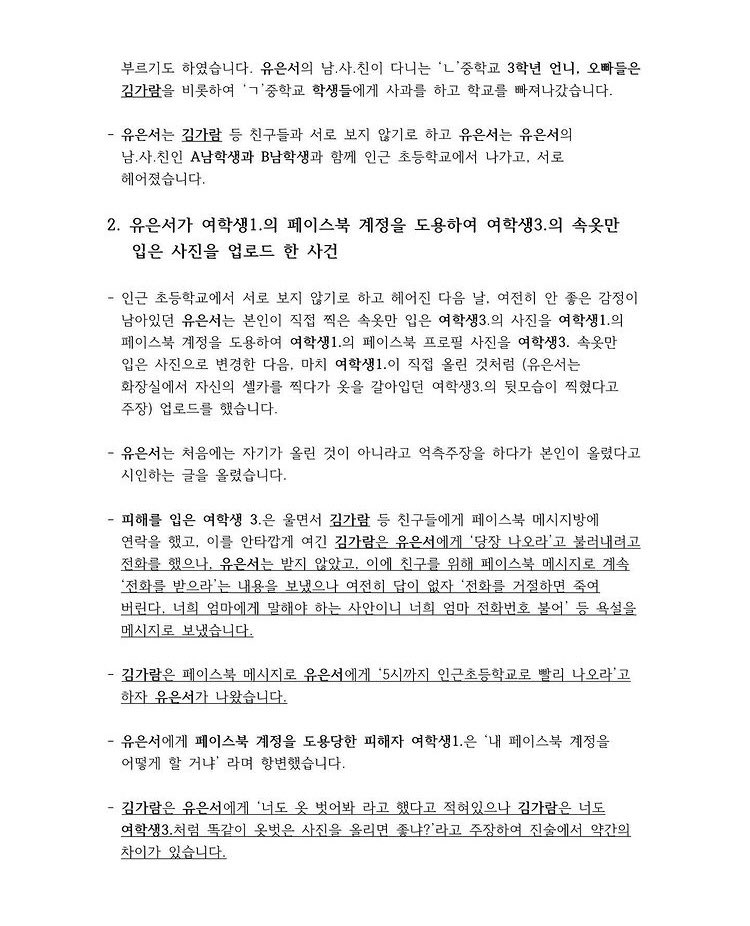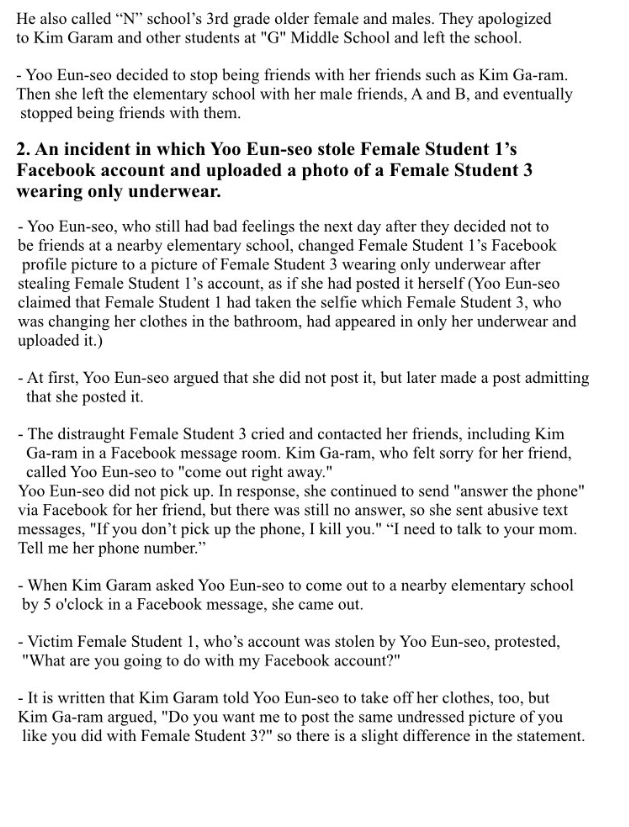 This is all confirmed in the School Violence Committee document that Kim Garam shared online August 11.
Both data from the Ministry of Education KERIS database and HYBE and Source Music's statement regarding Kim Garam's punishment aligns on the School Violence Committee action.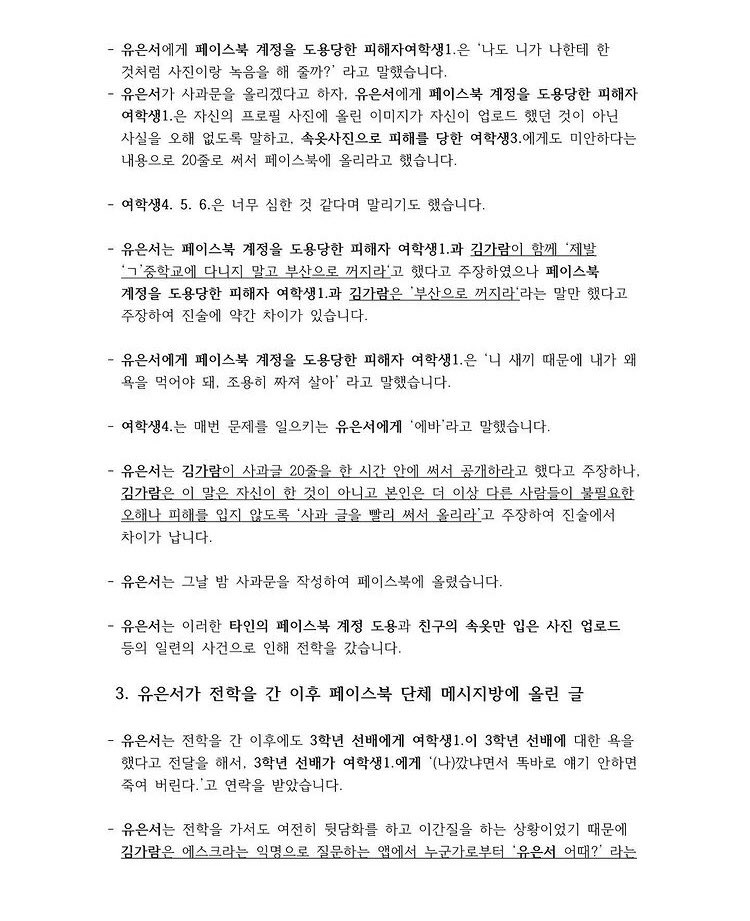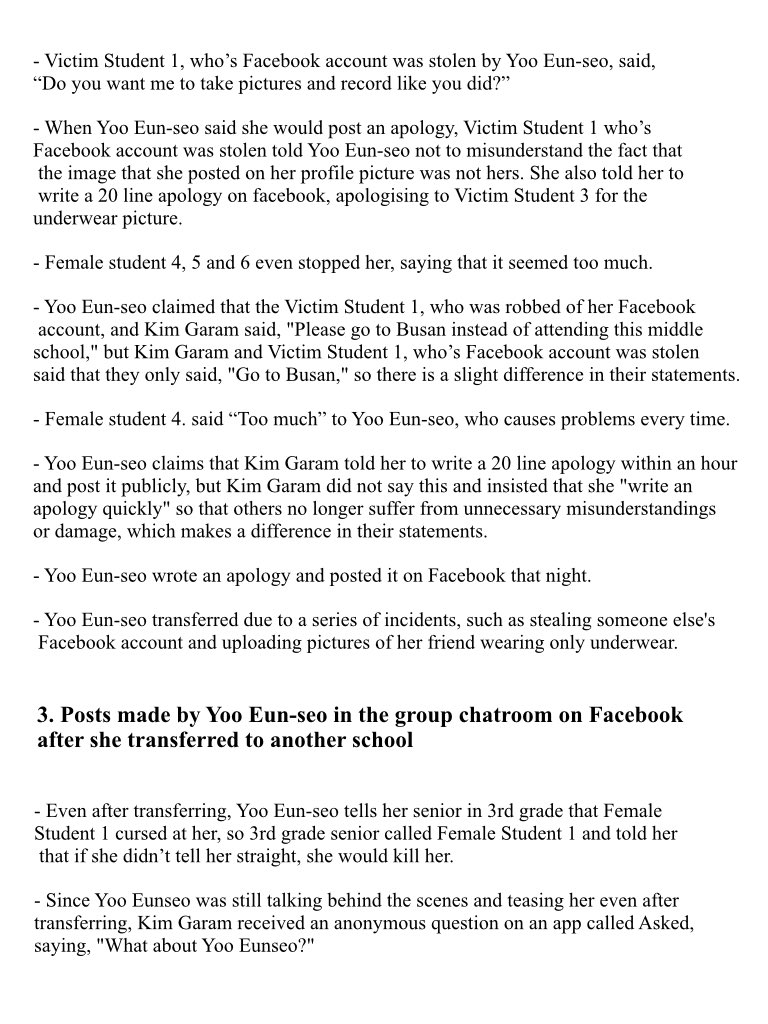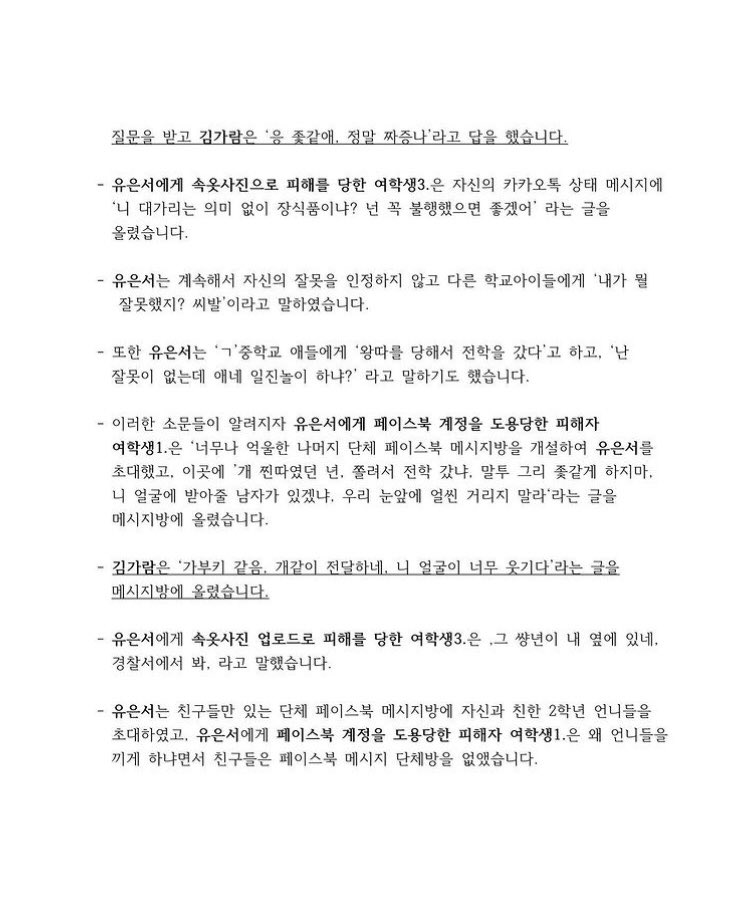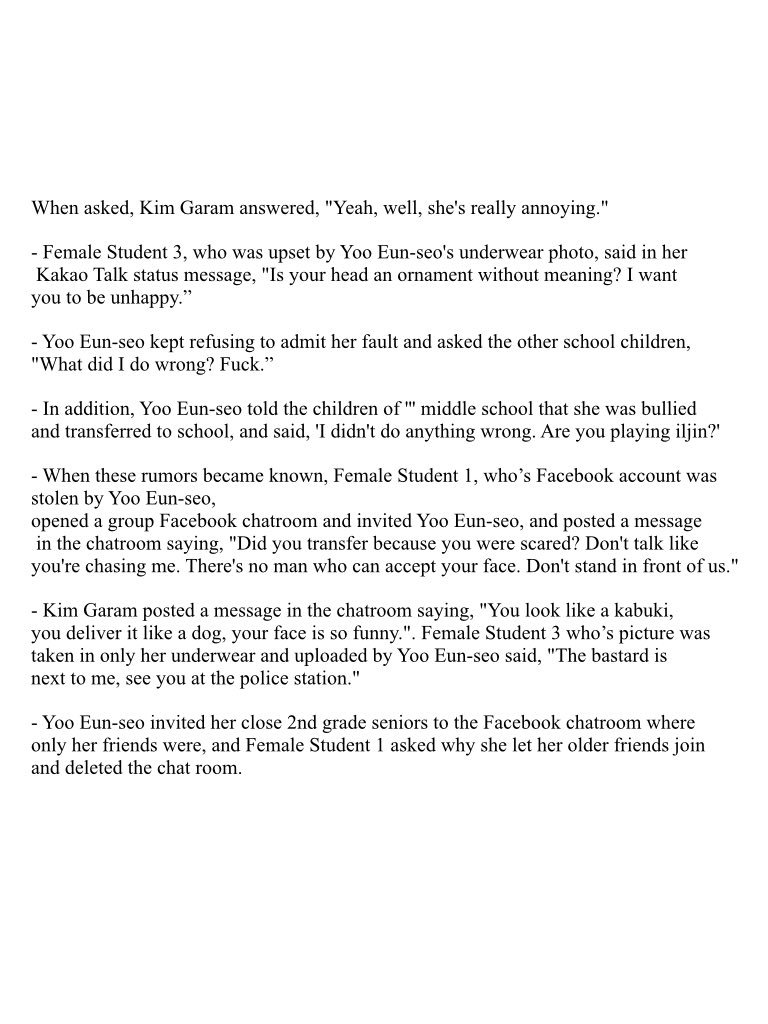 Also released was the document for the official punishment levied by the School Violence Committee was released by Kim Garam. This is the same image that was illegally leaked online in May 15 by an anonymous source.. As Kim Garam's side has redacted the identities of the other minors involved, this upload is legal on her part.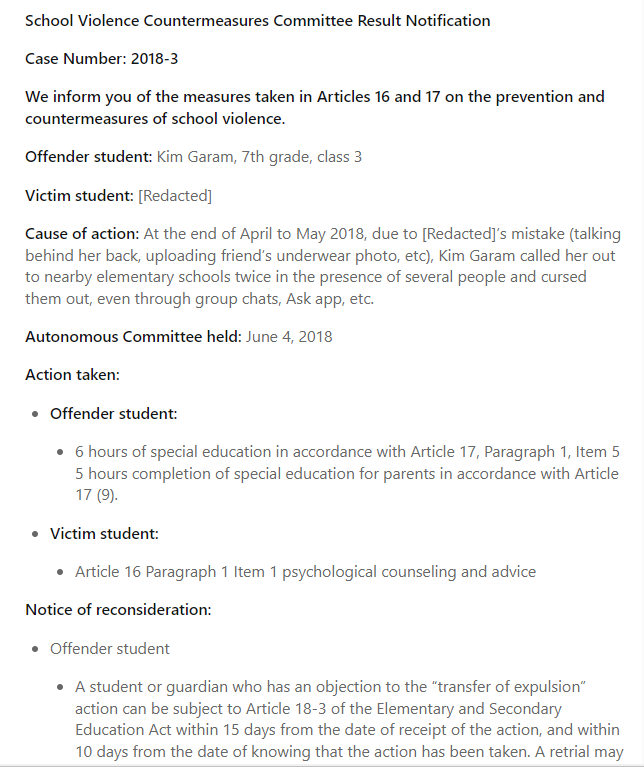 Furthermore, HYBE told the media that the company will not comment on the matter, as Kim Garam is no longer affiliated with their company.



The Kim Garam bullying controversy shone a light on some of the worst of K-Pop's online community and the dark side of the internet. Since the first anonymous allegations dropped online, Kim Garam was on the receiving end of extreme viral hate and derogatory comments, wide-spread sexual harassment and violence by netizens, and global mockery across all forms of social media and online gossip forums.
Why is Kim Garam's 'school violence' allegations divisive?

Korean media revived the 'School Violence' and School Violence Countermeasure Committees measures discourse to national attention:

The Credibility War: The public narrative was against Kim Garam.

Kim Garam, alike other idols accused of school violence, had their credibility and cases assessed by the judge and jury of the court of social media and its netizens. After HYBE and Source Music's statement defending Garam on May 20 2022. Many netizens across social media demanded they reveal legal evidence, the alleged 'molka' victims picture, the School Violence Committee document and more. The public opinion viewed Garam's side with scepticism, as no physical evidence was given other than a written statement. Garam's position was viewed as a "one- sided " perspective. Usually when accusation is made against an idol by a non-celebrity figure, the response of netizens is often to pick apart their credibility, and question their motivations .Interestingly ,Yoo Eunseo and Daeryun law firm claims were not assessed to this validity, or to the standards Garam was held to, considering it was also a "one-sided" statement from Eunseo's perspective. More so, Daeryun law firm claimed "if there is no correction to HYBE's statement, we will reveal the messages containing the curses". Also, they added:" If HYBE continues to maintain this position, we are considering releasing the full report from the School Violence Countermeasures Committee". As of August 11 2022,Kim garam herslf posted the full School Violence commitee document.
How netizens reacted to Kim Garam and HYBE's statement addressing her 'side' (May 20):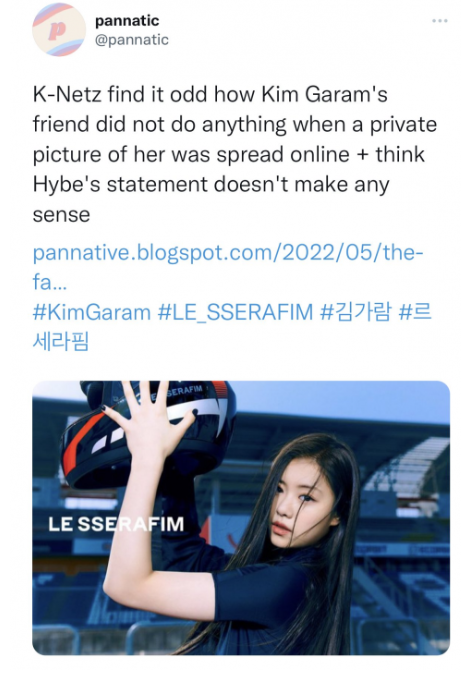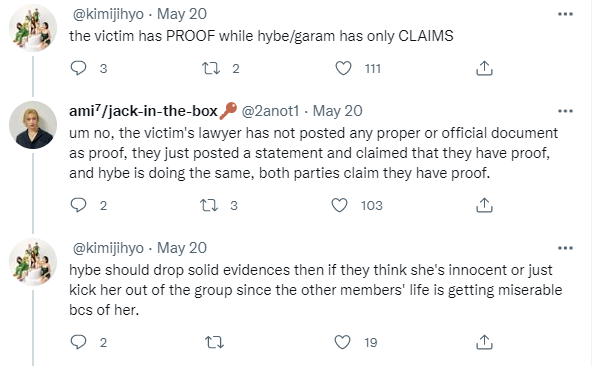 Netizens were not convinced with Kim Garam's "claims".
Choosing the "victims" side.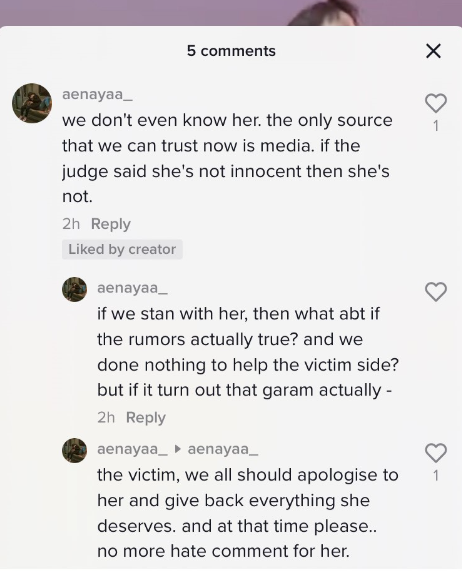 The "victim" should always have the platform to speak their side unobstructed. But the divisive discourse amongst netizens came from debate that if someone comes forward as a 'victim', netizen's should support them and believe the "victim". But during Garam's public controversy, "always believe the victim" and trying to support the "right person" is a slippery slope when both Eunseo and Garam referred to themselves as a "victim" of school violence and each other. What's more, the real victim at the heart of the school violence case was not Kim Garam or Yoo Eunseo but Person 'D' (Garam's friend who allegedly had molka committed against her). In this case alone neutrality became absent as netizens took sides. For Kim Garam and her side of the story, coexisting as a "victim" and a "school violence perpetrator" at the same time was not supported by the popular narrative online or in the South Korean public space. The majority of the public favour went to Yoo Eunseo.
One netizen had an interesting take:
Analysing the difference in Twitter retweets/likes and engagement. Makes the glaringly obvious fact that the public responded more to posts surround to the alleged victims story and Kim Garam's accusations and termination. Rather than any of the company clarifications and Kim Garam's side of the story.

Source Music's initial statement defending Kim Garam against the initial allegations:
Yoo Eunseo's story is revealed to the media:
Source Music and HYBE's statement on the (20 May):
The official statement's regarding Kim Garam's contract termination (20 July):
It's clear that some unrealistic expectations and demands would be placed on Kim Garam and her company to appease the court of Twitter and social media. Ultimately, in order to satisfy the consciousness of netizens in supporting the "right person". Neutrality on the issue diminished in the wake of the public uproar caused by Yoo Eunseo statement. Too many netizens decided Kim Garam deserved to be punished further. It was becoming increasingly clear that Kim Garam was no longer 'marketable' to her employers. HYBE and Source Music's decision to terminate Kim Garam's exclusive contract in the wake of continued backlash and hostile public reception, is not so far-fetched of a reality.
Why did the 'hate' and misinformation worsen?
Misleading headlines and reporting of Kim Garam's case by the media, netizens and blogs.
Many thousands ran with the title that Kim Garam's "bullying" caused the alleged victim Yoo Eunseo to attempt to commit suicide.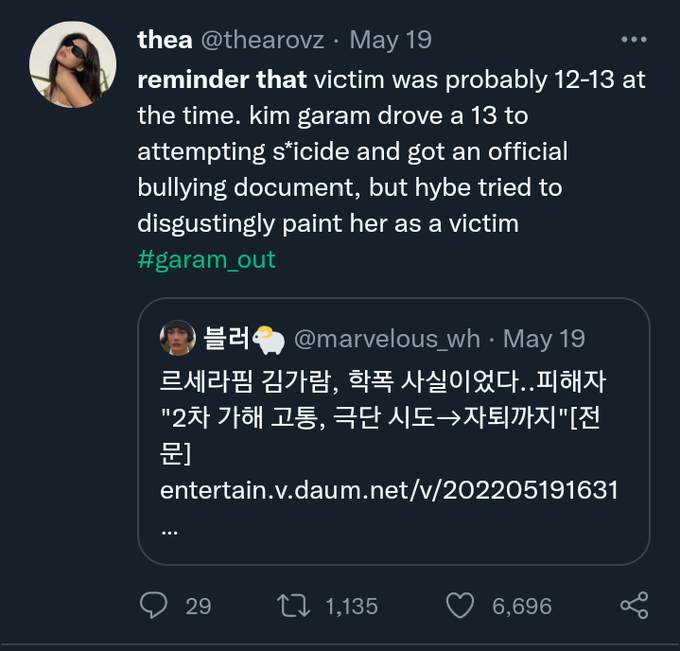 According to Eunseo statement her alleged attempt was recent (Around 16 years old). The School violence Committee report is also not a "bullying document".

However: the reality of the situation was distorted across social media and misinformation spread. Eunseo side claimed that: online hate from netizens and classmates messaging her about authoring the allegations against Kim Garam, spurred the alleged decline in her mental health and was the catalyst for her alleged attempted suicide. HYBE's statement was a contributing factor to the extra hate she received.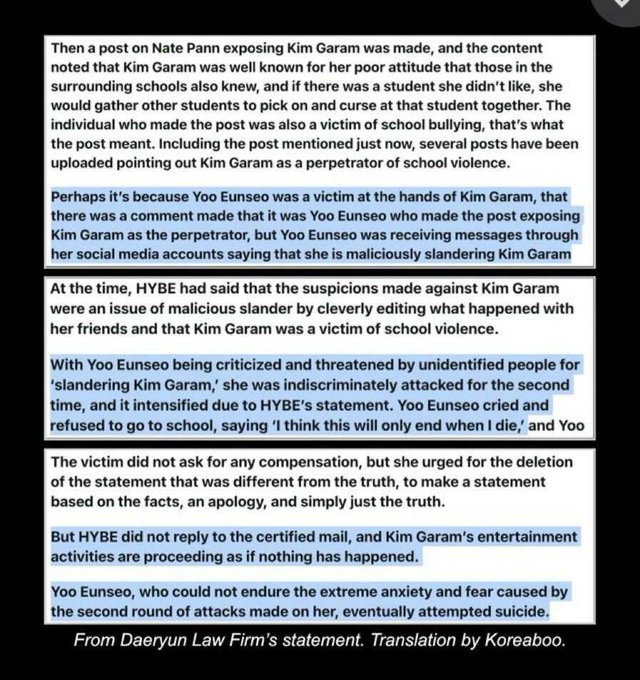 Others still hold Kim Garam accountable: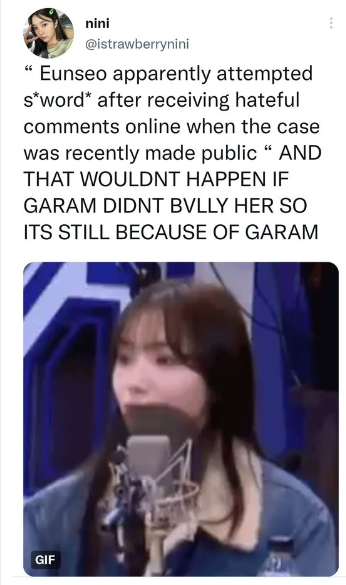 Media reporting and representation of the controversy sensationalised a serious statement and framed it negatively against Kim Garam. Media sources and translation blogs posted the news in ways that would certainly generate an emotional response.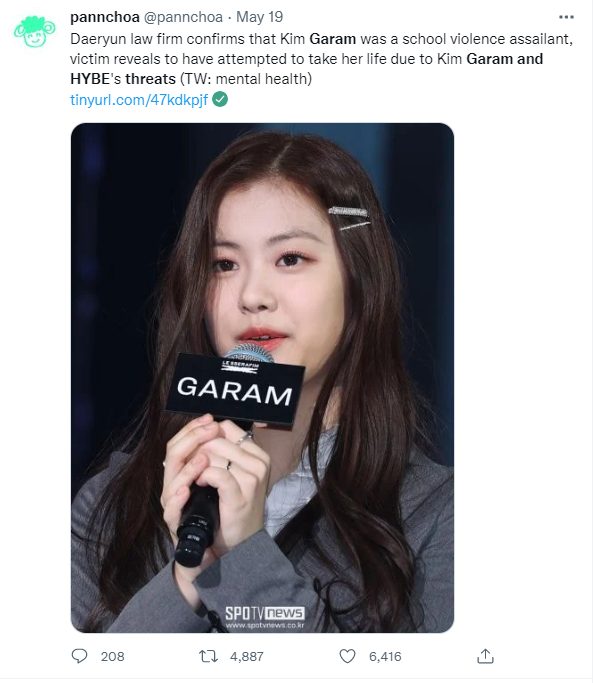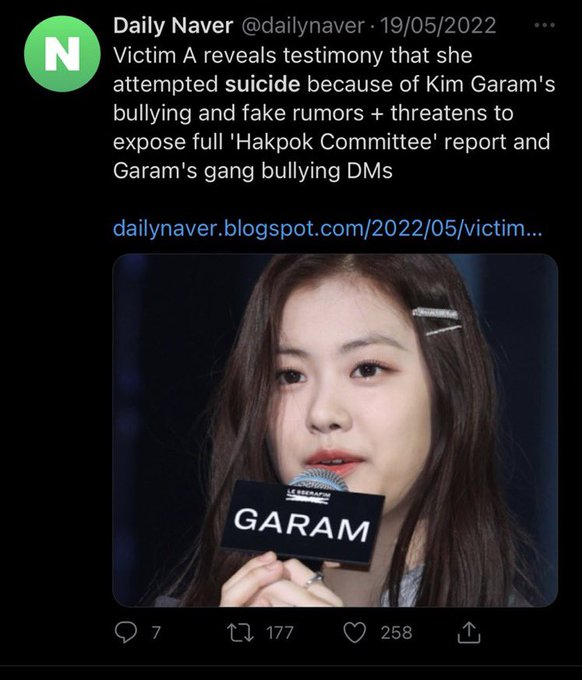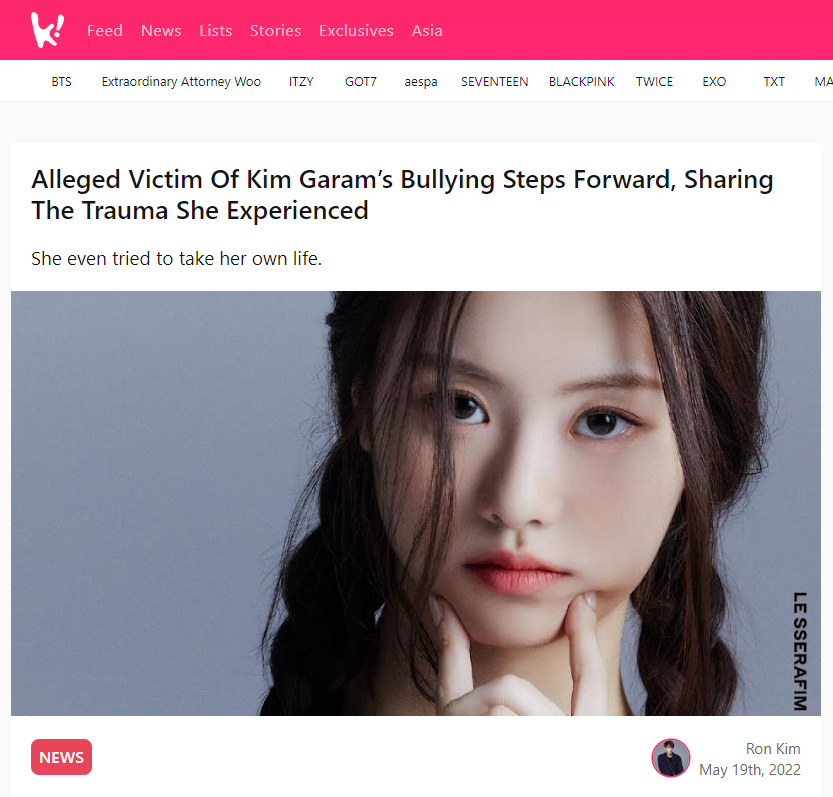 It is remains largely unknown if many interested in the case didn't read Eunseo's statement themselves.
Instead, an innumerable number of people seemed to have been influenced and 'misinformed' by fictitious information that spread ubiquitously by unaware netizens or those who got their story from reading clickbait titles, such as from the popular blog Pannchoa, Koreaboo, Daily Naver e.t.c. All of which carry news to impressionable K-Pop fans and netizens. Consequently, leading to misinformation spreading and ignited more severe harassment and defamation for Garam across various social media, video sites and online communities



Netizens birthed and spread FALSE INFORMATION that Kim Garam was disciplined by Gyeongin Middle School's School Violence Committee for bullying a disabled student and was issued a restraining order.....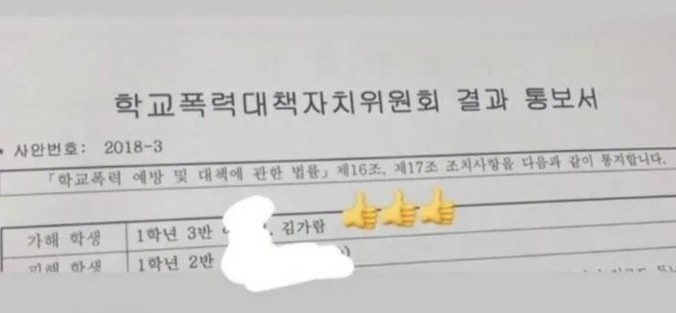 On May 15 2022, a cropped image of a School Violence Countermeasures Committee document with Kim Garam named as one of the perpetrators in semester one 2018 would leak online on a Twitter burner account. "We will notify you of the measures taken in Articles 16 and 17 of the School Violence Prevention and Countermeasures Act', the name of the perpetrator 'Kim Garam, 1st grader, 3rd class'" written. The name of the victim was covered. A picture of Kim Garam on a school retreat was speedily uploaded into the comment section on the Nate Pann post discussing this. Authenticating that she was indeed in class 3.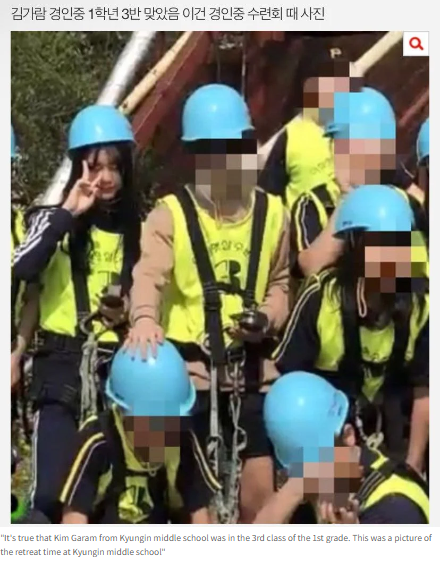 The anonymous leak of a cropped School Violence Measures Committee result notification document. Led to defamation of Kim Garam's character and tarnished her reputation.


South Korean law, states that Article 16 & 17 of the Prevention and Countermeasure against School Violence Act , which deals with the school's autonomy to take action both for the victim and against the perpetrators. In the form of the Protection of Victim Students and the Countermeasures against Aggressor Students. As Netizens began to speculate what discipline Kim Garam received. Netizens on Nate Pann would mislead others with false information that Kim Garam was disciplined under Article 16 and 17, which means that she harassed a disabled student and was issued a restraining order. This false speculation and misinformation regarding the action the School Violence Countermeasures Committee took with Kim Garam, spread far and wide across social media and the internet.
After false information and speculation of restraining order circulated for a few days. On April 19, according to Daeryun Law firm's statement, Kim Garam and her parents received six and five hours of special education, respectively, as punishment under Article 17-1-5. If Kim Garam had been disciplined with a restraining order, Kim Garam would have been punished in accordance with Article 17-1-2.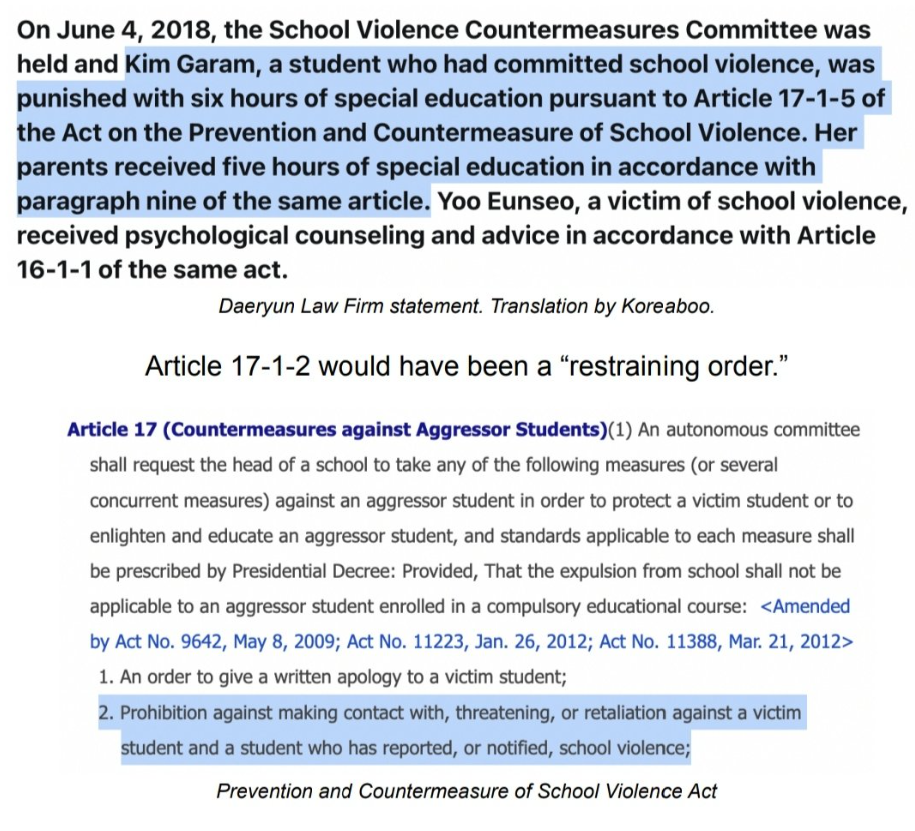 False information that Kim Garam bullied a disabled person also spread. However, if Kim Garam had harassed a disabled student, the victim would have been protected in accordance with Article 16-2. Daeryun law firm's statement affirmed that Yoo Eunseo received care under Article 16-1-1.

The Prevention and Countermeasure of School Violence Act are verifiable here.
Information spread across the internet that Kim Garam was disciplined with a No. 5 disposition for the bullying of a disabled person and disciplined with a Prohibition of Contact measure (restraining order) are 100% incorrect in this case.

In typical fashion, the K-pop community and netizens spread misinformation across online forums, Youtube fancams, and social media platforms: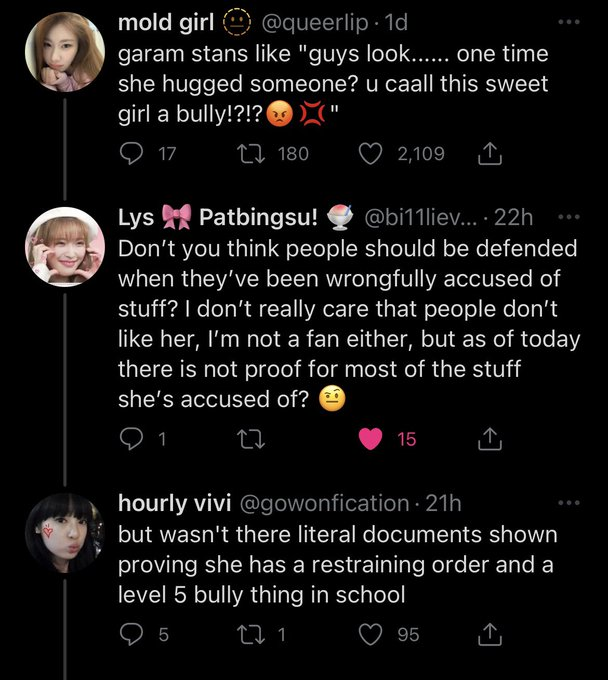 *Note* The false information of a 'restraining order' and misinformation regarding what school violence level: reduced to "level 5 bully thing in school" on K-pop Twitter. Serious misconception of School Violence Countermeasures Committee and its workings on a global scale.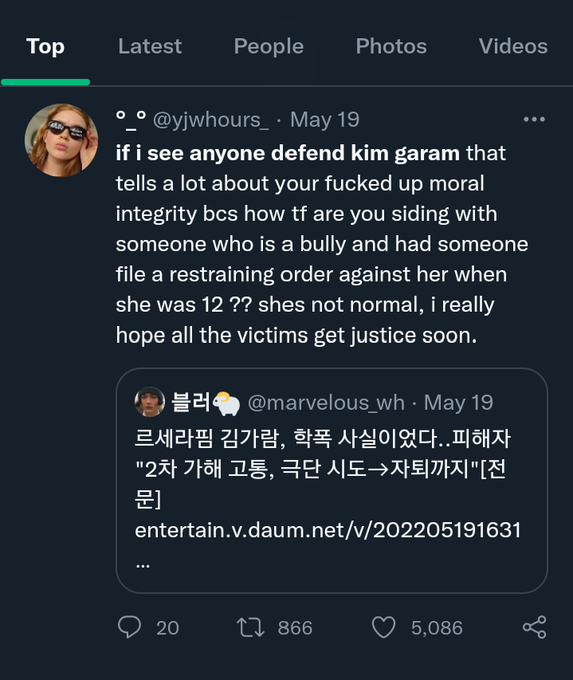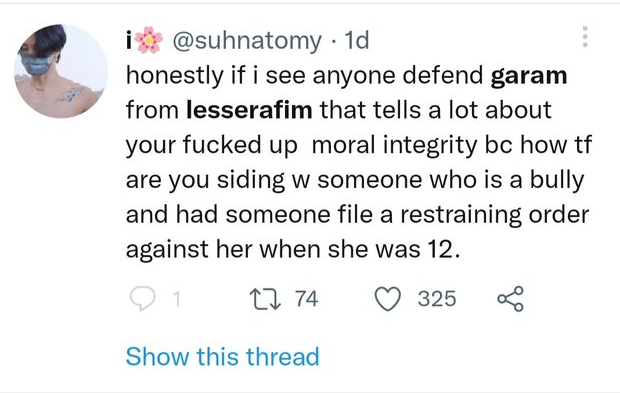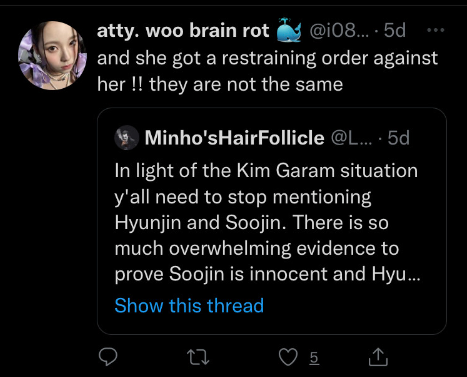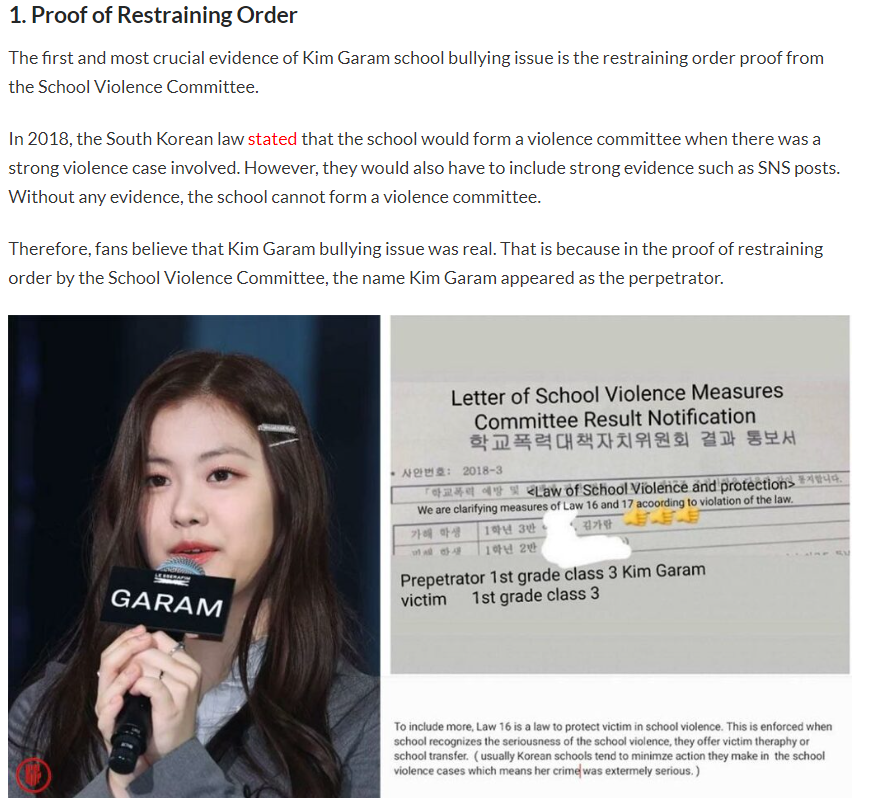 This was published by K-Pop Post on May 23 2022. After the facts were revealed by both sides (May 19 and May 20). The blog has not been amended or deleted. Despite the information being false speculation by netizens.
Daeryun Law firm mentioned the exact measure Kim Garam and the alleged victim Yoo Eunseo received, but numerous netizens still believe that Kim Garam bullied a disabled kid and has a restraining order to this very day. It was also illegal for the uploader to post the picture of the School Violence Committee document, with Kim Garam's name showing. The damage of this misinformation and speculation by netizens and the media has been costly for HYBE, Source Music and in particular Kim Garam.
Where did the misinformation about Kim Garam case and School Violence Committee come from?
The No. 5 Measure and the false myth of it "rarity" and "seriousness"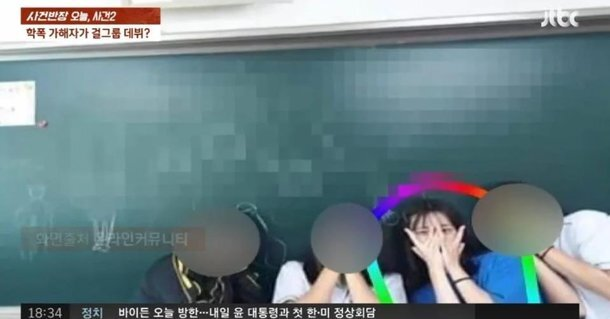 The case was highlighted in the Korean press, and broadcasted across several media outlets, including Yonhap News TV, and JTBC Broadcasting. On May 20th, JTBC's 'Chapter Chief' would discuss Kim Garam's Measure No. 5 School Violence disposition, showing pictures and screenshots of allegations against Kim Garam.
A 'Case Chief', lawyer Park Ji-hoon would say, that the "No. 5 is a disposition to receive treatment. You get it when there are violent things and they are likely to be repeated. It may be due to other reasons, but it is not a small disposition". However, this is not entirely true. In particular, with regards to Kim Garam's case. According to the LCW Administrative Office reporting on the No. 5 disposition: Special Education measure of school violence on Naver. The Korean School Violence Committee guidelines explicitly states that No. 5 disposition has two types:

To distinguish between them, the No. 5 disposition as a "measure" has no severity points and is only determined by a School Violence Committee, whereas the No. 5 disposition as an "addition", Is added to No. 2-4 and No. 6-8 measures. No. 5 as an "addition" to other measures are where the worrying School Violence stories surrounding No. 5 emerge from.
Special education as a "measure" is under Article 17-1-5. According to Daeryun Law firm's statement, Kim Garam received a 17-1-5 "measure" from Gyeongin Middle School's autonomous Committee for Countermeasures against School Violence .

Moreover, In contrast to the popular narrative that the No. 5 Countermeasure against Kim Garam means extreme violence. The Ministry of Education database presents criteria that counteracts much of the narrative spread. The No. 2 and the No. 5 measures are the only measures given by autonomous School Violence Countermeasure Committees that have nothing to do with the severity of School Violence.

Ministry of Education: Detailed standards applied by measures for school violence perpetrators [table]: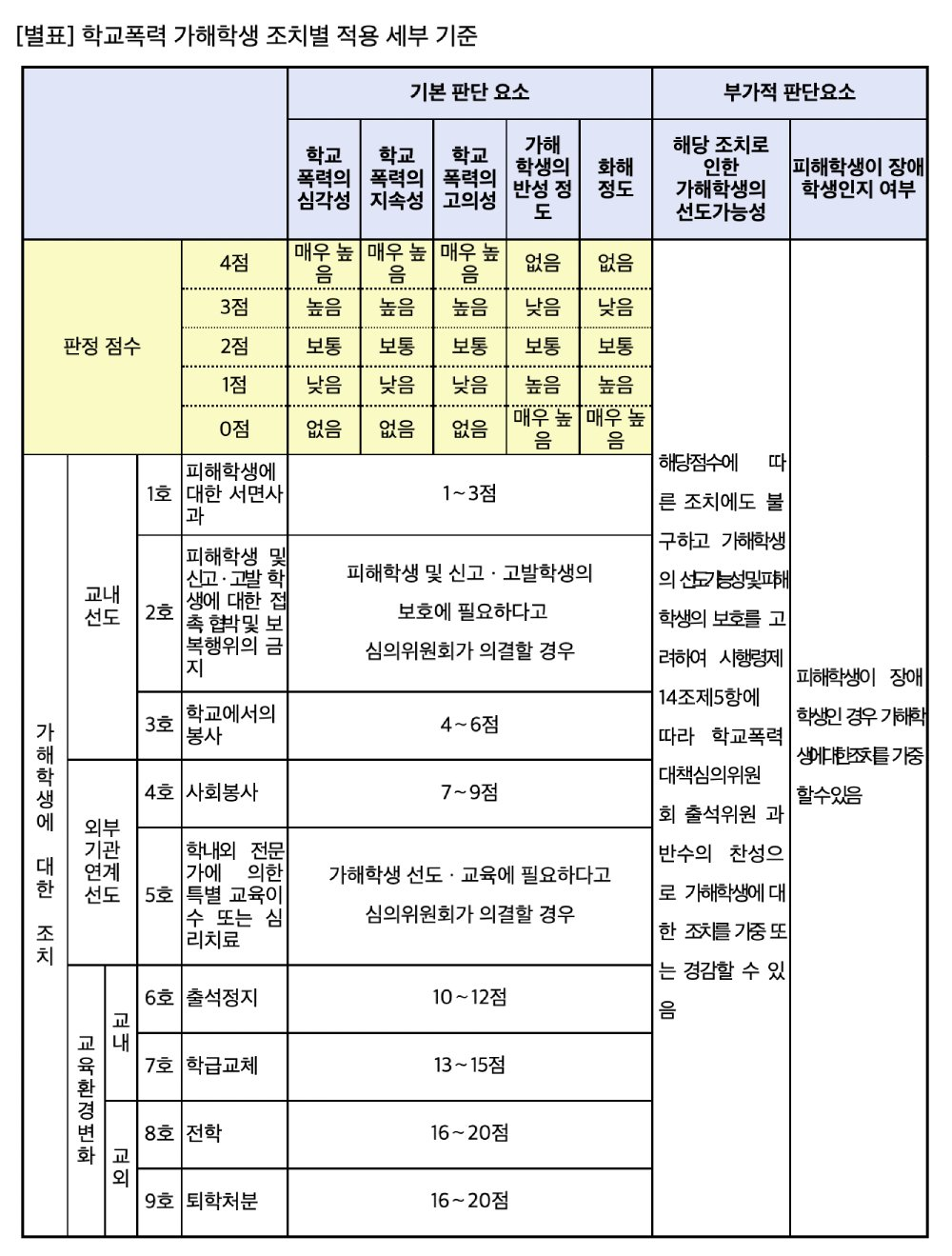 The official School Violence criteria can be found here.

A No. 5 measure (Special Education) punishment is no more severe than any other level and this is supported by HYBE and the Ministry of Education's official's statement about the intensity of measures differing depending on the school. The No. 5 measure has no severity points and is only determined by each school's Committee's. This statement is illustrated by a School Violence Committee lawyer, that explained that the severity of Kim Garam's actions cannot be determined.
Unfortunately for Kim Garam, scepticism remained on her No. 5 'punishment' due to the largely problematic narrative circulated by some Korean lawyers, and subsequently, the media, gossip sites and netizens.


After HYBE's statement released on May 20. Netizens were doubtful of the information regarding Kim Garam's Measure 5 by Gyeongin Middle School's School Violence Countermeasure Committee. This is due to normative narrative media despite no physical violence or repeated offence.

A minister for the Ministry of Education address this:

HYBE also addressed this doubt on May 20 after the release of their statement in response:


What's interesting about Kim Garam's controversy, is much of the information surrounding the case was distorted across social media and in the media by online communities.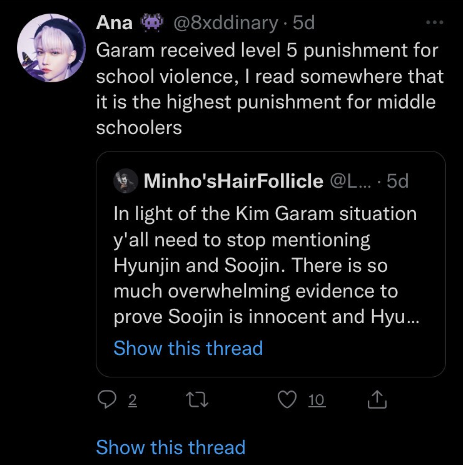 Many online alluded that the measure five punishment Kim Garam received was "rare", "exceptional" and that it is the "highest punishment" a middle schooler could receive. According to Gyeongin middle school data, compiled by Korean this show's a different story to public narrative by Korean general public, netizens and K-Pop communities.

Based on this data, Level 5: Special education or psychological treatment and Level 1: Written Apology were among the two most common punishments for school violence dished out by Gyeongin Middle School in the 2018-2021 period. Also Level 8: School Transfer is the highest action implemented by Gyeongin Middle School.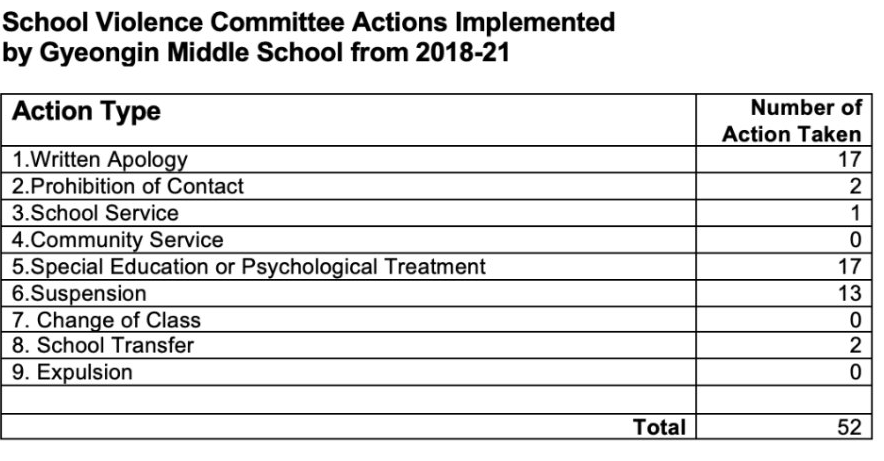 Data is from the official Ministry of Education (KERIS) school database. This data is publicly verifiable and can be accessed here.
If we compare Gyeongin Middle School data to a local school in its area, such as, to Gocheok Middle School during the same 2018-21 period.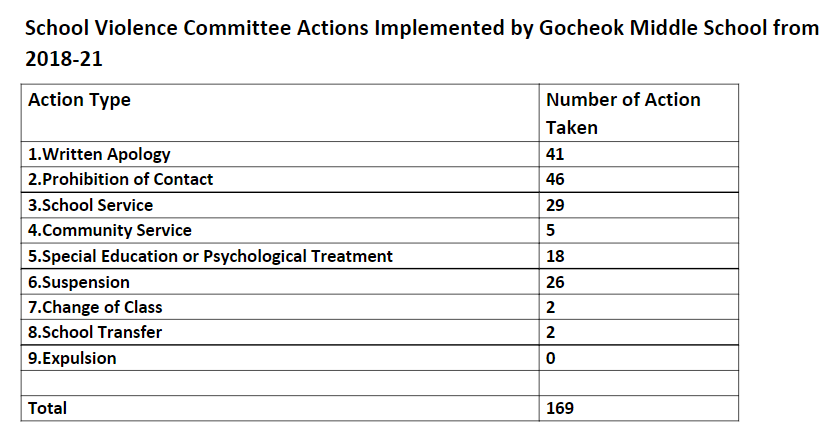 Data is from the official Ministry of Education (KERIS) school database. This data is publicly verifiable and can be accessed here.


It is impossible to state that the No. 5 measure is the highest measure of punishment. Even based on data from two local middle schools in Seoul. Also, it is not correct to say that the No. 5 disposition is "rare" either. As both the Ministry of Education and HYBE's clarification: that every school's School Violence Committee's are is autonomous and operates differently. For Gyeongin Middle School it could be speculated that they find it preferable or more convenient to give students Measure 5: Special education or psychological treatment (detention), rather than a Written Apology, Prohibition of Contact (restraining order), School Service and Community Service. Perhaps, a detention would be more beneficial for a students growth.
Which gives precedent to both HYBE's and Ministry of Education's claim: That School Violence Committees in South Korean schools are self-governing. They are different everywhere. As such, the actions taken by them will be different. You essentially cannot compare how one school deals with educational measures to another. Every school functions differently.
Data is from the official Ministry of Education (KERIS) school database. This data is publicly verifiable and attainable.

Why has false information and misinformation Kim Garam case been widely spread ?
Common problem is many speculated and made uneducated guesses. The International K-pop community took Korean netizens opinions with no question or without individual factual research online. In fact many Korean netizens have admitted to not fully understanding School Violence Countermeasure levels and its documentation. In the case of Kim Garam's School Violence measure, A viral Tiktok by happyingeunjee, a user who wanted to offer the Korean perspective discussed the No. 5 school violence measure and Kim Garam. Happyingeunjee cited the wrong information to an impressionable community looking for answers. Unfortunately, the damage was already done. Misinformation spread far and wide.


Happyingeunjee recently, deleted the viral Tiktok.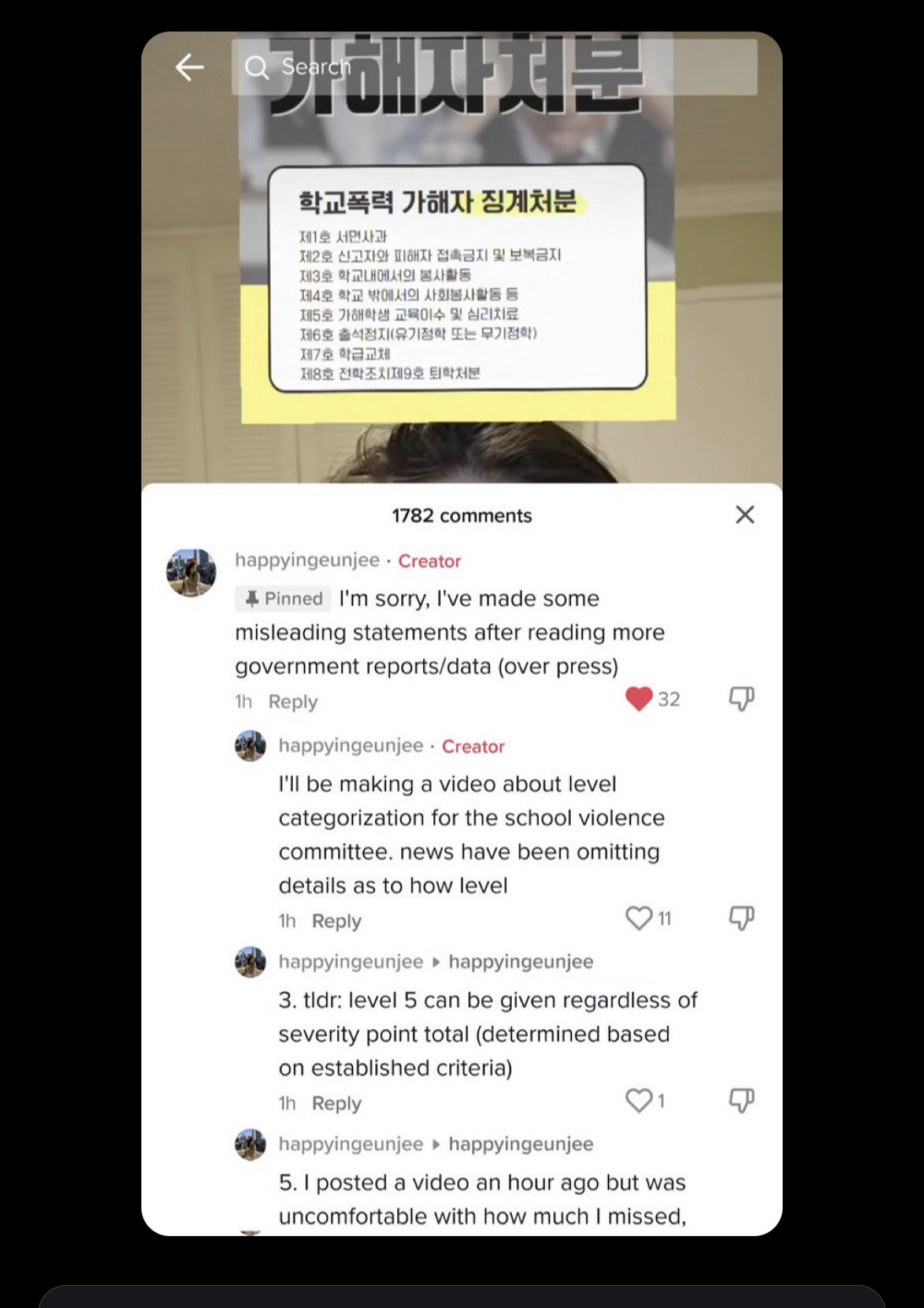 In a new video (23 July, 2022) user happyingeunjee corrected their stance and apologised for spreading misinformation about school violence measures and Kim Garam. Demonstrating accountability and admitting fault for misleading netizens. Happyingeunjee would emphasise that the No. 5 measure was not severe. The user notes that the narrative that the No. 5 action is "rarely given" was digested by the Korean press after a credible lawyer had spoken this.

In their research they noticed "manipulated data and stats on both side of the narrative". However, this video rectifying their mistake has not yet gone viral.

The rumours that she attacked three very famous idols:
The rumours originated from anonymous account on Twitter who posted a screenshot of a Nate Pann post. This rumour with its screenshot was posted in the comment section of post of discussing pre-debut Kim Garam as "hypersexual". The screenshot shows the post is from 1 October 2021. It is worth noting the original post was never found.

Twitter handle @hhMjY0OyqOUnc9u tweeted on April 5:
"I don't know if I can upload it, but... Le Seraphim Kim Garam ↓The people who found this are great"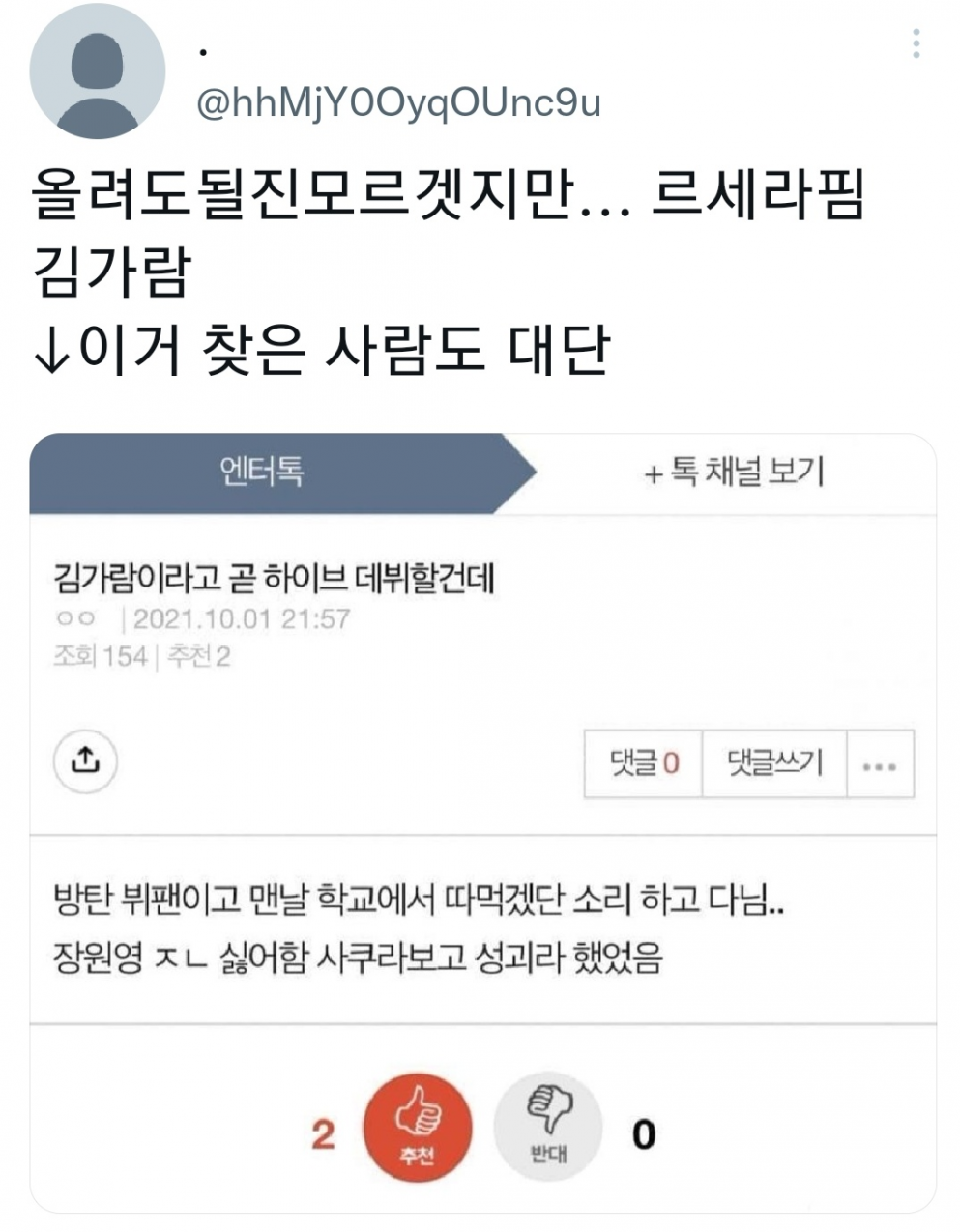 The screenshot attached to this post.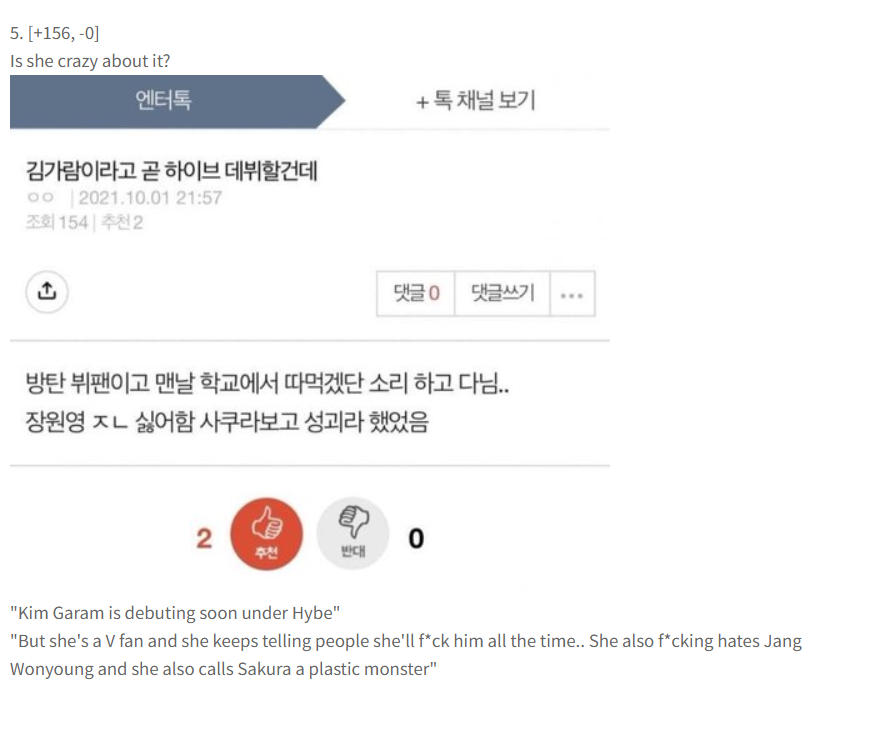 Another translation: (October 2021) "Hello, I'm Kim Garam. I will be making my debut in HYBE soon. I'm a fan of BTS, and I'm going to beat (in the sense of surpassing) Jang Wonyoung. I hate Sakura, she is a plastic monster"


K-netizens were not thrilled with Garam after this 'rumour' spread:
Former group-mate and ex-IZ*One Sakura Miyawaki. Sakura was the first Le SSerafim member to be revealed before Kim Garam. Interestingly "plastic monster" has already been used against Sakura by by a fellow a AKB48 member Watanabe Mayu in 2018.

It is maybe a coincidence that Kim Garam allegedly called her this too.
After the accusation emerged, a netizen could not the original source.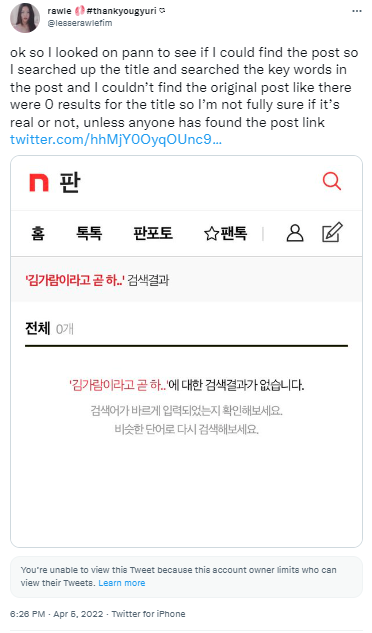 Worth noting that netizens can edit their Nate Pann post, without any obvious marker showing to the public.
Whether the "proof" maliciously edited or not is unverifiable. But the damage to Kim Garam's image was further tainted.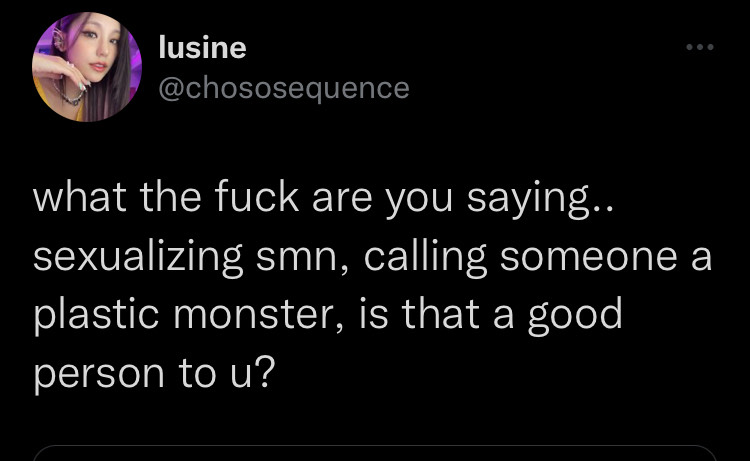 Kim Garam was already judged to be a terrible person based on these rumours. Also, perceived to be "guilty" of her allegations by Twitter court and K-netizens. Before any official result.
HYBE and Source Music deny the accusations in their May 20 statement:

However, a netizen would post a supposed picture of Kim Garam holding a phone that has a BTS sticker on: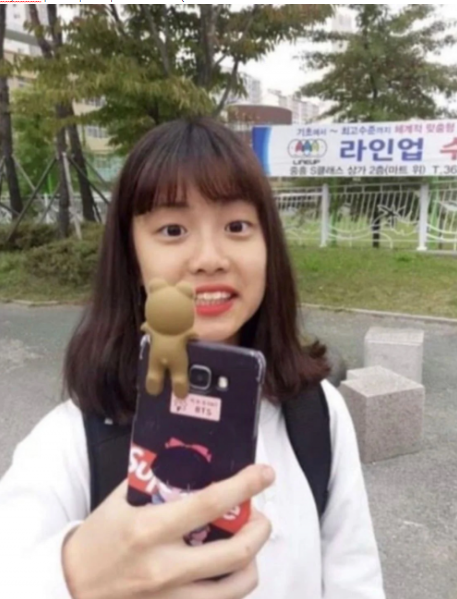 Korean netizens would then claim HYBE lied: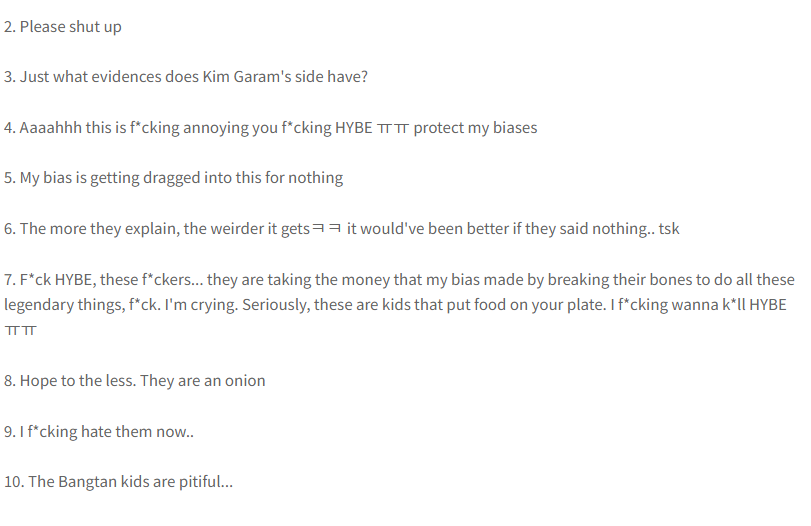 Could be argued that HYBE and Source music statement said a "specific male artist" (Taehyung), in which the alleged vulgar comment was aimed at and not a 'specific male group' (BTS)? That's up to you.
Netizens believe that Kim Garam is ableist?
This picture of Garam would emerge on April 6 in a Nate Pann comment section discussing Kim Garam' pre-debut pictures: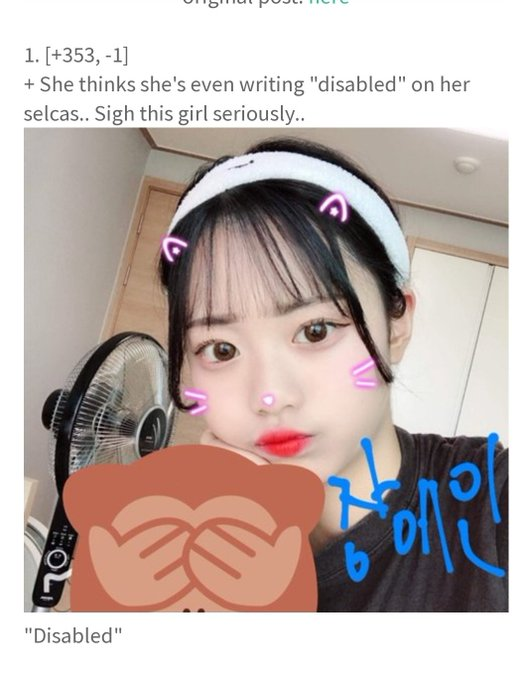 The image would eventually make its way onto the Korean news in May.
Moreover, on May 21 more 'evidence' would surface emphasizing Kim Garam's alleged ablesism. This would be in the form of an anonymous DM from an alleged former classmate victimised by Garam in middle school. This classmate would expose Kim Garam for making an alleged ableist comment about her mother and that Garam and her friends would habitually pick on them starting the next day at school and on Facebook. The second message states that the head of HYBE went to their school to silence them. The alleged former classmate asks a netizen to share their DM containing their witness testimony online on their behalf. This alleged former classmate was worried, citing fears of retaliation.

The original source of where the DM was posted before being uploaded to Nate Pann and the Qoo has not yet been identified. neither has the context of how this alleged former classmate came to speak to the netizen whom uploaded their DM's on their behalf.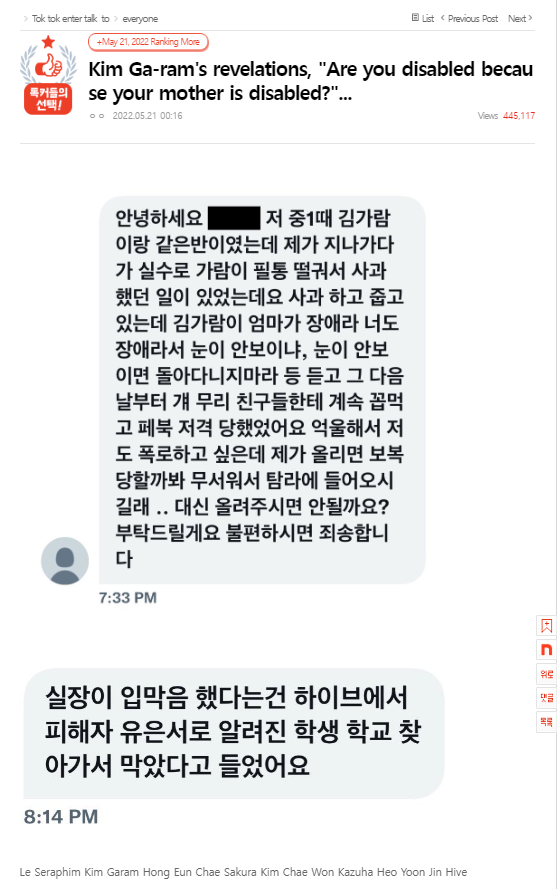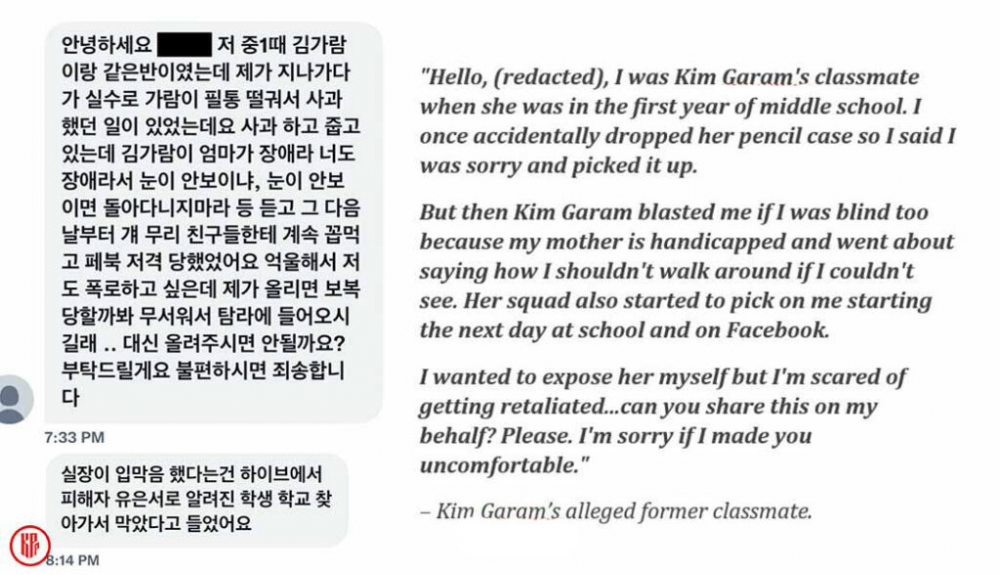 Netizens were alarmed at the reported behaviour of Kim Garam in middle school: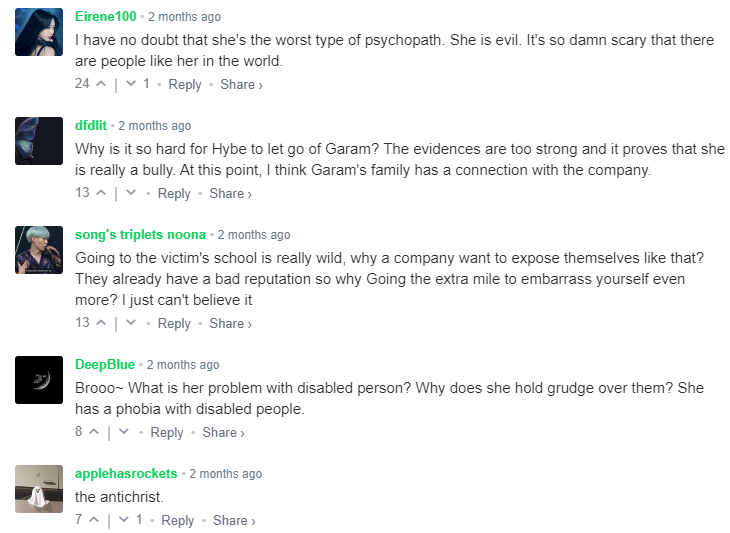 On the other hand, a #JusticeForGaram began trending on Twitter on July 30, when pictures of Kim Garam in middle school resurfaced. These pictures from April, garnered attention on July 30 amongst netizens in relation to discrepancies of the ableist and 'bully' label attached to Kim Garam.
It is worth observing an 'original 'photo without the word "disabled person" written in Hangul was also posted online in April 2022.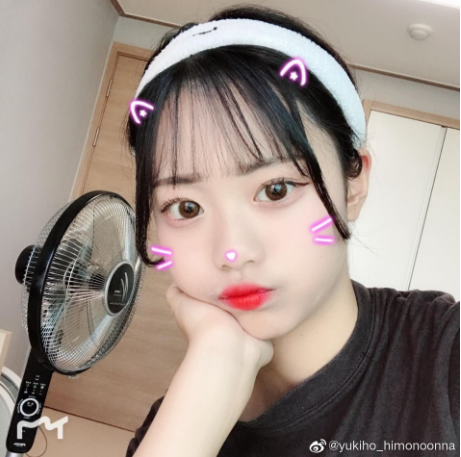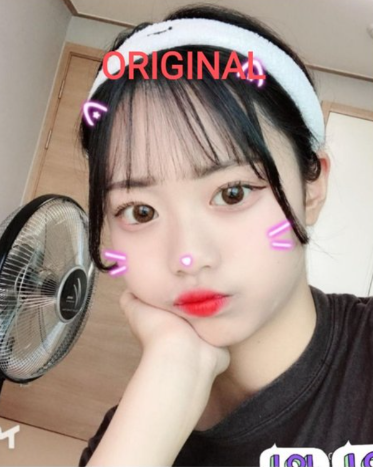 This is believed to be from an alleged classmate who knows Kim Garam:
The classmate alleges that Kim Garam faced ableist comments, captions written on her pictures and cyberbullying, due to her congenial condition called brachydactyly.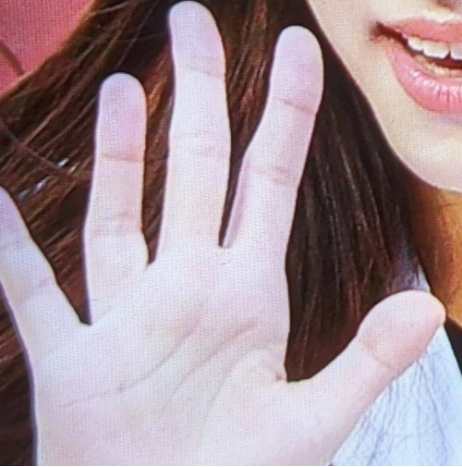 They alleged former classmate would later, upload a picture of Garam's school desk and confirm that the ableist insults were written on her desk and ableist captions were written on her selcas and shared within group chats. Kim Garam was allegedly forced into these online group chats. These images were then uploaded online at her debut reveal in order to supposedly try to pass Kim Garam off as an ableist.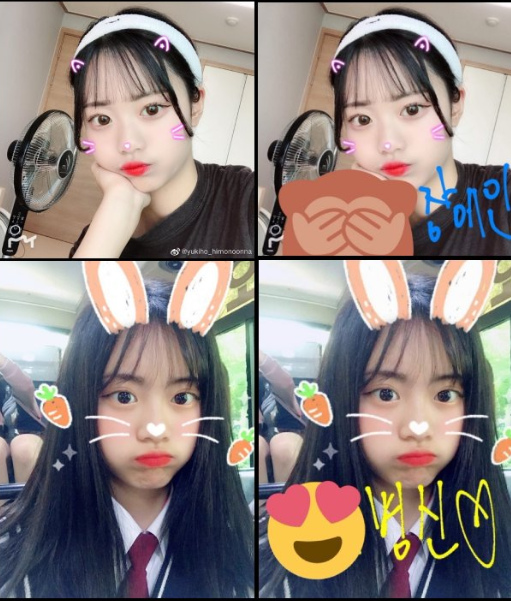 Supposed original pictures (Left).
Supposed captions written on by alleged classmates with the words "disabled" and "r*tarded"/"physically deformed" slurs in Hangul (Right).
A pre-debut photo of Kim Garam from middle school surfaced back in April 2022. Garam's desk notable graffiti on it:
A netizen claims the photo was taken during middle school.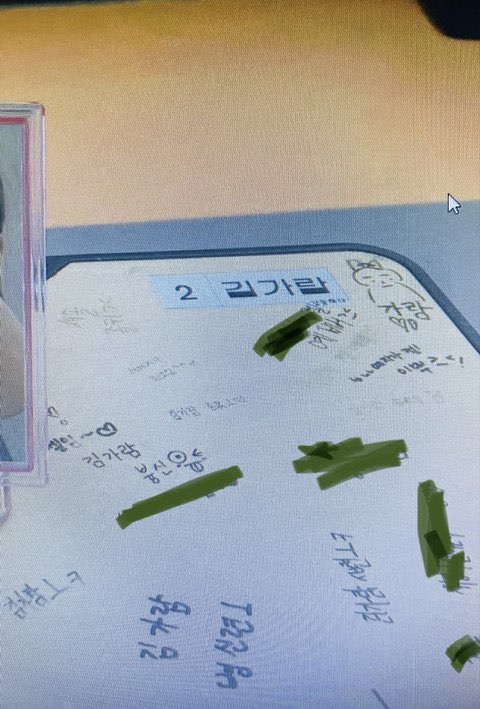 A translation, some include derogatory language, slurs and insults: "Kim Garam ret*rded b*tch'"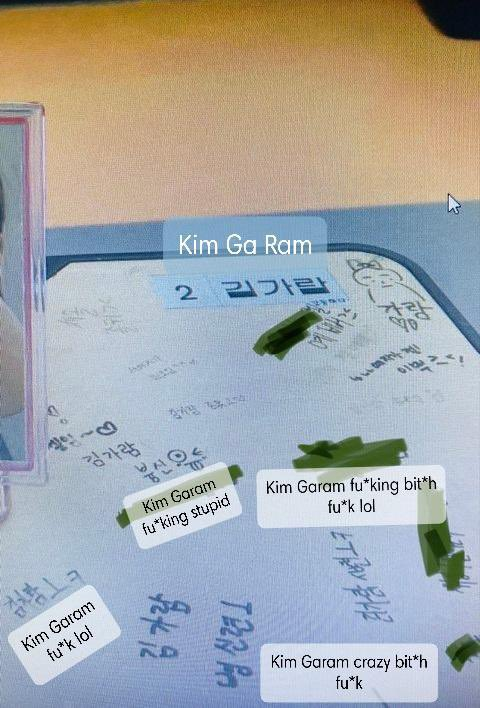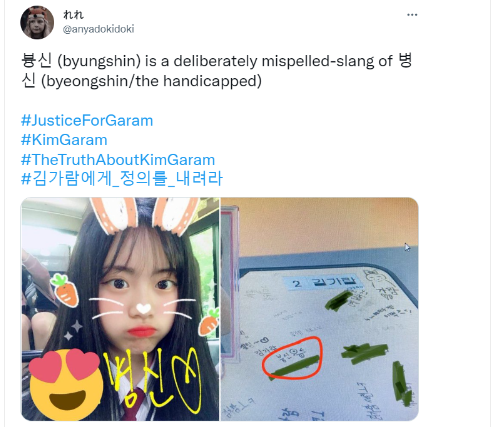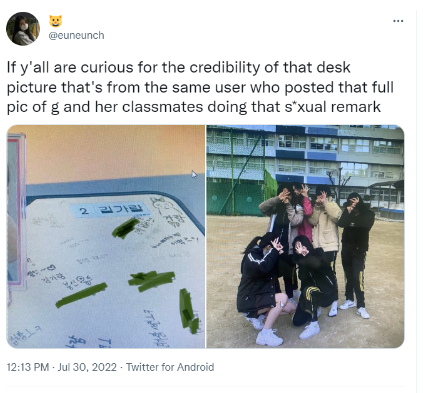 This alleged classmate would unveil a full picture of Kim Garam with a group of others. Previously, only the cropped version was leaked as pre-debut photo, which caused controversy with Korean netizens.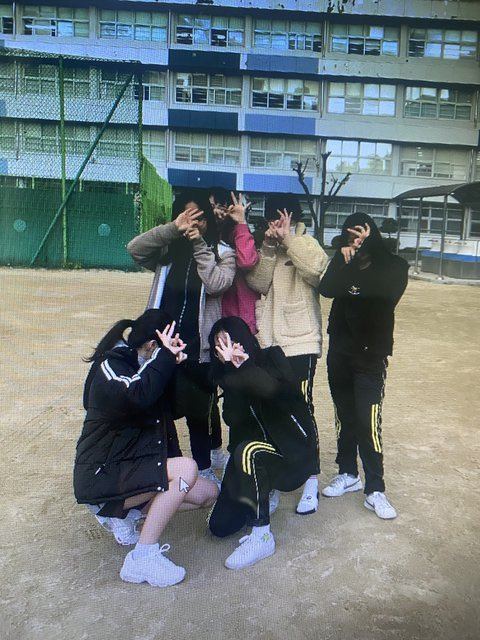 *Note* Both images from an alleged classmate have a mouse cursor over them to 'authenticate' the pictures.
International Netizens are now speculating that Kim Garam's statement might be true, as
according to HYBE and Source Music statement alleged: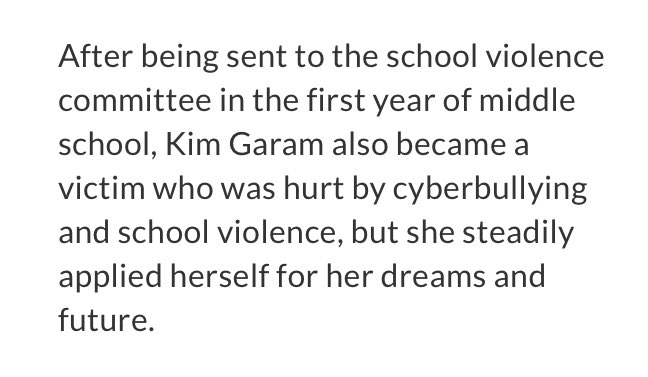 Netizens reactions were split on this 'evidence':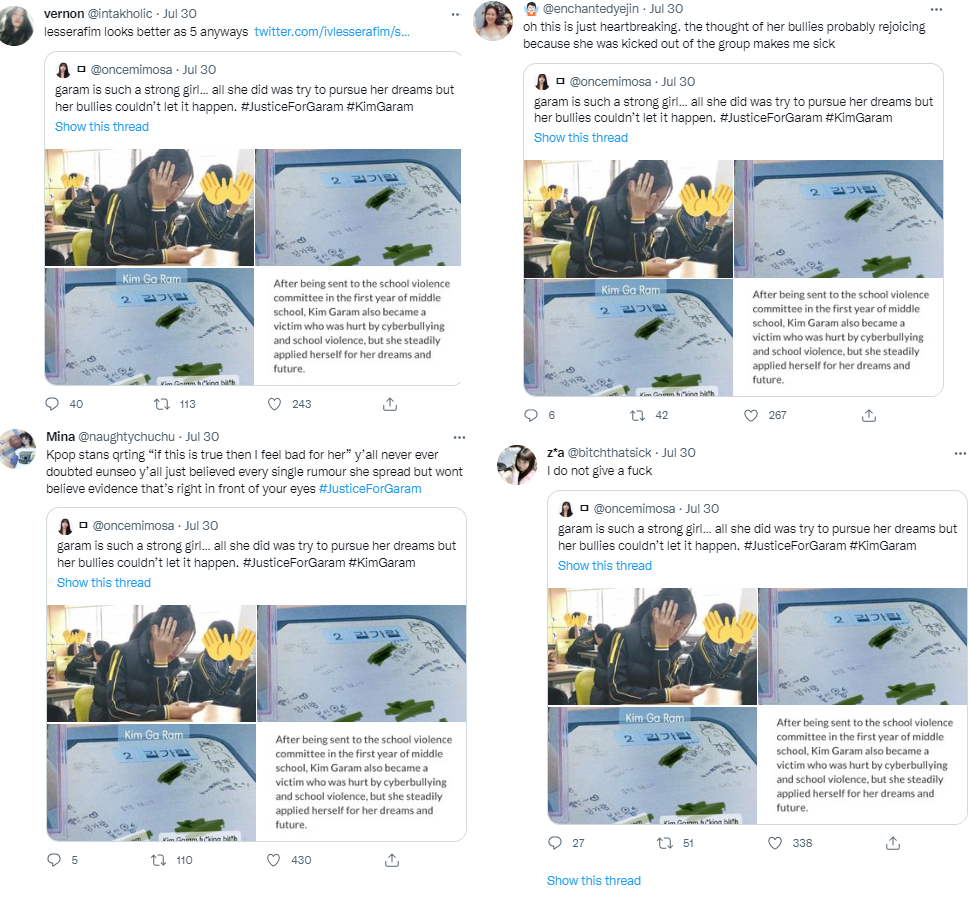 In actuality we cannot verify, at this time if she wrote ableist captions or slurs on her own selcas or not. We also can't verify if she made an ableist comment to an alleged student she victimised. The allegations against Kim Garam really bring into focus the power of anonymity, can we truly trust every allegation or defence post from an anonymous source? But more so, one where the netizen doesn't want any accountability and would use someone else to spread it. More importantly, trust an account with nothing completely substantial to backup their claims?


Netizens imply that Kim Garam fits the archetypical mould of a "bully" rather than a "victim".

Many netizens, believe that there is a certain look or stereotype assigned to an 'ideal victim' and to a 'bully'/school violence assailant. The consensus of many netizens is that Kim Garam's physical features, use of makeup and pictures from the first year of middle school give rationality and validity to the allegations against her. Essentially, these attributes ticks the boxes of a stereotypical 'bully' or an 'iljin' in netizens eyes. Rather than an image conclusive with that of a 'victim' of school violence.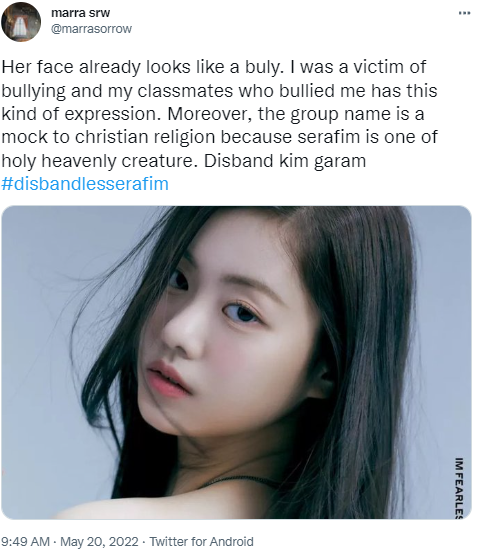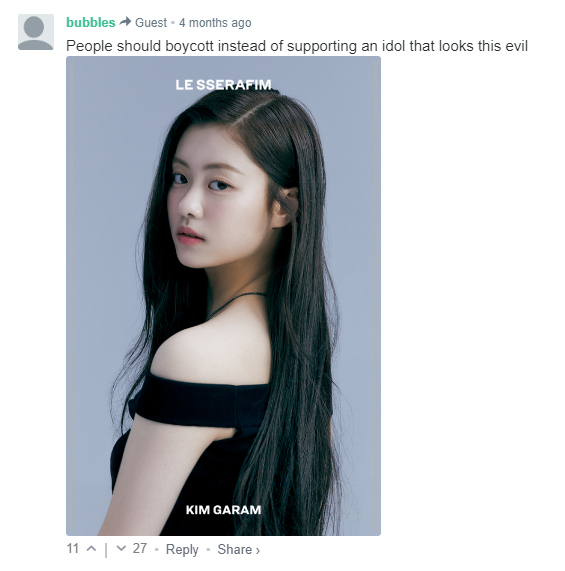 One netizen came to her defence: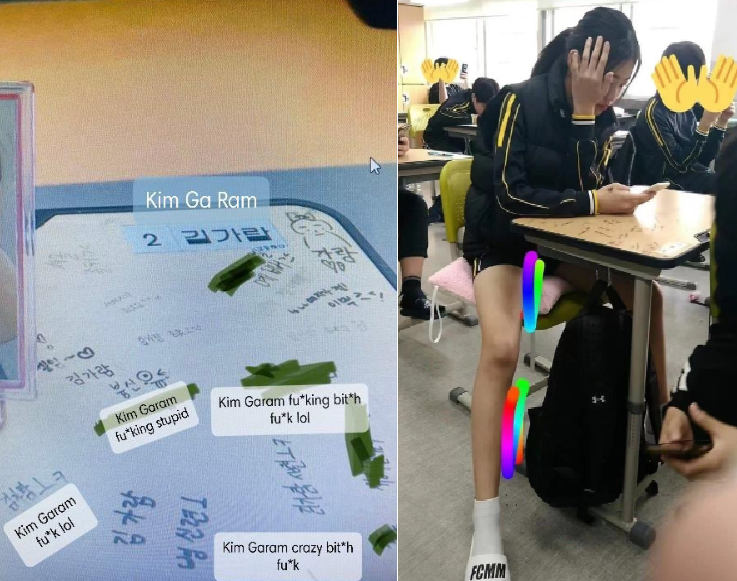 However, various Korean netizens began downplaying the photos and the graffitied slurs and insults by claiming that this was not school violence. Netizens claim that it was probably Kim Garam's 'iljin' friends who wrote on her desk as a joke or as a "expression of affection". Other netizens would criticise Kim Garam for having graffitied on her own desk, as it damage to school property, compared to other cleaner graffiti-free desks in the pictures. This is based on the narrative that Kim Garam is 'iljin', wherein in reality, it has not been proven yet and has even been denied.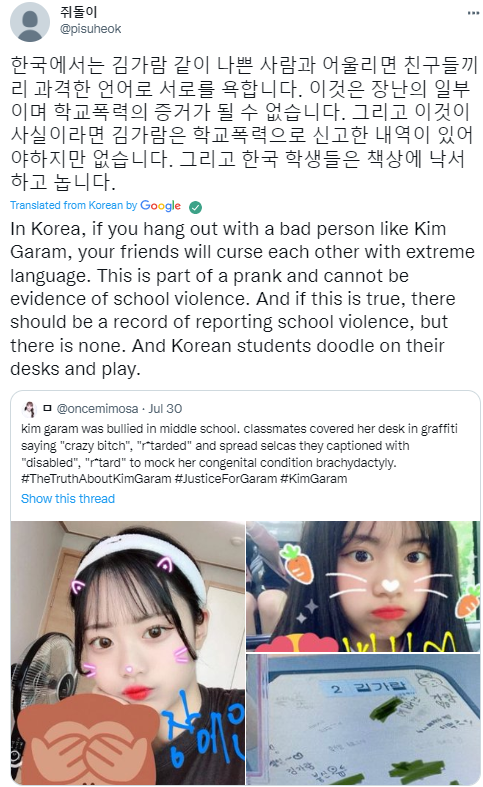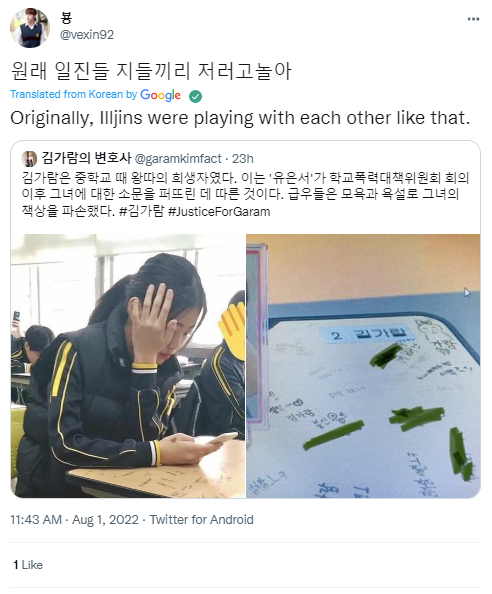 Some netizens reacted to the Korean netizens perspective of the 2018 photos: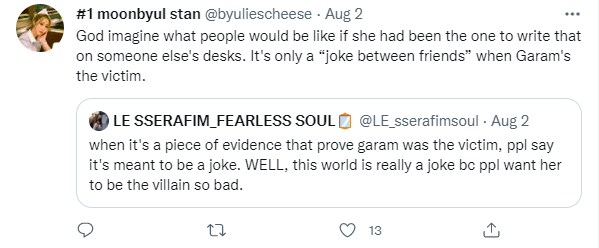 A different perspective by other netizens focused on her middle school pictures, alleged written Facebook posts about s*x and wore a short skirt meant she doesn't classify as someone victimised: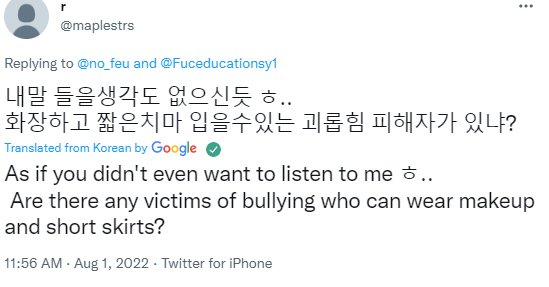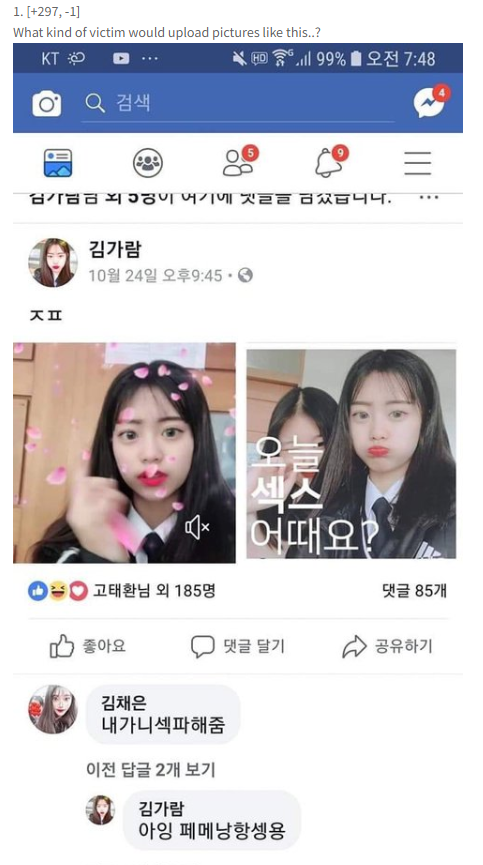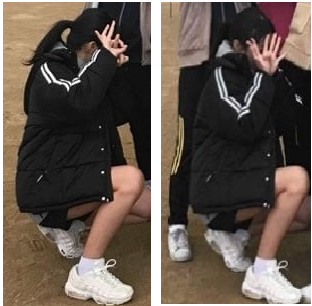 Apparently for some netizens Kim Garam physical features and use of makeup erases the possibility of being a 'victim'. One netizen comments: "she [Garam] could never be a 'victim' in any situation":

One netizen posted: "So this was a middle schooler who was a 'victim of malicious rumours and cyber bullying', according to HYBE..." in response to Garam's pre-debut pictures: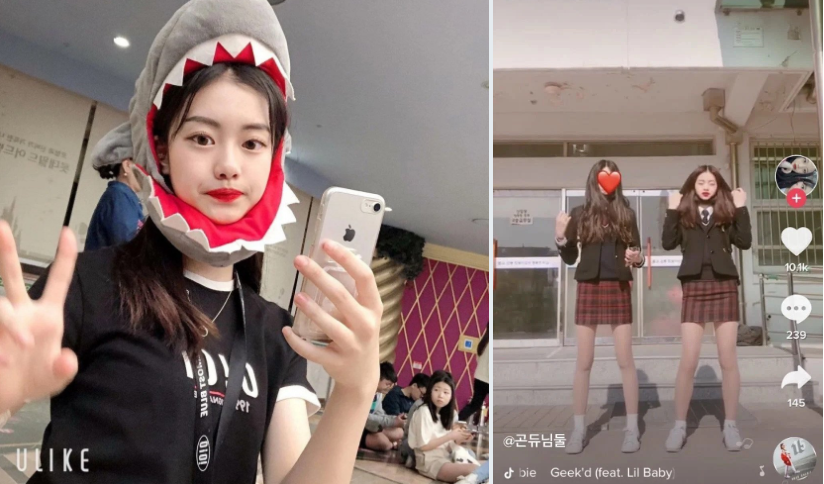 Some netizens would insist that Kim Garam can't be a 'victim' because she was seen smiling at her phone at her desk, or supposedly even taking a mirror selfie at her desk. Alluding that she did not look look like she was being bullied or acted too 'normal' to be a victim in these pre-debut pictures.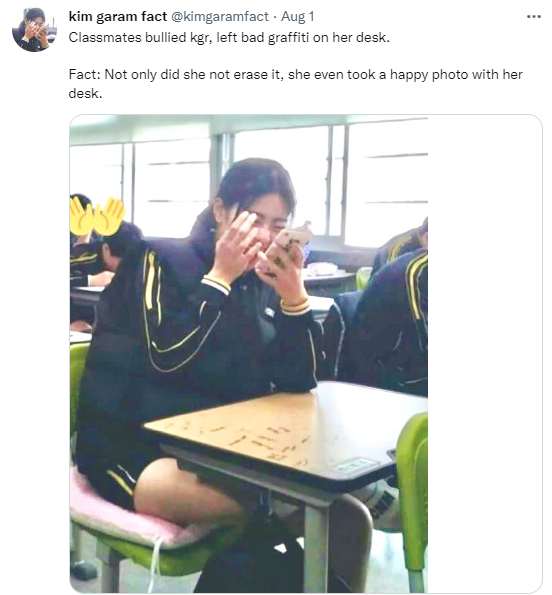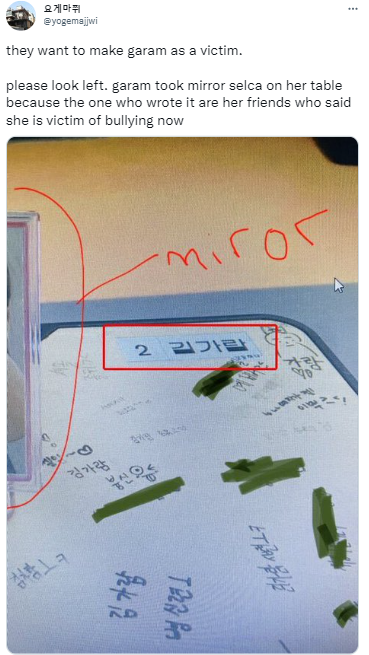 A different netizen was not convinced of Kim Garam's identity as a 'victim':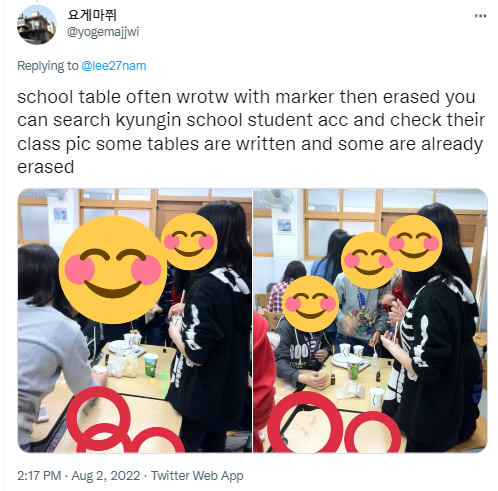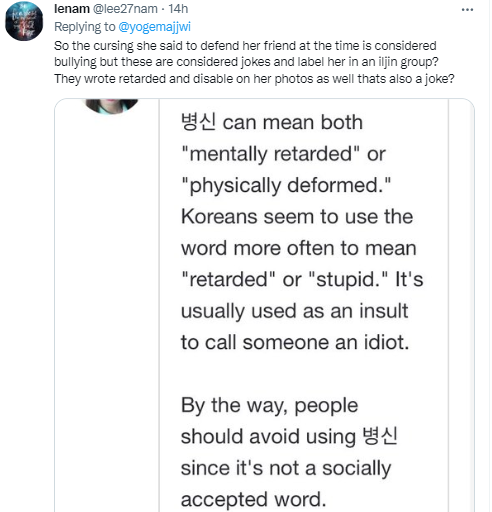 International netizens were not better. When rumours of school violence by Korean actor Nam Joo Hyuk emerged in June 2022, numerous netizens were quick to defend him but for the wrong reason's. These netizens commented that they were sceptical of the allegations because Nam Joo Hyuk didn't 'look' like the "stereotypical" school violence perpetrator.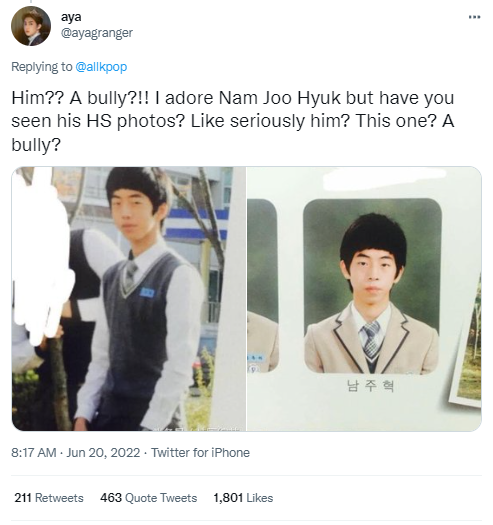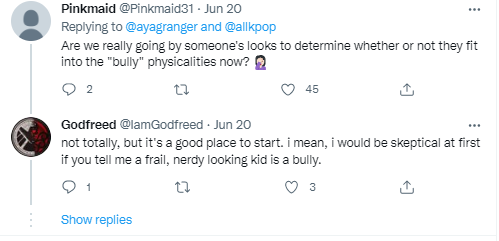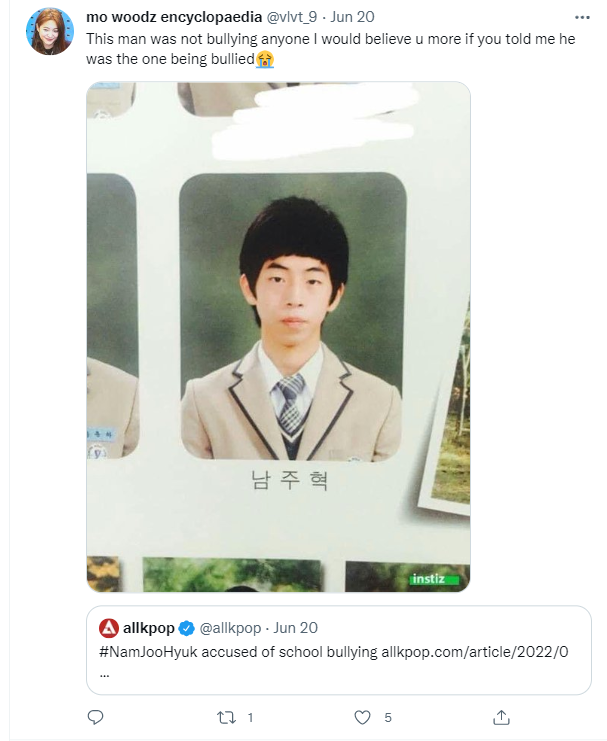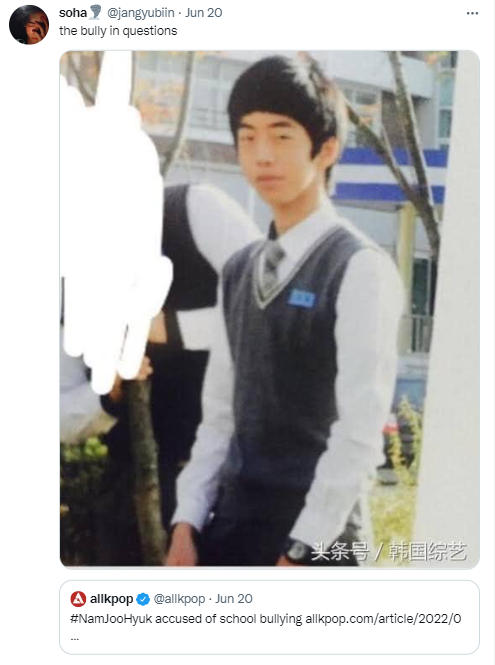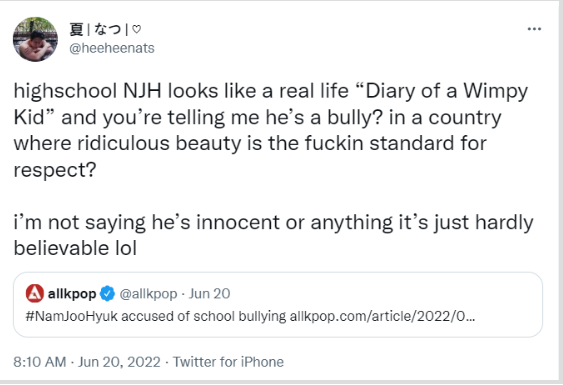 Other netizens saw double standards at play:


Many netizens need to overcome the stereotypes and the cliché of attributing physicality, facial features, even skirt lengths to a stereotypical personality type. Also, eliminate deeply embedded societal standards of how a 'victim' must look, or behave to be taken seriously. In Kim Garam's case, attributing these as "proof" she's an 'iljin' and a 'bully'. Comments pertaining to Kim Garam not looking miserable enough, generalisations that she wears make-up, "dresses like an iljin", does a crude hand gesture is not a evidence that a person is not a 'victim' of school violence. This perception is incredibly archaic take on victimization. Many netizens whom may have suffered in school could be projecting their insecurities and trauma onto Kim Garam based solely on the way she looks or dresses. Netizens must begin to move beyond outdated stereotype-ridden features of victimization and that of 'bullies' too.

More so, netizens behaviour towards Kim Garam should worry others. It can almost be perceived that netizens, especially Korean netizens, are trying to erase any trace and distort any realties that Kim Garam could have been a victim of bullying and school violence during middle school. The act of netizens to attempt to rewrite Kim Garam's middle school history in their own image and imagination is a dangerous precedent for victims and those accused. The distortion of events by netizens to influence and persuade others, whether in defence or against Kim Garam, could potentially fall under the category of spreading disinformation.


Daily Naver's misleading headlines and articles would cause further harm to Kim Garam's reputation and the spread of misinformation online.
On March 16, when speculation was made regarding the School Violence Committee leak. Daily Naver used a misleading title regarding the "Hakpok Committee" Documents showing records that Garam was the perpetrator of bullying and assault.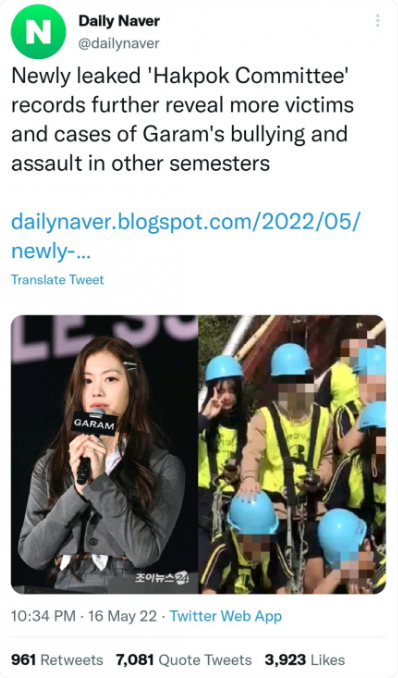 The article would go further to show these offences tables the majority of netizens assumed that Kim Garam committed all these 'offences'. Many commentators believed it at face value. in fact, what Daily Naver misleading. The origin source of information is once gain speculation by Koprean netizens.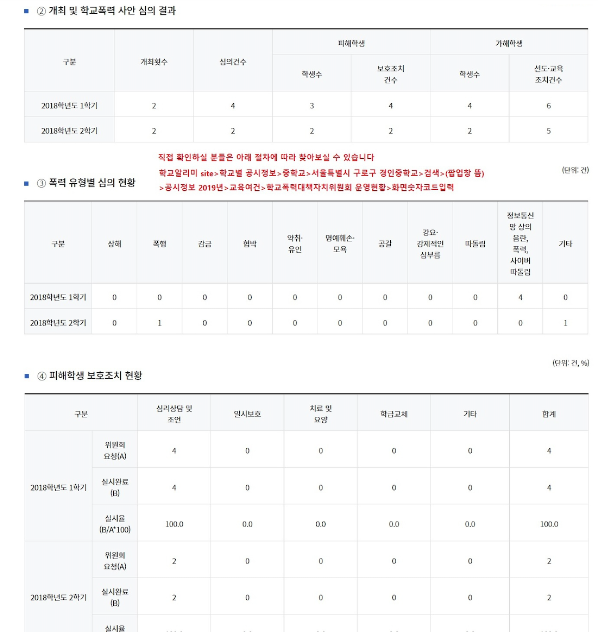 In fact, this document only shows the number of cases that occurred in each semester, NOT all cases committed by Kim Garam.

Daily Naver would translate slightly distorted information:

The actual category is: Obscenity, Violence, Cyberbullying in Information and Communication networks. The Kim Garam case occurred in semester 1 (table 2), where there were no cases of bullying or violence.

Netizens discussed: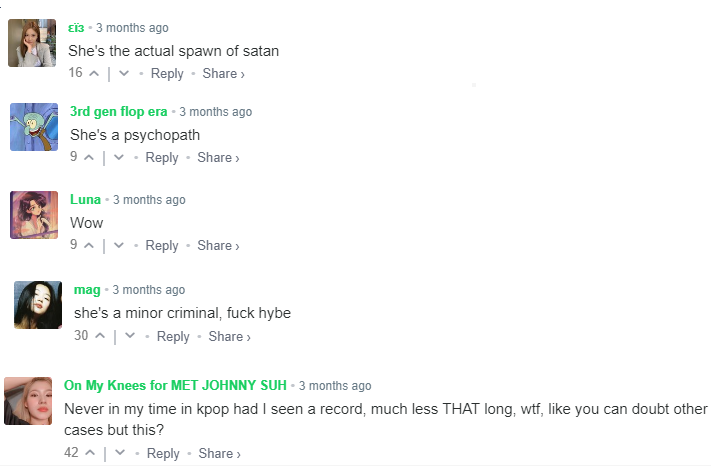 Very few would call out Daily Naver:

This article is misleading and based on speculation by Korean netizens before any concrete information was announced. Daily Naver contributed in further misinformation spread and generated misunderstanding of Garam's case, as the Nate Pann article translated shows all cases at Gyeongin Middle School. .

Moreover, Daily Naver were late in reporting the accusations against Kim Garam. They posted about Garam on the May 26 2022 but the source itself from Nate Pann is dated 20 May 2022. Causing further confusion and netizens believing more accusations had been released against Garam. As many netizens don't read the information, only the headline. Also, the blog doesn't show the date of the Nate Pann articles they translate unless you go to the original source.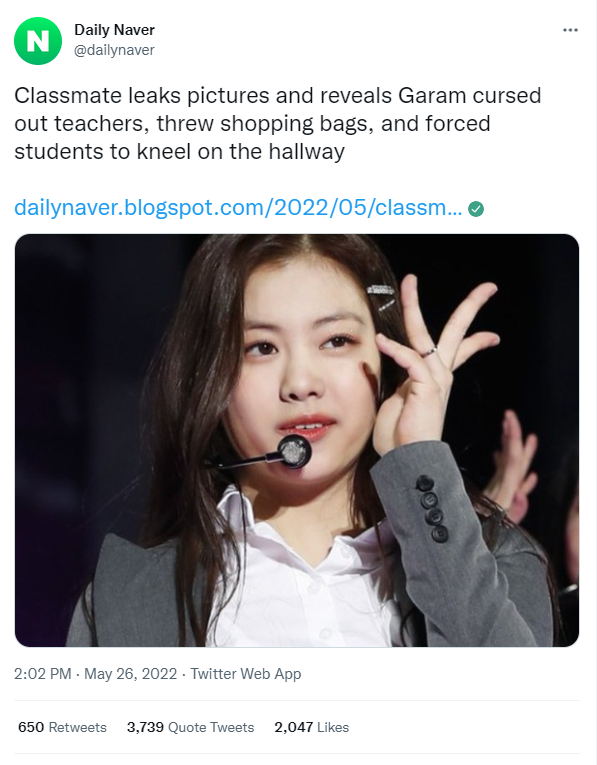 Some were less trusting of the allegations:
Others focused on Daily Naver: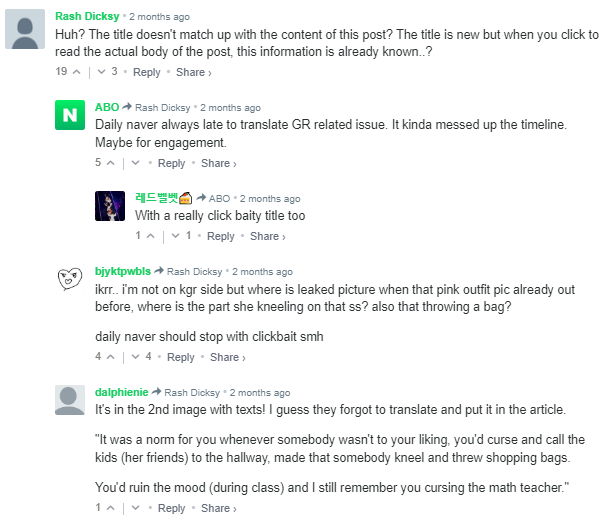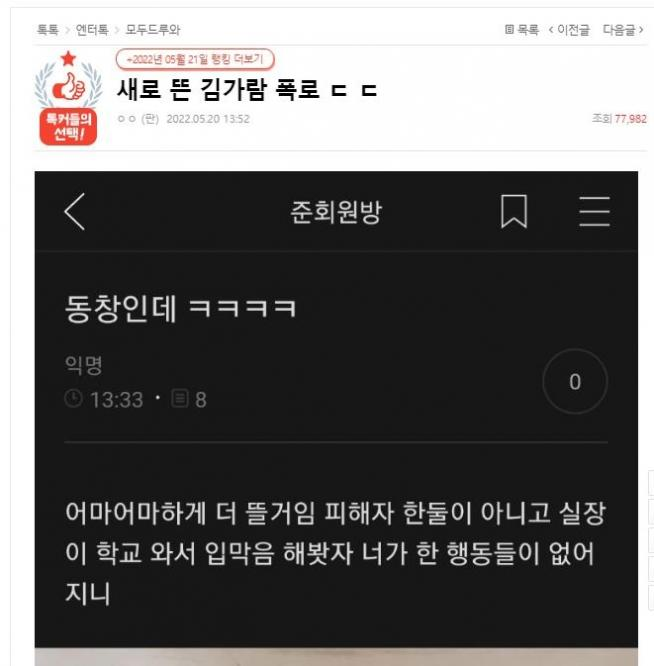 A featured comment under a popular blog (Daily Naver) spread misinformation about the Act on the prevention of and countermeasures against violence in schools. The admin of Daily Naver deliberately featured this comment, despite that the facts relating to Garam's case are wrong. This may have been a premature action, when online communities were speculating. But fast forward to today, this action by Daily Naver has not been corrected. Despite HYBE/ Source Music statement correcting the misinformation regarding the Act on the Prevention of and Countermeasures that Kim Garam received.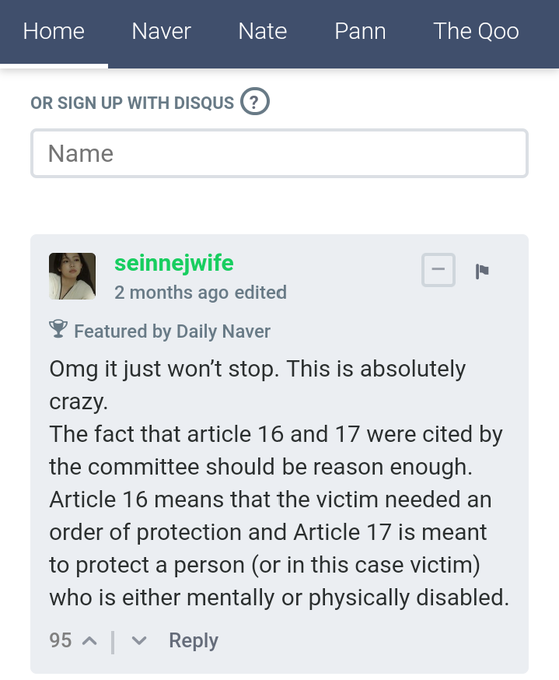 Notably, a netizen in defence of Kim Garam. Decided to correct the misinformation spread: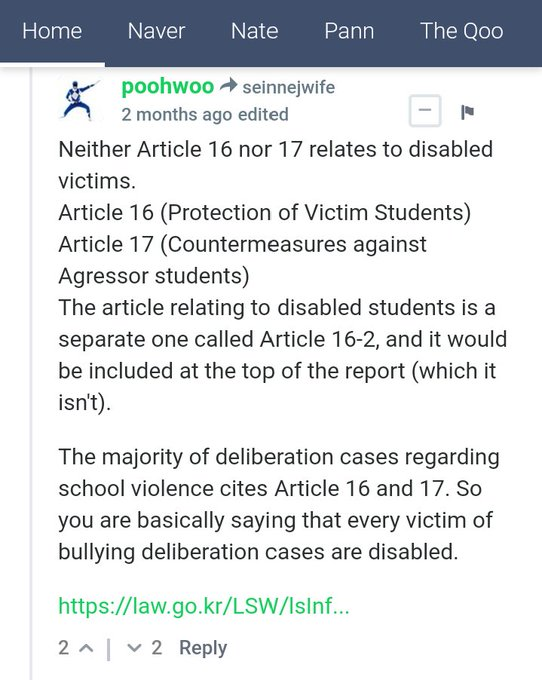 But their response:
The damage of speculations were very costly for Garam.


Furthermore, several speculative topics by Korean netizens would make it international K-pop community, these baseless speculations generate more hostility and rumours to spread about Kim Garam.
A speculative article on Naver, was discussed on The Qoo. It drew mass criticism against HYBE and Kim Garam. With netizens commenting that they will never support Le Sserafim with Kim Garam in the group. The title is clickbait and there is no confirmation that the group will remain a six. the article fuelled intensive hatred, despite the article was journalistic speculation.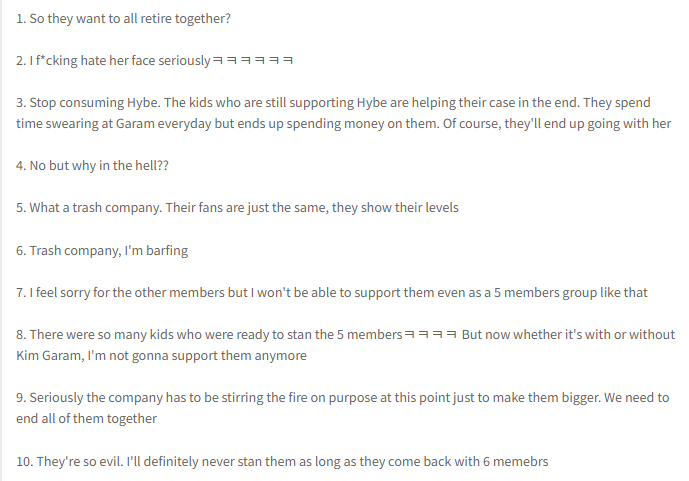 A speculative article on Naver blog made its way to Nate Pann claiming to know the whereabouts of Kim Garam on her hiatus.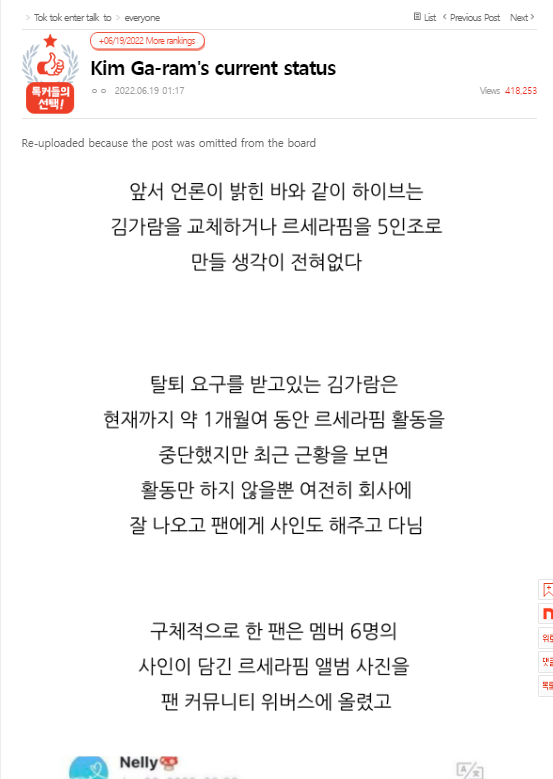 Worth noting, this 'news" was "according to fans" that she was out and about and that she visit HYBE. This was never credibly confirmed. However. the post drew extreme backlash and even threats of boycotting unless Garam was removed: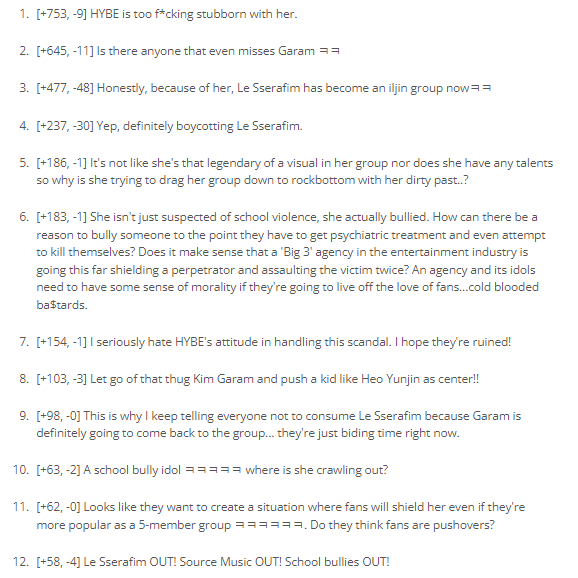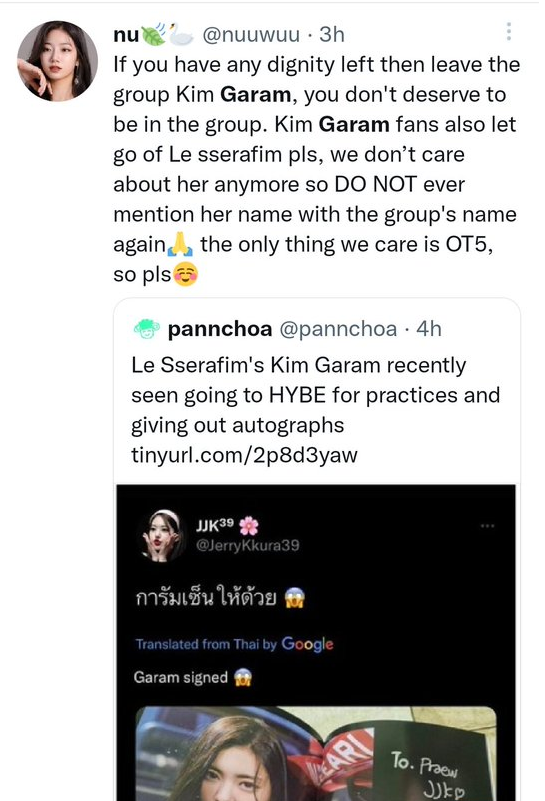 Rumours that Kim Garam was to join Le Sserafim promotions in Japan were speculations made by K-netz. There was no announcement, yet the rumours spread: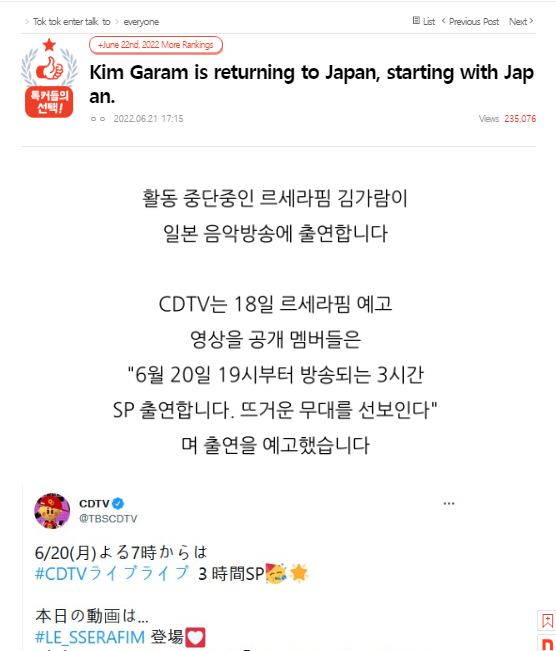 The rumour mill got to work: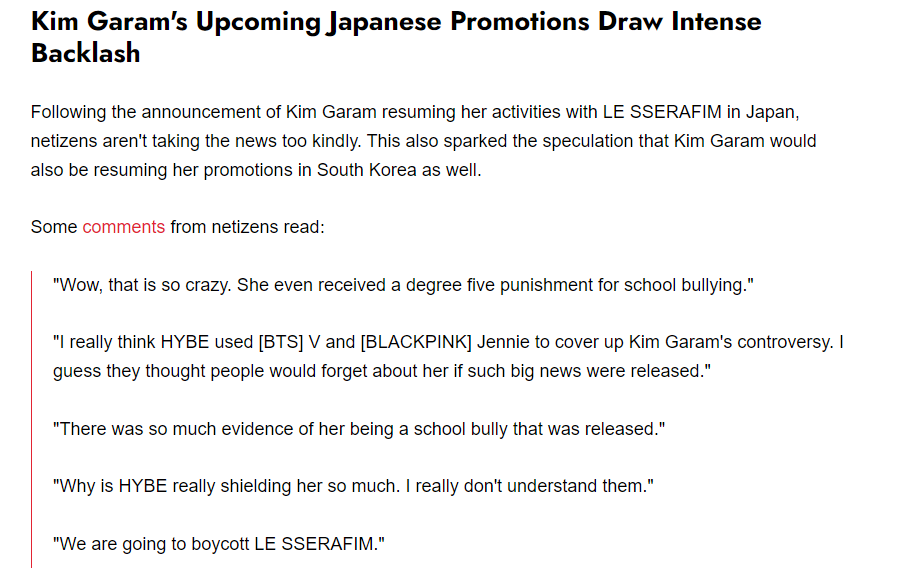 Netizens were not happy about Kim Garam. All the rumours of Garam coming back to the group were largely met with distain and objection.
A misleading post surrounding Kim Garam's desk full of graffiti, insult and slurs re-emerged on Twitter and also became a hot topic on Nate Pann.
However, there would be a major difference between how they were reported. On Twitter, the discourse would address the middle school photos of Garam around the 2018 period.

All the original posts stated that the pictures were from the middle school, but big news portals and a Korean netizen on Nate Pann and Instiz reported them to be very recent post-Le Sserafim issue in school.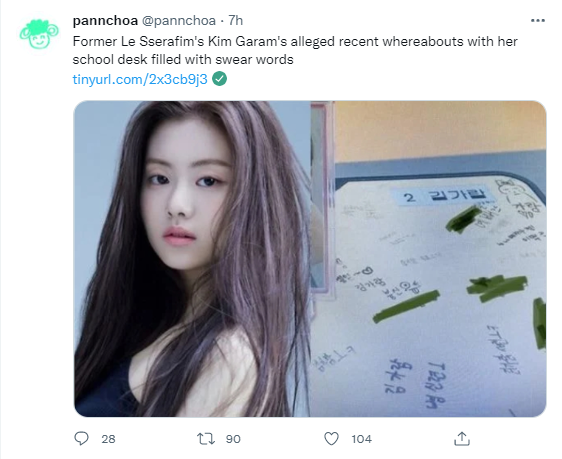 Some netizens believe Garam deserved this:

Other netizens decided to call out Pannchoa for 'misinformation':
Some netizens have observed what they deem a 'bias' in Pannchoa's reporting of Kim Garam:
Despite being false reported, other media press would pick it up: including SBS News.
Misleading others in South Korea and overseas. Essentially causing misunderstandings and misinformation to spread once again.

The Exploitation of Kim Garam's 'controversy' across social media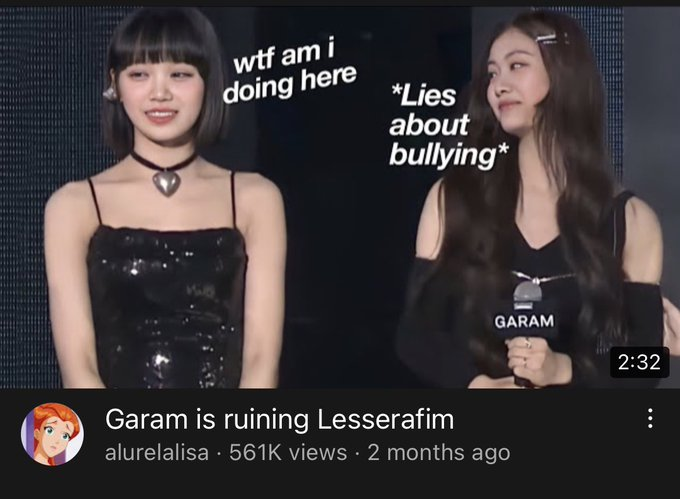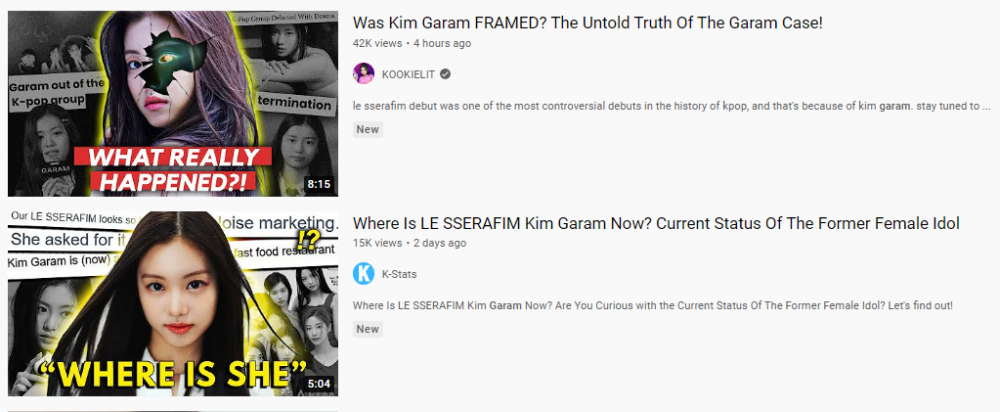 The consumption of 'news' from Nate Pann and other speculative Korean gossip sites are digested by netizens and the international K-Pop community, as if they are credible news sites. Kim Garam is a malignant figure across online Korean communities, leading to numerous manufactured posts surrounding controversy and speculation to make it into international news stream . On the other hand, very little, or if any positive posts of Kim Garam were shared. Due to simple fact, Korean netizens do not have anything positive to say and also they wanted her gone. A simple google search can prove this. Posts in Garam's defence from classmates were usually left unreported or delayed in publishing.

The various articles translated and published internationally were highly negative and speculative discussion posts. These are then translated into various languages for varied audience. The majority of netizens consuming this arguably prejudiced media representation formed a preconceived notion of Kim Garam, before any real truth has been revealed. Much of neutrality amongst netizens were slowly diminished.
Moreover, the rumour-mill of speculation in tarnishing both Kim Garam's reputation and credibility as a victim did not stop there.
Unsubstantiated rumours would emerge about why HYBE 'protected' her.
Netizen's speculated:

1) An inappropriate sexual relationship or girlfriend with a higher up HYBE employee or CEO: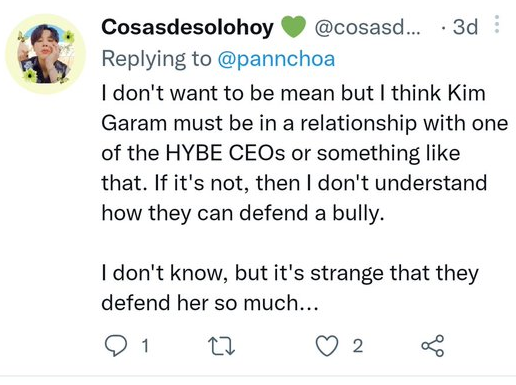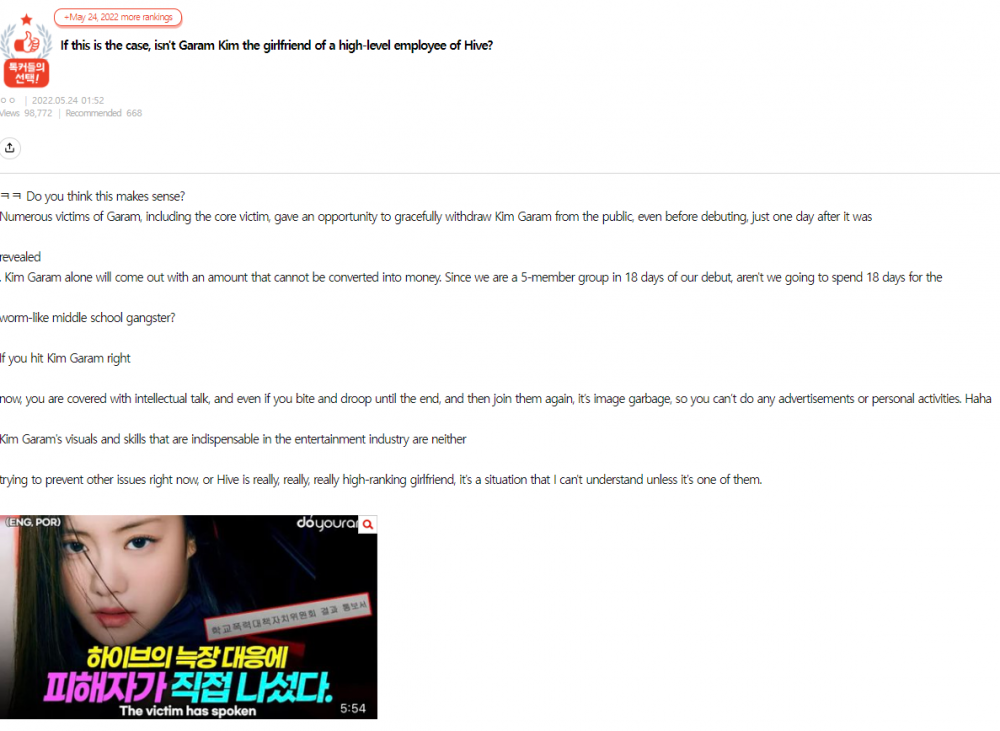 2) Nepotism: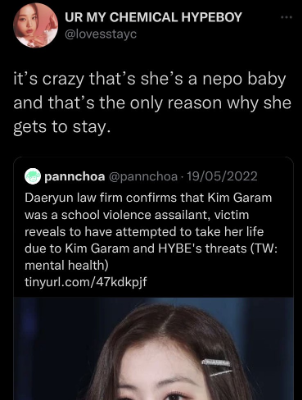 3) Having "dirt" on HYBE were speculated:
4) Netizens speculated she was 'chaebol' (a rich and influential family with rich ancestors):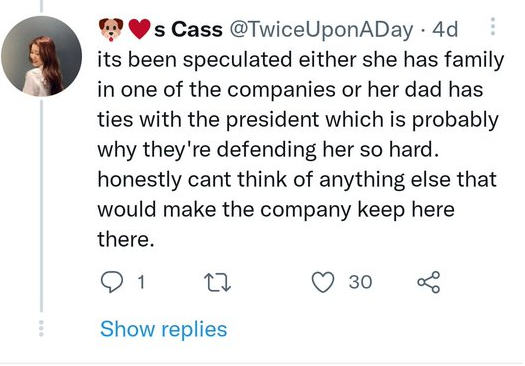 5) Netizen also speculated Garam is HYBE CEO Bang PD's "ideal type":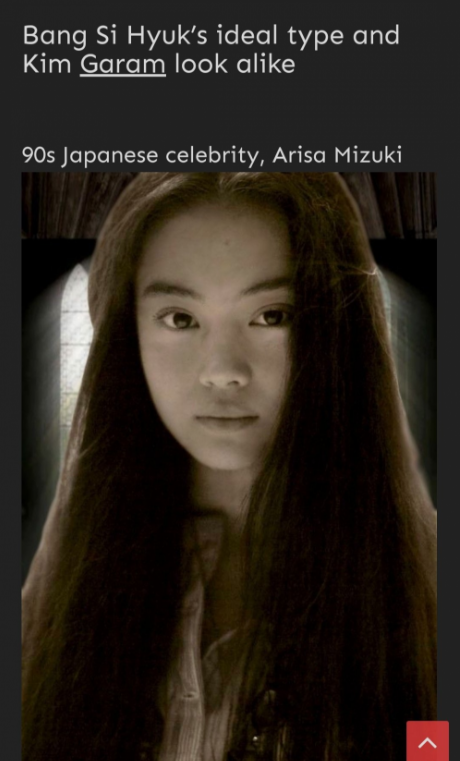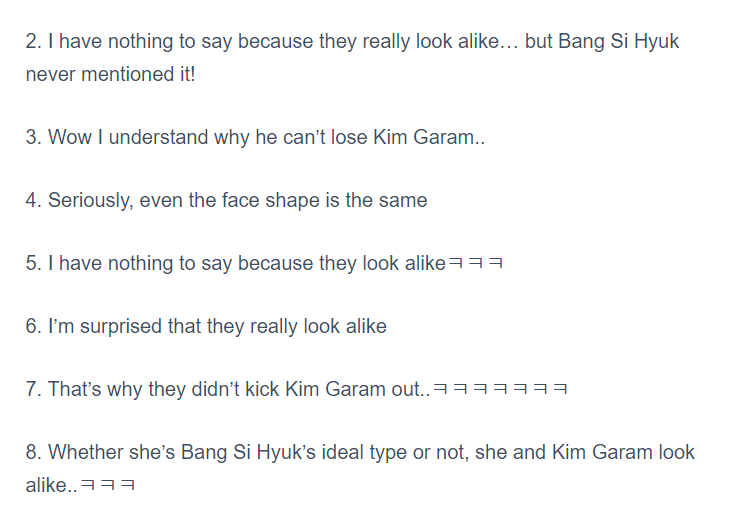 However, international netizens saw the problematic nature of this rumour surrounding why Kim Garam was being defended by her company: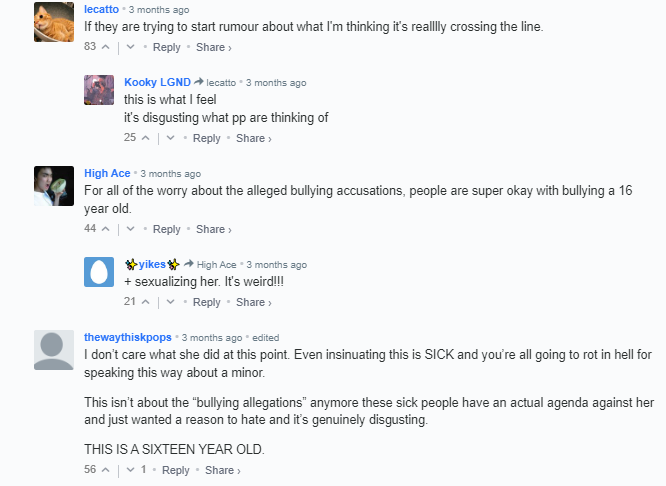 Others thought she 'sponsored'
News would emerge anonymously that Kim Garam was kicked out of Starship Entertainment.
Netizens believed Kim Garam trained under Starship Entertainment and kicked out of IVE.
On the 5th April, two accounts would emerge and be brought to the attention of Korean netizens on Nate Pann. The testimonies would specify that Kim Garam was a Starship Entertainment trainee and was kicked off IVE's final line-up and went to HYBE.
One account would emphasise she was an 'iljin' and her bad personality resulted in her termination, and that they received their information from their "friends dongsaeng". The other account on Nate Pann cited that: "if we didn't know anything about her, we would've never known about this either". However, it remains unknown in what actual capacity these netizens actually knew her: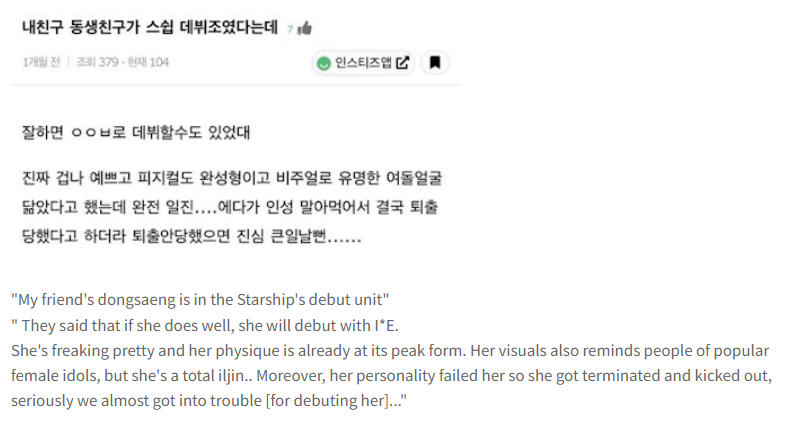 *note* the original posts have been deleted
However, Source Music and HYBE statement in April 7 and May 20 deny this claim:


Rumours that Kim Garam's supposed friends, are perpetrators intimidating, causing the hospitalisation of those victimized by Garam, and 'dissing' Rookie group IVE publicly.


This would be uploaded anonymously online by an observer who knew Kim Garam and her reportedly 'perpetrator friends'. This netizen would claim that the alleged victim and Kim Garam 'friend' attend the same high school as the victim, whom was victimised by both Garam and her friend. This same victim reportedly collapsed at school and was taken to the emergency room (on April 5).

The netizen states:" I can't tell you the exact situation whether it will damage the friend, but the victim and the perpetrator of the case are currently attending the same high school, and Kim Garam's friends are proudly doing this at the school".

The netizen claimed Garam's friends used a chalkboard to write and draw about LE SSERAFIM's upcoming debut and how Kim Garam was part of the line-up. In addition, the board included a diss to IVE. It would say: "Le Sserafim! <3 congrats on debuting Kim Garam <3"Hybe" – you know Bangtan right?(Source music) Debuting with Sakura and Kim Chaewon. Will beat IVE. IVE Down, LE SSERAFIM Up!"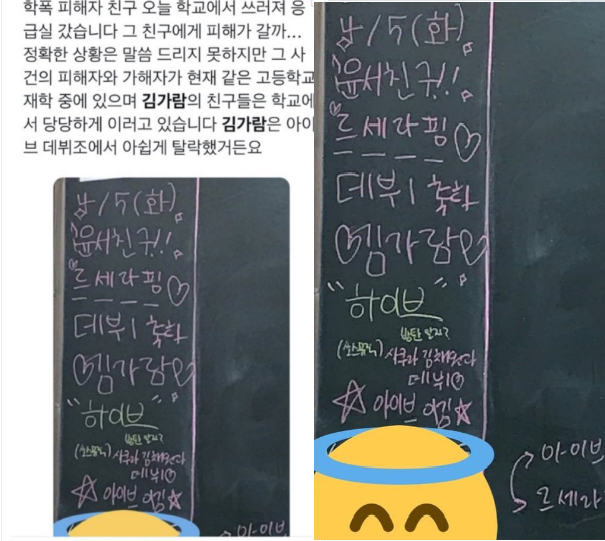 Another tweet emerged from a now deleted account
.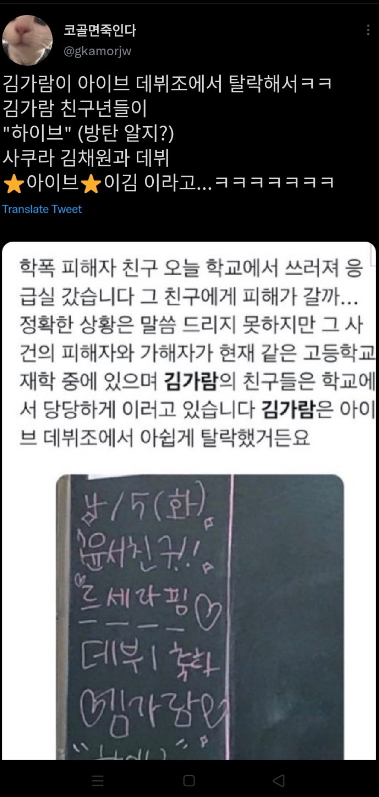 Perhaps it was written as a 'diss' due to the alleged rumour that Kim Garam did not make it into IVE? Although HYBE claims that rumour is false. The motive remains unknown.
On the 6 April another picture of the chalkboard from another angle would emerge online anonymously without a trace to its origin. It would report that Kim Garam's friends are intimidating and threatening witnesses.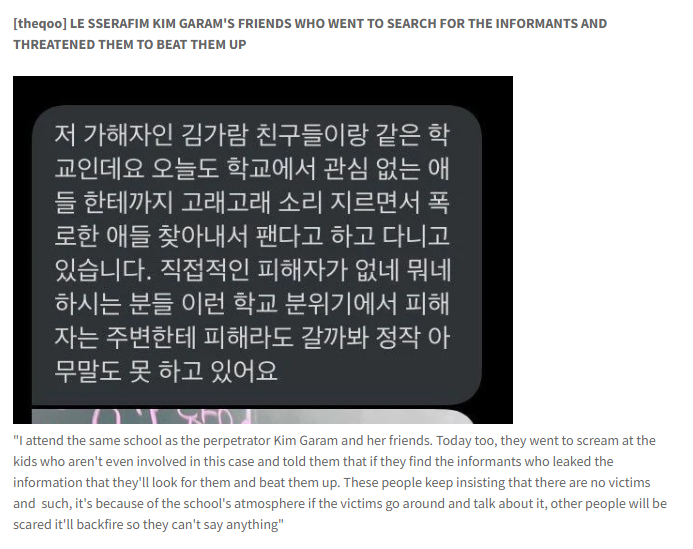 Attached to the allegation that emerged on Twitter, as 'proof' would be this picture: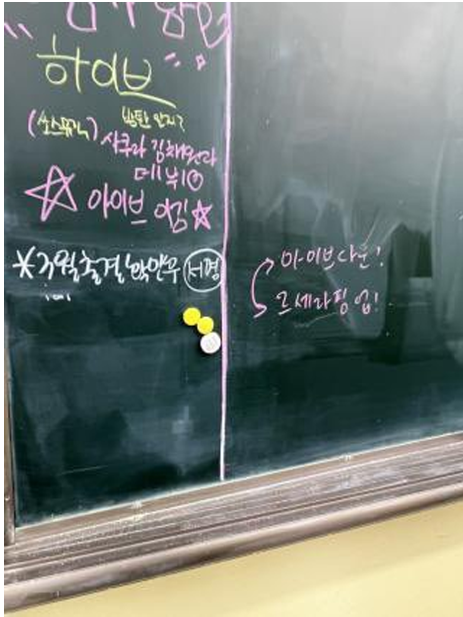 It would only get worse for Kim Garam when another angle of the chalkboard was surfaced online. by another anonymous source. There were claims made by burner accounts that Kim Garam's 'friends' tagged her real Facebook account. However, there is no evidence of this other than hearsay.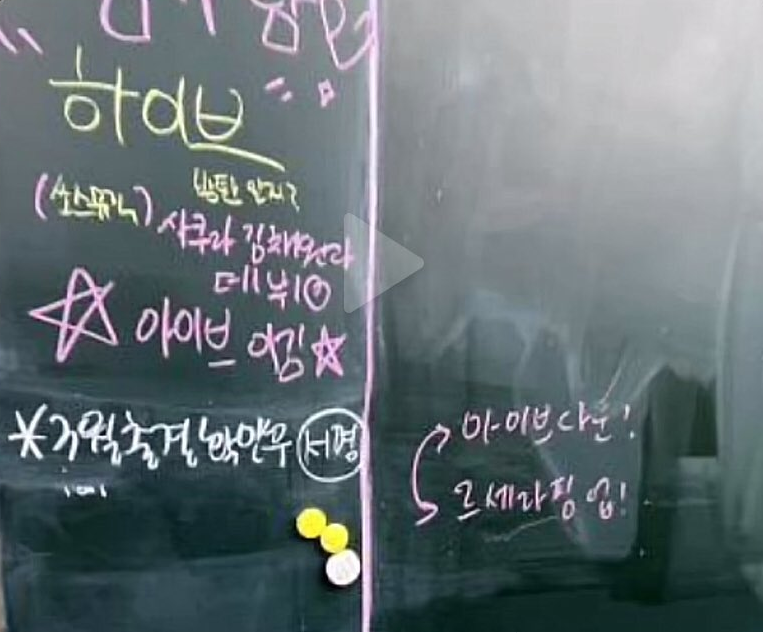 Unfortunately, all the anonymous original tweets from burner accounts, no longer exists. But the record of what they uploaded has remained on the internet. The rumour that Kim Garam and her alleged "friends" are an IVE anti has persisted.
Some netizens discussed the now deleted Twitter thread: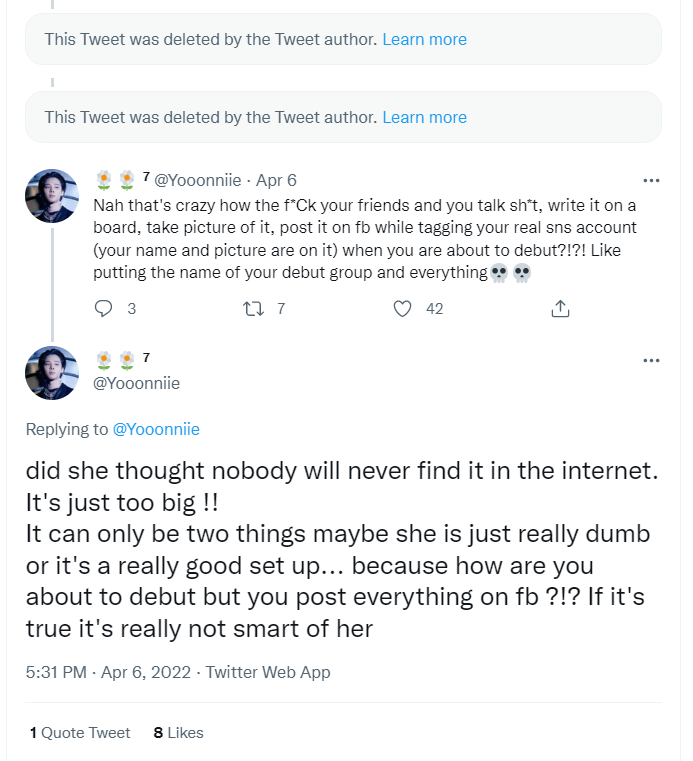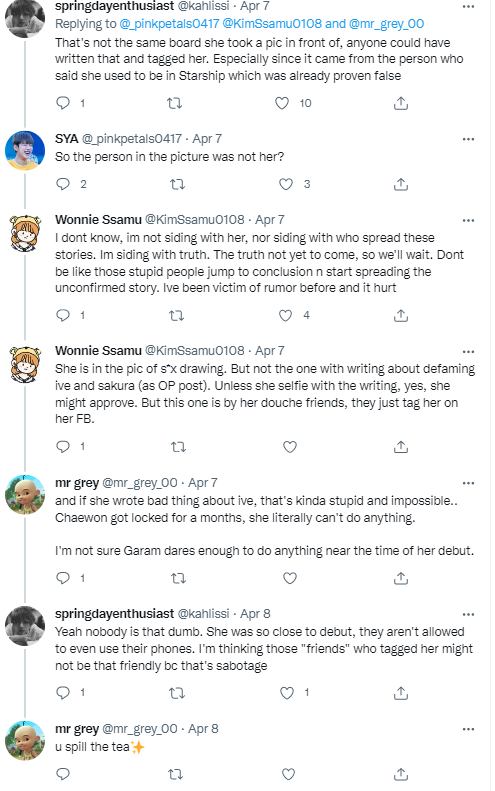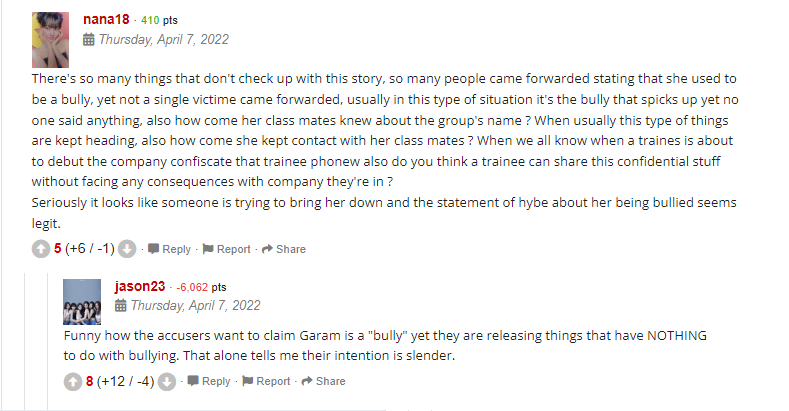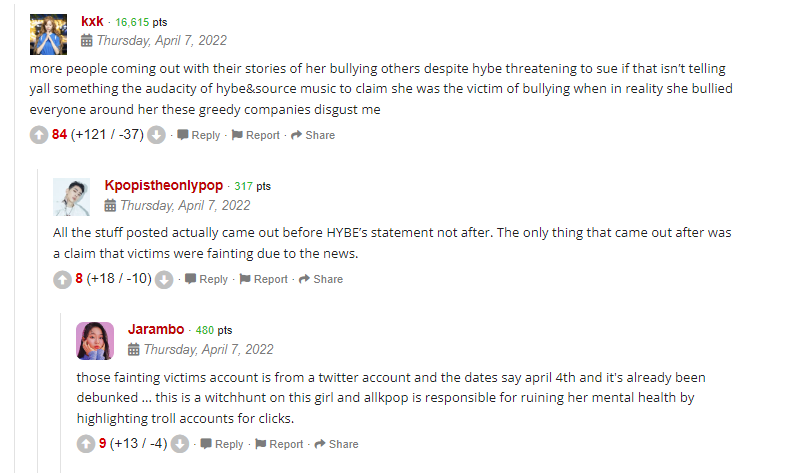 However, other netizen's remain convinced of her "guilt":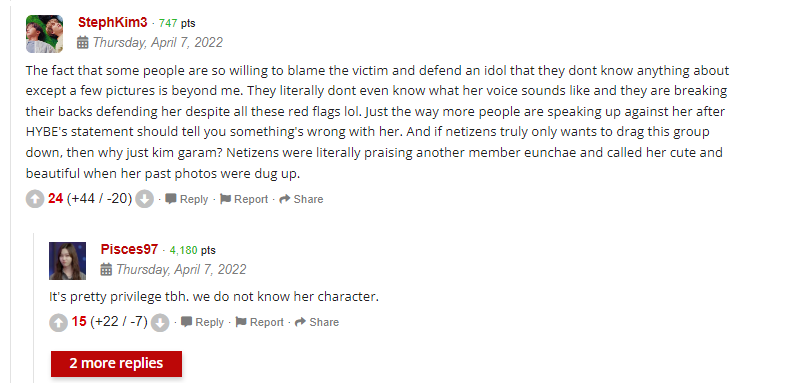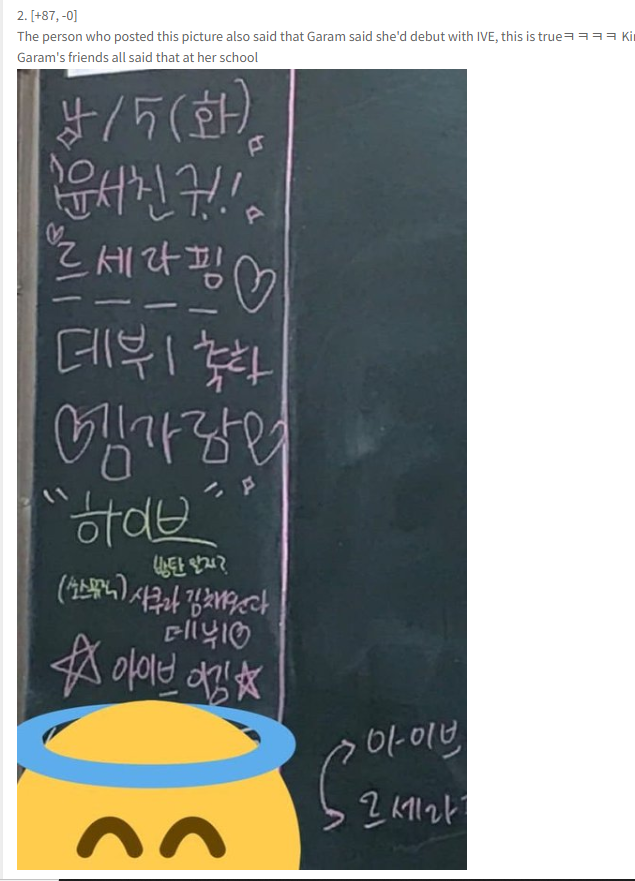 A very peculiar situation for Kim Garam to find herself in. Did Kim Garam 'alleged' friends, who wrote, took pictures and tagged her on Facebook with this congratulatory message with a 'diss' at IVE and bringing the names of two Ex IZ*One members into this, think it was smart to do so? Both Chaewon and Sakura were announced for Source Music's new girl group in March, alongside the group name reveal. With a lot of and anticipation for Le Sserafim's debut. An odd situation, as new idols usually have their phones taken away from them. The only audience who would view this message would be classmates in the room, students online and in the age of social media eventually the public.

On the other hand, did someone who's not Kim Garam 'friend' and knew she was debuting, write it on a chalkboard at their school and anonymously upload ? The real truth remains to be seen.
Korean netizens on TBig News discuss Jang Wonyoung and Kim Garam's first public encounter on Music Bank since the anonymous unveiling of the controversial chalkboard.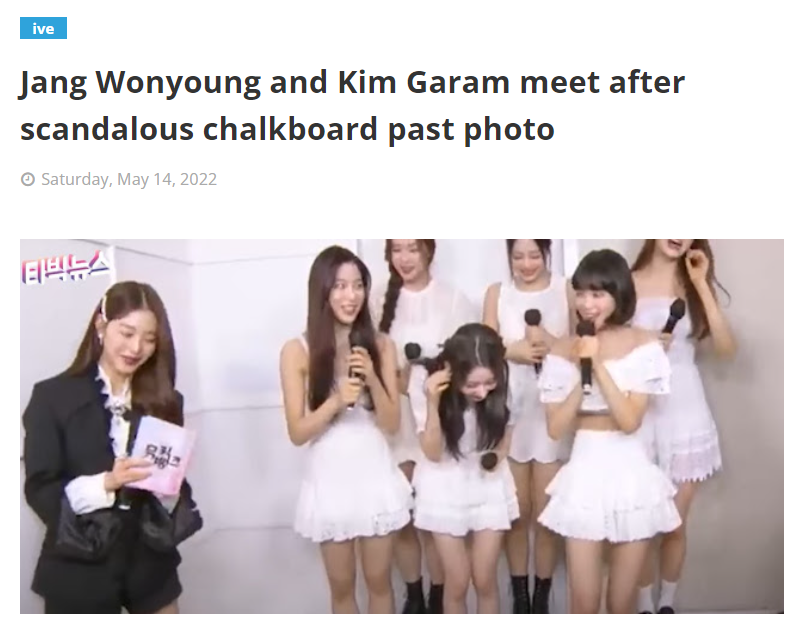 Korean netizens posted supportive comments for Jang Wonyoung: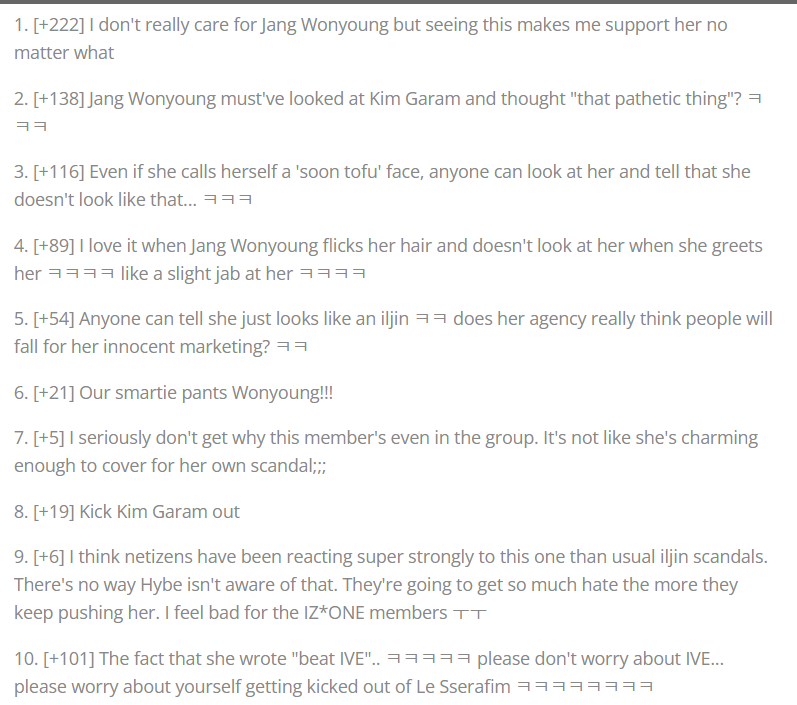 It seems these "rumours" caused many netizens to turn against Kim Garam, both domestically and internationally.
Furthermore, a YouTube comment about Kim Garam was uploaded onto Pann by an anonymous user in the comment section. The comment is claiming to be a fellow classmate called Jang Hyunseo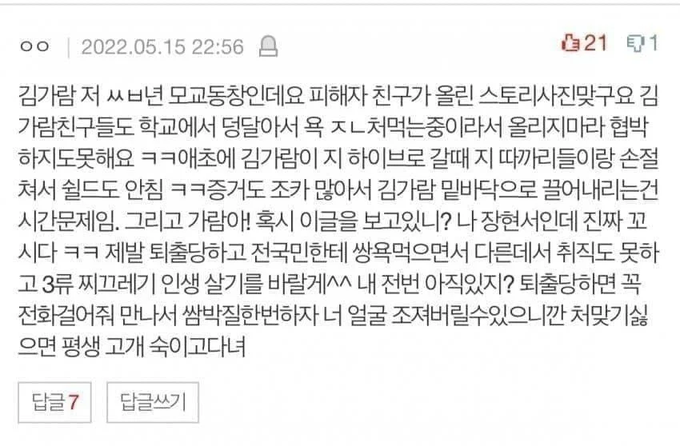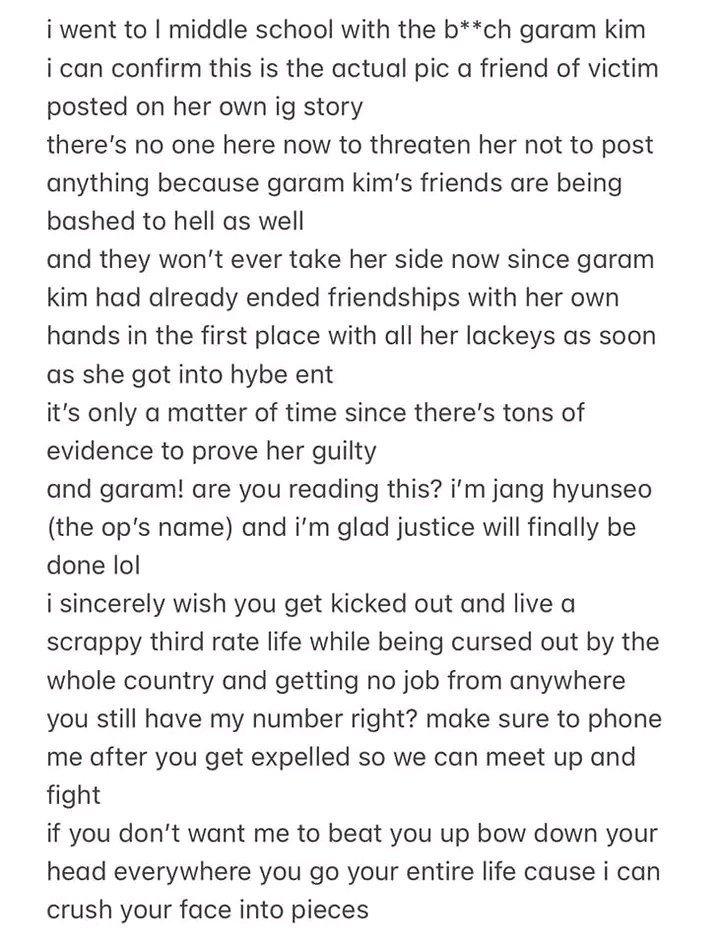 A screenshot of this message was then posted on to Twitter and capitalised upon by netizens. Most interacting with the tweet were supporting Jang Hyunseo in her threat of physical violence against Kim Garam.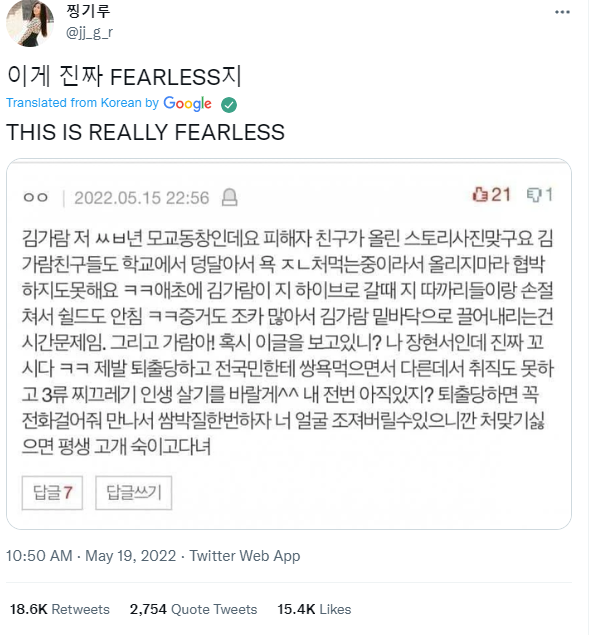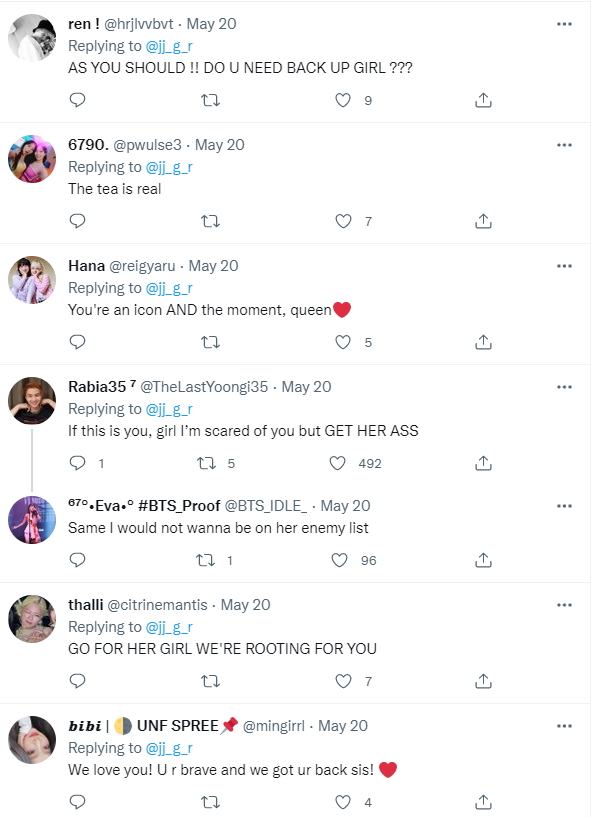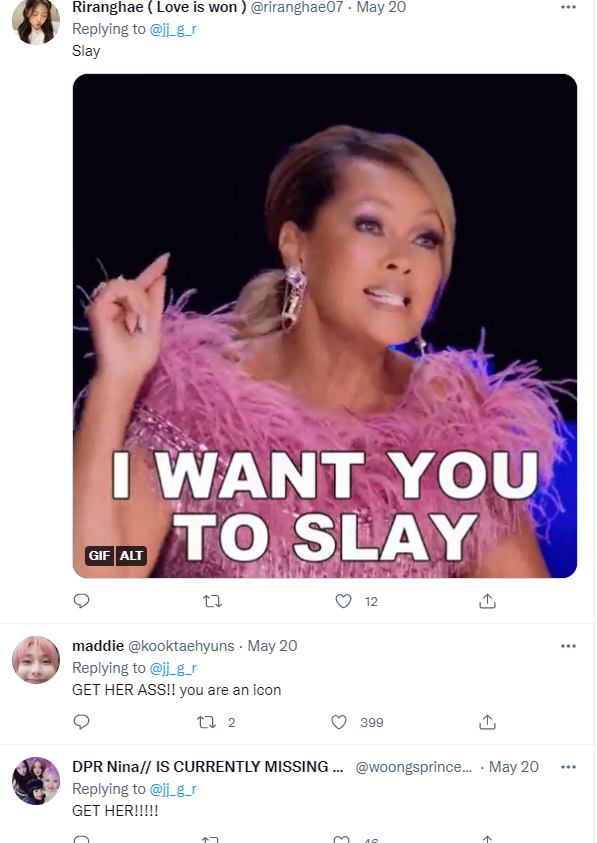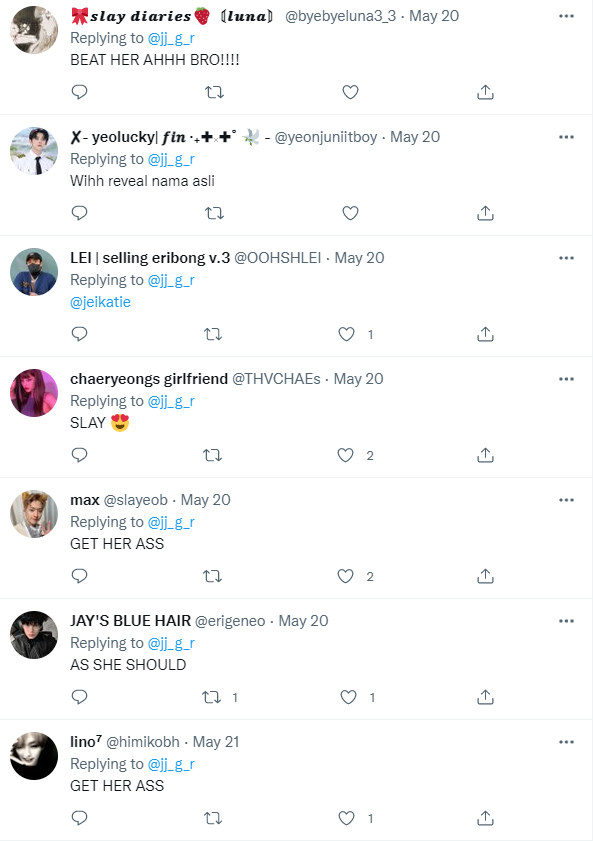 A response from an alleged classmate of Kim Garam's from K Middle school, was questioned about Jang Hyunseo's
: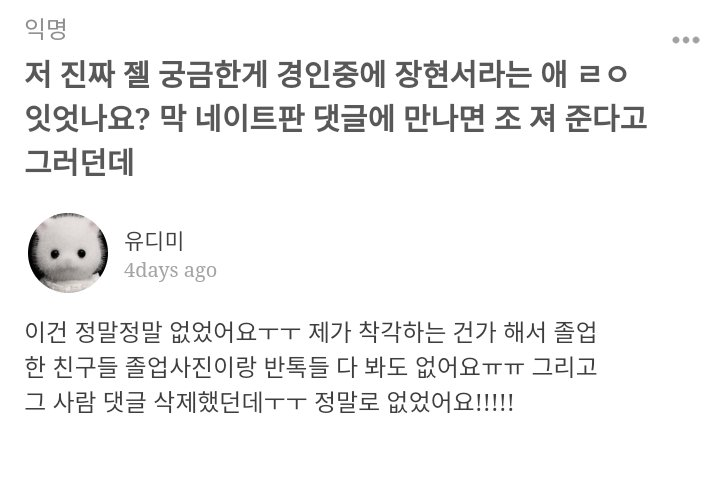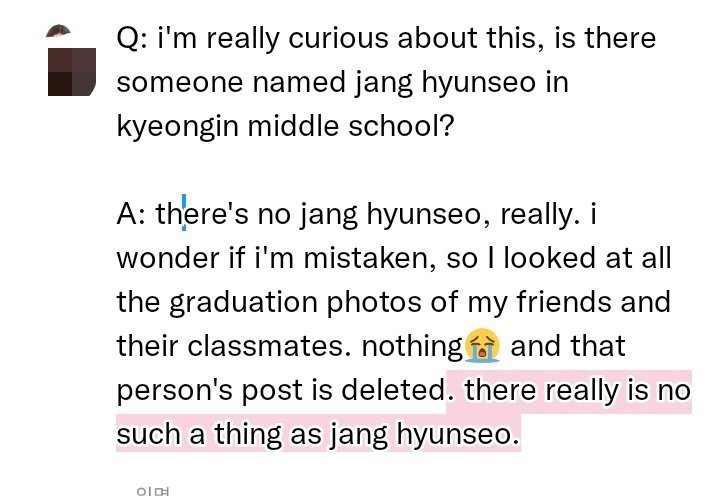 Another netizen remained sceptical of 'proof' from a friend of Garam:

Were netizens who proclaim to be supporting victims of bullying, hyping up a potentially non-existent classmate in their vendetta of physical violence against Garam. All in the name of "justice"? Apparently so.
The alleged "hospitalisation" of Kim Garam's victims
HYBE and Source Music threatened legal action on July 6 in their statement of defence of Kim Garam. Reports that Kim Garam's victims collapsed and were hospitalised in face of HYBE's legal action against malicious allegations were trending on Pann and The Qoo. These then reached Pannchoa and Daily Naver blogs.

The rumour would originate from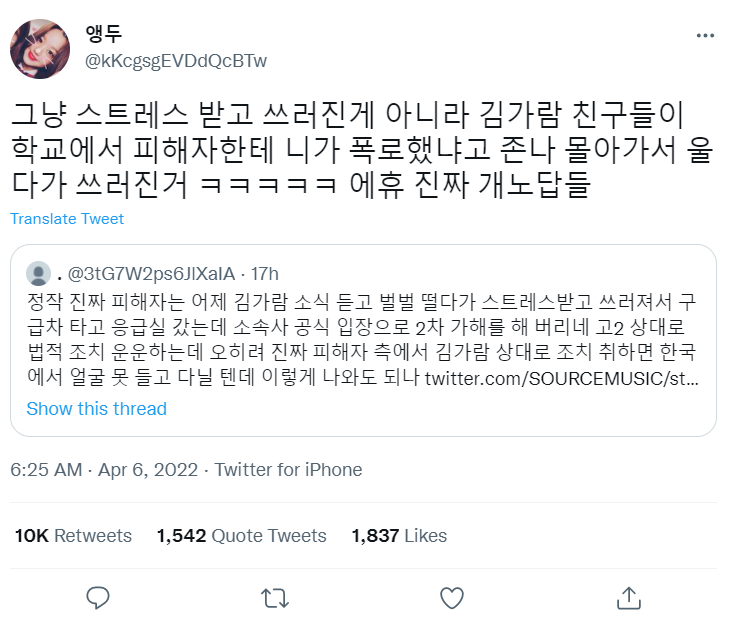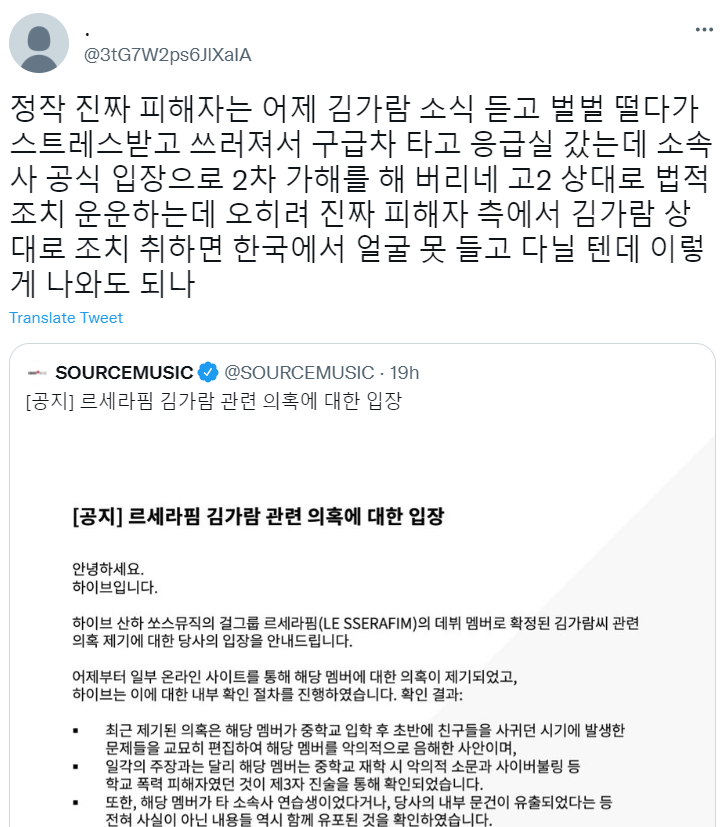 *Note* The original tweet quoting Source Music has been deleted.
Many netizens were disgusted at HYBE and worried for the victims:
Others worried for the Le Sserafim members:
Some argued that medical documentation must exist proving the truth of these claims:
However, some netizens discussed the inconsistencies and the suspicious nature of the news :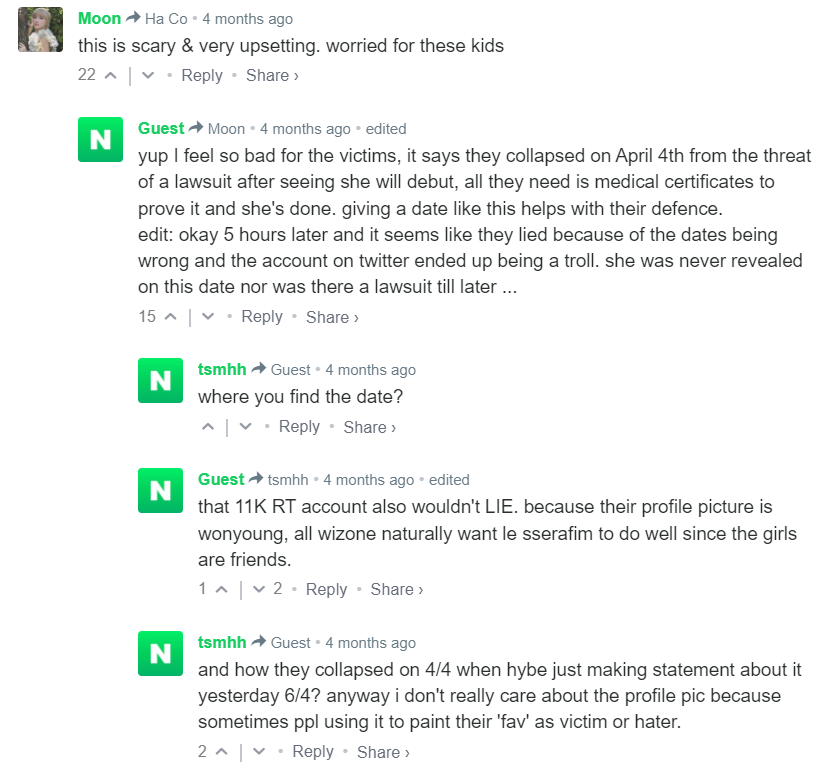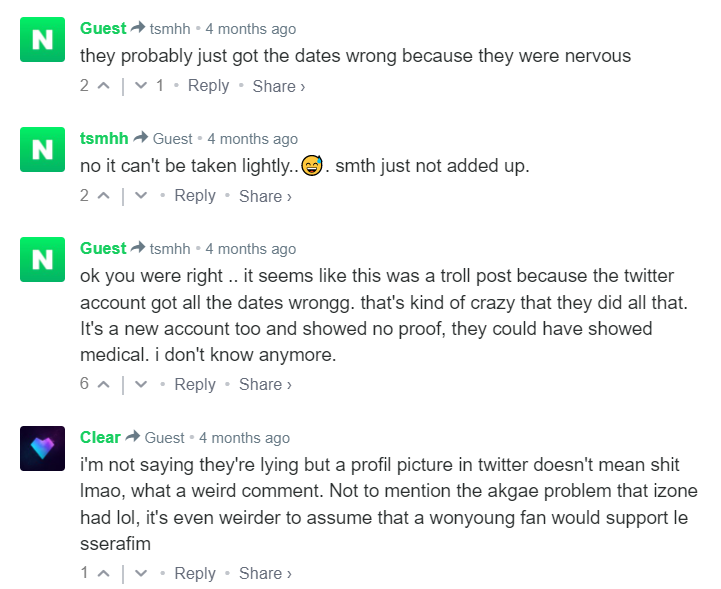 On the Qoo, Korean netizens believe that the rumour are reliable, as they have "consistent statements". But also lead to the public narrative that Kim Garam's alleged School Violence is "ongoing".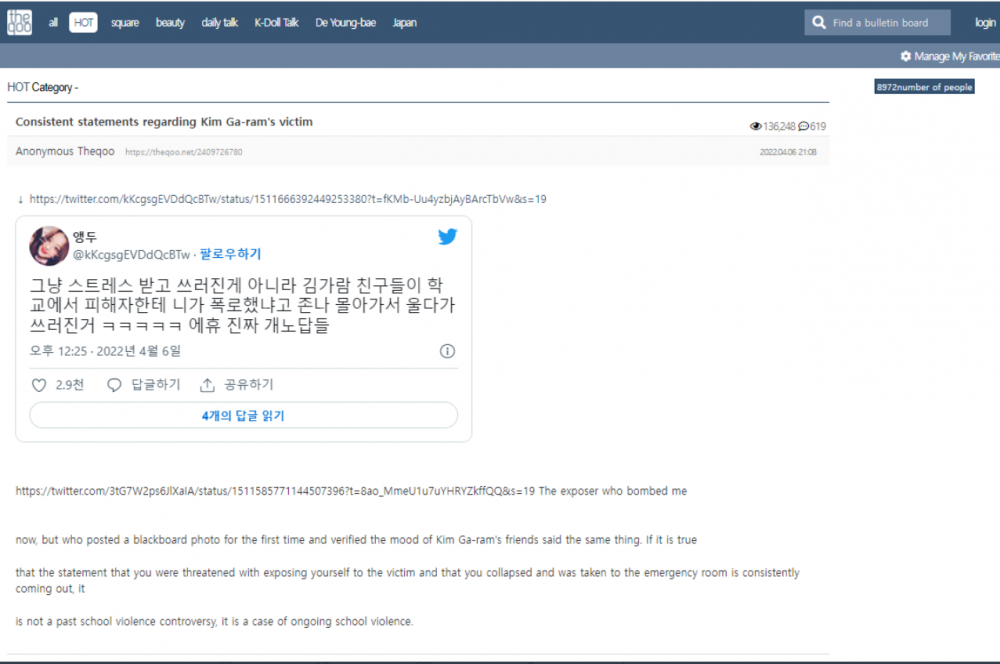 On the other hand, on the 14 May, an alleged former classmate claims they go to Kyeongin High School with those victimised by Kim Garam.

This classmate states there were no 'victims' hospitalised by the news of HYBE and Source Music's legal action. It will be difficult to prove the reality of this incident(s), without a medical document is posted online.

This classmate states there were no 'victims' hospitalised by the news of HYBE and Source Music's legal action. It will be difficult to prove the reality of this incident(s), without a medical document is posted online.
An alleged classmate of Kim Garam's posted a yearbook photo anonymously on Twitter @popo35789and wrote:
"Le Sserafim Kim Garam is a school bully. I went to school today and all my friends said, how is that thug making her debut?? Who does she think she is????????". Using a picture of Kim Garam for 'authenticity':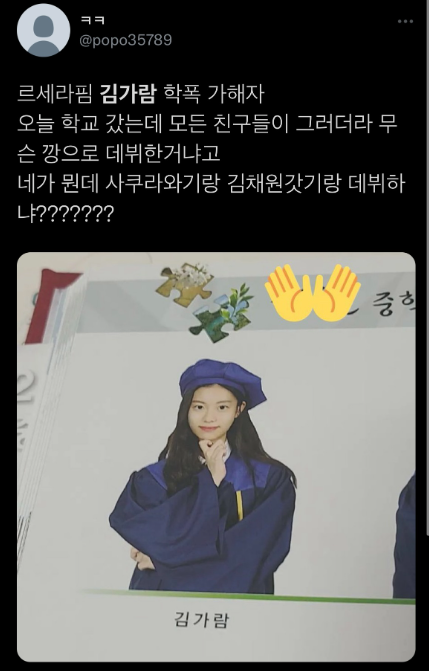 *note* The Twitter account was created in April and has been since deactivated.



More rumours would emerge from Twitter on April 6, surrounding why she transferred schools. The tweet called "Le Sserafim's Kim Garam" by ? @fzRv1AB7R8t6caX attached a screenshot of a Nate Pann post discussing this rumour dated April 4 2022. This garnered attention.
Subsequently, a post emerged on Nate Pann later titled: "THIS MUST BE THE BIG THING ABOUT LE SSERAFIM KIM GARAM ㅇㅇ" with a screenshot from Twitter user quoting the original tweet. The netizen quoting the tweet claims rumours are true as they heard it from their "friends unnie who is close to Kim Garam".


The netizen on Nate Pann writes: "I knew that she was forced to transfer from Gwangju to Seoul but I didn't know that this was the reason. I'm really creeped out."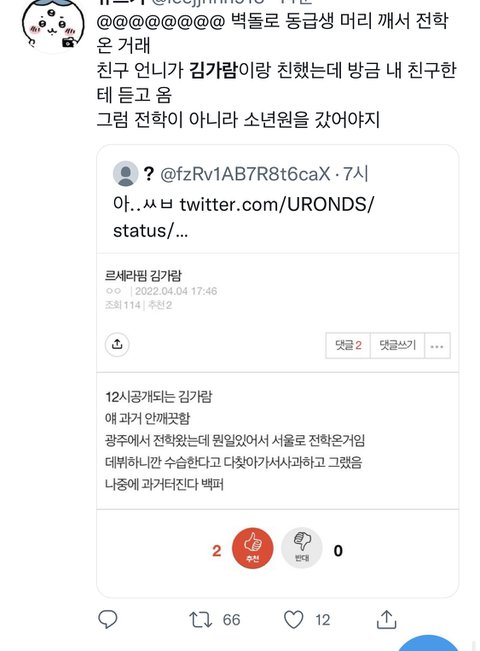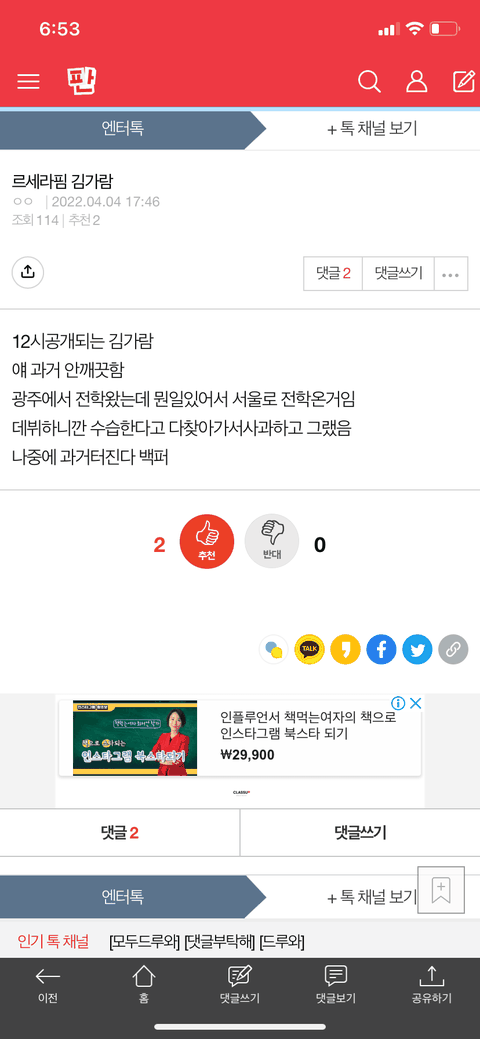 It is worth noting the original post that alleged this rumour from Nate Pann was not found and the Twitter account that posted the screenshot deactivated. A copy of the post can be found on Pannchoa blog. HYBE and Source Music's Statement on May 20 denied this allegation. Also, Nate Pann allows editing without a public signpost or indicator to others that a post has been edited
Interestingly, the original Nate Pann post dated the 4 April, would serve as foreshadow and a warning to the upcoming series of expose's of Kim Garam's alleged "dirty past" by former classmates and those victimised.
A netizen who claims to have gone to Gyeongin Middle School with Kim Garam spoke to a netizen, regarding the/ allegations and their "truth".
OP: "Why are you going around spreading Kim Garam's school pictures? You exposed a lot already.

A: I went to the same middle school as her. She was popular in middle school for being a same-grade school violence assailant
OP: Can you tell me a bit more in details?
A: If hoobaes didn't greet her, she will bully them through Facebook message. She would scare people around. Of course she also smoked and drank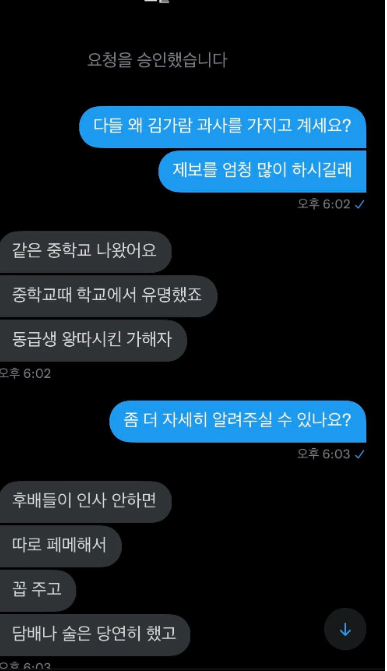 OP: Don't you have pictures of her smoking and drinking?
A: There are lots of people who have them, but not me.
But she was even popular [for her bullying] in other schools too
OP: Are there no other anecdotes? Or pictures?

A: [shares picture of a young Kim Garam] "She scammed people out of their money too, she was a complete gangster."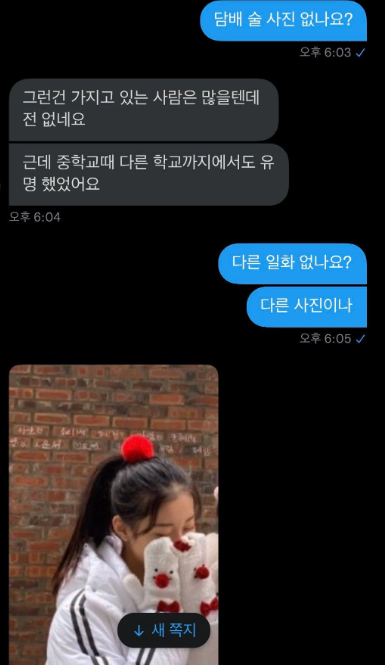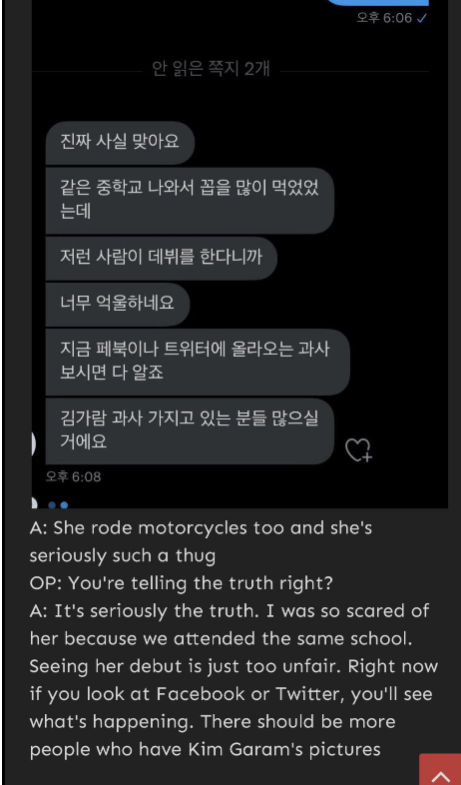 Another account would emerge from anonymous netizen who claimed that a student victimised by Kim Garam's friend
What's more, another comment by an anonymous alleged victim on YouTube became a hot topic on Korean sites. Although its not made clear what exactly Kim Garam did to the "victim to make them "scared" and "hate" coming to school, . The majority of netizens observed that Kim Garam had too many 'evidences' against her and too many 'victims' of bullying.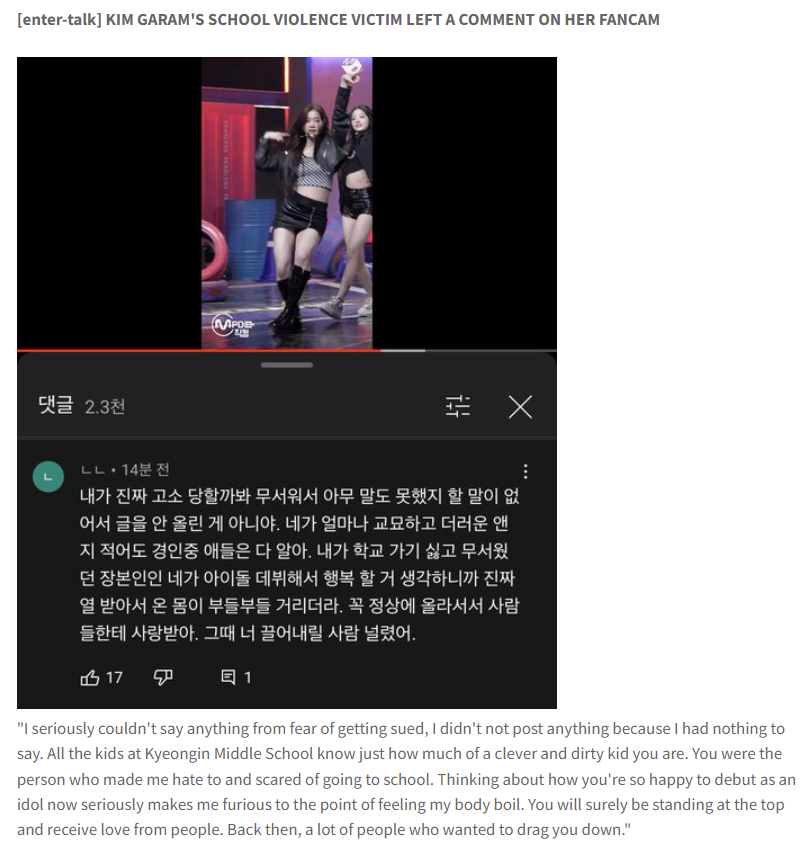 Korean Netizen's responded with:

Another Korean netizen pointed out that even with no credible evidence of this allegedly occurring. You cannot you shield Garam either:

As a netizen points, objectivity is key:
We can't say with certainty that the anonymous alleged victims coming forward with their testimony are false Some users point out that proof against Kim Garam is credible and believable. But would Proceed with different standards to company statement or Kim Garam's testimony. Its easy to be swayed to a certain narrative, when all the facts are not presented.

Did anyone come to Kim Garam's defence?

The answer is yes. However, not every post was translated by Pannchoa. Korean netizens did not believe these alleged former classmates.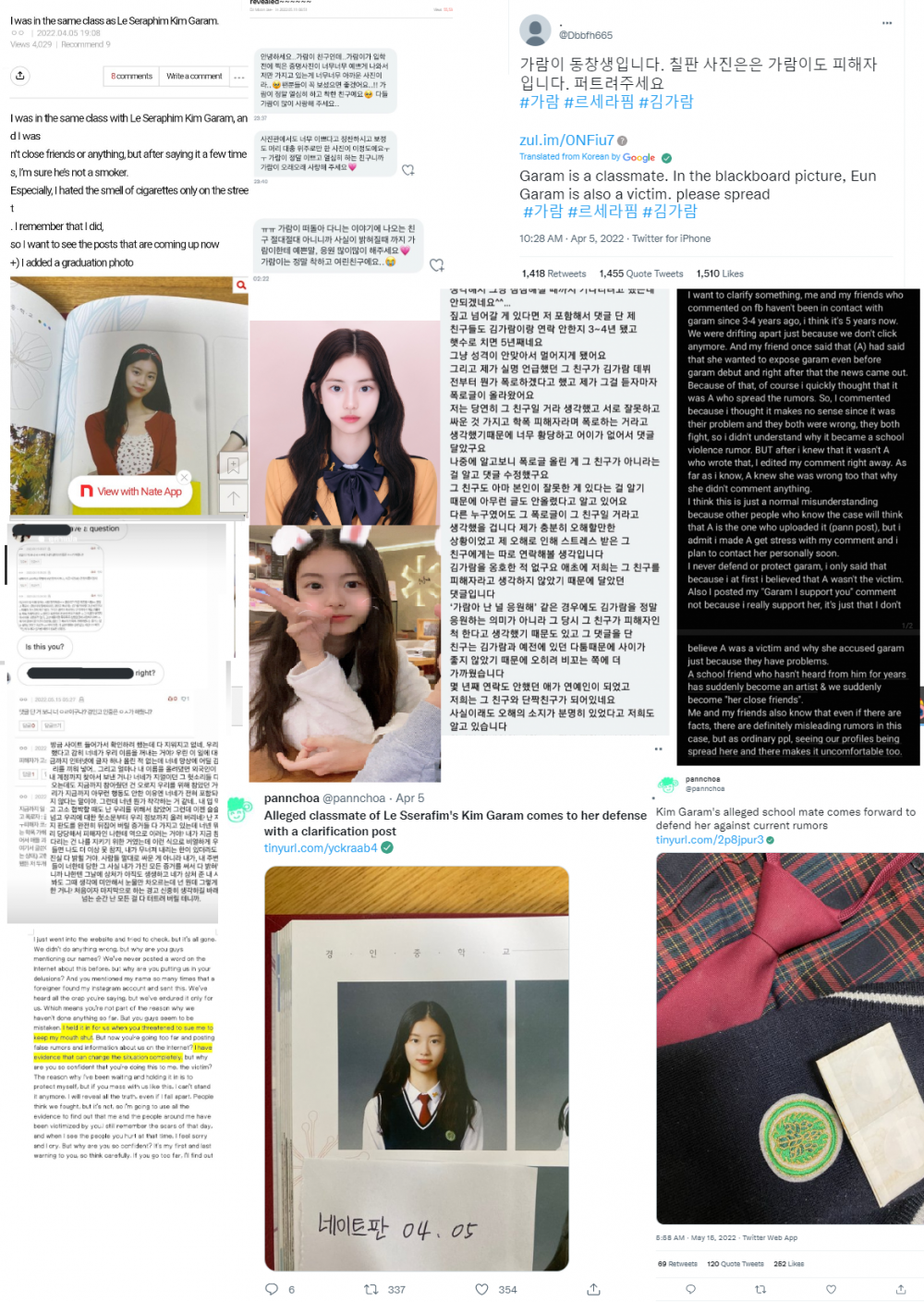 On May 14 2022, An alleged former classmate posted on nate Pann in Kim Garam's defence:
This has been deleted disappeared off Nate Pann recently.

Curiously, this classmate does mention the alleged molka incident, School Violence and rumours surrounding Kim Garam days before, Yoo Eunseo (pseudonym) emerges and HYBE and Source Music's second statement is released revealing this fact: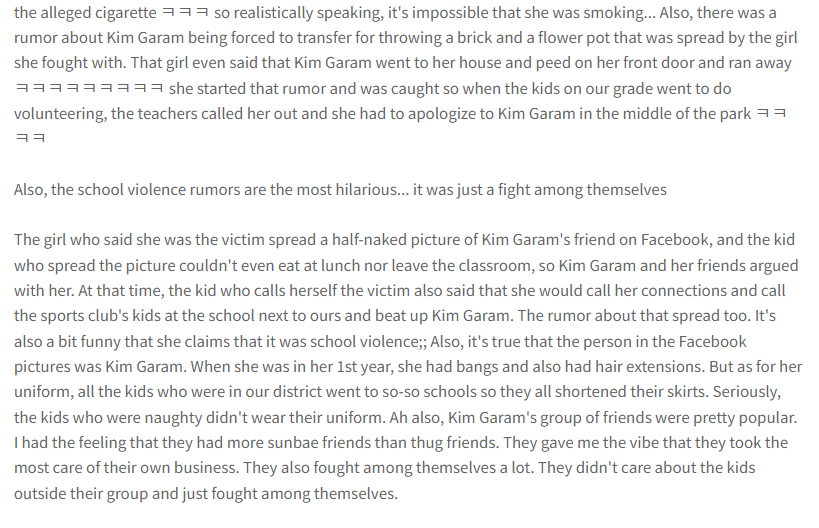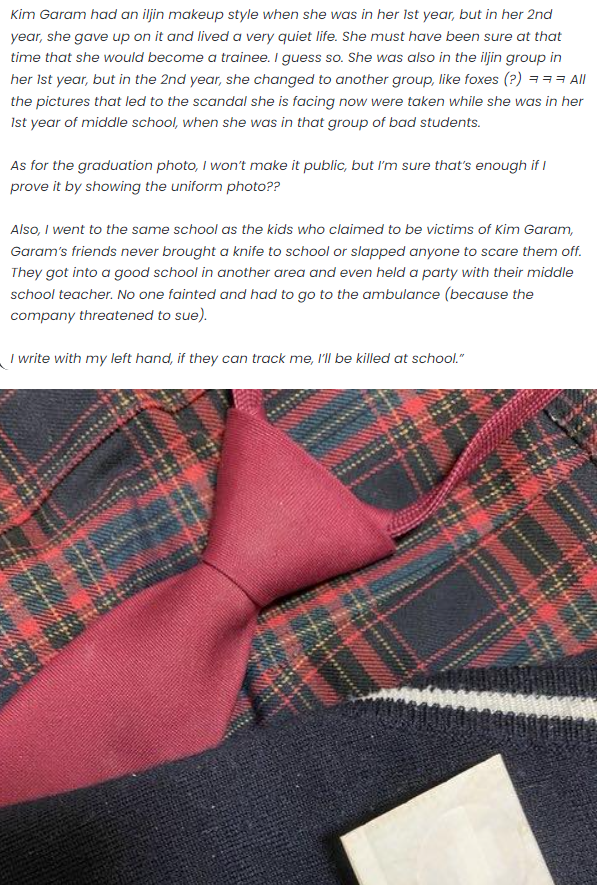 This netizen revealed that they were worried for their own safety and that they go to school with the alleged 'victims'. However, Korean netizens were not believing the alleged classmate and responded: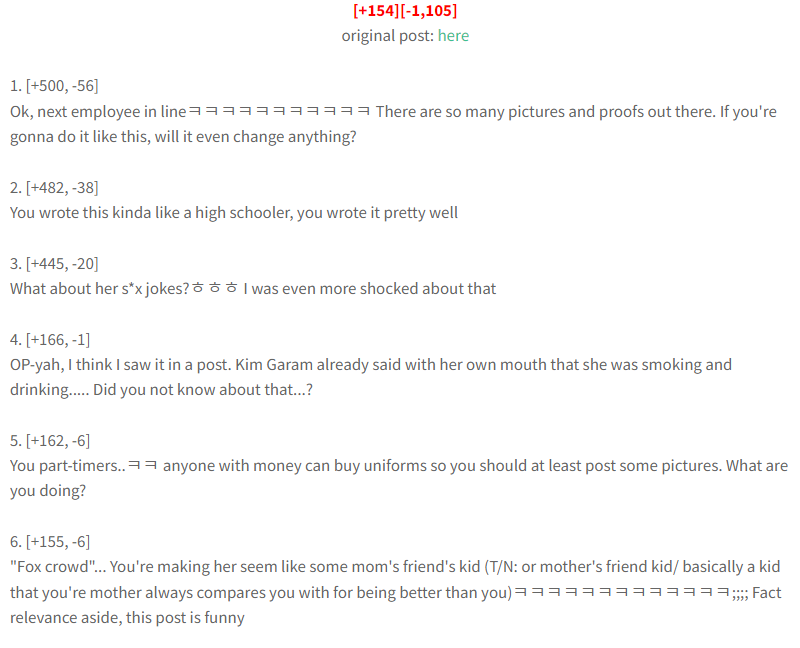 Korean netizens were not moved in the comments on other defence posts too. Blaming HYBE for writing shielding posts on behalf of Garam. Netizen's would also argue that Kim Garam could not be a victim based on her alleged social media activity:
Was there enough credible public 'evidence' against Kim Garam to brand her guilty?

The answer is very unlikely. Other than the existence of a School Violence Committee document with Kim Garam's name on, albeit illegally and clandestinely leaked. Most of the 'evidence' and accusations were speculative and baseless without physical proof. Unfortunate for those whom were allegedly victimized, a picture of Kim Garam from a public accessible web page, a yearbook, a yearbook photo or even her Facebook account, is not reliable and valid proof to support their shielding or allegations of School Violence. With technology ,social media and mobile phones at the forefront of teenagers lives, it is unfortunate for those alleged victimised by Kim Garam that no one recorded or provided documented medical records of hospitalisation any of the violent incidents. Almost all accusations and allegations came from burner Twitter accounts that would end up deleting and deactivating. Others were witness testimony, authored by alleged former classmates given to other netizens to post on their behalf. All while, keeping their identities safe. Same goes for those defending Kim Garam too. The allegations would be quickly discovered and go viral, before deleted and posted on Korean gossip platforms such as The Qoo and Nate Pann. These would spread far and wide, whilst offering plausible deniability for those involved, as other unassuming netizens would spread their 'message'. Feasibly, these testimonies and 'evidence' would not hold up legally. Therefore, It is difficult to speculate if the intentions by netizens was defamation or justice. Only time will unveil this.


However, the Kim Garam's controversy highlighted an alarming trend surrounding anonymity, Other than Yoo Eunseo, the rest of the accusations that surfaced and those shielding Kim Garam, arguably operated under the umbrella of anonymity. The power to abuse that anonymity without repercussions, is a phenomenon that is achievable, if one knows how to work outside the system . Kim Garam's case was conceivably effective in initiating cyberbullying, spreading misinformation and sowing the seeds of disinformation. The internet and social media can be a very powerful tool to uplift but also destroy a person. Usually with very little accountability.
Is a long problem with the internet and the 'mob mentality' that has arisen not just in K-pop but across the internet in various online communities. The tarnishing of Kim Garam's reputation and credibility through methods of online manipulation and defamation. Was Kim Garam deemed guilty before being proven innocent? instead of innocent until proven guilty.

Further hate towards Kim Garam would spread online by netizens and the K-pop community.

Predictably, Garam's bullying allegations brought an unnatural hyper focus to her every move on camera and facial expressions. From May 19, netizens would go back and re-watch group footage to find evidence that confirms she's "guilty" of bullying.
Many edits across social media platforms further shaped the public debate surrounding the credibility of the original bullying allegations against her.

These would be analysed by netizens on Tiktok: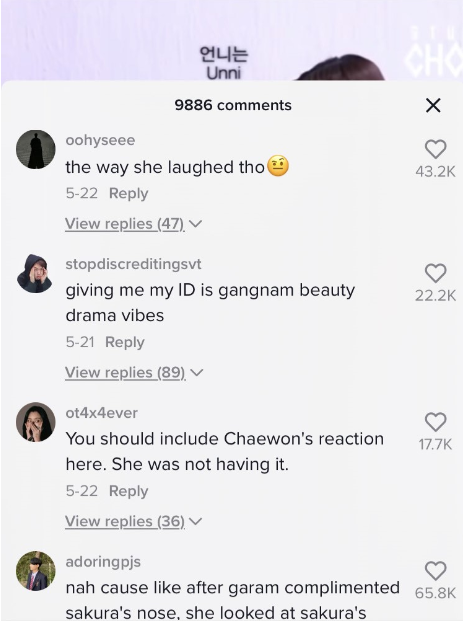 Some netizens came to Garam's defence:


/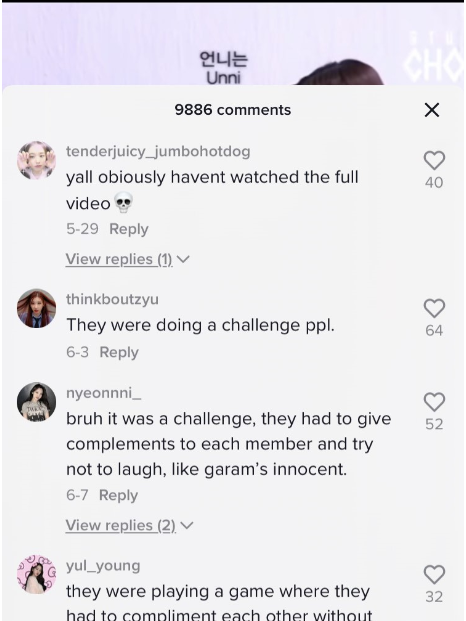 A lot of 'gossip' was generated across online platforms and social media from observing Kim Garam's interactions and facial expressions with other members. Many videos compiled were taken out of context: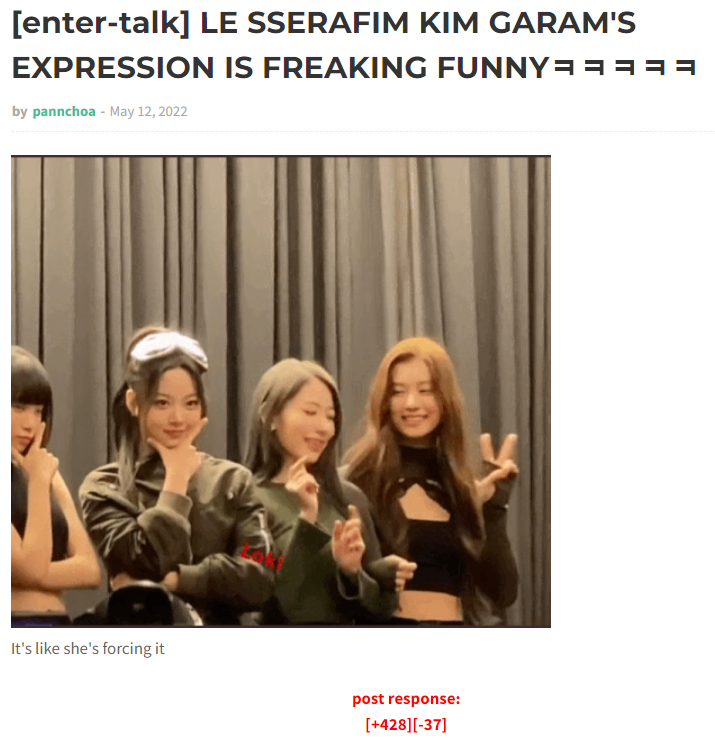 K-netz were not warm towards Kim Garam: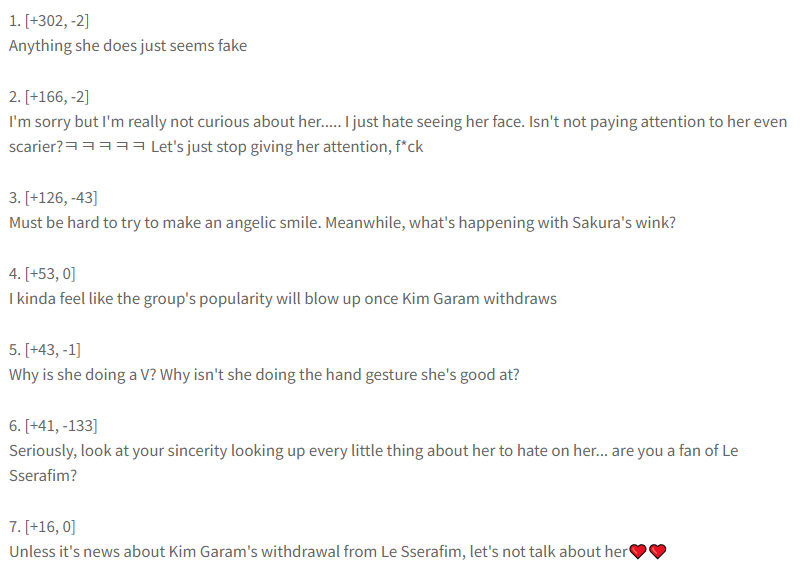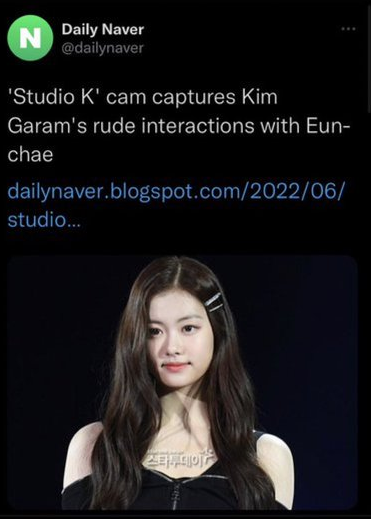 Shortly, after HYBE and Source Music announced Kim Garam
and HYBE's intentional cover for Garam's 'bullying controversy'. Kim Garam received further vitriol from netizens online: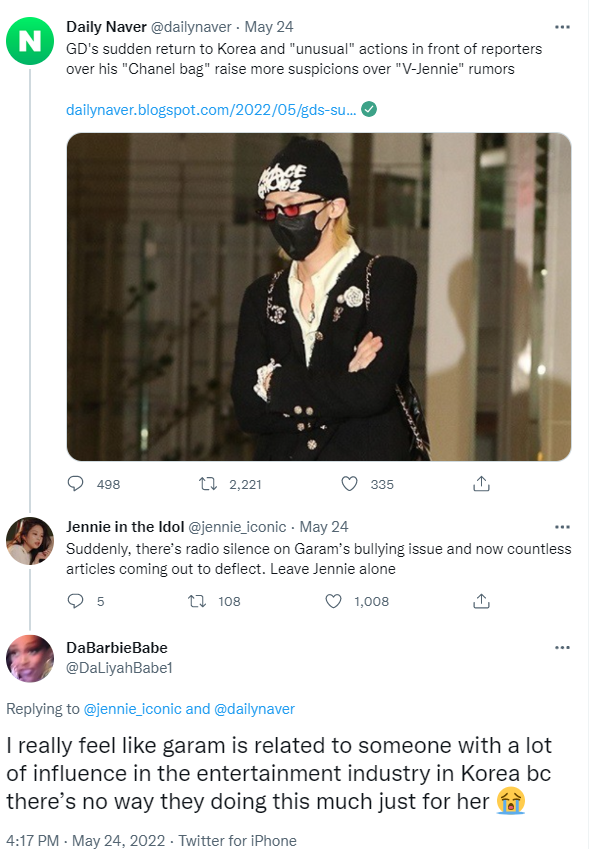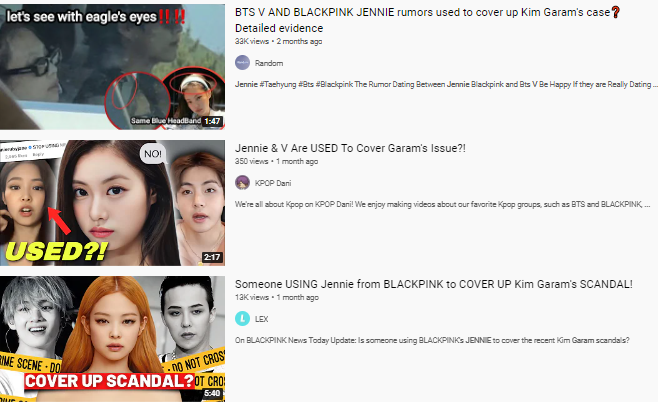 Some users decided to attack Garam herself for these rumours: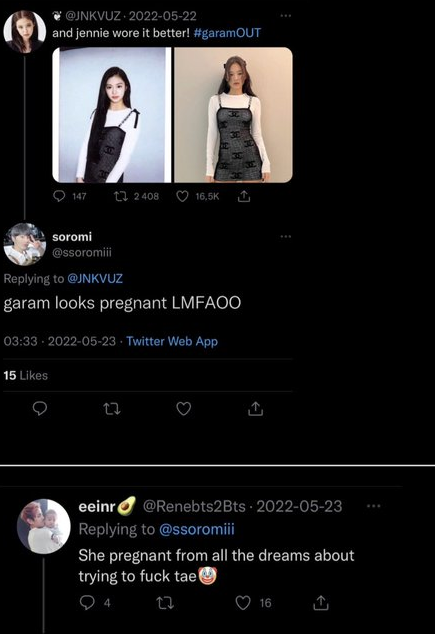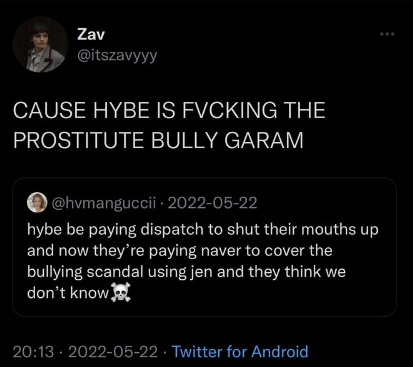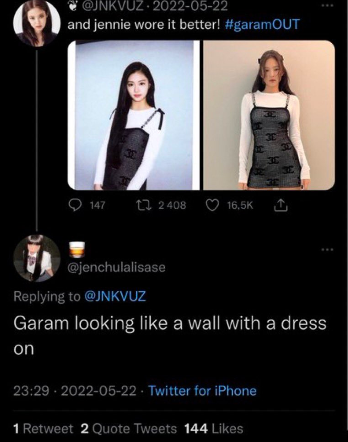 Other users blamed cancel culture and coincidental timing for the rumours:

An insightful perspective is that many netizen's don't want to be corrected if they are wrong. It might just be easier to love or hate Kim Garam regardless of the "real truth". If someone who defends Garam is wrong, will they feel guilt for the "real victim" or will those who labelled Garam as "guilty" and hated her feel "remorse" if she's actually "innocent". It would require the netizen to admit fault and a mistake was made on their part. Accountability is rarely seen in the K-pop community or amongst netizens. It takes less time and energy to love or hate a K-pop idol than to go out of their way to self-educate themselves on an 'issue' using a variety of verifiable sources.
As such, various factors contributed to the vast glee and cheers that could be felt everywhere on July 20 2022 as Kim Garam left Le Sserafim. #Garam_Out, #Garam_Out_Party, and #Garamfuneral were trends. Many viral tweets were made across multiple fandoms.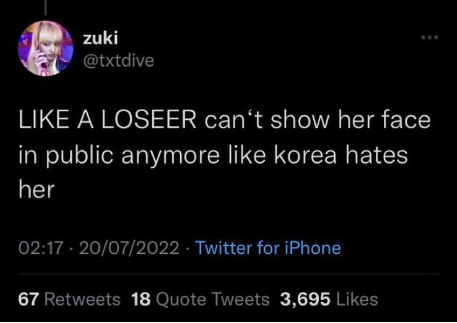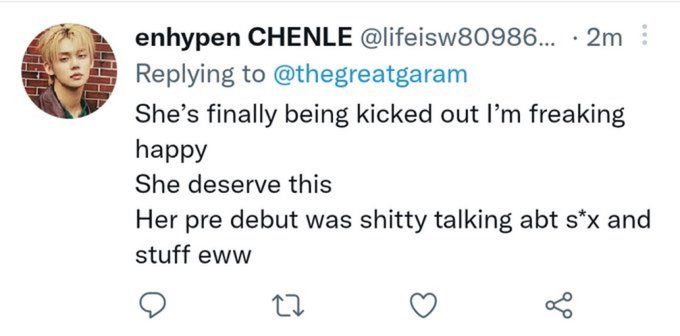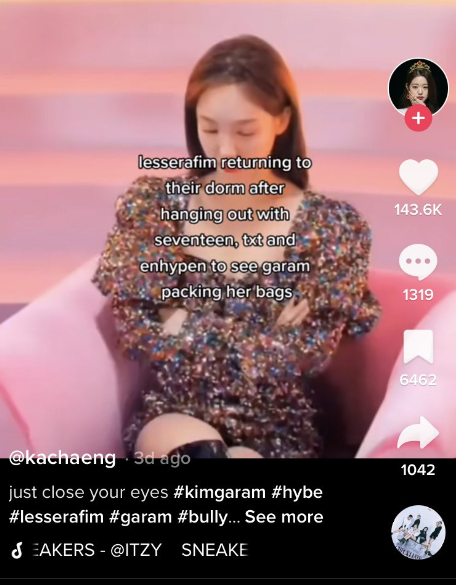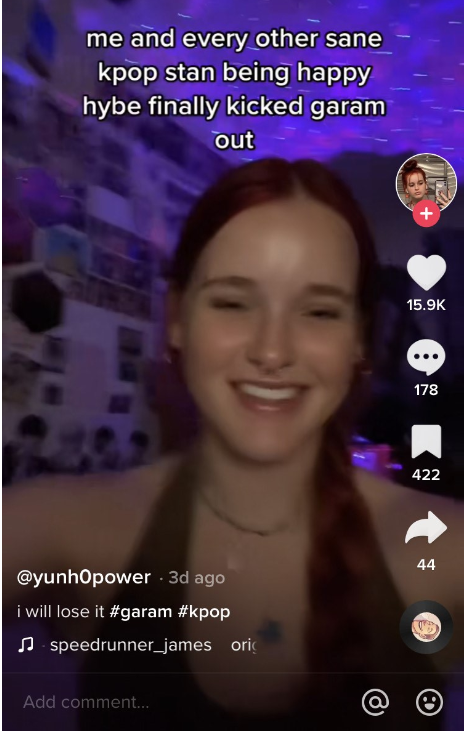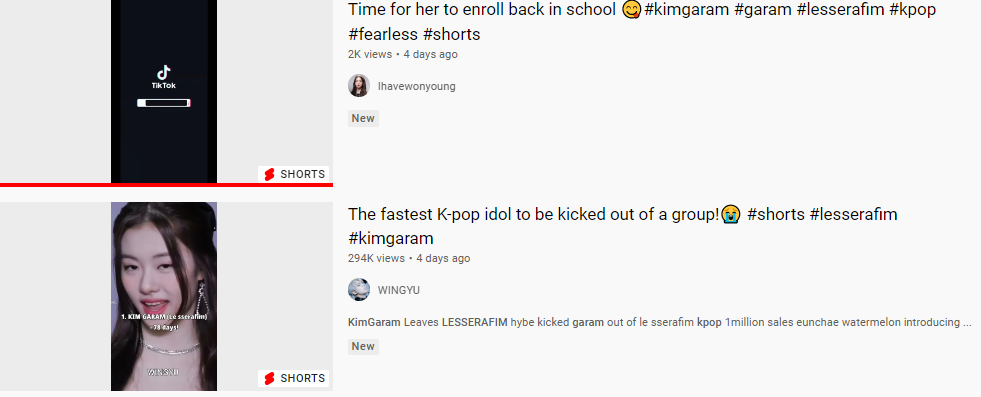 Even some Le Sserafim fan accounts rejoiced: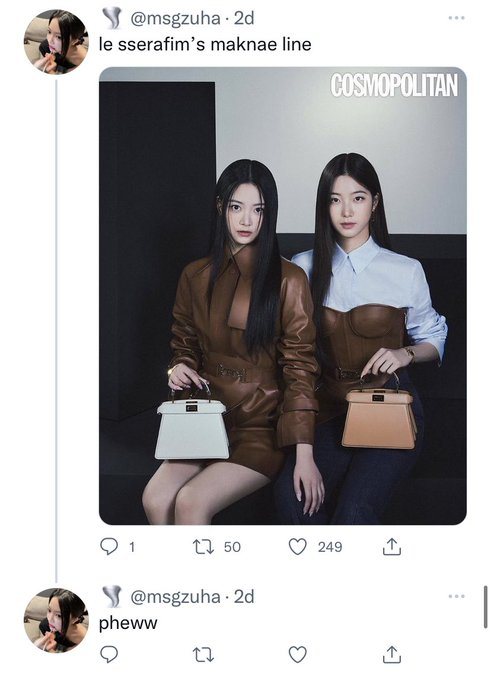 A song was even made to honour the termination. The song: Fearless (Kim Garam Is Gone The Evil Has Been Vanquished Mix) was released the 21 July by Grey Nails.



Le Serafims Tiktok (21st July) dropped one day after Kim Garam's official departure garnered huge buzz on social media. Numerous netizens and Kpop fans pertained with its timing and song choice, it represented that Garam was 'somebody that they used to know' and that they are happy to be a five member group.
However, others that support Garam say:
After the announcement of Kim Garam's contract termination an alleged friend of Kim Garam took to their Instagram in anger. The alleged friend claimed the alleged victim lied about Garam and HYBE/ Source Music stopped classmates from publicly defending her after Eunseo come forward. Moreover, did not use their alleged vast array of evidences to clear her name. The classmate also claims they put their trust in HYBE and Source Music but that the company had no intention of clearing her name and instead and used Garam as a form of "noise marketing" for the group, before dropping her officially. On the 25 July, HYBE Officially denied these accusations citing "overboard guesswork" on the friend's part.


A netizen agreed with HYBE's statement:

Other netizens saw the situation differently: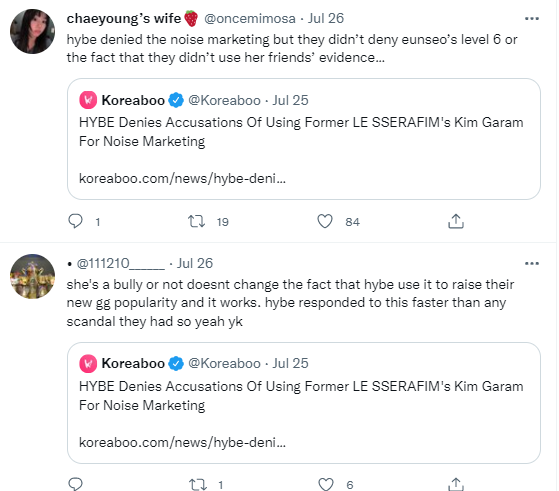 Fresh allegations about Garam's activities in middle school haven't stopped since her contract was terminated. On the 25th July 2022 an anonymous Twitter user: 박보라 @6543955008a came forward. *TRIGGER WARNING: Sexual assault and suicide*
The user claims Kim Garam abused and harassed them. Going as far to allegedly pay a man to r*pe OP in the school bathroom and made fun of their suicide attempt.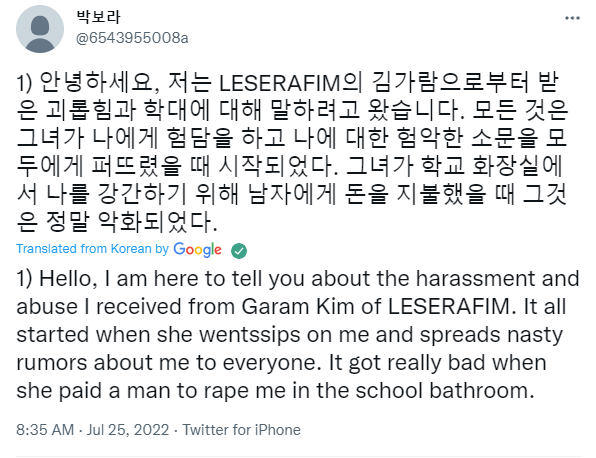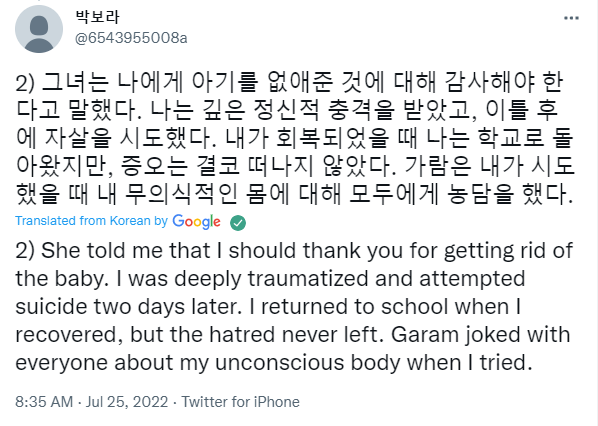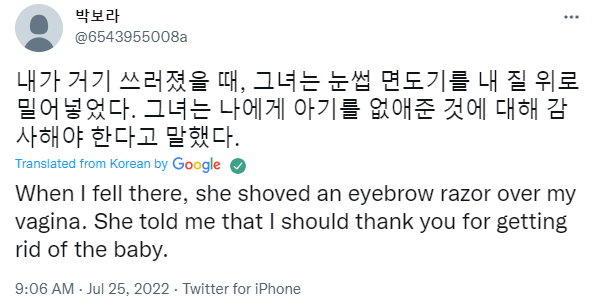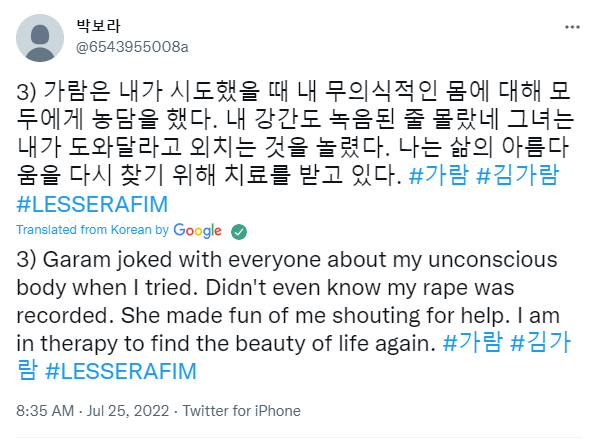 Some netizens thought OP "deserved" this treatment: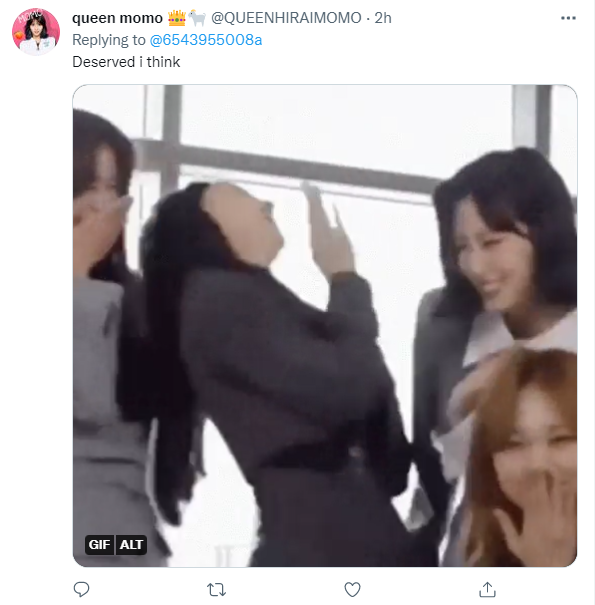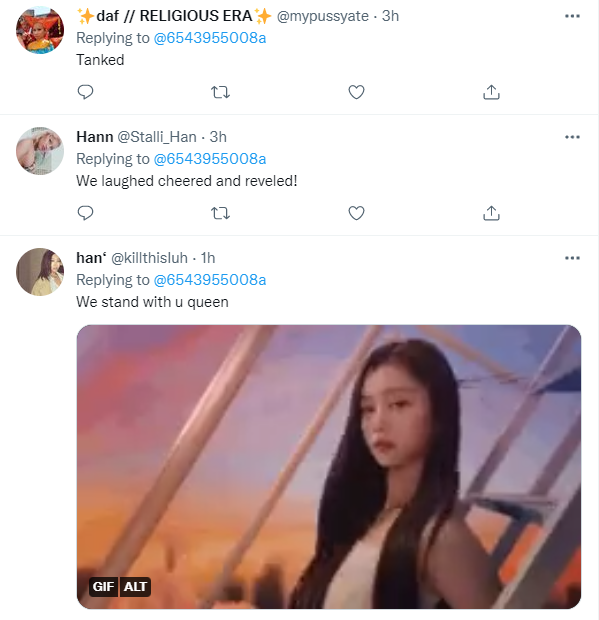 Others saw it differently: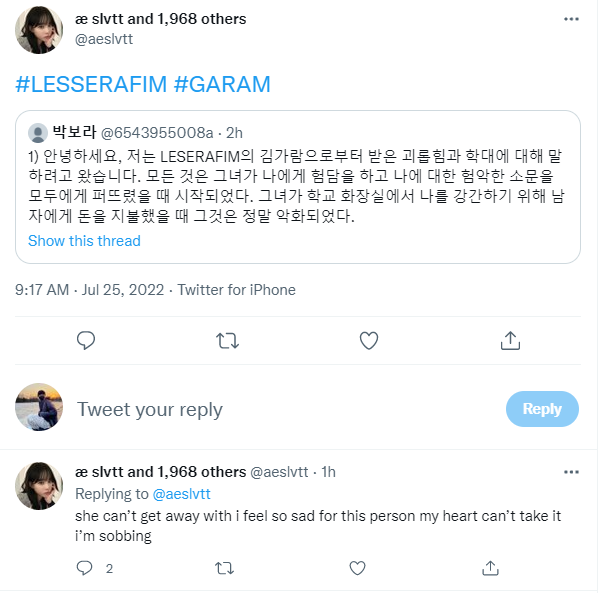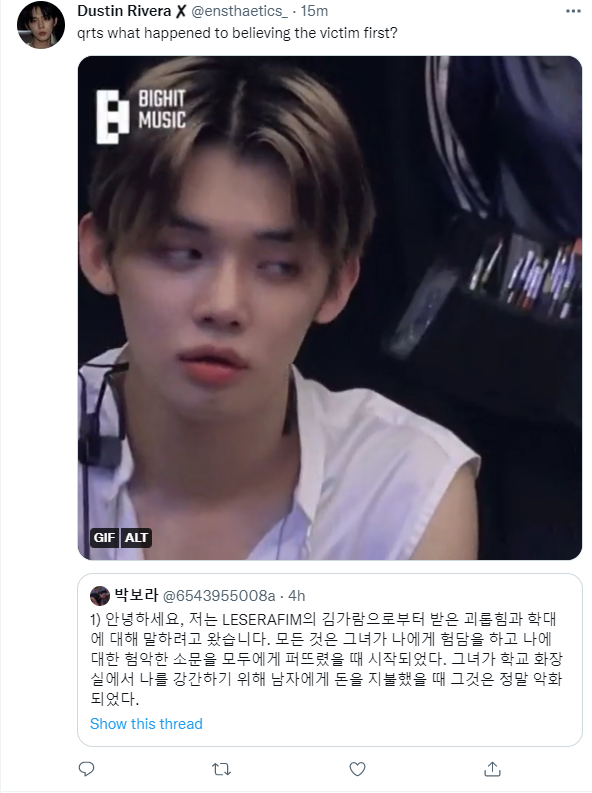 Is the credibility of alleged victims speaking out under the umbrella of anonymity slowly waning?

Or Is this further evidence that netizen's don't truly care about bullying and abuse? Many netizens enjoy the 'drama' that comes with "scandal" and the opportunity to unleash hatred and make fun of others anonymously.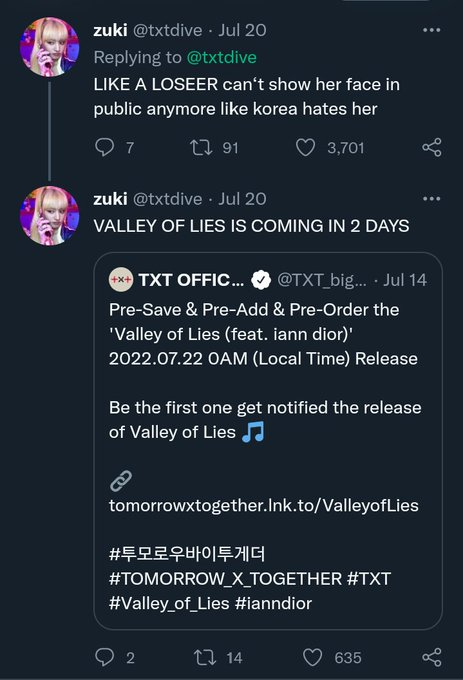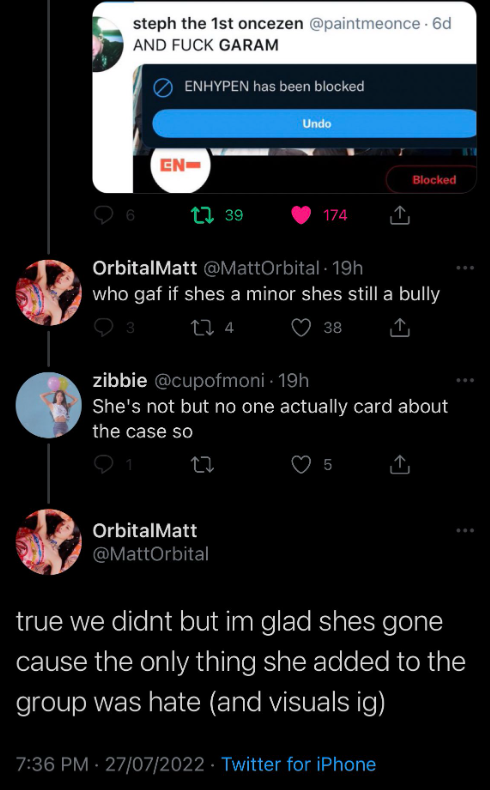 It remains unclear if any redemption arc could fix her livelihood and reputation. Social media and online gossip forums have generated a negative stigma towards Kim Garam. Any internet search or background check by perspective universities, employers and the general public will showcase her 'tainted' publicised history. It its too early to state if she can revive any form of future in the industry or society.

Now that Kim Garam has left the industry after 17 days as an idol. A discussion of Garam's future became a hot topic on online forums by K-Netizens and international fans. Some argued fast food joints, plastic surgery and a name change, flight attendant career path. Some K-netz argued she can move to Africa.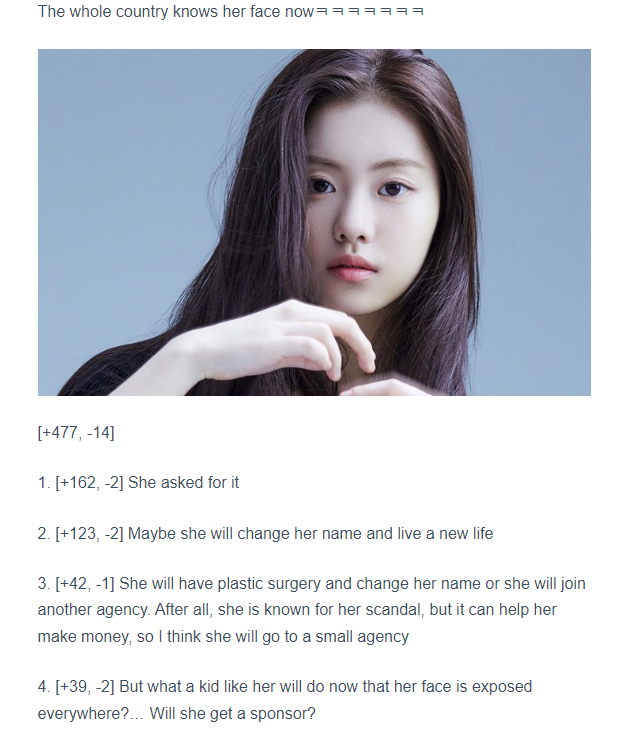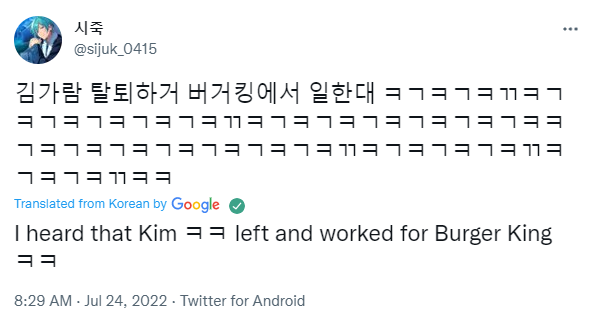 The International K-pop community saw a more 'humorous' approach to Kim Garam's future: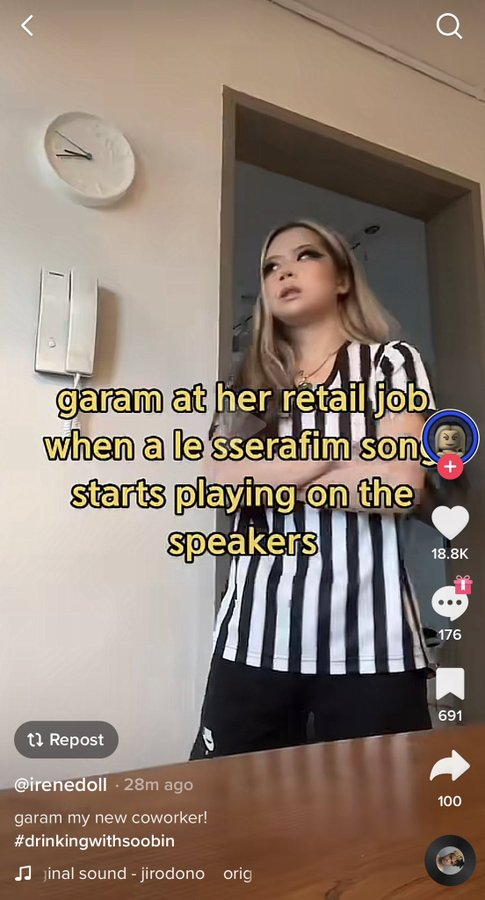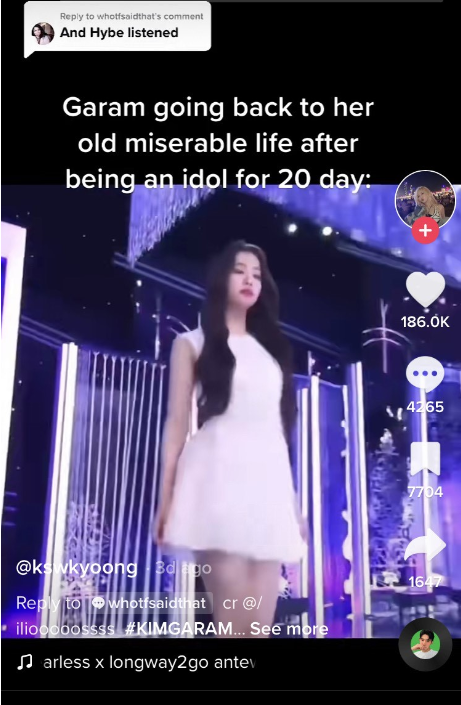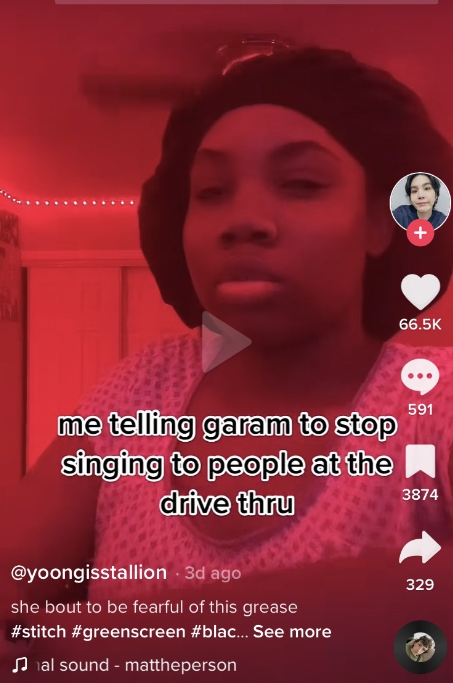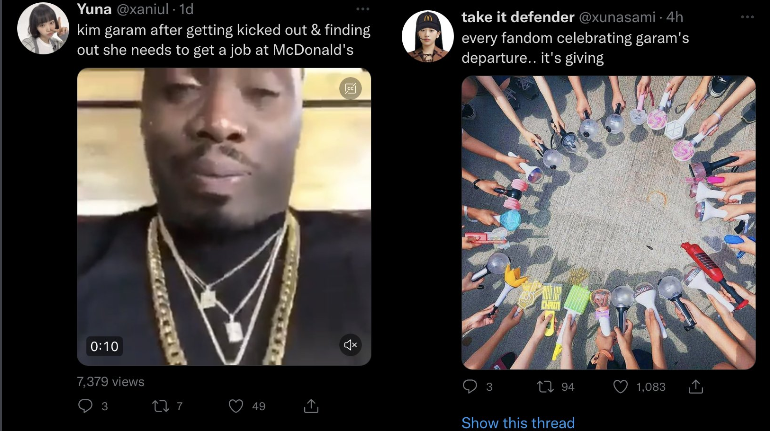 Placing the anonymous allegations to one side for a moment and focusing on Kim Garam as a school violence perpetrator. Could it be argued that Kim Garam (4 years ago) was already punished by her School Violence Committee receiving a Level 5: Special Education detention for allegedly
swearing and making threats at Eunseo in defence of friend, to whom Eunseo committed an alleged digital sex crime against as revenge. As such, should have ultimately remained in Le Sserafim? Or does she deserve her tumultuous ending as another addition to the "villain of K-pop" hall of fame and removed from Le Sserafim and the spotlight? She 'reaped what she sowed'. That is ultimately up to the reader. Regardless, of more details being disclosed in the future, the damage has already been done to the former rookie idol's reputation.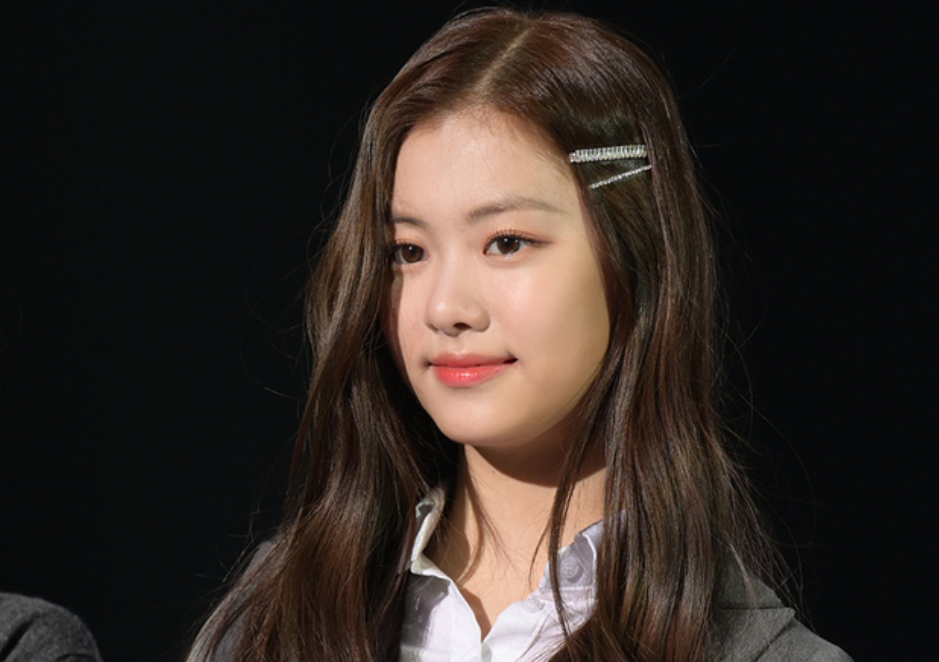 Some fans think Kim Garam is another Kim So Hye. But HYBE and Source Music have stayed mute on what actions they have actually taken in light of Kim Garam's controversy behind closed doors. One thing everyone can agree on, is the controversy and school violence case should never have been publicised at its magnitude, considering it involved: minors, doxed identities of minors fell prey to netizens, and generated mental health trauma of minors involved. At the heart of the School Violence Committee: was a victim of an alleged digital sex crime (molka), whose trauma was once again in the spotlight almost four years later.
The nature of the Kim Garam's controversy evolved from one concerned with victims of bullying, into a globalised hate train and a witch hunt for justice. Analysing the case through a 'neutrality lense' was eventually lost in the confusion, misinformation spread and conforming towards the public narrative and popular opinions of the mass. And of course, "always believe the victim" mentality played on the conscious of those who want to be seen to support the "right person". Consequently, a cancerous cesspool of toxicity was targeted at Kim Garam and attached itself to Le Sserafim. Even reviving hate towards other idols who had allegations of school violence. In the end, uniting all fandoms (even the Le Sserafim fanbase), under one narrative: Kim Garam is a bully #GaramOut. The role of the media in spreading misinformation widely and the ease of online communities in distorting the realities and evidences of Kim Garam being bullied in Middle school. Is an act the larger public should be worried about.


What will become of Kim Garam is unknown, but the impact and active role of social media, misinformation, toxicity of netizens and online K-pop communities cannot be understated. The source of her downfall, whether that accountability could be solely placed on Kim Garam, HYBE/Source Music, netizens, social media, online gossip forums such as Pann, or the K-pop community who actively participated, remains to be seen. These factors were a catalyst to her losing the public court of opinion, which consequently played a pivotal role in her contract termination. At the end of the day, Source Music and HYBE are businesses, the public's overwhelming support for Kim Garam's demise and removal left her company with very little options. The decision to remove her from the group and the idol career path was a successful outcome for Garam's 'exposers'. However, this could potentially embolden netizens to abuse their powers against others in the public eye in the future, all from the comfort of their homes and because of their blanket of anonymity. Past examples shown real consequences for those accused in reputation, removal or both. Kim Garam's eventual and predictable removal unveils the reality of idols disposability for the sake of profits and public reputation



One thing is quite certain, Kim Garam is a victim of misinformation, media distortion, global hatred and possibly disinformation. Whether Kim Garam is "guilty" or "Innocent" of the allegations, the term "bully" will explicitly haunt her present and remaining future. Only time will tell if this was justified.