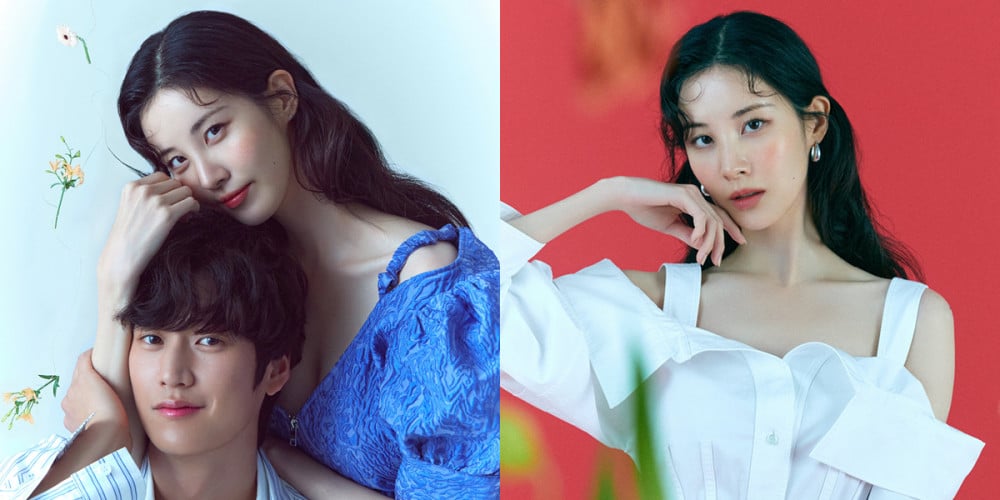 Co-stars Seohyun and Na In Woo, currently greeting viewers in the new KBS2 drama 'Jinxed at First', dished on their chemistry on the drama set in a pictorial with 'Singles' magazine!
First, in the sweet couple pictorial, Seohyun and Na In Woo took readers back to the season of spring with pastel colors, flower props, etc. During their interview which followed the pictorial, the two co-stars revealed that filming for 'Jinxed at First' originally began without the female lead.
Na In Woo explained, "We had already started filming, and Seohyun came and joined us on the set some time later. Because I felt like we didn't have adequate time to test our chemistry out before she arrived on the set, I had so many worries going through my head. I'm usually a worrywart, so that made it worse. But once she actually came on the set, all of the worries just melted away. The moment she walked in through the door, it was like bright stage lights were being turned on one by one, lighting the way for her, and the air in the room changed completely. The atmosphere on set was full of brightness because of Seohyun."
Next, Seohyun opened up about a unique gift that she recently gave Na In Woo. "It was a book called 'You Just Have To Be Nice To The Nice People'. I gave a copy of the same book to my other co-star, Lee Jun Young from 'Love and Leashes', and it is a book that I often gift to people I am close with. Because I am working with actors who are younger than me these days, I want them to succeed, and I also feel a sense of responsibility in that I should lead them as a sunbae artist. I have grateful memories of sunbae artists who gifted me books when I was younger, and so I suppose it's my turn to play the role of the sunbae artist. They say that gifting someone a book is like sharing your life's outlook with that person. I think that might be true."

Seohyun and Na In Woo's full pictorial and interview can be found in the July issue of 'Singles'.