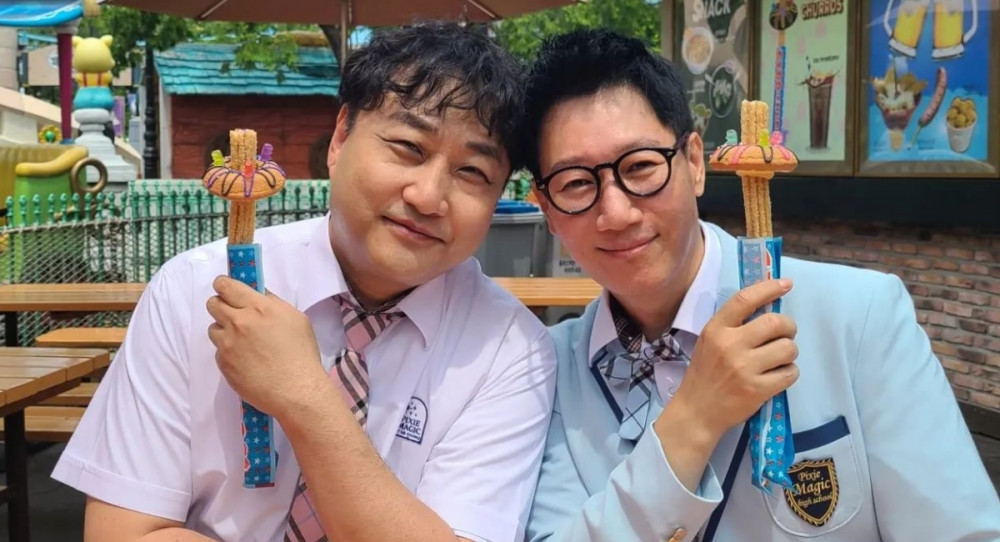 Ji Suk Jin and Kim Soo Yong just had the time of their lives at Seoul's Lotte World theme park!
The two television personalities recently appeared in the June 11 KST episode of MBC's variety program 'Point of Ominescent Interference,' which focused on struggling to remain on-trend in your 50s. During the episode, Ji Suk Jin met up with Kim Soo Yong to do a number of activities that young Koreans are known to enjoy doing. Activities included taking photos of cute desserts they ordered at a trendy cafe, visiting a photography studio to take fun photos, and shooting a YouTuber-style vlog documenting a trip to Lotte World.
Renting school uniforms while visiting Lotte World and other big tourist attractions is a popular trend among young people in Korea, so likewise, Ji Suk Jin and Kim Soo Yong spent their Lotte World trip wearing rented 'Pixie Magic High School' uniforms. They also rode some rides and took photos in trendy poses – including the 'gyaru peace' sign – in front of park attractions.
Photos from the trip were eventually released online, making netizens laugh with how well they followed what a typical young Korean's trip to Lotte World would look like. Comments on Korean online community posts included, "Petite Soo Yong and petite Suk Jin," "Why is this so cute," "This really hit the mark. Their chemistry is so good," "They really know our generation," and "I want to go to Lotte World like this 25 years from now."

Check out images from the trip below!