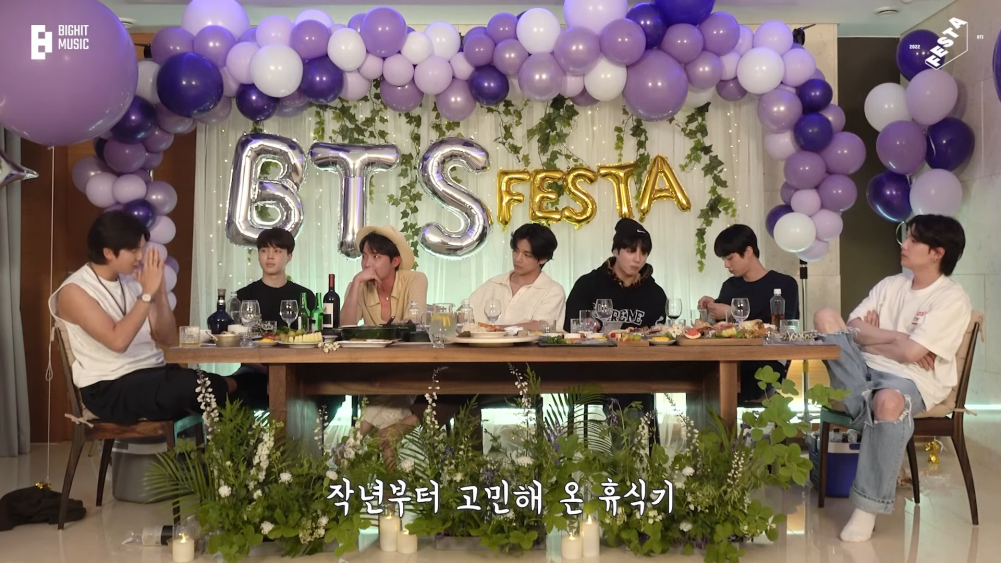 On June 13, BTS members revealed to their fans that they decided to take a hiatus as a group to focus on themselves for a while.
The members sat down for the Festa dinner and revealed their deep thoughts as to why the group decided to take a hiatus. RM revealed that he felt it was time for the group to take a break as he felt he did not know which direction to take the group.
He explained, "I didn't know what I would do after 'ON,' but then COVID-19 came so we did 'Dynamite', 'Butter', 'Permission to Dance,' and 'Life Goes On.' And I realized that the group has definitely changed. We have to accept that we've changed. For me, it was like the group BTS was within my grasp until 'ON' and 'Dynamite.' But after 'Butter' and 'Permission to Dance,' I didn't know what kind of group we were anymore."
He elaborated, "Whenever I write lyrics and songs, it's really important what kind of story and message I want to give out but it was like that was gone now. So, I don't know what kind of story I should tell now." Therefore, RM wanted to take the time to look back at himself, recuperate, and take the time to re-evaluate his values. RM explained that the group had worked hard for nine straight years and felt exhausted.
The other members also agreed and shared how they felt so apologetic to even say that they're exhausted. Jimin explained that the members are slowly figuring things out and finding their identities. SUGA also shared that the hardest thing for him is to write the lyrics because he can't think of the message to share. He explained before, that he had much to say and had difficulty when it came to the skills, but now he can't find what to say.

After much thought, the group decided to go on this hiatus and personally share this with their fans. It seems that their sincerity has reached many fans as the Korean ARMYs shared their support for the group's decision.
They commented, "Thank you for sharing the message with us personally. If I say I'm not shocked or taken aback, it would be a lie but I think I can wait for you guys to make a comeback and will support you guys no matter what decision you guys make," "My heart hurts but I will support them," "I guess they won't make a comeback for five years, if the members decide to serve their military duties," "Thank you for telling us personally instead of letting us know through those statements that start by saying 'hello, this is HYBE,' I think I would be traumatized and so disappointed if it was like that," "They've worked so hard for nine years, thank you so much, guys. WIll be waiting for you. Come back after doing everything you guys want to," "I can tell the members still cherish each other and I am happy they can end their first chapter together like that," "I do feel there will be a hole in my heart but I will be waiting until they comeback," and "They're so awesome. They really made a brave decision and thank you for telling it to us in person."