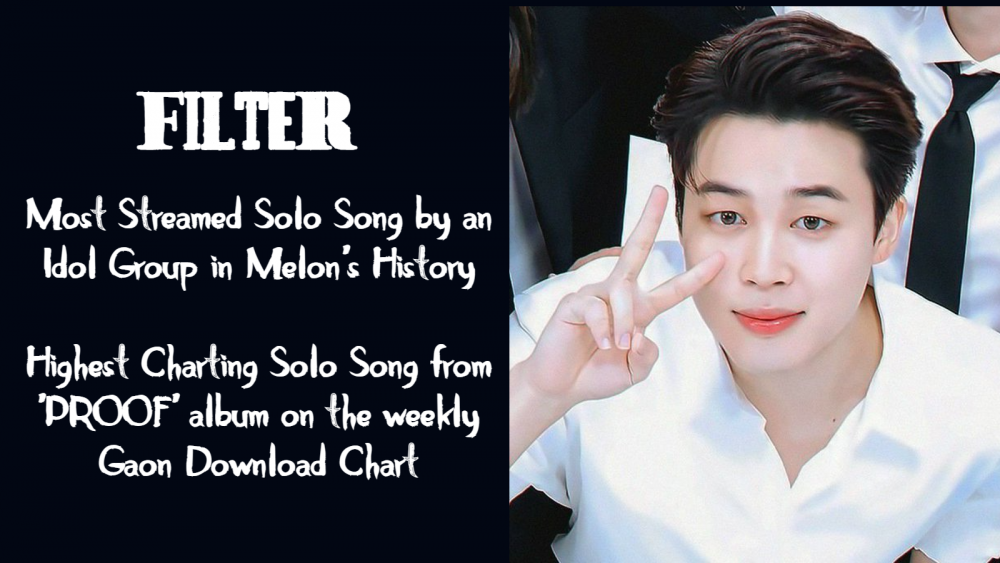 Jimin continues to demonstrate his status as one of the most influential solo acts in the world of music as his solo tracks consistently record new achievements and set new records on different major music platforms both in South Korea and Internationally.
On June 17, 'Filter' reached a new milestone of surpassing 125 million streams on Melon, South Korea's biggest and most popular music downloading and streaming platform. By so doing, the song extended its record as the most-streamed solo song by an idol group in the platform's history. Jimin has achieved this feat despite the fact that 'Filter' is an unpromoted B-side track, and it speaks to his power as a vocalist.
'Filter' also made a notable achievement on this week's Gaon chart ranking.
Notably, BTS just recently released a new album that consisted of some of their previous tracks, one of which was 'Filter.'
On the album's release, the song became the highest-charting solo song from the album on various music charts, including on Melon Top 100 four-week chart, European iTunes song chart, and on South Korea's Spotify Top 200 chart [read here].
Now a week after the album's release, 'Filter' has yet again posted a new achievement on the Gaon weekly chart and landed the highest debut for a solo song from the 'Proof' album, placing 49th on the Gaon Download chart.
As of June 17, all of Jimin's solo songs, his self-produced sub-unit song 'Friends' and his duet 'With You,' are still charting on South Korea's Spotify Top 200 chart, having ranked on the chart consistently each day ever since the new album's release.
Looking at the Spotify platform, 'Filter' surpassed 297 million streams as of June 16, also extending its existing record as the most-streamed solo song from the MOTS:7 album and the second most-streamed BTS solo song overall, a feat that it achieved in just over a year from when it was released.

On the other hand, Jimin's other individual project, his very first one outside of BTS, is also making enormous strides on different music platforms, showing its popularity among the masses.
'With You' surpassed 76 million streams on Spotify as of June 17, just 53 days after its release. The song thereby also extended its record as the fastest K-drama OST to cross this mark in the history of the platform.
On Melon, the song is approaching 19 million streams and is almost at 1 million unique listeners, and it has amassed over 255,000 Shazams so far.

With such impressive performances on the charts by his individual tracks, it is easy to understand why fans are highly anticipating his solo debut [read here]. All his tracks are masterpieces and have proven their popularity even after years have passed after their release.
Congratulations Jimin!