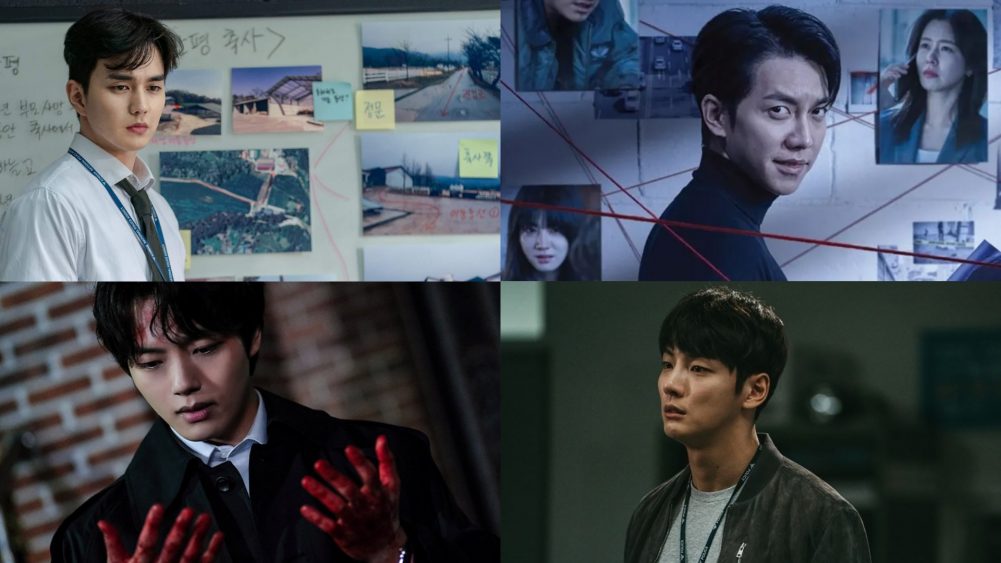 Are you looking for a drama that can make your heart pound really hard? Or probably, are you looking for a drama that can bring you a whirlwind of emotions and linger around? What drama could be more thrilling than a suspense-crime drama mixed with a heavy plot of serial killing and murders?
Despite a heavy theme and usually sensitive topics centered on crime and murders, there are absolutely valid reasons that some viewers enjoy the genre. Some dramas illustrate and portray a challenging theme in an interesting display of the drama genre, the cause why most enjoy it, whatever the reason may be. For enjoyers, and for new viewers, here are some of the most outstanding dramas on serial killers!
Warning and caution to everyone! Some of the trailers display extremely violent scenes and explicit scenes of murder and crime, sometimes with vivid depictions of injuries and blood. Please watch and proceed with caution, and do enjoy the dramas listed below.
1. Memorist
Synopsis: Dong Baek, a police officer and detective who is very passionate about catching criminals, has the supernatural ability to read a person's memories by touching their skin. When a string of serial murders happens, Dong Baek teams up with talented criminal profiler Han Sun Mi to stop the killer and prevent further deaths.
Cast: Yoo Seung Ho, Lee Se Young, Jo Sung Ha
2. Mouse

Synopsis: Jung Ba Reum, a police officer, changes his life when he encounters a psychopathic serial killer. Alongside his partner Go Moo Chi, they began to unearth the truth behind psychopathic behaviors. This also raises the question of whether it is possible to scan a psychopath in the mother's womb using fetal genetic testing? And if the child in the womb is a psychopath, will it be wise to have that child?
Cast: Lee Seung Gi, Lee Hee Joon, Park Ju Hyun, Kyung Soo Jin

3. Beyond Evil

Synopsis: Lee Dong Sik, an impulsive and eccentric sergeant, alongside Han Joo Won, an elite detective, two fearless policemen from the Manyang Police Substation, broke the law to catch a serial killer. In the course of uncovering the culprit's identity, they question the innocence of everyone involved in the case, including themselves.
Cast: Shin Ha Kyun, Yeo Jin Goo

4. Train
Synopsis: Stuck in a parallel universe with completely different versions of himself, Seo Do Won finds himself navigating and moving between the universes, and alongside his colleagues that are present in both universes, they team up to track down the killer in one world and protect his love in the other.
Cast: Yoon Shi Yoon, Kyung Soo Jin, Shin So Yul
5. Less than Evil

Synopsis: Based on the British series Luther, the drama centers on the ongoing psychological battle between a brilliant psychopathic murderer and a hot-headed, justice-driven Detective Chief Inspector.
Cast: Shin Ha Kyun, Lee Seol, Park Ho San, Kim Gun Woo
6. Gap-Dong / Gabdong

Synopsis: In 1986, the fictional city of Iltan in Gyeonggi Province is gripped by a succession of serial killings, a total of nine murders within a twelve-kilometer radius since 1993. The police conclude that a man they've nicknamed "Gapdong" is behind the crimes, convinced that Ha Il Sik is the one behind the serial killing. However, he commits suicide, and then, in turn, his then young son becomes a police officer himself, Ha Moo Yeom, who aims to clean his father's name and restore his honor.
Cast: Yoon Sang Hyun, Sung Dong Il, Kim Min Jung, Kim Ji Won, Lee Joon
7. Tunnel

Synopsis: Park Gwang Ho, a successful detective from 1986, passes through a tunnel while chasing the "culprit" that led to his time travels 30 years into the future. He then meets Kim Seon Jae, an eccentric elite detective, and Professor Shin Jae Yi, a criminal psychologist, Professor Shin Jae Yi, to solve the murders and catch the murderer with the same pattern as the serial killer back in 1986.
Cast: Choi Jin Hyuk, Yoon Hyun Min, Lee Yoo Young
8. Tell Me What You Saw

Synopsis: Oh Hyun Jae, a genius criminal profiler, became a recluse after losing his fiancée in an explosion set by a serial killer. Five years later, a new murder takes place using the same method as that serial killer. While investigating the case, he was introduced to Cha Soo Young, a rookie detective who has a photographic memory, and they work together to go after the serial killer.
Cast: Jang Hyuk, Choi Soo Young, Jin Seo Yeon
9. Voice

Synopsis: In multiple incidences for four seasons, Voice tackles and follows the lives of 112 emergency call center and dispatch team members as they fight against crimes and chase the serial killers using the sounds that they hear.
Cast: Jang Hyuk, Lee Ha Na, Lee Jin Wook, Song Seung Heon
10. Flower of Evil

Synopsis: Baek Hee Sung is a man who hides his identity and past from his wife, Cha Ji Won, a detective. Cha Ji Won and her colleagues begin investigating a series of unexplained murders and are confronted with the reality that her seemingly perfect husband may be hiding something from her.
Cast: Lee Joon Gi, Moon Chae Won, Jang Hee Jin, Seo Hyun Woo
11. Nobody Knows

Synopsis: Detective Cha Young Jin, still haunted by the death of her friend who was murdered 19 years ago by the infamous Stigmata serial killer, joins school teacher Lee Sun Woo. They do their best to protect the youth at risk, whose lives could have been changed if they had been surrounded by good adults.
Cast: Kim Seo Hyung, Ryu Deok Hwan, Park Hoon, Ahn Ji Ho
12. Missing Noir M

Synopsis: Gil Soo Hyun is a genius who, after working for the FBI for a decade, he returns to Korea, where he gets assigned to lead a special missing person task force that goes after the 1% most challenging unsolved cases. He becomes the partner of Oh Dae Young, a detective with many years of experience in the field and a strong sense of justice.
Cast: Kim Kang Woo, Park Hee Soon
13. Psychopath Diary

Synopsis: Yoon Dong Sik, a timid clerk, witnesses a murder and picks up the diary the psychopath possesses by coincidence. However, as he flees with the diary, he gets hit by Police Officer Shim Bo Kyung's car. He then suffers from retrograde amnesia and eventually believes that he is the serial killer due to the diary, his personality changing. On the other hand, the original serial killer becomes insecure due to losing his diary.
Cast: Yoon Shi Yoon, Jung In Sun, Park Sung Hoon
14. Come and Hug Me

Synopsis: Chae Do Jin, a rookie detective who graduated from police university at the top of his class, meets his first love, Han Jae Yi, his first love who bore trauma due to his father, a psychopath serial killer.
Cast: Jang Ki Yong, Jin Ki Joo, Heo Joon Ho
15. Possessed

Synopsis: Detective Kang Pil-sung and psychic medium Hong Seo Jung join forces to get rid of the ghost of Hwang Dae Doo, a serial killer who was executed 20 years ago, now inhabiting the body of Oh Soo Hyeok.
Cast: Song Sae Byeok, Go Joon Hee, Yeon Jung Hoon, Jo Han Sun
16. Through the Darkness

Synopsis: Based on the 2018 non-fiction book of the same title co-written by Korea's first criminal profiler, Kwon Il Yong, and journalist-turned-author Ko Na Mu, Through the Darkness tells the story of a criminal profiler who struggles to determine the behavioral patterns of serial killers
Cast: Kim Nam Gil, Jin Seon Kyu, Kim So Jin
17. Life on Mars
Synopsis: Han Tae Joo, while investigating a serial murder case, experiences an accident and wakes up in the year 1988. He does not know why, but he is now a detective appointed to work at a police station in a small city. To get back to the present day, Han Tae Joo tries to solve a serial murder case.

Cast: Jung Kyung Ho, Park Sung Woong, Go Ah Sung, Oh Dae Hwan, Noh Jong Hyun
Here are only some of the many existing goosebumps-inducing serial killer-themed dramas that you can enjoy! Which among them is your favorite, and which among them would you recommend to an interested viewer?