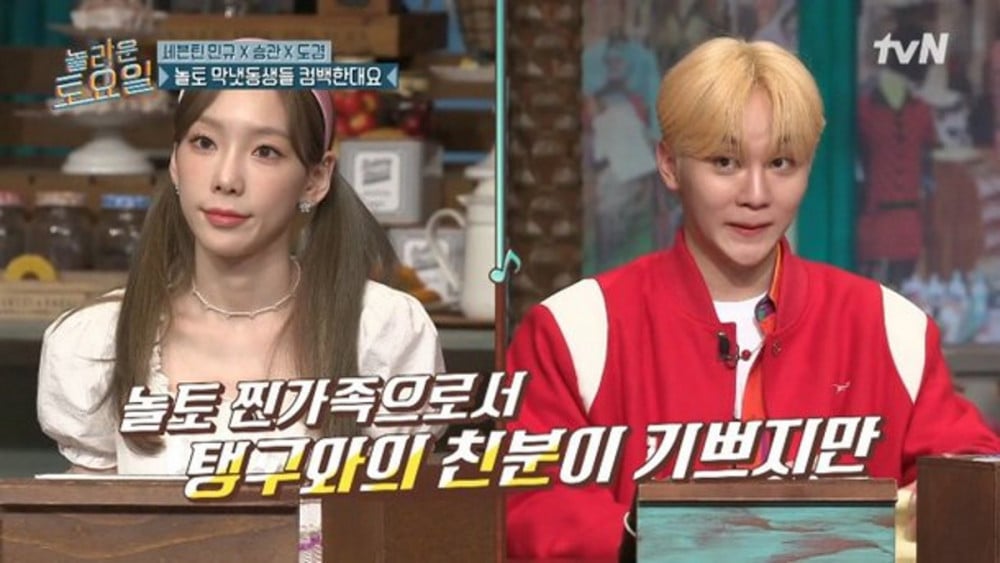 Seventeen's Seungkwan revealed he's a huge fan of Girls' Generation's Taeyeon.

On the May 14th episode of 'Knowing Brothers', Seungkwan expressed, "I'm happy to be close to Taeyeon, but at the same time, I feel apologetic. I really admire Taeyeon. I'm a fan."

He continued, "I want to contact her often, but she has commercials, 'Queendom', 'Amazing Saturday', and more. She's too busy. If I contacted her every time I want to see her, I'd have to register for her fan cafe." Seungkwan then revealed he sends 15-line messages to Taeyeon, saying, "I asked her, 'Am I too much?' She responded, 'It's not not too much, but I'm thankful.'"

Taeyeon explained, "I'm so thankful. I'm thankful, but I'm thinking of a better way to say it. I really feel his sincerity through his messages." The Seventeen member responded, "It's okay if Taeyeon doesn't respond. A fan's heart is like that."

Did you know Seungkwan is such a huge fan of Taeyeon?