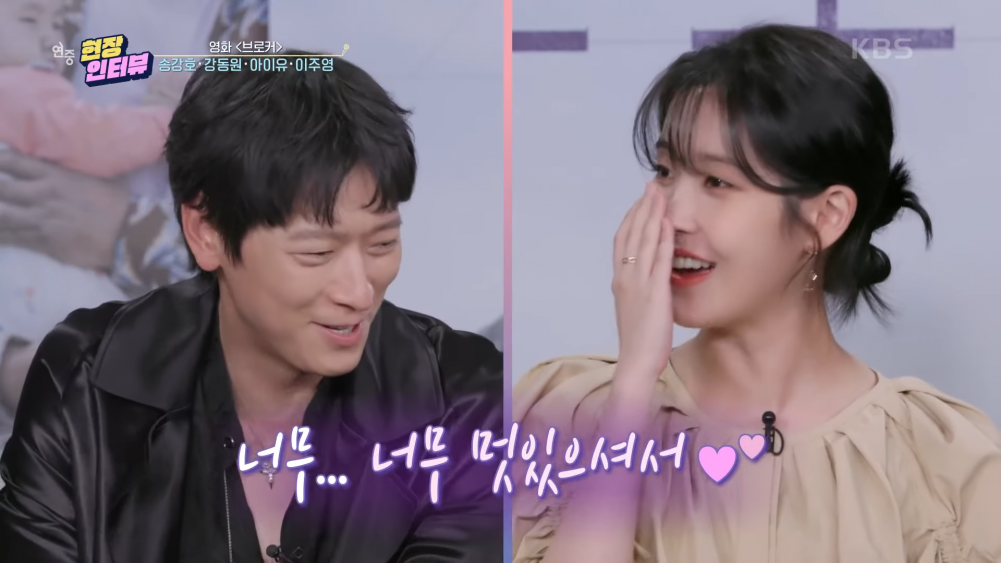 IU recently confessed how much she admired Kang Dong Won's visuals.
On May 19, the interview with the cast members - Song Kang Ho, Kang Dong Won, IU, and Lee Joo Young - of the film 'Broker' was released on KBS 2TV's 'Entertainment company Live.'

The movie 'Broker' was officially invited to the competition section of the 75th Cannes International Film Festival, and Song Kang Ho introduced the film by explaining, "It's not a real family, but it's a story of a family that shares a more ardent emotion than a real family."

During the interview, it was revealed that Song Kang Ho and Kang Dong Won had reunited in a film for the first time in 12 years since the movie 'Secret Reunion.' Song Kang Ho shared that it seems Kang Dong Won had grown taller and more handsome. Song Kang Ho also shared that it feels like he had been reunited with his youngest brother.
When the interviewer asked whether IU and Lee Joo Young had previous work experience with Song Kang Ho or Kang Dong Won, they both explained this is the first time, and they felt honored to work with such great seniors in the film industry.
IU added, "I thought I was able to control myself when I put my mind to it but then I couldn't take my eyes off Kang Don Won Sunbaenim because he is so good-looking" and confessed how much she admired his handsome looks.