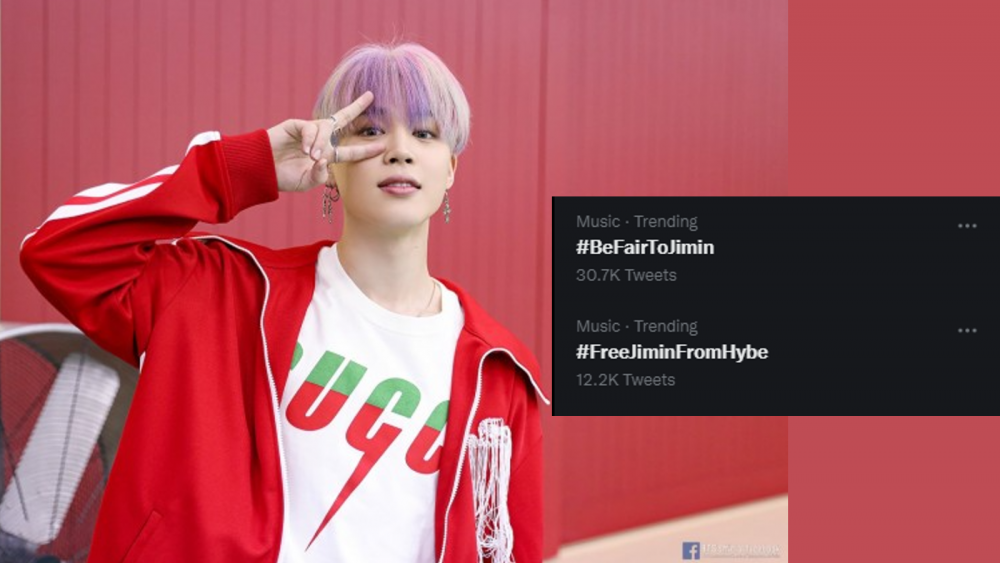 [This is a user post.]
BTS will be dropping a new album in June, and promotional activities are already on course. So far, the group's label has revealed the tracklist for the 3 CDs that will be included in the album.
Usually, BTS fans get very excited when there is news of a comeback, but this time it is different. Fans have noticed that Jimin is barely included in the new album in comparison to the other members. Specifically, Jimin does not have a solo demo track, while all other members have individual demo tracks. It has been seen that he is barely present in the album compared to the presence of the other members.
News of the album had shown that the members were responsible for choosing the tracks on CD2 only, whereas CD3, which consisted of the demo tracks, was not under their control. Therefore, fans are wondering why Jimin did not get a solo demo on CD3 like everyone else, and here are some of their tweets showing their frustration over the matter and saying how the company seems to have differential treatment when it comes to Jimin.
What makes it even more questionable is the fact that it is not for lack of tracks that he could possibly have missed out on the chance to have a solo demo, and fans pointed this out as well. In fact, Jimin has played out loud some of his demo tracks before.
The song where Jimin was included was only as a feature, but even this brought about a point of contention. While the song 'Tony Montana' was a duo between Jimin and Suga, it is already known that Jimin did participate in the composition of the song. He wrote his own verse, for instance, and Suga mentioned previously that Jimin had created the first guide for the song.
However, in the listing of the song with the people involved in the song's creation, Jimin was not listed among them, which fans found unexplainable.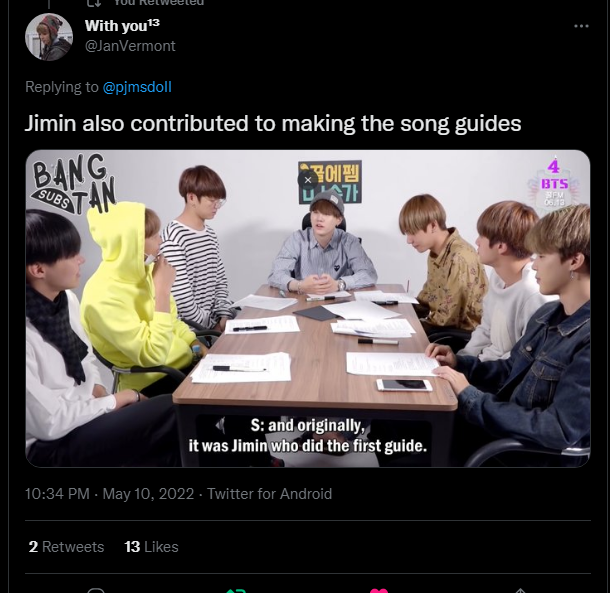 As fans expressed their displeasure over this matter, they brought up past incidents where it also seemed like the company was not being fair to Jimin. For example, fans had only learned that Jimin actually created the melody for 'Blood, Sweat and Tears (2016)', the song that everyone agrees was the breakout song for BTS's career. However, Jimin's name does not appear in the song's credits till now.
There was also talk of how he had wanted to perform 'Filter' during the concerts, but it was not allowed.
Another incident is quite recent, and it revolves around the release of his OST for 'Our Blues' drama. First of all, the release date was not communicated early as other OSTs do, and the release time was set at quite an odd date and time, giving it a very short tracking day and tracking week and therefore putting it at a great disadvantage for charting purposes.
In addition, his profile on Spotify was unsearchable and remained unverified for days, which is something that is quite important when people are searching for him to listen to his song. It costs the artist possible streams when people cannot find him, or they are not sure of the account as it is unverified.
Another point to note is that his OST had not initially been announced as a duet, and also, it was the only one with odd timing for release. Fans who contacted the OST production company stated that they had been informed that the companies of the artists was responsible for setting the release time.
It gets even more questionable because it ended up being released on the same weekend as another OST, yet the following weekend had no new OST released, leaving fans to conclude that his OST should definitely have been released the next week and could have had a full tracking day and week, but it did not.
Fans further pointed out other issues from the past, such as him debuting as a lead singer without having gotten any vocal training, how so many people within the company opposed his debut with BTS, how V wrote a song to sing with Jimin but the company opposed the idea, how Suga wrote one of the songs on his mixtape intending for it to be a Jimin solo, but the company did not agree to this, how Jimin was never informed by the company that his self-produced song 'Friends' had been included in the OST line-up for Marvel's 'Eternals' despite the fact that as a songwriter, producer, and composer he should have been the one to give the green light for the song to be used in the movie, how he submitted three different tracks for the 'BE' album but none was selected yet the album was promoted as one made by the members themselves, and how he was completely in the dark during the dance break on three different performances on the US shows yet he is a main dancer in the group. Other fans pointed out how his personal information got leaked online for lack of proper protection of the artists' privacy by Hybe and the fact that his name got smeared over a mistake that Hybe made when some papers were not availed to him for payment of health insurance premiums. These are just some of the incidents that have come up.

Previously, fans had also pointed out how the company seems to be wasting and neglecting his efforts as an artist. They once again raised the issue of credits, the company never acknowledging major record that he has set individually like for his fan-dance award and his song 'promise', distribution of lines and screen time in group songs, the removal of 'Filter' from music platforms when it was released and was performing very well, him being asked questions that put him in a difficult position during interviews and the questions are approved by the company, the people who work with him never being allowed to talk about or post about the work process, him being the only member with an empty melon page and with incorrect info years after the group's debut, Naver articles on his individual achievements being deleted and reuploaded as a group achievement instead, hybe refusing to allow him to have opportunities outside of the group when other brands are seeking him such as the approach by Top Class magazine to have him on the cover, the company cancelled his blood donation drive organized by his Korean fans as a birthday project, and so much more. The list is endless regarding all the questionable things coming from the company toward Jimin. See these two threads on Twitter detailing all of these issues and more...
The hashtags #BeFairToJimin and #FreeJiminFromHybe trended on Twitter as fans continued to express their anger and disappointment over this matter.
Fans cannot understand why all these issues surrounding Jimin keep happening, and they hope that they can get some clarification and change of treatment towards Jimin by the company.