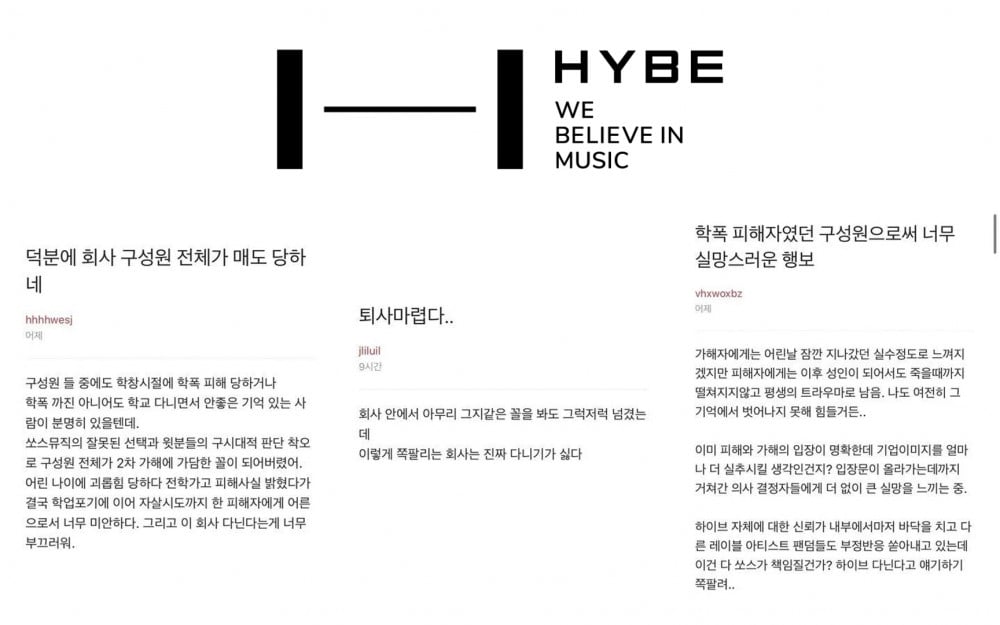 The situation with LE SSERAFIM member Kim Garam's bullying controversy continues to heighten with more development and additional claims of the idol's past school bullying.
Currently, Source Music released an official statement regarding Kim Garam's bullying controversy and explained that the member will be taking a temporary hiatus from the group, with LE SSERAFIM canceling their activities until further notice.
Recently, one netizen shared some of the opinions that anonymous people claiming to be HYBE employees have regarding this bullying controversy. These posts are on an anonymous Korean social networking app for the workplace. Before being allowed to use the app, you must verify your work credentials and post anonymously on the app. Employees who claim to be from HYBE have stated that they are also disappointed with how the company handled this situation and shared their views about the school bullying controversy.
Some employees even said they are embarrassed to work at HYBE because of this incident.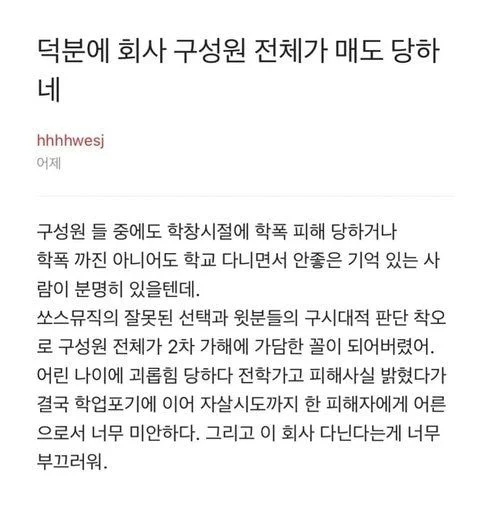 One employee wrote, "Thanks to them, the entire company is being denigrated. There must be employees who were victims of school violence or have bad memories of going to school even if they weren't bullied. Due to Source Music's poor choices and old-fashioned thinking/misjudgment by the executives, all the employees have become secondary perpetrators to the victim. As an adult, I feel apologetic and sorry for the victim, who was bullied at a young age and went to school to reveal the abuse but eventually had to give up and even attempted suicide. And I'm so ashamed to work for this company."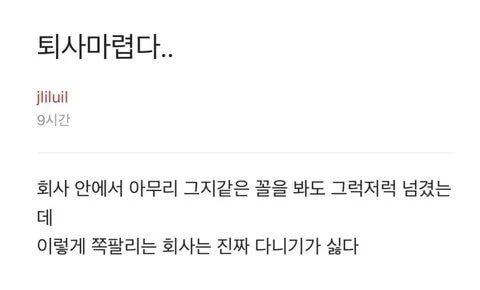 Another employee wrote, "I want to quit...No matter how many trashy things I went through in the company, I let it go somehow. But I really don't want to work for such an embarrassing company anymore."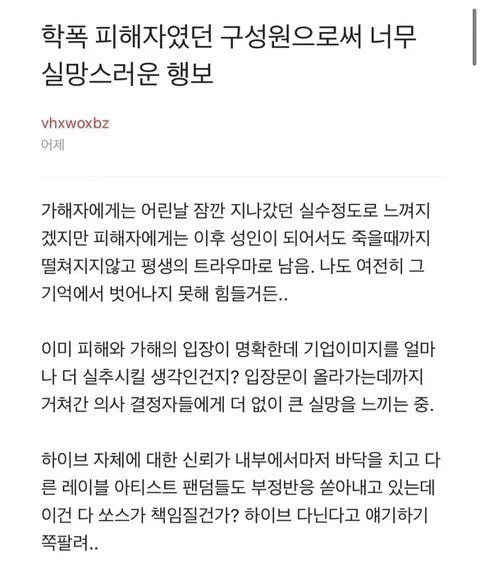 Another employee explained they were a victim of school bullying and was disappointed in the way the company handled the situation. They wrote, "I'm so disappointed in the company's direction as an employee who was a school bullying victim."
This employee elaborated, "The perpetrator might feel that it was a simple mistake they made when they were young but it remains as a trauma to the victim that says even after they become an adult until they die. I'm still having a hard time from those memories and am not able to escape them..."
They continued to write, "It's already clear who the victim and the perpetrator are, how much are they planning to hurt the corporate image? I am feeling the greatest disappointment at the decision-makers who made all the decisions for the statement to be released. The trust in HYBE has hit the ground bottom. Even fandoms of artists from other label companies are negatively reacting to this. Will Source [Music] take responsibility for all of this? I'm embarrassed even to say I work for HYBE."


Netizens commented, "So the people on top are the problem," "Wow, even the employees are saying they're embarrassed by their company," "I feel bad for the employees, the executives are the issue," "I would have quit already if I was an employee," "Wow, I'm so disgusted by HYBE," "The problem is not Kim Garam, it's the company who made the wrong decision that made this situation worse," "I also don't get why HYBE is continuing to keep Kim Garam," and "The employees have no power, I feel bad that all they can do is vent out like this."